Portfolio Intelligence podcast: inflation and stagflation—assessing their impact on markets and the economy
Frances Donald, global chief economist and strategist with Manulife Investment Management's multi-asset solutions team, joins podcast host John P. Bryson to explore current inflationary forces and their economic impact.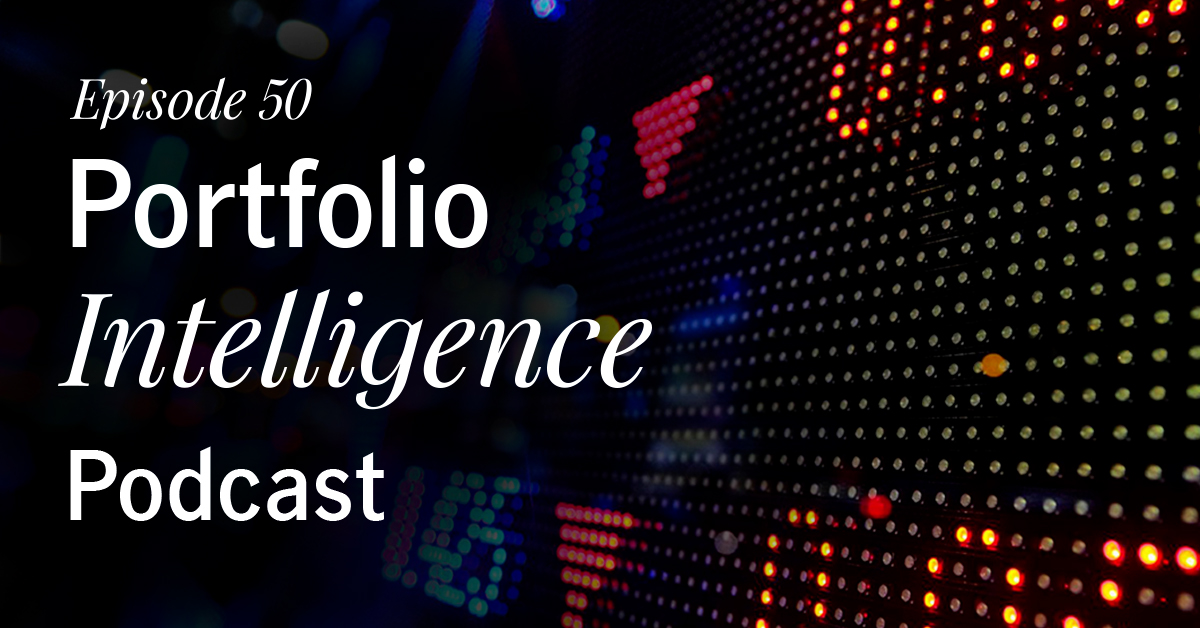 Frances offers real-life examples to explain the differences between inflation, deflation, and stagflation, and she examines the tools that the U.S. Federal Reserve has to fight inflation while discussing how their implementation can affect markets and the economy. In addition, she considers which indicators could signal whether inflation may have peaked and she offers her outlook on the U.S. economy and prospects of a recession. Finally, Frances discusses portfolio positioning for investors in today's economic environment.
"If you want to specifically look at what helps you when inflation is rising that doesn't depend on interest rates rising, real assets are really the place to go. And that could be infrastructure, it could be direct U.S. real estate, farmland, timber. These real assets are really those that protect you in the long run from some of this higher inflation, and we do have to think about how this composition of inflation looks different moving forward and therefore what you choose to protect against it might also need to be adjusted."—Frances Donald, Global Chief Economist and Strategist, Manulife Investment Management


About the Portfolio Intelligence podcast
The Portfolio Intelligence podcast features interviews with asset allocation experts, portfolio construction specialists, and investment veterans from across John Hancock's multimanager network. Hosted by John P. Bryson, head of investment consulting at John Hancock Investment Management, the dynamic discussion explores ideas advisors can use today to build their business while helping their clients pursue better investment outcomes.
John Bryson:
Hello and welcome to the Portfolio Intelligence podcast. I'm your host, John Bryson, head of investment consulting at John Hancock Investment Management. Today is June 23, 2022, and I've invited Frances Donald, global chief economist and strategist of Manulife Investment Management, on our podcast today.

John Bryson:
Frances spends her days looking at global macroeconomies and financial trends, analyzing those trends and trying to come up with ideas around risks and opportunities. She serves as a thought leader both internally at the firm and externally. She's a frequent and popular speaker in and on U.S. and international investment publications like Bloomberg and CNBC. And she's one of the sharpest and wittiest folks that I've ever talked to in the investment space. Frances, welcome to the podcast.

Frances Donald:
Thanks for having me. I think we should just change the bio to, her job is to try to predict the future, no big deal. That's the gig of the macroeconomist.

John Bryson:
It's what I do, right? It's no big deal. It's what I do.

Frances Donald:
We try. We try.

John Bryson:
I love it. So hey, I want to start the conversation with everything that's going on in economies around the world. I want to start with a little bit of Economics 101. Specifically, I want to talk about inflation, deflation, and stagflation. Define it for us and can you give us some real-life examples?

Frances Donald:
Actually, it seems like that would be a really simple question, but people have a variety of different definitions for these things, but here's a pretty good rule of thumb. When we talk about inflation, we're generally referring to the year-over-year change in a consumption basket of goods and services from restaurants to electronics to what you pay for medical care. And there's a couple different baskets that people use. They use the Consumer Price Index. There's a different one that the Federal Reserve uses often called PCE, personal consumption expenditure, and they all have different weights.

Frances Donald:
And generally when we talk about inflation and people talk about either the current 8.5% inflation or the target 2% inflation, what we're truly trying to talk about is the year-over-year change. So you and I are talking June 2022, most inflation is measured June 2022 relative to June 2021. And for most of the last several decades, we've had inflation around 2% to 3% year-over-year growth, which is why we have parents who might say to us, "When I was your age, I bought a Coke for a penny," or whatever the current expression is. I certainly will be telling my children about all the things that I bought for $10 that will probably be worth $80 at that point. And so inflation refers to that consumption price, consumption basket increasing in prices over time, which is really the standard.

Frances Donald:
Now there's other forms of talking about the path of prices and there's disinflation. Disinflation is when prices are still growing but at a lower rate. So if we're used to 2% and we move down to 1% price growth, that would be known as disinflation. And deflation is when we see prices actually decline year over year. And historically we only really have seen, especially going back to the 1980s, we've only really seen deflation or prices declining year over year in goods. A good is something you drop on your foot that hurts. And that's largely because we've found cheaper labor and cheaper inputs abroad. Could be Mexico, could be China. You know, as much as my grandfather bought a Coke for a penny, we pay much less even in today's dollar terms for televisions, for example, than we might have 50 or 60 years ago, as one example.

Frances Donald:
And then we have a different type of environment that is getting a lot of attention right now, stagflation. Now there's a lot of ways you can define this, but the idea around stagflation is a peculiar environment in which growth is very low and inflation is very high. And different economists will use different definitions. They might say, well, in order to be in stagflation, you just need to see growth declining and inflation increasing. Others will say inflation has to be rising at a faster rate than growth. But I think the real takeaway is, are people getting worse off on balance? Are they seeing less economic activity while prices get higher? And I expect that almost every single person listening to this would feel that's the case, that we are experiencing stagflationary dynamics, whether it fits someone's technical definition or not. So that's kind of a rundown of how we talk about these inflation measures over time. Hopefully that answers the question, John.

John Bryson:
Yeah, that's a great start. And I'm going to dig into a couple of points you made along the way. Let's talk a little bit about the Fed and the tools that it has to fight inflation because that's the big thing we're trying to tamp down right now. And what would the economic and market impacts be as they implement those tools?

Frances Donald:
Well, this actually seems like it should be a straightforward question, but it's massively up for debate. Now typically central bankers who are tasked with keeping inflation around 2%, they have the ability to increase and decrease interest rates; that's their primary tool. You increase interest rates; you make it more expensive to borrow money. You effectively incentivize people saving instead of spending. You can cool demand in an economy.

Frances Donald:
Now this has become important because over the course of COVID. The first round of inflation that we experienced is what I'll call COVID inflation, which was effectively everybody and their parents wanted to buy a very narrow set of things. Effectively, things that turned our homes into all-inclusive resorts. So fitness equipment, electronics to keep us occupied. I bought a $200 toaster. I have no idea why I did this, John. It works exactly the same as a $25 toaster. It looks nice on the counter, but it was a totally ridiculous COVID purchase of mine.

Frances Donald:
And problematically, we all wanted exactly the same things, but in order to acquire those things, those goods had to be put on ships and trains and trucks. And a severe labor shortage, as well as a variety of plants being closed down as people caught COVID and were forced to close, meant that we both had insatiable demand for a narrow subset of things that also couldn't get to us. It was both a demand and a supply-side issue. Now central banks can raise interest rates up and down quite a bit, and they have the ability to say to me, "Well Frances, we're going to make it more expensive for you to borrow money." So maybe I say, I actually can't afford to have that toaster as much as I wanted.

Frances Donald:
What they can't do is open up plants. They can't make ships move faster or get people who got COVID to get back into their manufacturing job more quickly. And there've been other issues that have compounded on top of this, like particularly bad weather across the United States and across Latin America rose food costs. Well interest rates, unfortunately, I know we like to think central banks are all powerful, aren't going to change weather.

Frances Donald:
And then in February, March, we experienced a second inflation shock. And I think this is really missing in the narrative. We're kind of assuming that this COVID inflation, everyone got it wrong in saying it was transitory and it's persisting, but actually the inflation story changed very dramatically in February and March when we witnessed the beginnings and the ongoing development of the Russia-Ukraine conflict. And what that did is it created a massive spike in food and energy costs.

Frances Donald:
And there are some really important differences between COVID inflation and conflict inflation. The really big one is that over the course of COVID, if you didn't want to buy a new game system or you couldn't afford to get a new backyard landscaping or electronics or a ridiculous toaster, you just went without. These were largely discretionary items that were experiencing inflation.

Frances Donald:
When we started to see food and energy costs rise, the story changed very dramatically because unlike a used car or an electronics system, every single one of us is making energy and food purchases almost daily if not weekly. And there's no real way to substitute away from these things, especially because a lot of the food price increase is coming from wheat. It's hard to substitute away from wheat, it's in just about everything that we consume.

Frances Donald:
And this put the central bank in a pretty big pickle, which is that they can try to raise unemployment and create a big shock to the system so that people can't afford to buy things as much as they want anymore, but it isn't going to bring down energy and food price inflation, which are coming from the conflict, unrelated to interest rates, and weather predominantly. So the central banks have really oscillated between saying our job is inflation and we're going to do everything we can to control it but also saying there are certain limits to what we can do with interest rates.

Frances Donald:
And effectively what they've told to us implicitly, what they've said is we know we can't do anything for food and energy inflation, but we're going to bring down prices very dramatically in other areas of the economy where we do have some impact. Housing, clothing, services, for example. And if we do that, then households will still have high energy food costs but their other costs will come down pretty quickly. So you'll end up with kind of bifurcated inflation over that period.

Frances Donald:
The problem, and this is why markets are really struggling in the past couple of months, is that in order to create some pretty strong disinflation or slower inflation in non-energy and food, this central bank is effectively saying it will knowingly and willingly hike into a recession if that's what it takes.

Frances Donald:
And, John, this is a really big change in the way we've thought about central banks, especially since the 2008 post-GFC environment. Because we've lived in a world where we believed in the Fed put. That if things got bad enough, central banks would pivot. This central bank now, in fact, many central banks across the world have said, we would rather have a short recession than give up on inflation as our target. And they're particularly monitoring inflation expectations, especially longer-term inflation expectations. This is a real break in the way that most economists including myself have thought about central banks over the past several decades and it's a different environment for markets who can no longer rely on a central bank to effectively save the day.

John Bryson:
Yeah that removal of the put back in the day, it was when the Fed pulls out the punch bowl, it's not a fun experience. And as you think through what you're hearing from the Fed in comments, whether it be this week or at their most recent meeting, what are your takeaways of how they're doing? What they're doing and how they're doing. Do you think they're threading the needle the way that everybody hopes they're going to thread the needle?

Frances Donald:
One of the most interesting things that came up in the most recent Federal Reserve meeting, and the market has started to discuss it as well, is that the Federal Reserve releases its summary of economic projections, which include where it thinks GDP and unemployment and inflation is going to go. And each participant at the Federal Reserve actually submits where they think the federal funds rate or the central bank interest rate will be over the next three years.

Frances Donald:
And what was really striking to me was that the central bank, the Federal Reserve wants to hike rates quite a bit in 2022 and even a little bit more in 2023 but has actually penciled in cuts for 2024. Now the market actually thinks that the central bank is going to start cutting in 2023 and I'm right along there with them. For long-term investors, that story might be more important than how much is the Fed going to go at its next meeting, 50 or 75 basis points. We have a central bank that is being very open about the fact that it knows it can hike rates quite a bit now, but only if it cuts rates pretty soon after.

Frances Donald:
I'll remind you that the average time between the last hike and the first cut at the Federal Reserve is eight months. So if you and I are having this conversation next year, I would bet that we're not talking about the Fed raising rates. We're actually talking about whether or not the Fed will be cutting rates or maybe they already have already. And that's the real story from this development in the past two or three months is that we've been so focused on, okay, they need to get rates back up to normal. Now the story is shifting to, they'll get rates back up, but they'll have to unwind it in fairly short order afterward. I haven't seen enough headlines discussing that that's the next big macro story on our plates.

John Bryson:
Yeah, I haven't either. That's a really surprising stat: the eight months between the rising then the shift to cutting. Thanks for sharing that. I had no idea. That's going to be really important to think through how you invest long term, right? You have to be looking past next week into the future.

John Bryson:
Now you keyed in on the fact that the Fed is looking to manage inflation and it's going to be looking for signs that inflation is actually in check. What are some of the stats that they key in on and what are some of the things that you look for as like early indicators that we're getting this right and things are becoming manageable?

Frances Donald:
So the Federal Reserve has told us a few things very explicitly. Chair Powell told us that he wants to see not the year-over-year inflation statistic decline but many sequential month-over-month declines or lower increases. So he wants to see that not June this year to June last year, but June to July is showing some evidence of slowing July to August. He said he's wanting to see several of these, which probably means that he's not going to have the conditions to satisfy his inflation concerns in the next two months, probably more like year end.

Frances Donald:
The central bank has also talked a lot about inflation expectations and there's a lot of ways you can look at this. You can look at inflation expectations in the market. So you can look at forward market for example, and there you'll see that inflation expectations have started to come down. You can look at survey measures. There's a New York Fed survey that asks consumers, where do you see inflation now versus the future? And there's also a University of Michigan very well-known inflation expectations survey. In fact, the University of Michigan consumer expectations for prices survey was actually listed as one reason Chair Powell told us that they went 75 instead of 50 basis points. Because long-term inflation expectations ticked up from about 3% to 3.3%. So in order to see a central bank that really starts to pivot, we're going to have to see inflation expectations both in the market and for consumers come down and we're going to have to see actual month-over-month inflation come down.

Frances Donald:
But there's a problem with this, John. And that is that when you look at what really drives inflation expectations, particularly from the consumer, I don't think you'll be shocked to hear that most Americans don't really have a firm grasp on what the Federal Reserve is or does and frankly, I don't blame them. If I didn't have to watch it, I wouldn't be watching it. The number one driver of inflation expectations is gas prices. It's what people pay at the pump and what they pay at the checkout counter. So the central bank is saying we can back off when we've seen inflation expectations decline, but effectively what they're saying is we can back off when commodity prices start to come back down.

Frances Donald:
That's really difficult because as we discussed, commodity prices are not in the central bank's control. So we're kind of banking on this exogenous external factor to see some resolution in order to see a Fed pivot. So I think the central bank has really gotten itself in a pickle in which it's relying on what happens to the energy markets, which are going to be function of geopolitical events and potential sanctions and regulations and supply issues and a little bit of demand. But this is why this is so difficult and why you're seeing a market that says, well, you're probably not going to reach these conditions that you want to see until later this year so we're going to front load a ton of hikes into 2022. You will create an environment that is consistent with recessions and then you're going to have to cut. And it seems like a really backward way to go about it, but that's the messaging that we're getting from the central bank.

John Bryson:
Well, what I took out of that, and maybe it's because I have a 15-year-old that is thinking about getting her license; I'm going to keep my eye on the pump and see how that impacts my life and how I feel pulling out of the gas station each time to give me an indicator for where we're headed and where the Fed is headed, is that fair?

Frances Donald:
You know what? It makes me feel like I paid too much for my education in economics, but absolutely what happens at the gas pump probably has a much bigger impact on the future of interest rates than maybe it has in several decades and can give you a pretty good clue as to when central bankers will feel like they have cover.

John Bryson:
All right. Perfect. Excellent. So I want to pivot a little bit, I want to talk about kind of the economy, where it's headed, are we going to hit a recession. The Fed released a research paper on Tuesday and it's saying that we have slightly more than a 50% chance of a recession over the next four quarters and a two thirds probability of a downturn over the next two years. What's your take on that?

Frances Donald:
That makes about a good amount of sense. Most leading indicators that we have for this economy suggest that by the end of 2022 and the beginning of 2023, we have an economy that might look quite a bit like a recession in some ways. That is, we know, and I'm sure everybody's heard this, there are companies who are saying, oops, we ordered way too much inventory. Consumer confidence is near record lows. We're starting to see that job market soften just a little bit. And so most leading indicators that we would use to traditionally predict recessions are definitely flashing yellow, if not red.

Frances Donald:
However, this cycle is not like past cycles. And one particular element of this if we do hit a recession is we suspect that it doesn't create the same rise in unemployment that we might have seen in past recessions. And that's because this labor market is still missing millions of people, John. This is incredibly tight labor market and I know we all feel this when we go to restaurants or if we are fortunate enough to take a trip, we see this labor shortage all around us. So we surmise that even if we were to hit this two quarters of negative growth, it might actually manifest itself differently than past recessions we've seen.

Frances Donald:
And there's another element of this, which is of course the market always front runs us and even in pretty severe recessions, the draw down you'd see in an equity market would be something like 30 to 35%. Well, we've done a good bout of that already, John. We've already seen an equity market in particularly certain sectors of the equity market that have been flashing recession risk for a while. So as much as I can look at my economic models and say, yep, that's traditionally what it would look like before a recession, I'm not convinced that necessarily means that we have another 50% down in the equity market, certainly not.

Frances Donald:
The one market that has yet to price the recession is the bond market where we still have seen yields rising as the Fed has remained aggressive. But we did a lot of work to see what ultimately drives yields. And especially at the longer end of the curve, the 10-year yield, the 30-year yield for example. What we found is that when the Federal Reserve hikes into strength, yields rise, but when the Federal Reserve hikes into weakness like they're doing now, you tend to see that 10-year yield decline over time.

Frances Donald:
So when we think about this big word recession or not recession, of course I get asked that every single day, but I think it's the wrong question. The question is, how much of this material growth slowdown is already priced and what does that growth slowdown, recession, recession net look like? I don't think it looks like the standard type of recession that you might see. That's one of the reasons why in an investment portfolio, you need really strong, active, fixed-income and equity managers who are going to know how individual companies are going to be able to react to these pockets of weakness in this economy. That's going to become so much more important in this type of slowdown than even in past slowdowns because of the nature of it. Supply chain focused, higher wages, who's really going to be limited by labor in this type of environment. Who's going to be more resilient. We have cruise ships that are talking about how they have surgeon bookings. This is going to become a very segmented market, so the idea of sort of like a pan-economy recession I don't think is correct, but the idea that we see some negative GDP numbers; that's pretty consistent with what most economists would be modeling right now.

John Bryson:
Got it. And you started getting into a topic I want to go to next. In your role, you're talking to the multi-asset team, talking about taking advantage of opportunities and how to position portfolios. As we've talked about, inflation is on people's minds and probably the worst version, stagflation, is on people's minds. So my question is if inflation persists, how should investors think about positioning their portfolios? And if stagflation becomes a reality, do you think it's a real concern, what should they do in that situation in terms of positioning their portfolios?

Frances Donald:
Yeah. You know, I get this question all the time. What do we do if stagflation comes? Well, stagflation is already here. We had negative growth for Q1 and we had 8.5% inflation. So the time to position for stagflation was maybe six months ago. Now I have to think about the next play. What's the next play? The next play is going into a material growth downturn with a central bank that is going to hike very aggressively but then cut. Now that's an environment in which I'd want to creep back into fixed income, for example, and be looking at a pivot from the Federal Reserve occurring fairly soon.

Frances Donald:
Remember that usually the equity market turns when you see about half way to two-thirds of the way through the growth slow down, or when the central banks start to ease. So we're a little bit early on that front, but it's time to start thinking about when that turnaround will come.

Frances Donald:
And yet many of us are long-term investors, as I personally believe we should be, and we might be thinking about, okay, well maybe we're not going to be in 8% inflation for forever, but what if we're in 2.5% inflation? And indeed before COVID, we used to model 1.5% to 2% inflation on a persistent basis and now we model 2% to 2.5%. And initially I thought, well, that's not really a big deal. That's within the realm of traditional types of inflation.

Frances Donald:
But we wrote a paper on this. What do you do if inflation is just 0.4 percentage points higher? And what we found is it did have a somewhat material impact on very long-term portfolios. Particularly if you invest at 20 and you're looking to retire at 65. We did work on how many more months you have to work at any given age. So a lady doesn't reveal her age, John, but based on our chart which I'm happy to share with your listeners, I'll probably need to work an extra 35 to 40 months in order to recoup that 0.4 percentage point increase in CPI.

Frances Donald:
So a little bit really does do quite a bit for your long-term returns. And so you can do things like say, oh, well then in order to combat that inflation in the long term, you should add money into your portfolio. You can decrease your income needs when you retire; I don't like that one. You can postpone retirement; I don't like that one either. Or you can review your investment strategy.

Frances Donald:
And this is where things got a little bit tricky because when we started to look at, okay, well, what would you traditionally do for inflation protection? People think about, for example, Treasury Inflation-Protected Securities tips and it must mean that rates are going to be much higher.

Frances Donald:
Except that when we looked at what was driving this 0.4 percentage point increase in our inflation forecast, what we found is that it came from trends like deglobalization. As many American, and I'm up in Canada, Canadian companies, those around the world start to say, yep, it might cost a little bit more to produce things at home, but at least I won't see disruptions. And then we have ESG trends. So the rising cost of electricity is going to be pretty sticky. We've got transition costs.

Frances Donald:
And once again, John, we're back to your question of what can central banks control? They can't control either of those two things. They can hike rates all they want. It's not going to reverse deglobalization or stop ESG transitions. So what we surmise, and this is a really bold call, it'll probably be one of the most important ones in my career, is that even if we see higher inflation over the long run, we're not likely to see interest rates rise along with it. Because central banks are going to have to make a call. Do we try to tackle something that our tools are not prepared to or not functional at, or do we allow our economies to run a little bit hotter and employment a little bit hotter in order to facilitate some of these transitions?

Frances Donald:
If I'm right, we're going to see slightly higher inflation, but interest rates that don't go along with it. So what are some good asset classes to go along with that? Well, in our multi-asset allocation portfolios, we actually have asset allocation now that looks very similar to 2019. We have a well-diversified portfolio with a lot of international exposure. We continue to see very strong returns in the equity space, especially emerging-market equity, for example, we see large caps and we still see a very important role for fixed income.

Frances Donald:
If you want to specifically look at what helps you when inflation is rising that doesn't depend on interest rates rising, real assets are really the place to go. And that could be infrastructure, it could be direct U.S. real estate, farmland, timber. These real assets are really those that protect you in the long run from some of this higher inflation and we do have to think about how this composition of inflation looks different moving forward and therefore what you choose to protect against it might also need to be adjusted.

John Bryson:
Wow. Excellent information. At the beginning, you said your job is to predict the future. You're steps ahead of me—I love it. You're telling me which questions to ask and how to think about things and you're really making me think and I know you're making our audience think. I said you're one of the sharpest and wittiest folks that I've ever talked to in the space, and you prove me right in this case.

John Bryson:
Frances, it was wonderful to talk to you. Folks, if you're not following Frances on Twitter, you should. She's @FrancesDonald; she drops great insight; she mixes in good humor. She makes it easy to understand and gives you ideas on how to prepare for what's coming next. So, Frances, thanks so much. Folks, for other ideas, please visit our website, jhinvestments.com, for some of the other research that she's done, and as always, if you like what you hear, please subscribe to our podcast wherever you subscribe. Frances, thanks so much. Have a great day, everyone.
This podcast is being brought to you by John Hancock Investment Management Distributors LLC, member FINRA, SIPC. The views and opinions expressed in this podcast are those of the speaker, are subject to change as market and other conditions warrant, and do not constitute investment advice or a recommendation regarding any specific product or security. There is no guarantee that any investment strategy discussed will be successful or achieve any particular level of results. Any economic or market performance information is historical and is not indicative of future results, and no forecasts are guaranteed. Investing involves risks, including the potential loss of principal. Diversification does not guarantee a profit or eliminate the risk of a loss.