9 best investing books for 2019
Many of the most well-informed investors are also among the most widely read investors, gleaning insight embedded in literary forms ranging from the classic expository essay to the historical novel, from the ancient epic poem to the cutting-edge of contemporary creative nonfiction.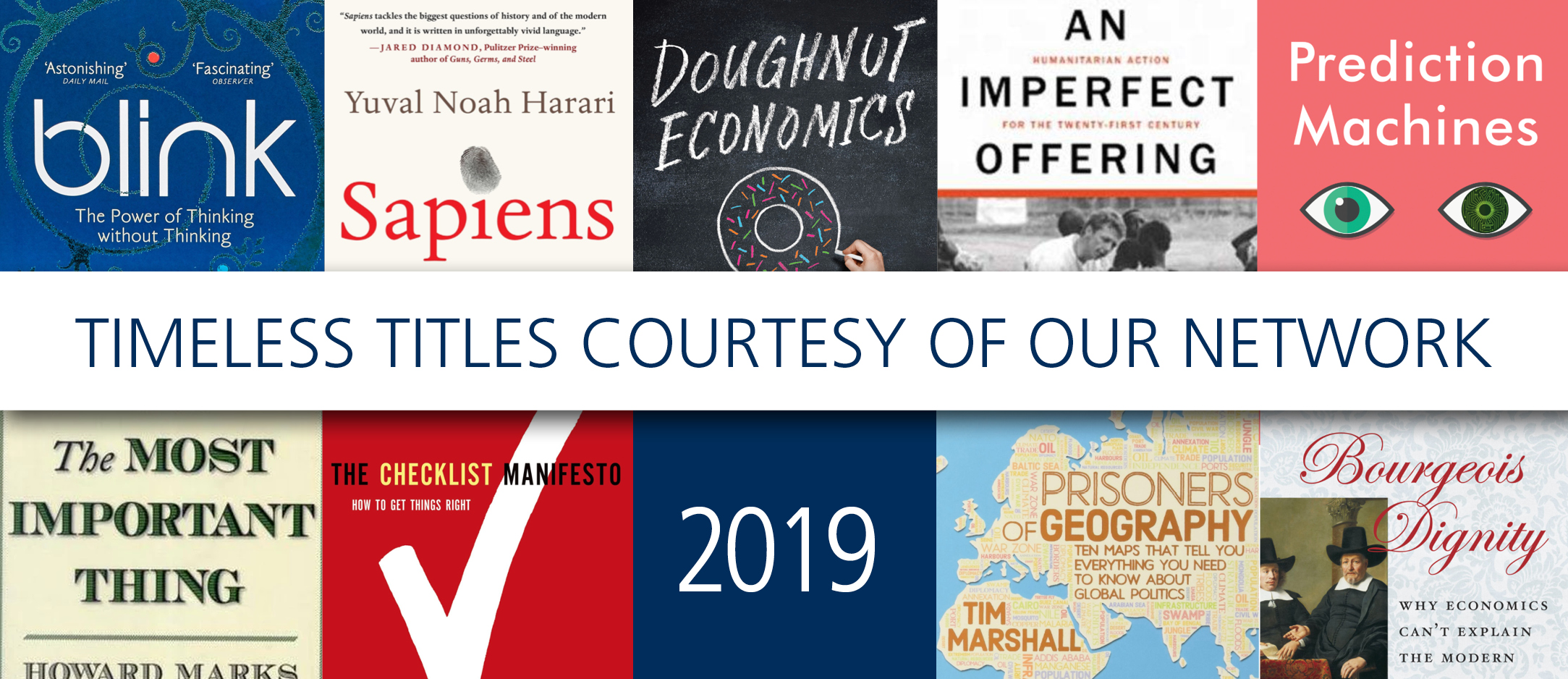 Among other things, investing is about uncovering connections concerning how the world works, and understanding what people believe and think about how the world works. Even books that don't directly address capital markets or financial economics have relevant wisdom to offer the alert investor.

In that spirit, we surveyed a handful of investment professionals across our global network of specialized asset managers to help you with your 2019 reading list resolutions. Similar to last year, we asked participants to recommend one book. The answers appear in alphabetical order, by the recommender's last name. Happy New Year—and happy reading—from John Hancock Investment Management.

1  Blink: The Power of Thinking Without Thinking, by Malcolm Gladwell (2005)
Malcolm Gladwell finds, researches, and writes about big ideas, turning complex and esoteric topics into accessible and engaging narratives. Drawing on neuroscience and psychology, Blink explores the way we make decisions. 

2  The Most Important Thing: Uncommon Sense for the Thoughtful Investor, by Howard Marks (2011)

Howard Marks is co-chairman and co-founder of Oaktree Capital Management. Based on memos Marks has written to clients over the years, The Most Important Thing distills deep insight and hard-won wisdom from a career spanning half a century.

3  Doughnut Economics: Seven Ways to Think Like a 21st-Century Economist, by Kate Raworth (2017)

Kate Raworth is senior visiting research associate at Oxford University's Environmental Change Institute and senior associate at the Cambridge Institute for Sustainability Leadership. Doughnut Economics explores the shortcomings of our traditional economic mindset—and the changes required to address our mounting ecological and social challenges.


4  Prisoners of Geography: Ten Maps That Tell You Everything You Need to Know About Global Politics, by Tim Marshall (2001)

Award-winning journalist Tim Marshall argues, "Geography has always been a prison of sorts—one that defines what a nation is or can be, and one from which our world leaders have often struggled to break free," in this New York Times bestseller.

5  An Imperfect Offering: Humanitarian Action for the Twenty-First Century, by James Orbinski, M.D. (2008)

James Orbinski is past president of Doctors without Borders. An Imperfect Offering offers a historical account of his work to bring essential medicines to those in need around the world, from Afghanistan to Zaire. Find out "What You Can Do" now in his epilogue.

6  The Checklist Manifesto: How to Get Things Right, by Atul Gawande (2009)

Atul Gawande writes for The New Yorker, practices surgery in Boston, and leads health systems innovation research at Ariadne Labs. His Checklist Manifesto shows us how to combat costly errors of ineptitude: "Progress depends on experts having the humility to concede that they need help," as do we all.

7  Prediction Machines: The Simple Economics of Artificial Intelligence, by Ajay Agrawal, Joshua Gans, and Avi Goldfarb (2018)

Has artificial intelligence, such as Amazon's Alexa, really "replaced the parent as the all-knowing source of information in the eyes of the child," as the authors suggest? Prediction Machines, written by a trio of professors of management and strategy, explores the implications of machine learning on our decisions, our work, and our lives. 

8  Sapiens: A Brief History of Humankind, by Yuval Noah Harari (2015)

Yuval Noah Harari, an Oxford-trained historian, penned what became an international bestseller and summer reading pick for President Barack Obama and Bill Gates. Sapiens explores the relationship between biology and history over the last 70,000 years—and aims to help our understanding of what it means to be human today.

9  Bourgeois Dignity: Why Economics Can't Explain the Modern World, by Deirdre N. McCloskey (2010)

Deirdre N. McCloskey has published extensively on topics ranging from economics and statistics to ethics and history. Bourgeois Dignity is volume 2 of her Bourgeois Era trilogy, which covers the rise of a prudential rhetoric in 17th-century England, its triumph in American colonial thought, and its decline after 1848. 

Investing involves risks, including the potential loss of principal. A portfolio concentrated in one sector or that holds a limited number of securities may fluctuate more than a diversified portfolio. 


 

MF685489