Reasons to consider model portfolios
Model portfolios can help take the hard work out of investing, offering a diversified range of asset classes and managers to help you help your clients meet their financial goals. But the benefits don't end there. Here are three more ways in which financial professionals can benefit from using model portfolios.
1. To enrich client relationships. Models can enable financial professionals to spend more time with their current clients on holistic wealth and financial planning and less time on investment research, portfolio construction, rebalancing, trading, and fund rationalization.
2. To develop new business. Leveraging models may also lead to more efficient integration of new client relationships, as clients with similar risk profiles elect the same models, enabling financial professionals to spend more time converting prospects into clients.
3. To sharpen fiduciary oversight. Models enjoy the benefits of asset allocation and manager selection from an experienced third party with a robust process and a documented rationale for key investment decisions. They also enable financial professionals to leverage manager investment commentary and other materials.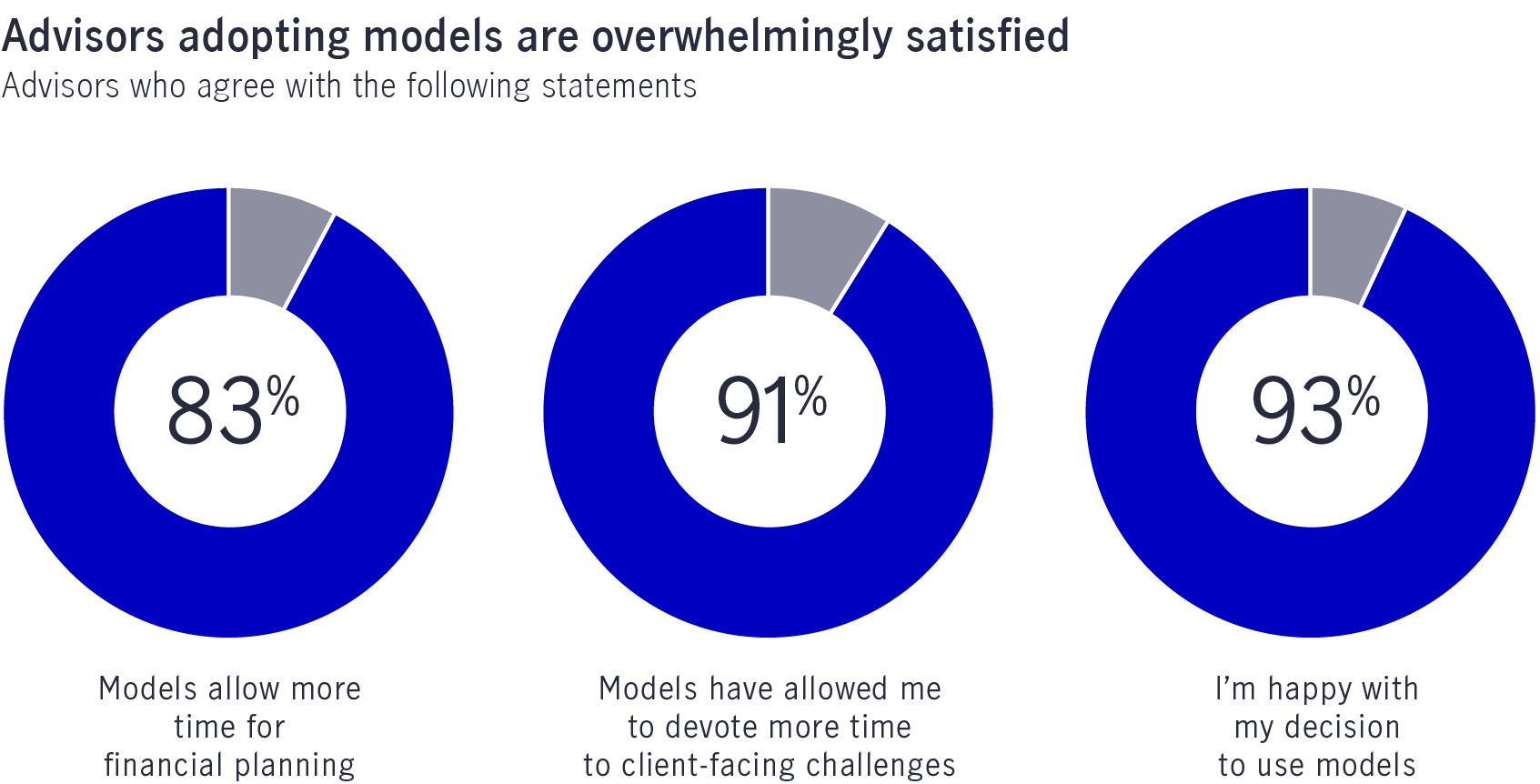 Outsourced modelling can help drive business growth. In 2018, around 80% of financial professionals who completed training with a leading turnkey asset management program began to outsource their modelling. They went on to grow their AUM by 41% year over year. Those who didn't outsource grew their AUM by only 18%.
Not all model portfolios are created equal. Scale, experience, and fee structures can vary widely across the industry. 

---
Our approach
Our model portfolios combine our key areas of expertise—asset allocation and manager research—into one flexible solution. For more than 25 years, our multi-asset solutions team has been at the forefront of portfolio design, successfully managing model portfolios using an open-architecture approach and introducing a wide array of new and alternative strategies. This is combined with robust manager research and oversight, which together help strengthen diversification benefits across our portfolios.


Support from an industry-leading distribution team on the ground
At John Hancock Investment Management, our goal is to help financial professionals grow their practices by delivering a wide variety of value-added resources, from thought leadership to investment solutions.
Ranked #1 by top DC plan financial professional for open architecture¹
Over 350 fund placements on recommended lists and in model allocations
Over 130,000 financial professionals doing business with us
Over 800 selling agreements with firms across channels
Over 200 advisor conference engagements annually
Our multimanager approach since 1988
Our asset allocation portfolios bring together some of the leading investment teams from around the world. Because no single manager can do it all, our investment lineup brings together specialized managers with proven track records and skill sets.
Each fund in our model portfolios is selected based on our performance blueprint, outlining a set of expectations that defines its role as part of a diversified portfolio.
We then continuously monitor our investments for consistency and risk. Our independence and experience overseeing asset managers help us ensure that our selected funds continue to meet our uncompromising standards.
---
Our model portfolios
Investors in our range of model portfolios benefit from deep diversification, with our open-architecture structure allowing us to incorporate the leading investment talent from anywhere in the world. In fact, we ranked #1 by top DC plan financial professionals for open architecture.³ 
Our full range of capabilities

---
Learn more
Our three model portfolio suites

Click on the links below to find out more about our range of model portfolios.
Active mutual fund implementation to deliver highest potential for alpha
Cost-efficient implementation of ETFs and other passive strategies
Cost-efficient implementation of active mutual fund and passive ETF strategies
Active allocations to global equities and U.S. sectors
Focus on income through fixed income and equity allocations
Asset allocation model portfolios quarterly update
Watch our Head of Model Portfolios Bruce G. Picard, CFA, discuss our range of model portfolios and how the Asset Allocation team's short-and-mid-term views feed into positioning. 
The increasing awareness of the benefits that models can offer has led to an explosion in products available to financial professionals and their clients, but the proliferation of choice requires careful navigation.
Read more