Portfolio Intelligence podcast: China's troubles, easing U.S. inflation, and other top Q3 issues for investors
With earnings season coming to a close, our Co-Chief Investment Strategists Emily R. Roland, CIMA, and Matthew D. Miskin, CFA, join podcast host John P. Bryson to share their market outlook.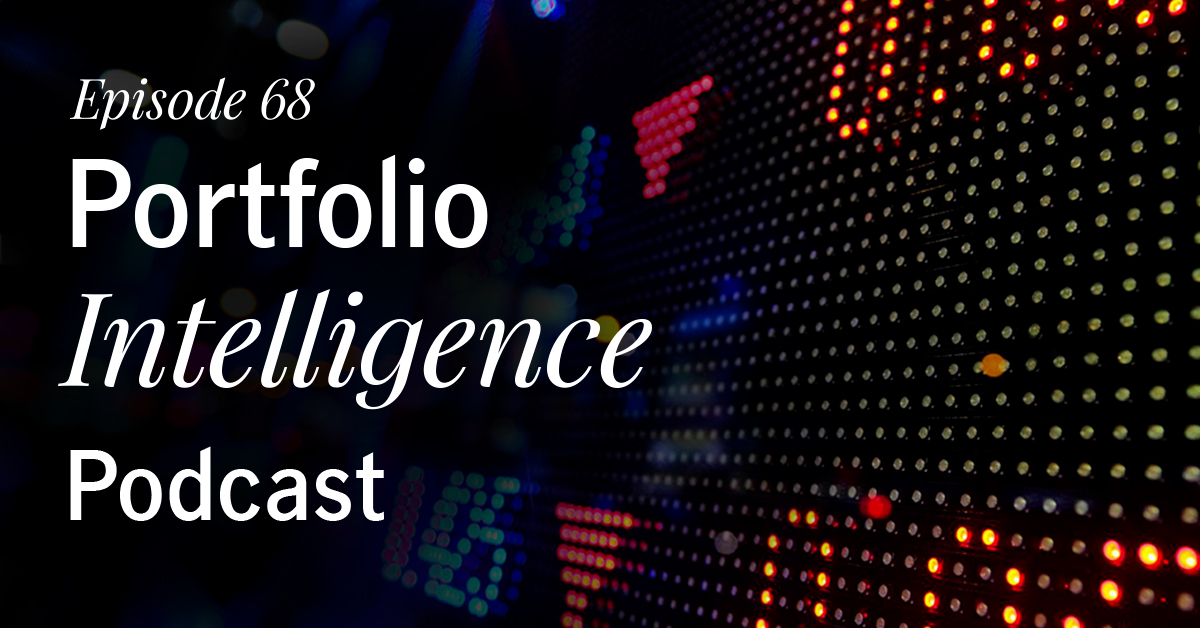 They discuss the latest data pointing to an economic slowdown in China and the contagion risks that it poses for other markets. The strategists also explore the continued easing of U.S. inflationary pressures, top investment opportunities that they're seeing now, and risks that investors may wish to watch heading into the fall.
"We would prefer higher quality stocks in the United States vis-à-vis emerging markets and China in particular. But we always have to be careful because with China they could do stimulus here, because they have outright deflation. They don't have an inflation problem there."—Emily R. Roland, CIMA, Co-Chief Investment Strategist, John Hancock Investment Management
About the Portfolio Intelligence podcast
The Portfolio Intelligence podcast features interviews with asset allocation experts, portfolio construction specialists, and investment veterans from across John Hancock's multimanager network. Hosted by John Bryson, head of investment consulting at John Hancock Investment Management, the dynamic discussion explores ideas advisors can use today to build their business while helping their clients pursue better investment outcomes.
This podcast is being brought to you by John Hancock Investment Management Distributors LLC, member FINRA, SIPC. The views and opinions expressed in this podcast are those of the speakers, are subject to change as market and other conditions warrant, and do not constitute investment advice or a recommendation regarding any specific product or security. There is no guarantee that any investment strategy discussed will be successful or achieve any particular level of results. Any economic or market performance information is historical and is not indicative of future results, and no forecasts are guaranteed. Investing involves risks, including the potential loss of principal.

The Bloomberg US Aggregate Bond Index tracks the performance of US investment grade bonds in government, asset backed and corporate debt markets. It is not possible to invest directly in an index.

 
John Bryson:

Hello and welcome to the Portfolio Intelligence podcast. I'm your host, John Bryson, head of investment consulting and education savings here at John Hancock Investment Management. Today I've invited Emily Roland and Matt Miskin, our co-chief investment strategists here at John Hancock to give us an update as we close out the summer. Matt and Emily, welcome.

Emily Roland:

Thanks for having us.

Matt Miskin:

Thanks for having us.

John Bryson:

All right. Today is August 14th, 2023, and Matt, I want to start with you. What's the latest data coming out of China?

Matt Miskin:

We just received import and export data. China is a manufacturing powerhouse, an export engine to the rest of the world, and what we're seeing is that the export and import data is decelerating and showing negative year-over-year declines in the double digits, which is showing a weakness in China data. They also got new loan growth. China's economy has been stimulated through, basically, China's government giving loans at more favorable rates and new loan growth has fallen off pretty significantly, as well. It's a combination, likely, of consumers and businesses not wanting to take the loans as well as potentially the rates being not as attractive. What we're seeing is this weaker China data, there's still a lot of risk out there as it relates to real estate market, potential defaults. That is, to us, the biggest risk in the second half of this year.

We are looking cross asset in terms of equities is a modest underweight there. We would prefer higher quality stocks in the United States vis-à-vis emerging markets and China in particular. But we always have to be careful because with China they could do stimulus here because they have outright deflation. They don't have an inflation problem there. They actually have negative inflation, which is deflation. A stimulus headline could pop out any minute, but what we're looking at in terms of the economic data is continued weakness, and to us that formulates more of a position to the US both on the equity and fixed income side.

John Bryson:

Got you. Emily, with this weakness in China, is there any type of contagion effects that you're worried about?

Emily Roland:

Yeah, there certainly could be and it has definitely impacted market sentiment. On days where we wake up in the morning and there's headlines that Chinese policymakers are pledging to implement more stimulus, whether or not those plans are concrete, markets tend to react on the upside to that. We want to be mindful of getting whipsawed by China stimulus headlines here and really bring it back to the fundamentals. As Matt mentioned, we're seeing much weaker growth on a relative basis out of China. We look at things like next 12 month earnings estimates and those are moving lower within emerging market equities and pretty steady here in the US.

On a relative basis, it's another reason that we are emphasizing US equities in portfolios. But I do think that you look at some of these headlines, there's continued concerns around the property sector. We're seeing more concerns about bankruptcies and inability of some of these larger financial institutions in China to potentially maintain liquidity. I think that there is an issue here in terms of potentially seeing some type of liquidity event out of China that remains a risk. It's really at odds in terms of some of the market behavior here in the first eight months or so of the year. We've seen risk-taking really take hold as investors start to price in this soft landing or even no landing scenario. We simply want to remind investors that it may not be the best time to be reaching for risk here given the presence of some of these risks.

John Bryson:

Matt, let's take the conversation back here to the U.S. How are inflation numbers coming in?

Matt Miskin:

The July data was not that bad, so it's 0.2% month-over-month. When you rip out the details of the report and you look through it, nearly all of it now is shelter. Housing and rents make up two thirds of the year-over-year CPI change. What we're seeing is the core number is still above 4%, it's still too high for the Fed, we get it. But if two thirds of that is coming from housing and rents, and housing and rents as measured by the Bureau of Labor Statistics, who actually creates inflation numbers, they're saying that housing and rents are up 7.7% year-over-year. That is on another planet relative to Zillow, relative to rent.com. Look at anything else right now, it is not showing housing prices up 7.7%, or rents for that matter, but because the way that it's calculated at the government level is so lagged and so... You could say improperly calculated, that's still showing up as massive inflation.

In our view, housing inflation is moderating. We've got now over the highest interest rates on mortgages we've seen in over 20 years. They're about seven and a half percent now on a 30-year fixed mortgage. We think that's going to continue to cause housing to slow in terms of prices, as are rents. But then also it's just going to be that we're going to have to catch up for all this lagged impact of this housing data that's been so long to filter into the BLS version of CPI and we think that's going to continue to come down.

Right now, year-over-year inflation's about just over 3% on headline, it's 4.7 on core. Housing's a big part of that. It should be lower, frankly, but we think that's going to decelerate over the course of the year. We think inflation's going to be become less and less relevant for these markets as we go over the next couple quarters. I know it's been the focus of investors, but we would start looking at other things like global growth, China risks, et cetera, and think about how to position that in portfolios and less so inflation as we move into the second half and into 2024.

John Bryson:

That's really good insight. Emily, as Matt kind of highlights, inflation's getting in line, how are markets reacting to that?

Emily Roland:

Well, I think the first thing to look at really is the bond market and the type of volatility that we've seen across bonds. It's almost been like the type of volatility that you normally see across equity markets. We've seen these massive moves in the 10-year treasury yield based on various data points coming in. You think about just what happened last week. Matt talked a lot about these disinflationary pressures here that are in the pipeline and all of that should have really forced the 10-year yield lower. As inflation subsides, we should see yields move lower. But there have been some other elements at play here. One concern across investors has been treasury supply. Last week we saw mixed messages on that. We saw a 10-year treasury auction that was met with plenty of demand and then the next day a 30-year treasury auction that was much weaker.

We saw that not as well absorbed by investors and we saw 10-year treasury yield spike on that. There's also been some contagion. The Bank of Japan has not abandoned, but made some adjustments to their yield curve control policy, which has caused Japanese bond yields to rise and US yields to move in sympathy. We've seen these big moves higher based on some of those concerns, but also you see periods where clearer signs of growth slowing and inflation falling have caused yields to move lower. We would be looking at every backup in bond yields here as an opportunity to emphasize bonds and portfolios to grab a hold of those higher yields. We're looking at the aggregate bond index yielding close to 5% as of late, and we look at that as an attractive entry point for investors to really grab ahold again of these yields, lock them in.

We're seeing a lot of interest in money market funds and CDs. It's certainly interesting to see that there's something else available in terms of shorter term cash, but we think that there is significant reinvestment risk there. Our view is that yields will come down as a recession likely unfolds due to the lagged impact of Fed tightening. We want to be mindful of overemphasizing cash in portfolios. We want to move out of the curve, and again, look at this income as an attractive opportunity so investors can really get paid to wait as we ride out what we think could be a challenging macroeconomic environment.

John Bryson:

Matt, Emily highlighted the opportunity we're seeing in bonds. You mentioned that if inflation's coming down as a concern, we should be shifting our focus to other global concerns and opportunities. Wrap it up for us. What are you focused on as the summer comes to a close?

Matt Miskin:

Yeah, I think Emily highlighted it really well, and it is the bond market and not making mistakes, I think, in the bond market because yields backing up right now, there's almost this debate amongst institutional investors. You have the Warren Buffet type investor that's buying longer dated treasury bonds as a great long-term value approach to thinking about how much income there is available in these bond markets. Then you've got hedge fund managers that are coming out saying, "Well, I'm going to short here. I'm going to tactically speculate that it's going to go this way or that way and trying to time it perfectly." We just think that that may work in a day-to-day basis, but that if you get too cute with this, then you're going to miss out on the long-term income and return available from the bond market. We're just about at that October 2022 high on the 10-year treasury yield at about 4.2% today.

Like Emily said, that's pushing up the aggregate bond index to over 5% or roughly 5%, investment grade corporate bonds are more like six. If we get five to 6% over the next five to seven years annualized, then potentially if other risks materialize or even a potential recession does happen, it's greater return potential. We do want to stay disciplined on the bond market, not let this shake us out and look at it like a longer term value investor, like a Warren Buffet approach. We think that's actually going to be a key part to portfolios over the next several years.

John Bryson:

Matt and Emily, I want to thank you. You've been great participants in our podcast. I hope you enjoy the rest of the summer. To the audience, if you want to hear more, Matt and Emily are posting weekly video series now. You can find them on LinkedIn. Emily's handle is EmilyRRoland, and Matt is Matthew_Miskin. You can also get their midyear update of Market Intelligence on our website, jhinvestments.com. I highly recommend you keep an eye on things. Matt and Emily work really hard. They're not taking vacations this summer. They're going to continue to focus on the markets and share their insights. As always, to the audience, thanks so much for listening to the show.