Finding value and quality in a valuation-rich global equity market
Asset prices have risen in recent years, aided by accommodative monetary policies, even as inflation expectations have remained low. Despite the strong gains to date, there appears to be a consensus that the global equity market will continue to rise.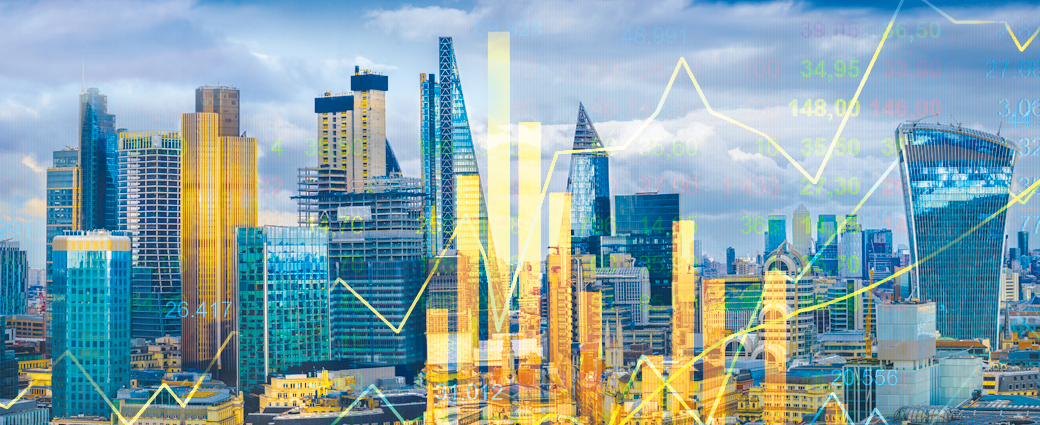 However, underlying evidence suggests to us that the opposite could happen. Amid this valuation-rich global equity environment, we believe the most sensible way to identify individual equities that offer meaningful value is to focus on quality characteristics at a stock-specific level. Broadly speaking, such characteristics include a record of generating a rate of return on invested capital that's greater than its cost of capital, a solid balance sheet with appropriate leverage and sustainable cash flows, and a strong management team that understands the core competencies of its business and does not deviate from them.
Identifying quality stocks requires robust research, and, in our view, today's environment is well suited to active managers who can examine the world through such a critical lens, grasp the importance of independent thinking, and embrace a long-term approach that assigns greater weight to truly meaningful developments affecting global industries than to year-over-year sales growth and monthly sales trends. Getting a company's valuation right is only half of the equation. It's just as important to have a considered view on the quality of a company, and we believe the best opportunities lie in the intersection between quality and value.
In search of value
As for the latter component, today's valuation-rich environment can make it unusually difficult to identify stocks offering meaningful value. Recent surveys on investor sentiment appear to reflect little consensus over current valuations, with many respondents viewing equities as expensive yet many also highly confident about the market's 12-month outlook.1 We believe valuations are stretched, having been lifted by the wave of optimism that took hold beginning in November 2016 following the U.S. presidential election. Price-to-earnings multiples—ratios that measure stock prices to earnings—haven't been this rich since the early 2000s, and, across the globe, most major equity markets have been trading significantly above historical averages.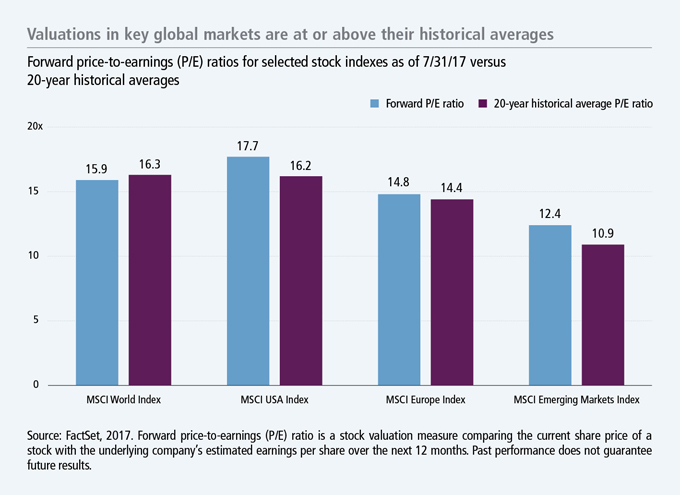 The key question is whether corporate earnings can sustainably support current valuation levels. Investors' recent enthusiasm appears to have been partly justified, as profit margins have recently risen to near-record levels and earnings growth has picked up in key global markets, exceeding most analysts' expectations. Another positive catalyst appears to be confidence in a successful transition as fiscal policies replace monetary policies as the dominant means of stimulating short-term economic growth.

A world awash in debt
However, we remain skeptical that equities have much room to climb further, given the recent rise in corporate debt levels. Between 2010 and 2016, the U.S. corporate sector took on $7.8 trillion in debt and other liabilities, boosting median net debt across companies in the S&P 500 Index to 1.5 times earnings, near a historic high.2

The trend extended into early 2017, as U.S. corporate issuance of investment-grade debt during the first two months of the year rose 25% compared with the same period a year earlier, and issuance of non-investment-grade debt jumped more than 80%.3
We're not alone in our belief that these developments warrant monitoring. The International Monetary Fund (IMF) has noted that current market conditions in many respects closely resemble those that would typically precede a credit cycle downturn. The IMF also noted that asset quality at U.S. companies has deteriorated; the average interest coverage ratio—a measure of a company's ability to meet its interest payment obligations—has fallen sharply in the last two years, while corporate earnings have dropped to less than six times interest expense, a level not seen since 2009.2
Concern about excessive leverage isn't limited to the United States; the IMF also found an abundance of companies with weak interest coverage ratios in key emerging markets such as India, China, Brazil, and Russia.2

This surge in debt is in part a legacy of central banks' accommodative monetary policies in the wake of the global financial crisis of 2008–2009. While these policies were intended to keep borrowing costs low and help stimulate economic growth, relatively few companies in recent years have used funds raised through debt issuance to finance capital expenditure and reinvestment. Rather, many have focused on buying back shares and increasing dividends—uses of capital that provide short-term rewards for shareholders but in many cases don't necessarily constitute efficient allocation of capital, in our view.
Where we're finding quality and value today
In an environment of stretched global equity valuations and high levels of debt, we believe the best long-term opportunities can be found in stocks with attractive valuations and quality characteristics. In our view, traits such as strong and sustainable cash flow and a high level of return on invested capital may help provide a degree of downside protection, should stocks significantly decline. Across global equities, we currently see a wealth of stock-specific opportunities in the financials sector, although we maintain a cautious view of European banks generally. We also have a favorable view of sustainable, quality franchises within the consumer staples sector; conversely, we've maintained a negative overall view of utilities.

Battling short-termism
In an era obsessed with quarterly metrics, the once distinct separation between speculation and investing is perhaps blurring. It's easy to forget that when an investor buys a company's shares, he or she is investing in a business as opposed to a specific index or price level; that stock represents fractional ownership of a real business, operating in one of many industries that are as complex as they are competitive.
As bottom-up, long-term investors, we believe it's important to focus on the optimal mix between quality and valuation, as this intersection of the market has been rewarded over the long term.
1 Yale School of Management Stock Market Confidence Indexes, Yale International Center for Finance, April 2017.
2 Global Financial Stability Report, International Monetary Fund, April 2017.
3 U.S. Corporate Issuers: Lending Surges Amid a Decline in Credit Risk in 1Q17, S&P Global Ratings, April 2017.
The S&P 500 Index tracks the performance of 500 of the largest publicly traded companies in the United States. The MSCI World Index tracks the performance of publicly traded large- and mid-cap stocks of developed-market companies. The MSCI USA Index tracks the performance of publicly traded large- and mid-cap stocks of the U.S. market. The MSCI Europe Index tracks the performance of large- and mid-cap stocks of developed-market companies in Europe. The MSCI Emerging Markets Index tracks the performance of publicly traded large- and mid-cap emerging-market stocks. It is not possible to invest directly in an index.

Investing involves risks, including the potential loss of principal. A portfolio concentrated in one sector or that holds a limited number of securities may fluctuate more than a diversified portfolio. Foreign investing, especially in emerging markets, has additional risks, such as currency and market volatility and political and social instability. Value stocks may decline in price.

MF395148