The waiting game: the Fed signals it may keep rates steady through 2020
It may seem like ages, but it was only 11 months ago that we wrote that the Fed appeared ready to hit the pause button with regard to monetary policy. Back in January, of course, the pause was from tightening rates. This week, the Fed announced after its December FOMC meeting that it was done easing monetary policy—for now.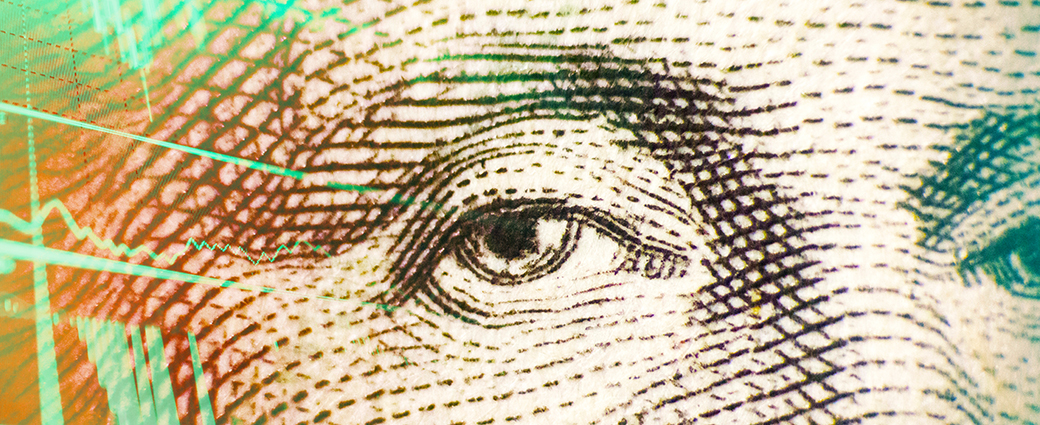 Round trips through monetary policy don't typically happen so quickly. The last pause at the beginning of 2019 set the federal funds rate at a target of 2.25% to 2.50%, and that's where rates stayed for eight straight months. Increasingly anxious investors, however, seemed to think those levels were too high for a global economy on less-than-solid footing, and after three consecutive cuts in July, September, and October, the rate today is back down to a target range of 1.50% to 1.75%.1
Meanwhile, the other end of the curve has also been experiencing a little bit of déjà vu. In the summer of 2016, the yield on the 10-year U.S. Treasury hit an all-time low of 1.37%; after President Trump's election, yields climbed steadily to 3.24% in November 2018—before falling all the way back down to 1.47% this past September.1 If forecasters were left feeling like it was difficult to make a confident statement about the direction of interest rates, they'd no doubt have plenty of company.
The key message in all of this, we believe, is that the global economy is sending mixed signals, and in such an environment, policymakers believe the risk of interest rates being too low for too long is a far more attractive one to take than the alternative. That said, the U.S. Federal Reserve (Fed) has for some time now kept its promise to make changes in policy data dependent. If the economic outlook were to change materially—for the better or for the worse—we anticipate the Fed would respond quickly.
First, the good news: the U.S. jobs market continues to shine
The jobs market in the United States has, almost literally, never been stronger. Unemployment dropped in November to 3.5%—a 50-year low—as employers added 266,000 jobs, which was well above the 187,000 consensus estimate. The U.S. consumer remains relatively confident, household balance sheets are solid, and as we head into the holiday season, a healthy dose of consumer spending could be right around the corner. Inflation somehow continues to be a nonevent: The Fed's preferred measure, core personal consumption expenditures, has been running below the Fed's stated 2.0% target for the better part of the past decade with few signs that significant change is around the corner. All of this apparent strength in the system underscores that the recent reductions in rates were, as advertised, an insurance policy against a material slowdown outside the United States.
As for those foreign concerns, they remain just as fluid today as they were in July when the Fed began retracing its steps. The United Kingdom's December 12 election handed the Conservative Party its biggest win in decades; Prime Minister Boris Johnson campaigned on the message of finally turning Brexit into a reality, and voters appear to have signaled their readiness to get it done. The consequences, however, remain to be seen.
The U.S.-China trade war, meanwhile, continues to be as unpredictable as ever. On December 13, details emerged surrounding a Phase One deal that halts the introduction of new tariffs and rolls back some existing ones in exchange for China's agreement to purchase more American food and farm goods. We're no political scientists, but we'd be surprised if this were the last deal announced from the Trump administration as we head into an election year.
This ongoing uncertainty on the global stage is likely part of the reason that the Fed signaled its intention to leave rates unchanged not just in December, but for all of 2020. While Fed Chair Jerome Powell sounded a more upbeat outlook for the domestic economy in his recent statements, the fact remains that we've just recorded 110 consecutive months of jobs gains and we have an effective federal funds rate of roughly 1.5%.
How to navigate today's global economic uncertainties
The era we're living through is, as has so often been the case lately, unprecedented in many ways. The Fed is no longer tasked with merely navigating its dual mandate on the domestic front, but also sidestepping the major macro risks that loom on the global stage.
All of this uncertainty reinforces the virtues of focusing on bottom-up fundamentals and relative value rather than making top-down macro calls. Successfully implementing a top-down view depends on correctly positioning a portfolio in the right direction at exactly the right time—a difficult task in the best of environments, let alone the current era. Given those realities, we'll offer three considerations for investors seeking to position their own portfolios for today's markets:
1   Avoid taking big bets on the direction of interest rates. A big tilt toward duration risk—either in favor of it or a significant underweight in it—is something we never advocate given the difficulty in correctly timing changes in interest rates. In the current environment, taking a more neutral approach to duration seems to make sense for most investors, given the uncertainty around the outlook for both short- and long-term rates. Instead, we see better opportunities through yield curve positioning and trying to take advantage of potential changes to the shape of the yield curve.
2   Don't bank on spread compression as a significant driver of returns. Given the spread compression we saw throughout 2019, while there still may be some room on the margins for further tightening, we expect returns next year to come primarily from coupon clipping and from yield. That said, we do still see value in the fundamentals of certain sectors and issuers in the corporate bond market, as well as some favorable technicals. Declining supply as issuers delever, coupled with strong demand from foreign and domestic investors, is supportive for bond prices, as are relatively low debt-to-equity ratios. While we don't see a catalyst for significant spread compression currently, we also don't see a catalyst for significant spread widening. In such an environment, we believe the individual securities held in a portfolio can be a potential difference maker.
3   Consider targeting opportunities to add diversification through the securitized debt markets. The securitized debt market can be a way to increase portfolio diversification away from corporate bonds while still earning a yield above U.S. Treasuries, maintaining liquidity, and achieving a relatively high credit-quality profile. We believe some relative value opportunities have emerged in agency mortgage-backed securities as spreads have widened, while segments of the commercial mortgage- and asset-backed securities markets also appear attractive from a bottom-up and relative value perspective. These are large, liquid markets where we believe fundamental analysis has the potential to bear fruit over time. 
1 U.S. Federal Reserve Bank of St. Louis, as of December 2019.
The views expressed are those of the author(s) and are subject to change. No forecasts are guaranteed. This commentary is provided for informational purposes only and is not an endorsement of any security, mutual fund, sector, or index.

Investing involves risks, including the potential loss of principal. 

 

MF1039336