Avoiding another taper tantrum: why a cautious stance on agency MBS may be warranted
There's been a good deal of speculation in the press lately about when and how the U.S. Federal Reserve (Fed) might start to unwind the $4.4 trillion worth of assets on its balance sheet.1 If we've learned anything from watching it operate over the past nine years, it's that sudden, surprising moves simply aren't in the Fed's DNA—any changes to policy will almost certainly be gradual and telegraphed well in advance.
But the question is still an important one. While we're less concerned with the plan with regard to the U.S. Treasury debt on its books—which, as portfolio managers, is an asset we've generally avoided for some time—we've been keeping a close eye on the Fed's plan for the agency mortgage-backed securities (MBS) it owns. Any change in policy could have significant implications for both the market and for fixed-income investors.
How the Fed got to $1.8 trillion in agency MBS
For background, the Fed began buying assets—U.S. Treasury debt and agency MBS—in 2008 when it initiated its first round of quantitative easing to help stimulate the flagging economy. Those purchases continued until January 2014, when the Fed began to taper the size of its monthly investments, gradually reducing the size of its bond-buying program throughout the year and ending new purchases altogether in October 2014. Since then, the Fed has kept the size of its balance sheet fairly constant by reinvesting the proceeds from any maturing bonds into new debt.
But that's likely to change as the Fed continues to try to normalize its monetary policy. The indication is that the Fed is likely to begin the process of gradually phasing out its reinvestment program at the end of this year or in early 2018. From a practical standpoint, this will likely mean setting a dollar-value target for how much debt the Fed will allow to roll off its balance sheet each month—the monthly cash inflows from maturing securities are too choppy to make a percentage-based target feasible. While it's unlikely that the Fed would cease repurchasing assets indefinitely, it's also not clear what it thinks an appropriate size for its balance sheet ultimately is; our base-case assumption is that something in the neighborhood of $2 trillion is a likely end goal.
For MBS investors, the devil is in the details
The big question for investors is: What happens to the MBS market as the Fed scales back its purchases? At the moment, the Fed is by far the largest buyer of agency MBS in the market and holds roughly 30% of the market on its books. No one knows for sure whether there's enough pent-up demand in the market to fully pick up the slack in the absence of Fed purchases, but time will tell.
What we do know is that agency MBS valuations today are rather tight relative to historical levels. Valuations in the bond markets are generally measured by spreads, which reflect the incremental yield one particular segment of the market offers over U.S. Treasuries. Over the long term, agency MBS have traded at yields almost 50 basis points higher than Treasuries, but today that spread is only about 30 basis points (BPS) (100 basis points equals 1%). If spreads widen by 20bps to 50bps—reflecting a repricing of agency MBS due to lower demand—shift could be somewhat painful for investors, especially if it happened quickly.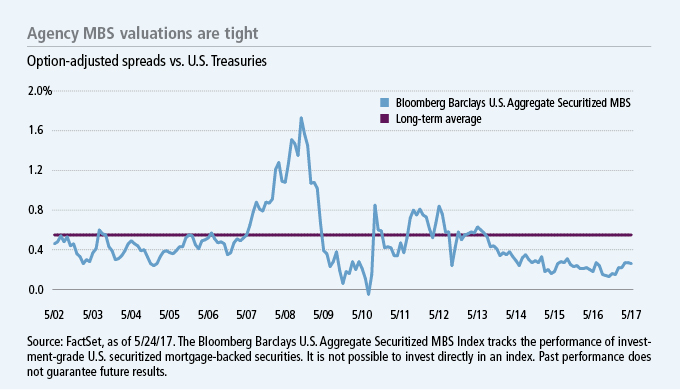 Another point worth bearing in mind is that the duration profile of MBS is highly correlated with the direction of interest rates—duration is a measure of a security's sensitivity to changes in interest rates. Residential MBS, as the name suggests, are made up of pools of underlying home mortgage loans. When interest rates are falling, homeowners with higher mortgage rates tend to refinance their loans and, as a result, the duration of the overall pool of MBS falls. But when interest rates are rising—especially when rates are rising in conjunction with a strengthening housing market, which is the case today—homeowners are less inclined to refinance existing loans or to move, thereby generating new loans. As a result, the duration profile of MBS tends to rise along with interest rates. This, in many regards, is an underappreciated risk: The last thing investors need in an environment of rising interest rates is a portfolio with steadily increasing duration exposure.
A cautious, but not bearish, outlook seems warranted
While we're generally cautious on the outlook for agency MBS, we're by no means bearish. The housing market has been one of the few consistent bright spots in the economy over the past several years, and there's no reason to think the Fed would risk a major disruption in buyer demand by sending mortgage rates sharply higher. In one of the multi-sector portfolios we manage—John Hancock Bond Fund—we still hold a roughly 15% allocation to the agency MBS market. While the valuations in agency MBS are somewhat concerning, the fundamentals remain solid and, overall, we think a cautious stance is appropriate. Investors can safely bet that the Fed's evolving policy will be data driven and well communicated, but how the market will respond is anyone's guess. After all, the eventual shrinking of the Fed's balance sheet—like so much of what the Fed has undertaken over the past nine years—is in many respects new territory for everyone, and the playbook is being written as we go.
1 Federal Reserve Bank of St. Louis, as of May 2017.
Quantitative easing is a monetary policy in which a central bank purchases government debt or other fixed-income securities in an effort to lower interest rates, increase the money supply, and stimulate economic growth.