How do 529 plan enrollment-based portfolio glide paths work?
Saving for your child or grandchild's education needs is a great idea. But how should you invest, particularly given the relatively short window until the child is ready for college?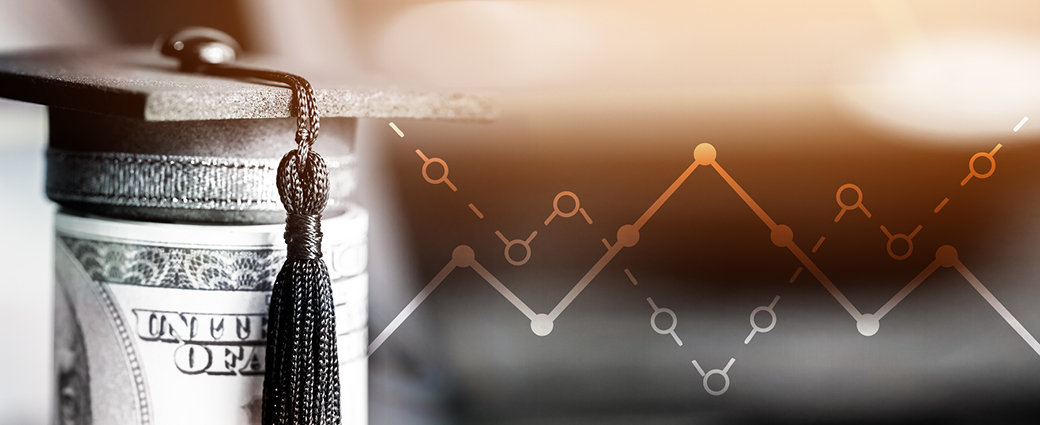 Fortunately, certain target-date funds—specifically, 529 plan enrollment-based portfolios—make investing for an education easier than you might expect. In fact, these age-based portfolios are the asset management industry's closest thing to a one-size-fits-all investment approach for school-bound savers and their families. And the glide path is the dynamic asset allocation trajectory that such funds follow to help investors pursue their education saving objectives.

Target-date funds help make investing for retirement—and education—simple
The adoption of the target-date fund has been good news for retirement plan participants. They're now likely to invest more easily and more appropriately—thanks to a single, yet powerful, step. What's the simple step that replaced the formerly complex series of investment decisions? Choose the fund with a target date that most closely corresponds to the year you expect to retire.
While the role target-date funds play in retirement plans has become prominent since the Pension of Protection Act of 2006, the target-date fund remains one of the best-kept secrets in the world of education savings 529 plans, which are exempt from income tax under Section 529 of the tax code if the money is used for qualified education expenses. While the investment horizon may only span one or two decades, rather than six or seven, the basic concept is the same: Choose the fund with a target date that most closely corresponds to the year you expect to start paying tuition.

The glide path represents the DNA of any target-date fund
Perhaps the most distinguishing feature of any target-date fund—be it one geared for retirement saving or education savings—is its glide path design, representing the predetermined asset allocation adjustments to balance growth potential with risk management as the beneficiary ages. Enrollment-based portfolios typically keep the vast majority of assets invested in stocks during the early stages of the beneficiary's life, when the first tuition payment is still years away.
What's the rationale for this relatively high equity exposure? On average, stocks have historically generated higher investment returns than bonds over extended time periods, albeit with more risk.
The investment glide path for John Hancock Freedom 529 enrollment-based portfolios, for example, starts with virtually all of its exposure in equity investments, while the enrollment date remains a couple decades away. Over time, the glide path calls for shifting this allocation from stocks to bonds. Ultimately, as the matriculation date becomes imminent, the glide path levels out to a stable proportion of 80% bonds and 20% stocks. This residual stock exposure—even once the beneficiary has begun school—has tended to help portfolios keep up with tuition inflation. Over the past decade, tuition costs have risen more than 25%.1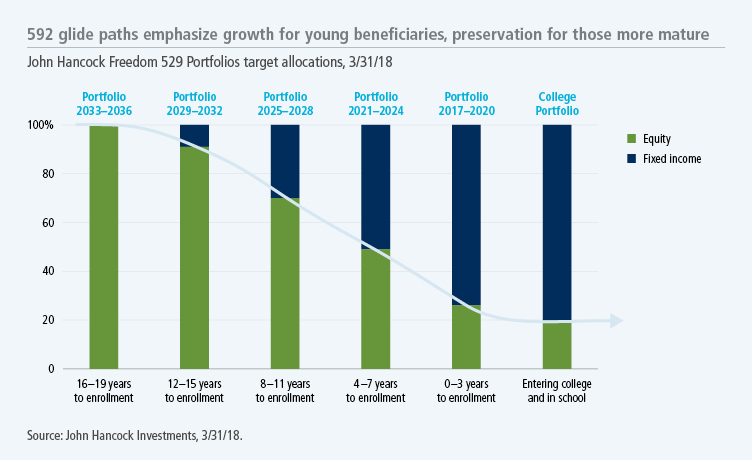 529 savings plans have expanded beyond college
The definition of tax-free qualified education expenses has been broadened in recent years. For college, qualified education expenses are typically defined as tuition and fees, room and board, and books and supplies. Student loan repayments of up to $10,000 per beneficiary as well as expenses for apprenticeship programs are also allowed. Additionally, 529 plans may distribute up to $10,000 per year for tuition expenses incurred during the taxable year in connection with enrollment at a public, private, or religious elementary or secondary school.3
Whether it's for grade school, vocational school, undergraduate, or postgraduate study, the key to a successful education saving strategy is to start putting money aside early and to continue doing so regularly—and to make sure your portfolio maintains an age-appropriate asset allocation at each phase of the investment horizon. Enrollment-based target-date fund glide paths can help investors stay on track no matter what economic headlines the next news cycle may bring. 
1 "The cost of college has increased by more than 25% in the last 10 years—here's why," December 13, 2019, CNBC.com 2 Actual asset allocations are as of 12/31/2019. For the most up-to-date target and actual asset allocations, including more information on portfolio investment objectives and risks, please visit jhinvestments.com/529 or call 866-222-7498.3 State tax laws and treatment may vary. Earnings on nonqualified distributions will be subject to income tax and a 10% federal penalty tax. Please consult your tax advisor for more information.    

Investing involves risks, including the potential loss of principal. The stock prices of midsize and small companies can change more frequently and dramatically than those of large companies. Growth stocks may be more susceptible to earnings disappointments, and value stocks may decline in price. Large company stocks could fall out of favor, and foreign investing, especially in emerging markets, has additional risks, such as currency and market volatility and political and social instability. Fixed-income investments are subject to interest-rate and credit risk; their value will normally decline as interest rates rise or if an issuer is unable to make principal or interest payments. Investments in higher-yielding, lower-rated securities include a higher risk of default. Liquidity—the extent to which a security may be sold or a derivative position closed without negatively affecting its market value, if at all—may be impaired by reduced trading volume, heightened volatility, rising interest rates, and other market conditions. This material is not intended to be, nor shall it be interpreted or construed as, a recommendation or providing advice, impartial or otherwise. John Hancock Investment Management and its representatives and affiliates may receive compensation derived from the sale of and/or from any investment made in its products and services.

 

Consult your financial, tax, or other advisor to learn more about how state-based benefits, including any limitations, would apply to your specific circumstances.

If your state or your designated beneficiary's state offers a 529 plan, you may want to consider what, if any, potential state income-tax or other state benefits it offers, such as financial aid, scholarship funds, and protection from creditors, before investing. State tax or other benefits should be one of many factors to be considered prior to making an investment decision. Please consult with your financial, tax, or other advisor about how these state benefits, if any, may apply to your specific circumstances. You may also contact your state 529 plan or any other 529 college savings plan to learn more about their features. Please contact your financial professional or call 866-222-7498 to obtain a Plan Disclosure Document or prospectus for any of the underlying funds. The Plan Disclosure Document contains complete details on investment objectives, risks, fees, charges, and expenses, as well as more information about municipal fund securities and the underlying investment companies that should be considered before investing. Please read the Plan Disclosure Document carefully prior to investing.

 

John Hancock Freedom 529 is an education savings plan offered by the Education Trust of Alaska, managed by T. Rowe Price, and distributed by John Hancock Distributors LLC through other broker- dealers that have a selling agreement with John Hancock Distributors LLC. John Hancock Distributors LLC is a member of FINRA and is listed with the Municipal Securities Rulemaking Board (MSRB). © 2018 John Hancock. All rights reserved. Information included in this material is believed to be accurate as of the printing date.

John Hancock Freedom 529

P.O. Box 17603 Baltimore, MD 21297-1603 866-222-7498 johnhancockfreedom529.com

529 PLANS ARE NOT FDIC INSURED, MAY LOSE VALUE, AND ARE NOT BANK OR STATE GUARANTEED.

CS1110184