Portfolio Intelligence podcast: what's ahead for the Fed in 2023?
Our Co-Chief Investment Strategists Emily R. Roland, CIMA, and Matthew D. Miskin, CFA, return to the podcast to explore how the U.S. Federal Reserve (Fed) has fared in 2022 in terms of managing inflation and unemployment.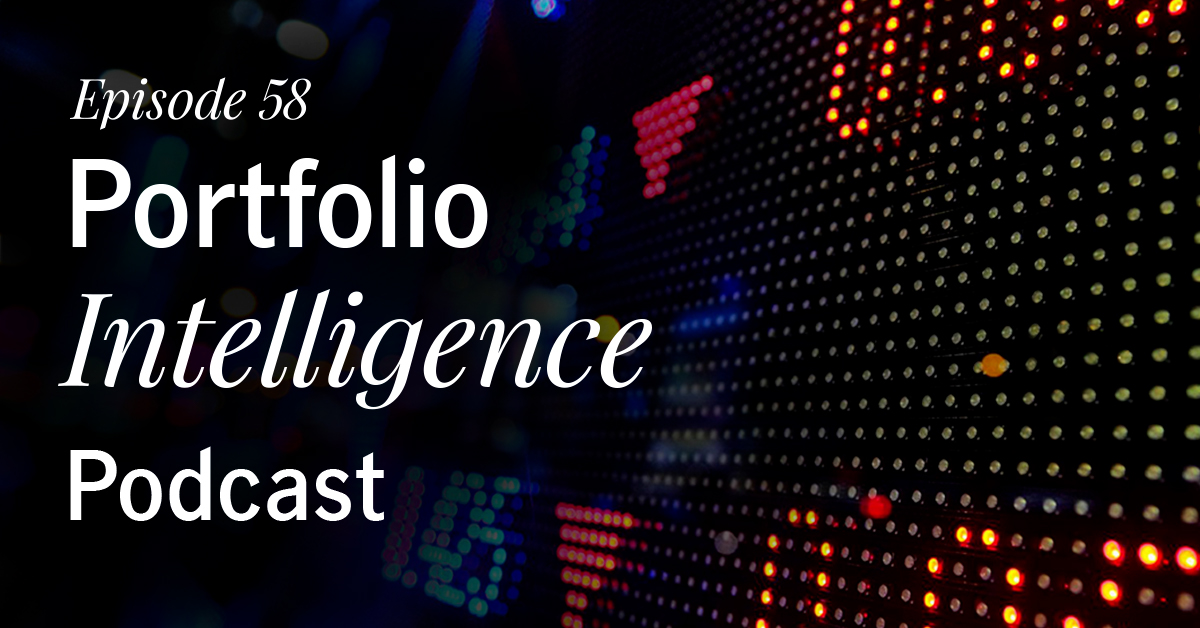 They also discuss the Fed's anticipated policy shifts in 2023, where they see the pivot happening, and how the timing could affect portfolio positioning. Emily and Matt also examine the impact that China's reopening from its strict COVID-19 policies could have on the global economy. Finally, the strategists offer insight on long-term portfolio allocations given today's market environment.
"One of the biggest challenging features of Fed policy in this environment is the focus on lagging data, which will likely cause them to over tighten and create a recession in 2023." —Matthew D. Miskin, CFA, Co-Chief Investment Strategist, John Hancock Investment Management
About the Portfolio Intelligence podcast
The Portfolio Intelligence podcast features interviews with asset allocation experts, portfolio construction specialists, and investment veterans from across John Hancock's multimanager network. Hosted by John P. Bryson, head of investment consulting at John Hancock Investment Management, the dynamic discussion explores ideas advisors can use today to build their business while helping their clients pursue better investment outcomes.
John Bryson:

Hello and welcome to the Portfolio Intelligence podcast. I'm your host, John Bryson, head of investment consulting and education savings here at John Hancock Investment Management. Today is December 15, 2022, and a volatile year is coming to a close. So I invited back two of my favorite guests, Emily Roland and Matt Miskin, our co-chief investment strategists here at John Hancock Investment Management. As many of you know, Emily and Matt are the architects behind our quarterly capital markets outlook piece titled Market Intelligence. Matt, Emily, welcome to the podcast.

Matt Miskin:

Thanks for having us, John.

Emily Roland:

Great to be here.

John Bryson:

All right, so we had the final FOMC meeting of the year yesterday. So Matt, I want to start with you and start with the Fed. Tell me how you think the Fed has done in 2022.

Matt Miskin:

It has been a very complex year for the Fed and a very difficult one. And you look back at the beginning of the year, they really didn't think they were going to raise rates much at all. The beginning of the year, the fed funds rate 0 to 25 basis points. The first rate hike was in March, and that was in earnest, a very small low rate hike start. Then they went 75, 75, 75, and they just ended the year with a 50 basis point rate hike. Overall, not the Fed's best year. I think the markets were jolted by such a whipsawing of Federal Reserve policy, monetary policy in general. The Fed needed almost like a speedboat this year, and the monetary policy doesn't work like a speedboat. It works like a tanker; it's very slow moving. But at the end of the day, inflation has started to come down some, and inflation was public enemy number one for the Federal Reserve over the course of the year.

We just got CPI data for November, and it really actually is the same as it was at the beginning of the year. It's still very elevated, 7% on headline, about 6% on core, but it's back to kind of where it was at the beginning of the year. The housing market has started to weaken. Housing prices are starting to come down. So in some ways, they've actually made up some ground in terms of credibility, bringing inflation down modestly. They still have more work to do, though. We think this year will be always remembered in a historical context as the biggest U-turn or 180 out of the Federal Reserve that we'll probably ever see. So we wouldn't over extrapolate this year as the new normal of the Federal Reserve, but I think they learned a lot that they can't let inflation run rampant because they're going to have to turn so quickly. And that's the biggest takeaway for them after 2022.

John Bryson:

So Emily, Matt had mentioned inflation a couple of times. That was the buzzword of 2022 in a lot of the conversations that we had. Can you dig deeper on inflation and talk to us about what's really going on under the hood?

Emily Roland:

Yeah, sure. So John, inflation is certainly still too high. Matt mentioned we're at about 7.1% right now on headline CPI. That was for November. It did peak at about 9.1% over the summer—so definitely encouraging. It is trending down, but still too elevated. So when you look under the hood for the month of November, monthly growth slowed to just 0.1%. So actually, if we stay on the trend, if we stay on the trend of 0.1% month over month, there's of course some variability around that. We could get to under 2% headline CPI in June of 2023, so pretty remarkable the potential pace of the deceleration here. When we look across some of the data for November, things like gas prices coming down, utilities down over 1%, used cars. That was kind of the biggest feature of the COVID backdrop.

Use cars down 3%, airfare down 3%. I don't know if anybody's feeling that. I haven't personally seen it, but that's what's happening. Even food inflation slowing at 0.5%, which is the slowest in months. The challenge, or the stickier part of it has been shelter or housing. So shelter rose 0.6% month over month, which was about half of the headline increase so still seeing that. The problem is that the way that shelter is calculated, and in the CPI rent calculations or owner's equivalent rent is what it's called is it's reported with a lag. So the way that it's measured actually lags actual market rents, which are already cooling and are likely to cool even further.

So that's really the biggest challenge is services inflation, which is dominated by shelter, which takes time to come through in the data. The challenge, of course, is that by the time that shelter inflation finally cools, the Fed is likely to have raised rates too far. They're looking at this data. It's lagging in some respects, and I think that's one of the biggest challenging features of Fed policy in this environment is the focus on lagging data, which will likely cause them to over tighten and create a recession in 2023.

John Bryson:

Yeah, I mean, it's easy to pick on the Fed. It is a tough needle to thread to get all these components right. We talked about, and we saw in 2022, a big focus on inflation. But Matt, the Fed we know has two mandates. It's to manage inflation, but it's also to focus on employment. Can we talk about employment right now and where you see it going?

Matt Miskin:

Yeah, so what we're hearing, we look at this thing called the Challenger Gray Christmas layoff announcements where they basically aggregate all the layoff announcements that are going across corporate America. And we're seeing a pretty substantial increase in layoff announcements. And the Federal Reserve, Powell yesterday actually in the Fed meeting was kind of like, well, it's just technology. And we're actually hearing that it's more broad base than that, and we're kind of concerned that Powell's dismissing it. We heard of trucking companies seeing some layoff announcements. So even trucking has been this very powerful part of the jobs market; we saw some of that. Housing market is seeing some layoffs. Financial services, there's pockets there, the mortgage businesses in particular. So it is a bit more broad based. And Powell yesterday too, in terms of the Fed's projection on unemployment rate, it is up. So there's forecasting it to be up to 4.6% from just about three and a half, 3.7% this year.

So they're saying that they're going to likely see the unemployment rate go up, but they're still going to raise rates regardless. So this is a very difficult backdrop for risk assets, and I think of more cyclical type positions across portfolios, because if the Fed's going to raise rates, even if the unemployment rate goes up, some, that's going to mean that they're going to have to pivot harder and turn more dovish later in the year, which would eventually be beneficial to higher quality bonds. But it also means that those companies that are over levered or kind of overstretched here on valuations, they're going to be likely seeing a bit of a turn in terms of either earnings or the valuation of the business. So net net-net brings us back to the higher quality bonds as the unemployment rate likely increases into 2023.

John Bryson:

All right. Let's expand upon that. Emily, we're talking about a Fed; yeah, I would say three months ago, two months ago, we thought they might be raising 75 basis points in December, and they came in at 50. So we're seeing some of the inflation numbers soften a little bit, but it doesn't mean the Fed is done. When they hit this period of a pivot, where do you see that pivot happening? Where do you see the terminal rate? And what do you think that does for the whole portfolio, not just for bonds, how do you talk to clients about positioning the whole portfolio?

Emily Roland:

Yeah, so the Fed pivot, that's the new kind of term of the year. We've left transitory behind and pivot is now the narrative, and it is encouraging that the Fed has moved here from the 75 basis point rate hike pattern to a 50 basis points. Markets are pricing in another 50 basis points early next year, two 25 basis points, increases in the start of the year, and then a pause. So the market expects the terminal rate to be right around 5% and then potentially seeing cuts as Matt referred to in the back half or later in 2023. So there's some kind of hopefulness for investors around this idea of a Fed pivot, but we wouldn't really overplay it. One thing we need to remember that we haven't talked a lot about is that in addition to rate hikes, and by the way, 50 basis points is considerable. It's significant.

The Fed's also unwinding their balance sheet. If you look just in the month of November, $97 billion rolled off the balance sheet. That's about the cadence that's happening on a monthly basis. So for the month of November, we saw the most monetary policy tightening that we have seen in this cycle. If you think about the 75 basis point hike and the unwind of the balance sheet, which is kind of a stealth form of tightening. So that is really, really going to have a lagged impact on the economy, something that we've talked about a lot. So we want to be mindful of that. So while we could see a modest positive reaction across stocks, at least over the short term, this is a signal to us that it is likely, again, that the Fed is going to over tighten and cause a global economic growth slowdown; other central banks likely to do the same thing.

And in that type of environment, you want to own bonds. You want to look to the income. We want to emphasize fixed income in periods where economic growth is slowing. So right now, we've already seen a big move in bond yields lower, we think to reflect that deteriorating economic growth outlook. But we still think that there could potentially be further lags to the rally in bonds as we head into 2023.

John Bryson:

Okay, very good. And we spent a lot of time on this podcast talking about the Fed, and I'm glad we did, but when I look at the daily headlines and the daily volatility, on the down days, it's because of the Fed. And on the up days, it's because maybe China's reopening and everything will work out. That's the last topic I want to hit. Matt, what is more important right now, the Fed, or should we be talking about China reopening and the impact that has?

Matt Miskin:

Yeah, Q4 overall has got to be chalked up as China reopening is the number one driver of markets. And as we've kind of come into this week, the Fed and global central banks are becoming more important. We were just looking at European equities, for example. Thus far for the quarter in U.S. dollar terms, they're up 24% before today, December 15 here. But what we're seeing is, I mean, 24% that is on track, that was on track for the fourth best quarter in the history since 1970 of the MSCI Europe Index. So European equities, Chinese equities, cyclical stocks, material stocks, everything had rallied strong this quarter thus far because of this China reopening narrative. Now the central banks are gaining greater traction. So you're starting to see a bit of a reversal of that. You're starting to see the dollar get a little bit of strength even today on a more hawkish Fed and just central banks more hawkish, in general, causing a risk-off environment.

You're starting to see a bid for bonds with that. So in our view, you had a quarter here where the China reopening thought was repriced in the markets, but for us, it's still going to be a tough go reopening in that economy. And also the economy underlying that reopening narrative, it's still got a structurally challenged housing market, real estate market in general. Exports are a large component of that economy's growth engine. And if globally we're not growing a lot or receiving those exports, then that's going to be a tough backdrop. So we believe the baton is going to be handed from what was a short window of the China reopening narrative to central banks being the largest driver, and we think that's going to be more of a 2023 story.

John Bryson:

Okay. Central banks being a bit back in focus in 2023. All right. Clearly 2022 was a tough year. It's one of the few years in history where we saw both stocks and bonds down, but we know that the best opportunities are sometimes made in those challenging markets. So Emily, wrap up the call for us today. How are you telling advisors how they should allocate when they think about a long-term portfolio?

Emily Roland:

Yeah, it's definitely been a tough year for both stocks and bonds, unusual to see them both showing significant declines. So we're all looking forward to, I think, turning the page to 2023. Let's all just give ourselves a round of applause for enduring a challenging environment this year. But when we look kind of forward in terms of where some of the opportunities are, we want to emphasize areas of the market that are already essentially priced for a recession, and we're not seeing that broadly across equity. So just this quarter, we look at the S&P 500, up about 12%. Matt referenced earlier this kind of risk-on everything rally that's been driven by more cyclical areas of the market, and it's been driven by multiple expansion, not an improvement in the fundamentals. So we've seen the forward P/E ratio on the S&P 500 climb from 15 times forward earnings to start the quarter to over 17 times forward earnings today, which makes them more expensive than their 20-year average.

But if you look inside the U.S. equity market, there are some pockets of opportunity where stocks are priced at sort of bargain levels. We look at mid-cap value stocks, which are now offering the steepest discount relative to other parts of the style box. They're trading near global financial crisis levels. That's an area where we're finding some value, but we're finding more value on the fixed-income side, frankly. We're looking at the income offered by bonds as extremely attractive, especially relative to other investment options right now. More specifically, we're emphasizing investment-grade corporate bonds, which are trading at around 90 cents on the dollar. Again, similar to '08, '09 levels. We like mortgage-backed securities, municipal bonds. These are all areas that offer a really favorable combination of more moderate risk and a really appealing total return potential, again, in an environment that's probably going to continue to be challenged from an economic standpoint, given the amount of central bank tightening that's happening globally. You can't get us away from those central bank references, John.

John Bryson:

Yep, no problem at all. What I'll say is this. You've been both very consistent throughout the year. You've been great guests of the Portfolio Intelligence podcast. I want to thank you for everything that you've contributed in 2022. I'll tell you to the audience: I know I'm going to take a break between now and the end of the year, and you might, but Matt and Emily won't. They're going to be on top of the markets and continuing to share with us the insights that they see. And I'm looking forward to the Market Intelligence broadcast in January to get their newest insight.

So Matt, Emily, thanks so much for always joining us on the podcast. Folks, if you want to hear more, please subscribe to the Portfolio Intelligence podcast on iTunes or wherever you download your favorite podcast. If you want to hear more about what we're doing, you can follow Matt and Emily on LinkedIn, or you can visit our website, jhinvestments.com, to catch up on the latest viewpoints that John Hancock Investment Management has to share. Thanks as always so much for listening to the show. Have a great holiday, and we'll see you next year.
This podcast is being brought to you by John Hancock Investment Management Distributors, LLC, member FINRA, SIPC. The views and opinions expressed in this podcast are those of the speaker, are subject to change as market and other conditions warrant, and do not constitute investment advice or a recommendation regarding any specific product or security. There is no guarantee that any investment strategy discussed will be successful or achieve any particular level of results. Any economic or market performance information is historical and is not indicative of future results, and no forecasts are guaranteed. Investing involves risks, including the potential loss of principal.