Portfolio Intelligence podcast: the market outlook entering year-end 2022
Our Co-Chief Investment Strategists Emily R. Roland, CIMA, and Matthew D. Miskin, CFA, return to the podcast to offer their takeaways from the third quarter, discuss their current views on equities, and explain how their outlook has evolved.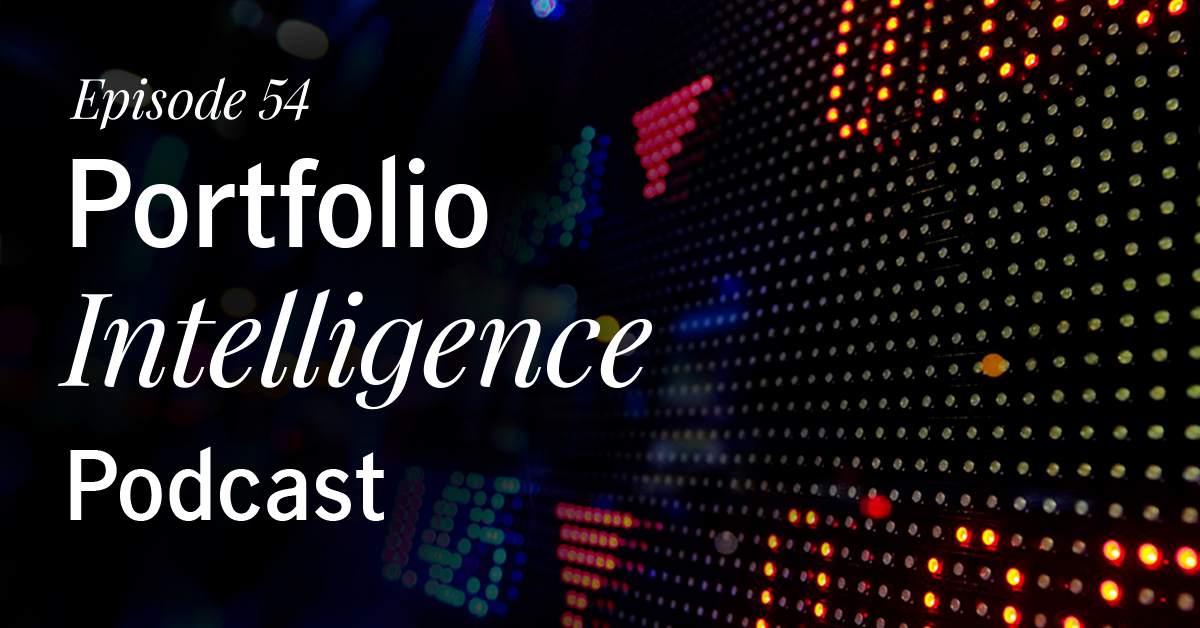 The strategists also share the concerns they're hearing from financial advisors and investors about equity and fixed-income portfolio positioning. Finally, Emily and Matt discuss current U.S. Federal Reserve interest-rate policy and offer ideas on what investors may want to watch as the year comes to a close.
"You've got this tug of war, where the market is dealing and grappling with inflation risk and interest-rate risk on one side and then potentially a slowing economy and credit risk on the other side. In our view, it's a late cycle environment and this is typically the tug of war that happens. If you try to overtrade it or be too tactical with it, with one quarter, you're going to get spun around."—Matthew D. Miskin, CFA, Co-Chief Investment Strategist, John Hancock Investment Management
About the Portfolio Intelligence podcast
The Portfolio Intelligence podcast features interviews with asset allocation experts, portfolio construction specialists, and investment veterans from across John Hancock's multimanager network. Hosted by John P. Bryson, head of investment consulting at John Hancock Investment Management, the dynamic discussion explores ideas advisors can use today to build their business while helping their clients pursue better investment outcomes.
John Bryson:

Hello and welcome to the Portfolio Intelligence podcast. I'm your host, John Bryson, head of investment consulting in education savings at John Hancock Investment Management. Today is October 5, 2022, and markets are interesting. The last month flew by. The last quarter flew by and we want to get a recap from two of our favorite guests, Emily Roland and Matt Miskin, our co-chief investment strategists here at John Hancock Investment Management. As you all know, Matt and Emily are the architect behind our quarterly capital markets outlook piece titled Market Intelligence. Matt, Emily, welcome to the call.

Emily Roland:

Thanks for having us, John.

Matt Miskin:

Yeah, thanks for having us, John.

John Bryson:

All right, Matt, I'm going to start with you. We just wrapped up the third quarter and it was rough. I mean, rough like Bobby Wagner taking out a fan on the field type of rough. Global equities are down 7%. U.S. Aggregate Bond Index down nearly 5%. What are your thoughts? What are your takeaways?

Matt Miskin:

It was one of the more tricky quarters we've seen. And to your point, I mean, stocks, bond down. Usually, when stocks are down, bonds hold up better. And also what was a tricky piece to the puzzle was oil prices and commodity prices came down. Oil prices are down 26%. And usually that would influence the Treasury yield market and would anchor yields and help pull them down. But the 10-year Treasury yield jumped almost one whole percentage point from about 290 to 380. So a big jump in Treasury yields. That hurt the overall bond market. The best-performing parts of the bond market were high-yield and bank loans. So even though it was a risk-off quarter, higher risk parts of the bond market did better. So it made it very difficult to protect on the downside in the bond market. And it was also the same in the equity market.

So even though the S&P 500 was down about 5%, the best-performing sectors were consumer discretionary, which is a very cyclical sector and energy, which is also typically more cyclical. And small caps did better than large caps. So overall, the quality factor really struggled in the quarter, meaning the better the business was, the worse it performed over the quarter, which again, was a tricky way to play defense here, because the things that usually hold up better in a down market didn't do so. And I think when we step back and look at it, you've got this tug of war, where the market is dealing and grappling with inflation risk and interest-rate risk on one side and then potentially a slowing economy and credit risk on the other side.

In our view, it's a late cycle environment. And this is typically the tug of war that happens. If you try to overtrade it or be too tactical with it, with one quarter, you're going to get spun around. And day to day you're seeing so much volatility in the markets. We're really trying to stay disciplined here as we're looking out into the end of the year into next year. And we'll definitely be talking about that more.

John Bryson:

Okay, that makes a lot of sense. Don't get too cute in volatile markets like this Stick to the fundamentals. Emily, I mentioned the Market Intelligence booklet. The Q4 version's being released this week. So really excited to take a look at that and hear about that. I know you and Matt place a lot of emphasis on cycle analysis and earnings as you pull together your global view on equities. What has changed this quarter that people should be aware of?

Emily Roland:

John, so you're right. Where we are in the economic cycle has really been a critical input to our cross-asset views. And Matt already mentioned decelerating economic growth. So, starting with the economy, one of our favorite indicators, as you know, is the Conference Board's Leading Economic Indicators Index. And we actually saw that go negative for the first time as of August. Negative, just over 1% year-over year, and we saw July also revise down to slightly below zero. So we are certainly seeing the fact that we're challenged now by a big reversal in Fed policy. Moving away, of course, from the COVID-driven, ultra-accommodated Fed policy toward significant tightening, we no longer have fiscal stimulus. So we're learning how to stand on our own two feet without that and we're seeing that impact economic growth.

The leading indicator of some of the bigger components areas like weekly manufacturing hours worked, the ISM Index of New Orders, which is a key gauge of manufacturing demand, consumer expectations, all of those falling on a month-over-month basis. So we are seeing some pieces of the economy hold up well. Certainly, the labor market, we remain near a 50-year low as far as the unemployment rate in the U.S. retail spending, holding up all right. But we are starting to see again, the impact of tighter policy really start to bite here. One thing to note though, is that compared to the rest of the world, the U.S. is actually holding up okay. Another data point that we watch really closely in Market Intelligence is PMIs, or Purchasing Managers' Indices. It's this really timely, monthly survey of manufacturing firms and we get a sense of the health of an underlying economy.

Anything over 50 means the economy is expanding. And anything under 50 means the economy is contracting. And we look across Europe and even at China. Essentially, the six largest, non-U.S. economies are all now below 50. Japan just holding in just above 50, but otherwise, below 50 across the board, and the U.S. is also decelerating. But we're at 51.8 right now. So we are seeing, unfortunately, Europe really here in the cross hairs of the Russia-Ukraine war. They have a really significant reliance on Russian oil and natural gas. And that's had just an incredibly punishing impact on inflation there, more so even than here in the U.S. So, seeing challenges there from an economic growth perspective; U.S. doing okay for now.

And then I would say the other key piece, finally, that we watch from a fundamental perspective is earnings estimates, because we know that over time the earnings engine's going to really be the key driver of stock prices across regions. And when we look at the U.S. in this quarter's book, what you'll see is that next 12-month earnings estimates are what analysts on the street are penciling in for S&P 500 earnings over the next 12 months. It stopped moving higher. But it really hasn't yet been adjusted lower. And we do expect that adjustment will happen in the coming quarters here. Companies are really starting to face a much tougher environment. We have demand starting to slow. Consumers now have a much lower net worth than they did just a few quarters ago. The cost of capital has skyrocketed. The dollar strengthened.

And we're seeing that some companies have too much stuff. They overstocked inventory in response to the pandemic. So things are moving really fast here. We've got to identify companies that can adjust, continue to grow revenue, maintain margins in this type of really challenging earnings backdrop. Now when you look at the data internationally, you'll see that earnings appear to be holding up pretty well there for 2022—probably going to see some significant revisions there. But you will see that next 12-month earnings growth both in Europe and in emerging markets is rolling over in a pretty big way, which is really commensurate with that decline that we're seeing from an economic perspective.

John Bryson:

Emily, that's really helpful. And let's stick with equities. Given the backdrop that you and Matt have outlined with slowing economies around the world, earnings potentially rolling over, the fact that quality hasn't held up in the sell-off as it may have in the past, how are your conversations with advisors and investors going? How are you guiding them on how to position their equity portfolios?

Emily Roland:

John, when we think about this macro environment, it's really about, where do you find opportunities within equities. And what are the types of areas that you want to avoid in this late cycle environment, that it's ultimately going to unfold, very likely in our view into a recession. And the first thing that we're doing based on the better economic growth landscape and prospects in the U.S. and the better, higher-quality earnings that you're going to get here in the U.S. is we are emphasizing domestic equities today in portfolios. A lot of that's really very simple. When you just think about in indexed construct, in the U.S., you're just going to get more quality. This is companies with great balance sheets, good return on equity, good earning stability, more durable profitability. When you look at international indices, just looking at the MSCI ACWI ex US Index, the top sectors are financials and industrials and consumer discretionary.

Those things are very economically sensitive. So just even if you're investing in an index, you're going to be emphasizing quality when you overweigh the U.S. And again, it's really based on within the U.S. moving up in quality. It's done poorly on a relative basis, which has been surprising to us. We think it'll eventually be better over the next 12 months. And within quality, we like sectors like technology. We like healthcare. And we're pairing that with defense. Just your classic, defensive sectors that are still relatively, maybe not inexpensive, but not super expensive right now. Utilities being our favorite. And the key there is just trying to find a way to kind of harness this change in consumer behavior that we're starting to see. So, people are really starting to make decisions between the things that they want to buy and the things that they need to buy.

So, my 13-year-old son, I just sent him off to the mall. And he complained about getting $20. But that's about all he is going to get. And you're going to see fewer people going to the mall and buying those big-ticket items. But you're still going to see them turning the lights on and taking a shower. Maybe the latter probably wasn't a great example for my 13-year-old. But we are going to see these tradeoffs again, between what people want and what people need. And playing things like utilities and maybe infrastructure with more sort of durable demand and consistent income are parts of the market that we're really favoring.

John Bryson:

All right. That makes a lot of sense. And your point about people buy what they need, not what they want in these types of markets, needs are dependent on the individual. We'll just leave it at that.

Emily Roland:

Mine involves shoes.

John Bryson:

Yours involves shoes. Your 13-year-old doesn't involve soap. That's okay. That's okay. I have kids, too. You got to throw them in the shower every now and then, kicking and screaming. Nice. Hey, Matt, I want to talk about fixed income. Let's talk about Fed policy. It's been a critical part of your and Emily's inputs along the way. What's happening with Fed policy? What's happening across the rates market? And what do you think people need to think about going into the fourth quarter?

Matt Miskin:

So the Fed has continued to be very hawkish as of late, even though the economic growth has slowed. So as Emily highlighted, the Leading Economic Indicators are going negative, and yet the Fed is really not signaling any slowdown in monetary policy tightening. And it's a very unique situation. Usually at this point, we study past economic cycles and when the economy slows like this, they're usually pausing at a minimum. And Treasury yields are falling, and they're bucking that trend. And really, they're just totally focused on inflation and nothing else in terms of when things, economically speaking, deteriorate. But right now, the Fed funds rate, what the bond market is already priced in by December, is a 4.5% Fed funds rate. So the bond market's pricing in a 75-basis point rate hike in November. And then another 50 basis points rate hike in December. It's very hawkish.

It's created an inversion of the yield curve. The 2-year yield is above that. Of the 10-year yield, the 2-year yield is lower than the Fed funds rate forecast or what the futures market's pricing in by year end so that the 2-year yield is pricing in a rate cut next year. And we believe once they start cutting, they're going to have to keep cutting, because they're going to be struggling with other issues besides inflation at that point. But yields have just continued to get more attractive. And what we looked at, before we were looking at three to 5% yields across high-quality bonds. We're now looking at four to six. And 4% to 6% is attractive, not just relative to its own history, best in 10 years in terms of high-quality bond yields that we've been able to get, really other than 2008. And there was a quick period. But also relative to stocks and other assets, right now we think four to 6% in income is going to be a very competitive return.

There was this saying called there is no alternative to stocks before when stocks were paying, the S&P was paying nearly a 3% dividend yield, it was trading relatively cheap, so on and so forth. Well, now, by the end of this year, we think there's going to be basically no alternative to bonds. I mean, it's going to be very competitive and attractive when you can give 4% to 6% income in something that has lower default risk, because they're higher credit quality parts of the market. And for us, equities, again, you've got to find these really good companies. When we look across markets right now, it's going to be tougher to generate 4% to 6% total return as we look at the economy slowing.

So it's just, in our view, making fixed income more attractive. It is something we continue to lead with in our discussions as a best opportunity across asset. We want to get paid to wait. And we want to get income instead of price return, because it's going to be frankly, more dependable amidst all this volatility.

John Bryson:

I think Emily will put an iron on her I-love-bonds T-shirt. Maybe on the back with the most current yield. Emily, what do you think about that?

Emily Roland:

I love it.

John Bryson:

All right, we'll do that, because don't forget, these higher yields, we've been looking for higher yields for the last 10 or 15 years. And they're coming in. Not without a dose of volatility, but long-term investors, we're looking for higher yield and bonds can offer it. So, Matt, I'm going to throw a same question at you. With that backdrop, with the volatility in bonds, how they've behave and what they can do for you long term, how are your conversations going with investors? What are you advising them to do with their fixed-income portfolios?

Matt Miskin:

So there's still, right now, I think a bit more preference for credit risk over interest-rate risk. And it's paid off. I mean, again, over the course of the third quarter, bank loans and high yield did better than Treasury bonds and high-quality bonds. But if we look out the next several quarters, we think that the lowest credit quality type businesses are going to struggle to make money. They're going to struggle to make earnings. Their balance sheets are weaker. They're going to need capital markets to survive. And we want to be in companies that don't need capital markets to survive. They are profitable businesses. They have good balance sheets. And that's going to make them more investment grade. So first thing we're talking about is moving from kind of more floating rate, riskier parts of the floating-rate market. And if you have sizable allocations there, if you've had it, it's been a great position. Congrats.

But we would think about trimming some of that. Redeploying that capital into core, core plus intermediate fixed income with a sizable chunk with investment grade. Higher-quality high-yield to us is relatively attractive. The yields right now are about 8%; high yield overall is yielding almost 10%. So a little sliver of high yield in a core-plus strategy can make sense. But outright high yield, if you're in single B or triple Cs by the index, that to us, is a bit too much credit risk, so we would actually trim that. Outright high-yield exposures, again, move that more to core, core plus. And what we did was, even though I know duration has been tough here, we believe that duration will eventually be a tailwind to investors going into next year. And I know short duration has been a great place to be, but as the Fed reaches its end of hiking, which we believe is going to be end of the year, that's when you want to move more to intermediate.

We've already taken steps to get there. And then when the Fed starts cutting, you want to go longer duration. We're not there yet. But we think that could be a mid-2023 or even second quarter of 2023 story. So moving up in quality, moving a little bit more to the intermediate part of the curve in terms of duration, again, four to 6% yields with lower credit risk, that's kind of where we want to sit and be patient here as other opportunities arise.

John Bryson:

All right. Good stuff. My last question for both of you, I won't be talking to you again until after Halloween, so what are the Halloween costume ideas this year that we should be thinking about? Emily, you go first.

Emily Roland:

Well, I already mentioned my 13-year-old, so we're officially, I think, past the dressing up. But I told him he had to wear some kind of costume if he wants to trick or treat. So it's probably going to involve his football uniform or something like that. And then very odd set up for my 9-year-old daughter. She and two of her friends are dressing is all the animals from the insurance company ads. I think one of them is the gecko from Geico. One of them is the duck. Or, I don't know. It's very interesting, maybe comment on capitalism. I don't know

John Bryson:

Inventive. I like it. I like it. How about you, Matt?

Matt Miskin:

So the six-year-old told me last night: a zombie. So I don't know.

Emily Roland:

Classic!

Matt Miskin:

I was saying, "All right, so you're going to use toilet paper and wrap yourself?" And she's like, "No, dad, that's a mummy."

John Bryson:

She's right. She's right.

Matt Miskin:

But I don't even know what that's going to entail. So we're going to be running around with that. And then my older daughter, the 9-year-old, I think it's a vampire cheerleader. A cheerleader, but then also one that is pretty scary. We're going for scary this year.

John Bryson:

You're going for scary?

Emily Roland:

Love it!

John Bryson:

Nice.

Matt Miskin:

How about you, John?

John Bryson:

My oldest doesn't trick or treat anymore. She's 16, so she'll decide last minute. My youngest has moved from the Harry Potter phase to the Stranger Things phase, so some version of El in Stranger Things. So that's the new wave. So time will tell. Listen, it's always great to connect with you. I mentioned before, the Market Intelligence booklet. Folks, if you're interested in the latest thinking of Matt and Emily, follow them on LinkedIn and on Twitter. And check out our website, jhinvestments.com. The Q4 booklet is going to be posted. And our latest thinking will be there. Matt and Emily, as always, thanks for calling in. And to our audience, as always, thanks for listening. And if you want to subscribe, please follow it. We'd love to have more subscribers on the Portfolio Intelligence podcast. Thanks, everyone.

Emily Roland:

Thank you.
This podcast is being brought to you by John Hancock Investment Management Distributors, LLC, member FINRA, SIPC. The views and opinions expressed in this podcast are those of the speaker, are subject to change as market and other conditions warrant, and do not constitute investment advice or a recommendation regarding any specific product or security. There is no guarantee that any investment strategy discussed will be successful or achieve any particular level of results. Any economic or market performance information is historical and is not indicative of future results, and no forecasts are guaranteed. Investing involves risks, including the potential loss of principal.