Portfolio Intelligence podcast: seeking opportunities in today's turbulent bond market
Fixed-income investing is about more than just picking bonds and forecasting interest rates, says Howard C. Greene, CFA, a senior portfolio manager and co-head of U.S. Core and U.S. Core Plus Fixed Income strategies with Manulife Investment Management.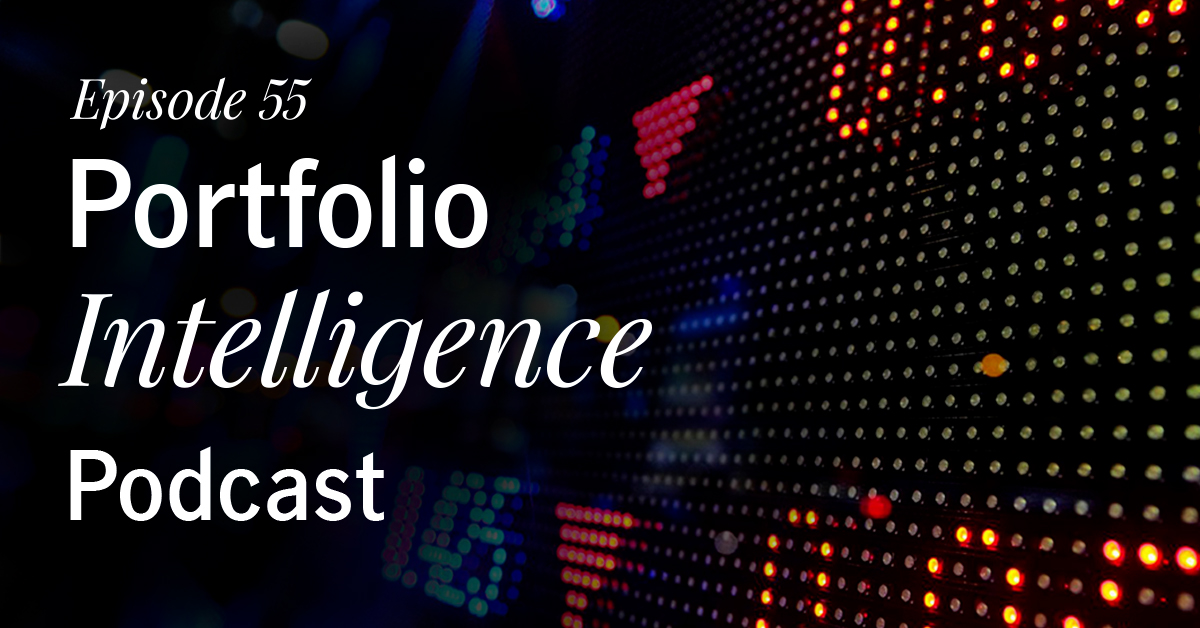 Howard joins podcast host John Bryson to discuss the key differentiators of his team's approach and explains how supply and demand components across the bond market influence how his team navigates fixed income. In addition, Howard explains how his research team's unique structure and process seek to add value for investors in what's been an unusually challenging year for fixed-income investors.
While many fixed-income teams assign researchers to specialize either in investment-grade credit or the high-yield segment across industries, the analysts on Howard's team have specific industry responsibilities across the entire credit quality spectrum. In this way, the team believes that its analysts gain a more holistic view of their focus industries and the competitive forces that shape them. Such a structure also helps identify the opportunities that reside in the cross-over space between investment-grade and high-yield credit. It's in this middle ground that investors can find companies with improving credit profiles, what are known as rising stars, Howard says.
When all the players within the team work well together, as Howard puts it, "you make some really great music and you build a really good portfolio."
"You've got to keep your eye on the long run. Looking out 12 months, how do you think things will ultimately settle? What's the policy path by the Fed? That drives a lot of it. Think about what's happening in the economy and where do we want to be and try not to just get disrupted."—Howard C. Greene, CFA, Senior Portfolio Manager, Manulife Investment Management
About the Portfolio Intelligence podcast
The Portfolio Intelligence podcast features interviews with asset allocation experts, portfolio construction specialists, and investment veterans from across John Hancock's multimanager network. Hosted by John P. Bryson, head of investment consulting at John Hancock Investment Management, the dynamic discussion explores ideas advisors can use today to build their business while helping their clients pursue better investment outcomes.
John Bryson:

Hello and welcome to the Portfolio Intelligence podcast. I'm your host, John Bryson, head of investment consulting and education savings at John Hancock Investment Management. With all the volatility we're seeing in the fixed income markets, I thought it'd be great to invite Howard Greene, CFA, and co-head of the U.S. core and U.S. core-plus fixed income strategies at Manulife Investment Management. Today's October 20, 2022. Howard, welcome to the podcast.

Howard Greene:

Happy to be here, John. Thanks for having me.

John Bryson:

You got it. Hey, listen, when we're talking about investments, we often hear about stock picking and portfolio managers and what they're looking for, whether it be earnings, growth or profitability or good valuations. But we don't talk about bond picking all that often. Can you tell us what goes into bond picking and why it's more than just forecasting interest rates?

Howard Greene:

Oh, sure. That's a great question. I think we can actually write a thesis in response to it, but I'm not sure how many people would read it. But I think quite honestly it might surprise a lot of folks, particularly those that aren't familiar with our core and core-plus bond funds, the investment-grade bond fund and the bond fund, that interest-rate forecasting actually has a minimal, a very small impact upon our investment decisions. We maintain a portfolio duration, i.e. the interest-rate risk, within a very narrow band around our benchmark. And for us, our equivalent in the S&P is the Bloomberg Barclays Aggregate Index.

In managing our money, our investments in our portfolios, we strictly adhere a bottom-up research process that really very intensely focuses across the numerous sectors and subsectors of the bond market. Corporate bonds are generally the biggest area of participation in the marketplace for us, but we also rely pretty heavily on the securitized sectors of the market, which means agency mortgages like Fannie Mae and Freddie Mac, asset-backed securities, credit cards, automobile loans, and more esoteric areas like business equipment lending and other areas, and the commercial mortgage-backed securities market too.

When you get back to bonds and how you evaluate them and the types of work you do, bonds are generally evaluated on their incremental yield above comparable maturity Treasuries of the bond market. The more yield we can earn, the better, but it all is relative to the amount of credit risk we perceive that one bond may have versus another. So again, it's how much incremental yield can we get above that risk-free rate, the Treasury, whether we're looking at a 5 year or a 10 year or whatever.

And then we get down to those relative value decisions, and those are made by looking at the absolute yield and that yield spread or incremental yield across the various sectors of the market too, looking at what we can generate on yield from owning certain banks or energy companies or utilities, etc., wherever there's value at any point in time. We're looking for credits companies, companies where we see managements whose interests are aligned with ours. We're looking for that solid business fundamentals, stable and improving sort of financial metrics that can lead to stronger valuations, which would reduce that risk premium, the incremental yield over Treasuries, which are then accrued to a higher bond price. And if we can get a ratings upgrade along the way, that's just extra icing on the cake.

As we like to say, we're looking to find the undervalued bonds and the undervalued sectors of the market, and then when we're putting those securities into the portfolio by the maturity that matches your view on where best to position along the yield curve, this gets out of interest-rate thing, look to where you can best position along the yield curve; but in this case, on how we anticipate the shape of the yield curve, and that's the stable rates from three month to two years out to 30 years, and how we anticipate the shape of that yield curve to change as we look forward. And that's impacted by changes in Federal Reserve monetary policy.

But what we don't do is we don't go along or very short duration relative to our benchmark in response to short-term macro phenomena. That's market timing. And market timing in our view is death by a thousand cuts. It's horribly distracting from that which we do so well, which is that fundamental bottom-up research across sectors, whether it's credit, securitized, what have you.

John Bryson:

So sticking with credit, and you're talking about finding values out there in the marketplace. Let's say two companies are issuing bonds at roughly the same yield, yield above Treasuries. What distinguishes one versus the other? Is it the opportunity going forward where those companies can issue debt at a lower yield because they're growing or becoming more stable? What is it that separates one from another?

Howard Greene:

Well, assuming that they have similar maturities, also, it's like, how do we look at the fundamentals of the industry those two companies are in? If they're both in the same industry, it's like, do we see fundamentals and prospects better for one company or another? Does one company have a different philosophy with regard to sort of balance sheet management and capitalization and how much leverage they want to put on their balance sheet? We want companies that are in the right industry, going the right way, where management respects the bond holder and really tries to maintain a very stable to improving balance sheet. Some companies view leverage in different ways, willing to live with high degrees of leverage than others.

John Bryson:

Got it. Now what about the marketplace and the players involved in the supply and demand components? I think about what's going on in the U.K. and at certain points in time, pensions might be pressed to make investment decisions that they don't want to make because of things going on in the marketplace. How does the supply and demand and the landscape play into your decision-making?

Howard Greene:

Oh, sure. In normal markets that are operating normally, I guess, where there's no sort of panic built in, people always think that excess supply will push out valuations and whatever, and that's not always the case. A lot of supply will begat a lot of demand and just keep valuations and help them improving. It's a bit of a momentum driver.

In situations like the U.K., in situations like in spring of 2020 when the pandemic hit, or even a little bit earlier this year where people are just starting to think, "Oh wow, this inflation thing really is real and it's sticky and it's challenging," you see some short-term disruption or dislocation in various sectors in the market. A lot of people have been trying to raise a lot of the liquidity, sell down in corporate bonds and asset-backed securities, and the market has been a little less accommodating at this point in the cycle. The Fed's tightening policy. You can't always sell what you want, but there's always something you can sell. And a lot of folks migrate toward a short under the yield curve to sell things.

And so you've gotten sort of a flattening of the credit curve. We're not trying to get into too much technical jargon. It's cheapened up the shorter end of the credit markets and the aspect markets on a relative basis more than the long end, and that's technical dislocation. It's up to us as the investor to decide, do we want to take advantage of it? Or are we all going the same direction and we want to feed into it?

So there's always some noise. In our view, you've got to keep your eye on the long run. Looking out 12 months, how do you think things will ultimately settle? What's the policy path by the Fed? That drives a lot of it, and then what's happening in the economy and where do we want to be? And try not to just get disrupted. Clearly, what happened in the U.K. has created a little bit of noise in that market. It created some selling in long-term market, but those ripples settle down pretty quickly, generally.

John Bryson:

Okay, great. So let's stay on the research side of things. You said you're investing a lot in credit and asset-backed securities, etc. Why is the structure of the research team so important, and how does that feed into your decision-making?

Howard Greene:

Yeah. Well, credit, and I'll call it structural research, that's things in the securitized market, is really critical to the process. And I think what makes us successful is that we do structure our research teams differently than many, and perhaps a lot, of our competitors. Our analysts have specific industry responsibilities. They cover their industry across the full quality spectrum, from AAA to CCC, that's the full range of high yield and investment grade. Many and most firms will have an investment-grade research team and a high yield research team. I look at that as like, okay, you're duplicating resources. All right.

Our view is that by covering the entire quality spectrum, our analysts have a much more challenging mandate. It keeps them much more engaged, but they get a much more holistic view of their industries. And that yields, in our view, a much better fundamental understanding of the competitive factors, supply chain factors, and also importantly, there's that kind of cross-over space. BBB, the low end of investment grade, and BB, the high end of high yield, where investment-grade analysts get a little shy as they get toward the middle or the bottom of BBB, they never want to get tagged with downgrades, although it's not really a capital offense. High-yield analysts tend to be yield hogs and the bottom feeders of CCC and single B, just trying to maximize yield.

A lot of that middle buffer of that cross-over space tends to be ignored by many. And you have some companies that straddle both sides of the fence. And so by covering the whole spectrum, we don't miss a beat anywhere, and we're very good at capturing those upgrade candidates, those rising stars as they call them, but it really allows us to fully exploit opportunities along the entire quality spectrum. And to me, why wouldn't you do that? But it's also, I think important to mention, when people think of research, they always think about credit, credit, credit. We've got a great team there, we really do, but we also have a really great team in the securitized space covering mortgages and asset backs and commercial mortgages, all those things. A lot of firms are really strong in one or the other. We got them both really staffed really well. I think that's a great differentiator.

John Bryson:

That's great to hear. And as they are going, let's call it deep vertically into the asset classes, how are you looking across the landscape and working with them to manage risk in the portfolio, but capitalize on the best opportunities?

Howard Greene:

Oh, yeah. I can't use the word collaboration enough. We're very engaged in a collaborative process. You and I have worked together for a lot of years. You know we have our daily meetings, market meetings, and daily credit meetings. We have periodic sector reviews. That's all part of our formal communication process. But we also believe in our team of having a very flat hierarchal structure, that open door policy. And that's the informal side of the communication where analysts can approach us any time, any place with regard to a buy idea or a sell idea, or anything else they want to discuss or anything we want to discuss.

The way I look at it, those individuals are closest to each individual investment, they're following their industries, they're following the companies, they're talking to managements, they're talking to street analysts, all that. As a portfolio manager, we need to do two things really well. We need to be really good listeners. We need to listen to all these inputs, and we need to be a really good risk manager putting those pieces together. That's the collaborative effort with the analysts.

And we can't forget the traders too because they're the ear to the rail of the marketplace. They're giving us all that feedback on market flows and new issue and secondary flows and all that. And what's really important is we keep this open communication model and the analysts and traders all get to see what we're thinking, how we're thinking, and that really builds a really strong bond. And everybody knows they're a critical contributor to the process. I've often used this kind of goofy analogy; it's kind of like being a symphony conductor. You're waving your baton, you're responsible for a lot of moving parts, but if you coordinate the effort really well, you make some really great music and you build a really good portfolio.

John Bryson:

Yeah, that's a great analogy. I think it pulls it together really nicely. So, Howard, last question, or a couple of questions. You've been doing this for close to 40 years. In a lot of those periods, we've seen a falling rate environment. Right now with this rising rate environment with the Fed battling inflation, we've got some headwinds against us. But what do you tell people that say, "Hey, why would I bother having a fixed income in my portfolio when rates are rising?"

Howard Greene:

I'm going to turn the question around and I would ask them, "Why wouldn't you have fixed income in your portfolio?" We have to go back almost 15 years, right? Think about that, 15 years. The last time the 10-year Treasury was above 4%, right? That's pretty remarkable. Couple that with the recent widening of credit spreads and mortgage spreads and the basic cheapening evaluation, it makes the market look pretty attractive. Our portfolios are now yielding, I think, well over 5%. That stacks up very nicely, I think, versus stock market valuations and makes us looking more attractive. We know that the past year has been challenging. There's been no natural, no place to hide, right?

John Bryson:

Right.

Howard Greene:

The year's been very challenging, we all know that. But I'd sit here now, I'd say now it looks very opportunistic. No one ever rings the bell at the top or the bottom and says, "This is data getting it precisely." But in past cycles, the point of that yield curve inversion where the short-term yields are above long term, and we see that with the 2-year versus the 10-year Treasury now, those often mark the high or near the highs in interest rates. We'll see if it's true in this cycle too. It is a little different. We haven't faced the inflation data that we have now. We haven't seen that since going back to the early '80s and back to the '70s. But this inflation may be a little different, it may be a little shorter-term lived. It's COVID based; it's Russia-Ukraine based, supply chain based. Some of those factors are working their way through and we're hoping and watching and waiting to see if inflation begins to roll over and get better. It's sort of the expectation that many are waiting and expecting to see.

John Bryson:

Got it.

Howard Greene:

So yeah, there hasn't been a better time on fixed income in a long, long time. That's all I can tell you.

John Bryson:

It hasn't been a better time. Howard, it's always a pleasure to talk with you. I want to thank you for joining us and I'm going to encourage you to go back and keep making music.

Howard Greene:

Yeah, I will do my best. Thank you very much.

John Bryson:

You got it. All right, folks. Thanks so much for listening. If you want to subscribe to our podcast, please do on iTunes or wherever you subscribe to your podcast, or visit our website, jhinvestments.com, to catch up on all the different viewpoints we have on the markets. Thanks so much for listening to the show.
Fixed-income investments are subject to interest rate and credit risk. Their value will normally decline as interest rates rise or if an issuer is unable or unwilling to make principal or interest payments. Investments in higher yielding lower rated securities include a higher risk of default. Mortgage- and asset-backed securities may be sensitive to changes in interest rates and may be subject to early repayment in the market's perception of the issuer's credit worthiness.

Liquidity, the extent to which a security may be sold or a derivative position closed without negatively affecting its market value, if at all, may be impaired by reducing trading volume, heightened volatility, rising interest rates, and other market conditions. The S&P 500 Index tracks the performance of 500 of the largest publicly traded companies in the United States. The Bloomberg U.S. Aggregate Bond Index tracks the performance of U.S. investment-grade bonds in government, asset-backed, and corporate debt markets. It is not possible to invest directly in an index.

Moody's ranks the credit worthiness of borrowers using a standardized rating scale from AAA to C with AAA being the highest quality, and C the lowest. Ratings are not meant to be recommendations or a sole basis for investment decisions. Credit sensitivity measures the risk of an issuer,  measures the risk that an issuer will be unable or unwilling to make principal or interest payments. Duration measures the sensitivity of the price of bonds to a change in interest rates.

 

This podcast is being brought to you by John Hancock Investment Management Distributors, LLC, member FINRA, SIPC. The views and opinions expressed in this podcast are those of the speaker, are subject to change as market and other conditions warrant, and do not constitute investment advice or a recommendation regarding any specific product or security. There is no guarantee that any investment strategy discussed will be successful or achieve any particular level of results. Any economic or market performance information is historical and is not indicative of future results, and no forecasts are guaranteed. Investing involves risks, including the potential loss of principal.