Portfolio Intelligence podcast: why advisors use asset allocation models
U.S. Co-Head of Retail Product Steve Deroian shares his insight on the rise of asset allocation model portfolios and how new technology is changing how financial professionals work with clients.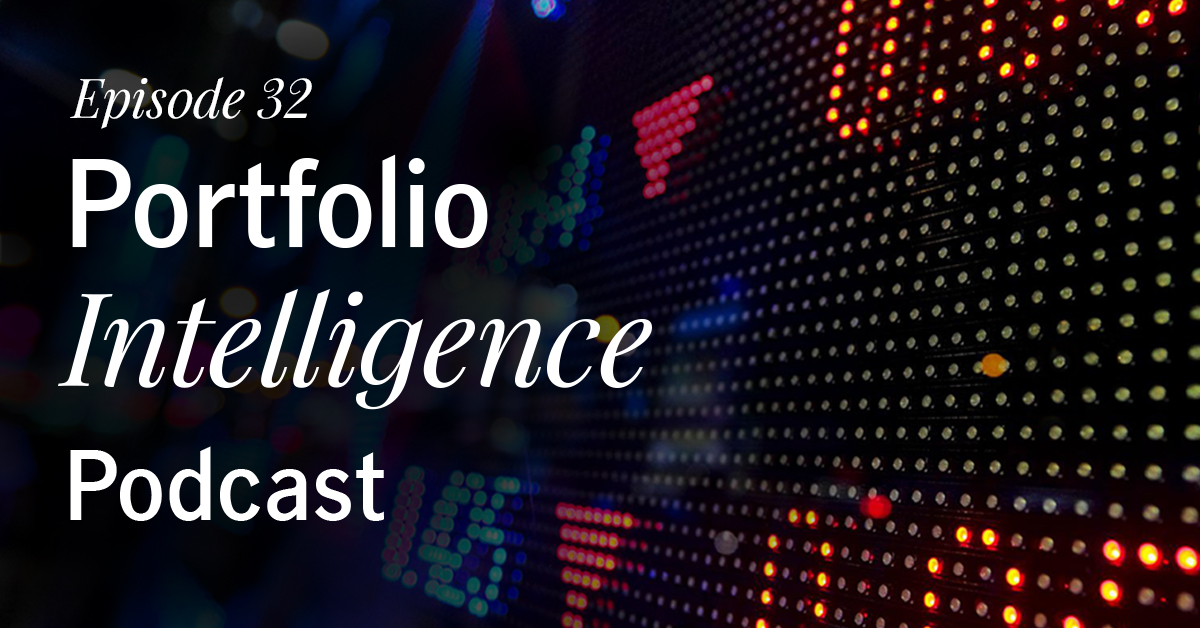 Deroian details how third-party model portfolios can help professionals focus more on the relationship building that's important to clients. Finally, he explains how model portfolios may make sense for specialized approaches such as income generation, lower volatility, and tax-aware investing.
"When you think about income, it's a difficult story today. Rates are low, dividends are kind of hit or miss if you will. So you really do need a multi-asset approach to income." —Steve Deroian, U.S. Co-Head of Retail Product
About the Portfolio Intelligence podcast
The Portfolio Intelligence podcast features interviews with asset allocation experts, portfolio construction specialists, and investment veterans from across John Hancock's multimanager network. Hosted by John Bryson, head of investment consulting at John Hancock Investment Management, the dynamic discussion explores ideas advisors can use today to build their business while helping their clients pursue better investment outcomes.
John Bryson:
Hello, and welcome to the Portfolio Intelligence podcast. I'm your host, John Bryson, head of investment consulting at John Hancock Investment Management. As always, the goal of this podcast is to help investment professionals deliver better outcomes for their clients in their practice. Today is May 19, 2021. And one of the trends that we're seeing is explosive growth in the usage of asset allocation model portfolios in the advisor space. So I thought it would be a great time to invite back Steve Deroian, U.S. head of asset allocation models and ETF product at John Hancock Investment Management, to talk about the growth of models in this space we're seeing. Steve, welcome to the podcast.

Steve Deroian:
Thanks so much, John. So happy to be here again with you.

John Bryson:
So Steve, when we look around, it seems like we're hearing about this in the space at least our industry, this model growth usage. It's in articles, it's in podcasts, it's in videos. What is the driving force behind this pickup?

Steve Deroian:
Well, John, there's several forces at play here and if I could, I'll kind of talk through kind of three or four of them. And I'll talk a little bit about the results that we've seen, which have been pretty interesting over the last 5 to 10 years in particular, but even what's expected in the future here. So the three or four items that we sort of see from a landscape perspective is one is technology enhancements. It's become much easier for the advisor community and the broker-dealer community to take on the activities from an operational perspective that are needed to really provide a very streamlined solution through UMA [unified managed account] technology that's available for clients to deliver asset allocation models. So that's sort of like technology opened the door, as it normally does.

Steve Deroian:
From there, what's really sort of grown over the last probably three to five years has been the broker-dealer home offices' acknowledgment that diversification of choice is important and so you've got to have different types of models for different types of clients. Two, the home office is also deciding that our reduction in risk is important, whether it's Reg BI [Best Interest] or the other regs that we heard along the way over the last three, five years, those regulations made home offices really focus in on the reduction of risks. And one of the ways that you can really reduce your risk from a home office perspective is to minimize PM [portfolio manager] sort of risk of choosing their own portfolios. Rep as PM [representative as portfolio manager] is excellent. It does its job, but each individual PM now is on the hook for all of their compliance, all of their research, all of their, really, marketing to some degree of what their individual model is. If you can scale that model through an asset allocator, there's a lot less risk on the table for both the broker-dealer and truly at the end of the day, the FA [financial advisor].

Steve Deroian:
And then finally, and probably most importantly is those that are making the decisions. Home offices can really say what they want and asset managers can say what they want, but the client in this case is really the financial advisor. And what they've seen is some tangible evidence that using a third party or even a home office asset allocation model can really help their business that can help their practice. It saves them time. It does reduce their risk and allows them to focus on the things that more and more clients are asking them to focus on. So from a statistical perspective about 10 years ago, less than three platforms offered external third-party managers on models. Today, there are about over 15 probably platforms that offer a third-party model. So it's moved from just home offices offering their in-house models to really this array of choices for financial advisors, because as they've become more ingrained in saying, "Hey, this model thing really makes sense to me." They've really decided that I need some choices. I don't just want the home office choices.

Steve Deroian:
No longer performance and outperforming the market is the number one thing that people think about with their quote-unquote stockbroker. They really do think of them as advisors, as consultants. They want them to provide transparency in their interactions. They want them to be really customer-focused, as you might imagine. And they want you to them to really understand what their individual needs are. And if they're spending hours and hours and hours picking one mutual fund over another mutual fund to build their asset allocation model, they can't really give the clients what they're looking for, which is more that one-to-one relationship.

John Bryson:
Yeah. You bring up some really good points there. And it's interesting. You started off by saying it's the technology that's opening up the door and you ended with the fact that the advisor nowadays is required to be much more holistic. It's no longer simply outperforming the S&P 500, getting the client into some stocks. So there's a lot of interesting stuff there that I want to unpack. For those folks that maybe are transitioning from running their own models, so designing portfolios for their clients, picking different mutual funds, ETFs, SMAs, whatever it might be, and transitioning into this space. Can you go a little bit deeper on the differences between a home office model and the third-party model that you talked about and how advisors are using these models?

Steve Deroian:
Yeah, absolutely. So obviously the RIA community, they don't have a home office model, right? But for those of us that may be using a model that is provided by your own broker-dealer. So you have your in-house models where the broker-dealer may provide asset allocation models or income models or tax-sensitive models and we'll go through some of those here in a moment of all the different choices that firms are providing these days. And again, probably about five years ago, those were your only choices at many, many broker-dealers. Nowadays asset allocators like ourselves here at John Hancock, and many of our competitive firms out there are providing the historical asset allocation capabilities. Our firm's been doing this since the eighties, in terms of asset allocation, we've really been a pioneer in providing asset allocation solutions just not necessarily in a model.

Steve Deroian:
We've been doing models for about 10, 11 years. So quite a while, not quite since the 80s, but when you really think back to sort of a fund-to-fund mentality, this is sort of what that is, but it's not wrapped inside of a 40 Act [Investment Company Act of 1940], right? It's the ability to pick and choose different funds within an open-architecture framework that the UMA structure provides. And so a lot of FAs have kind of taken advantage. Far and away, the most popular set of models are target risk type models, right? Those are designed for investors to seek their return that's appropriate for their risk levels. So whether it's conservative to aggressive, most every asset manager out there that's in the model game has some sort of target risk model. There are some target-date-type models, less popular in this format because most target dates are sitting inside of a 401(k) where you see more of a mutual fund and, or CIT wrapper, but then you've gotten into some other ways in which folks are starting to use models.

Steve Deroian:
So they're using them in a more sophisticated way and a more tactical way, whether it's for income. Our firm has a couple of great models focused on income at certain broker-dealers. And it's been really successful for us because when you think about income, it's a difficult story today. Rates are low, dividends are kind of hit or miss if you will. So you really do need a multi-asset approach to income and candidly, some of those asset classes, your average advisor may not be super familiar with whether it's things like MLPs [master limited partnerships] or preferreds, or high yield even on the fixed-income side, having an expert from an asset allocation perspective, help you pick and choose not only what areas of the market that will gain you more income, but also when to dial up and when to dial down those areas for a maximum income and protection in some cases is super important.

Steve Deroian:
And so we see income as a popular solution in the model space. We also see a tech-sensitive approach, whether it's through the use of ETFs or through munis, if you're talking more of a balanced approach or a conservative approach, and you have a fixed-income exposure. Tax sensitivity, obviously, who knows where we're going to go with our tax situation here in the coming months and years, but people always have been aware of taxes. And I think they're going to be even more aware. And then finally we even see some what I would say, risk-aware or dynamic portfolios out there, John, where you really have folks who maybe are conservative and they really want to manage their volatility, or they want to go the opposite direction and really be aggressive with a certain part of the marketplace. And you'll have asset allocators like ourselves maybe using some slick tools that are available in say the ETF market more so than the traditional mutual fund market to give access to some of the what I would say more dynamic type tools that advisors and clients are asking for today.

John Bryson:
Yeah, it's really interesting. It sounded like the customization available now in all of these models, whether they're in-house or third-party models, combining different asset managers to target specific client goals is fascinating whether it be tax management or income, like you mentioned. I know that risk awareness has been growing over the last decade. So it's really interesting to hear that.

Steve Deroian:
John, I was just going to say, what's also really neat about that … sorry to interrupt you there. But on that same point, what we're also finding is advisors are really picking and choosing how they implement. And so what I mean by that is there's sort of two ways to think about how you implement models. One is we kind of, I think we may have stolen this from Cerulli. I think it's their language, but we see people in sort of three categories when it comes to asset allocation model, providing a portfolio building if you will.

Steve Deroian:
There's the in-sourcer who does it all themselves, so that's typical rep as PM. A lot of weight on the shoulders of the advisor there. Then there's the modifier, which sort of sits in the middle. And they sort of say, "Okay, I really like company XYZ's approach to asset allocation, but you know what? I don't want to give over every decision. So I'm going to take a good portion, a core of what they're giving me, but then I'm going to augment that, whether it's through myself and adding my own mutual funds into certain spots, or maybe finding privates or some other way to augment what the asset allocation team that you like is doing."

Steve Deroian:
And then there's the full outsourcer, right John? The guy who says, or gal who says, "Hey, I'm done with this part of my business, because what I'm hearing from my clients is I need to focus on different things." And candidly, some of these asset allocation models are better than I can do. And being self-aware is awesome. Sometimes I am, sometimes I'm not, but those advisors who are kind of getting to that space have enjoyed some successes in their practices I think because of that decision. And I would say in today's time some successes as it comes to their personal happiness.

John Bryson:
Yeah. I mean, none of us has more than 24 hours in the day. So you have to kind of pick where are you going to spend your time, where it has the biggest impact. And talking about impact, what has been the impact to advisors' businesses that you've seen?

Steve Deroian:
Yeah. This has been actually some pretty cool studies out there in the last couple of, I don't know, probably six to nine months in particular around the usage of models. So the three buckets that we've really heard from advisors as to why they're making these decisions and what the benefits have been is number one, it's that ability to acknowledge and sort of be self-aware that, you know what? I'm not super great at picking funds and it's a lot of energy, and I know this firm has expertise. So kind of going with an expert isn't the worst idea. The second sort of tranche is if I do this, I'm going to save a boatload of time. And I'm going to be able to add scale to my practice by focusing on adding new clients and spending more time with my current clients.

Steve Deroian:
And then finally is the one we talked about for that risk reduction, really focusing on the fiduciary risk and minimizing your exposure. So one of the studies that was done by Cerulli in their 2020 study was around if you've outsourced, right? So these are numbers that sort of kind of go from that modifier to that outsource. So if you've become a person who used to do it all by yourself, now you're a modifier. The estimate that's really has put together, says that over the course of a year, you gain 20 business days, 20 business days by just taking on the approach of a modifier. So giving some of your asset allocation decisions away and giving them to an expert, those that have decided to do a 100% outsourcing, it's more like 35 days. So over a month that you can get back in terms of business hours. When you talk about a month's time, 35 days, man, that's significant whether you want to deliver more planning and services, whether you want to prospect for new clients, whether you want to translate that into more time with your family.

Steve Deroian:
I mean, like you said, you got 24 hours, some of those you got to sleep. So we're all struggling to balance life and no one more than an advisor, right? Because I feel like as an advisor, you're walking down the street, you can bump into a client. I don't bump into my clients very often walking down the street. And so you always got to be on and you always got to be available and getting some of that time back to improve your practice, expand your practice, make it more efficient and also have more time with your family. I don't know, to me, those are some awesome reasons to consider looking at models.

John Bryson:
Yeah. That time savings is incredible. I mean, when we talk about this podcast, it's about delivering better outcomes for clients in the practice. And that'd be a huge practice change here, if you could free up that amount of time. And my role and my team's role, every advisor we talk to wants to spend more time with their existing clients. They just struggle to manage it all. So freeing up some time could be a huge benefit for them.

Steve Deroian:
Yeah. And one other thing, John. There was another survey or paper out from AssetMark, one of the bigger turnkey asset managers. And they went even deeper on this topic and they actually asked folks that were outsourcing sort of different tranches. So if you outsource 22% to 50% of your business, if you outsource 50% to 90%, and if you outsource 90% to 100% and these stats are amazing, John. So those who outsourced about 20% to 50%, they saw assets increase of about 20%. Those that outsource about 50% to 90%, about a 25%, those that outsource 90% to 100% of their asset allocation, a 41% increase in total assets.

Steve Deroian:
That type of real translation into real money in your pocket is amazing. And they went a step further and said, "Well, what did that mean to your personal income?" So those numbers translated to personal income for advisors going up in those categories—17% for the 20 to 50, 50 to 90 was 25% and 47% increase in your personal income. So just some really great numbers in these surveys. Hey, look, I didn't do the surveys. I'm just reporting the news here, but pretty cool stuff.

John Bryson:
Yeah. That's an amazing impact on someone's practice if they're willing to consider how to be more efficient and it seems like a great way to get there. So, Steve, the next thing I want to ask about is traditionally with the advisors that I talked to you and you've talked to, they're building their portfolios and we're talking about this transition. So they're very comfortable in analyzing the specific strategies, whether it be a mutual fund, an ETF, an SMA, a CIT. How do they transition that and go through the process that an advisor should think through when they're trying to select a model provider now?

Steve Deroian:
Yeah. So it's interesting. I mean, you know our story, obviously, John, better than anyone. Being a manager, and focusing on really true manager research at our firm, our heritage is here. We've really tried to lay out in some conversations with those that we talk to the importance of doing due diligence. Well, if you're going to due diligence on one fund and put effort and energy into that, how much effort and energy do you need to put when you're trying to find someone to sort of build your whole portfolio for you? So we do believe that there needs to be a process here. And the good news is it's no different from what they're doing. At the end of the day, if you're doing your job as an advisor and you're building your own portfolios, you're doing most of the steps that you need to do on each one of your individual funds that you own.

Steve Deroian:
And in our case, your group can help someone else out with that with the portfolio consultant group. But if you do want to make this transition or even do a modifier, it's really taking a lot of the same steps. So you want to identify what your goals are; you really want to search for the right providers. So depending on your platform that you're on, you may have just in-house models that are available to you or you may have a whole slew of choices and you got to do the same thing you do with a mutual fund, right? Is already got a lot of choices. I got to call it down. I got to feel comfortable with who I'm talking to. And then, you want to see what the performance blueprint looks like.

Steve Deroian:
If you're at that point where you're saying, "You know what? I think I want to go a 100% all in." You're probably looking at some target risk models where you can see from conservative or aggressive, what their approach is. The approach that we have at John Hancock and Manulife in terms of the way that we build our asset allocation portfolios is different from the competitors out there. And so you've got to understand what their heritage is, what their experience is, how they do it, why they do what they do. Do they take a macro approach? Do they really go bottom-up? Is it a combination of both?

Steve Deroian:
So I say all this and when I say all this, I feel like, "Oh boy, I'm just turning everybody off to this." But when you say, "All right, hold on, I got to do this once. And then I get by that. And then I don't have to do it again." Because remember if you're doing your job, you're doing that probably every couple days, every couple months, maybe every quarter at the minimum where you're really digging in and looking at each individual fund. In this case you go from looking at 5, 10, 15, 20, 30, 40 funds. I mean, John, how many funds do your team talks to an advisor? What's the average amount of funds they have in their portfolios?

John Bryson:
We can see anything from 20 in a portfolio to 50. And then when we go deeper and look at the entire list, that's just the model. We see some advisors get 250 funds in their working list, if you will. Yep.

Steve Deroian:
I mean, that's a lot of work. That's a lot of work. And so, the opportunity to really look at the sort of asset allocators credentials, if the model fits to what you believe and the good news is you have so many more choices now. At our firm, you're obviously going to get a very open architecture kind of model, right? Other firms, you're going to get your kind of investment professionals in house, and that's fine, whatever you choose. Fees, like anything else you've got to look at fees, you got to understand those. And then I think one thing that sometimes gets overlooked in this process, which I think is vitally important is the depth of the sales team and the amount of collateral and support that you'll receive.

Steve Deroian:
So the way I think about this transition, John, is it's truly a partnership. If you decide to select John Hancock and Manulife as your provider for your asset allocation models, I feel like we're a partner of yours now, and we're going to do what we can to help provide you information in a timely manner. We're going to help to provide you useful information that you can translate to your client in a way that's simple and easy. And now you don't have to do all that work. And at the end of the day, you have a partner that can help you explain outperformance or defend underperformance, or understand why this month something happened versus last month, that didn't happen. And so that ability to have that partnership to me is vital. And, John, you and I have known each other a long time, you know how important I think partnership is. And I just think it's such a more cohesive and easy way to run your business that the model space just feels like just such a win for advisors.

John Bryson:
Yeah. See, I'll be honest. It doesn't sound all that different from the process people are used to. You're relying on a fund manager to fix securities for you. Now you're relying on a fund manager, that's an asset allocator to pick securities for you that's probably mutual funds or ETFs. So the process is the same, understand how they manage money, how deep their bench is, window perform or underperformed. That's the blueprint. And then is that firm going to partner with you to help you understand it and always be there to answer questions. So it doesn't sound very different. So I think that's probably a relief to a lot of people. The last thing I want to ask you, Steve, so we've seen advisors take the leap, say, "You know what? I'm ready to give up a little bit to gain a lot more efficiency in my practice." What has been the feedback you're hearing from advisors? Let's say three to six months after they've made the switch.

Steve Deroian:
So I think from my perspective, what we've been hearing is they love the time saving. It is real that they absolutely are able to spend more time with their clients.

Steve Deroian:
In fact, there's another study about 66% of advisors who outsourced through the market volatility. They said they were able to spend more time with their clients during that time, because they were outsourcing their asset allocation. They were able to use the teams' asset allocation model, collateral resources, and they didn't have to do all this work. It was served up to them. So they were able to spend more time during all the volatility we saw last year, and that's a huge benefit. That study was conducted by BlackRock in May of 2020. And so a separate study,  from asset market gain, 80%, nearly 9 out of 10 advisors attest that benefits from outsourcing investment management have met or exceeded their expectations. So at the end of the day, nine out of 10 folks that are made this change are actually happy with it. And I get it. It is a tough decision to give up control, especially if you feel that you're a value to your clients is delivering outside performance.

Steve Deroian:
But I think what we're hearing is those that have made those changes. They're getting such rave reviews from their clients because they're hitting on what clients are asking for. Again, remember at the beginning, we talked a little bit what clients are asking for is really understand what my individual needs are, really understand when I have a problem, how do you address it? Are you addressing it with a sense that can really make me feel special? And the extra time, those 25 or 20 or 35 days that you now have, that you didn't have before, it's just translating into a much more positive experience for your client. And one of our core tenants here John is obsessed about your client.

Steve Deroian:
I think that it's allowed for our partners and our FAs who are out there using our models to really do more of that and to really sort of switch their mentality of worrying every day about the ebb and flow of Dow or the NASDAQ to worrying more about, "Hey, what is my client really faced with their kids going to college? They just got laid off. They're retiring. Their grandkids are going to college. They want to plan their escape." They've just been able to spend more time doing that and it's just translated into a lot more satisfied customers and a lot more solid base of clients.

John Bryson:
I mean, it's great to hear. It's really telling when people do make the decision to make a change like this giving up that control, but they had to come back if 9 out of 10 are happy with the results for good practice. That's fantastic. Hey, Steve, I want to thank you for joining us. Again, it's always nice to talk to you. For the audience, I want to thank you for tuning in. If you want to hear more, please subscribe to the Portfolio Intelligence podcast on iTunes or visit our website jhinvestments.com to read our latest viewpoints on macro trends, portfolio constructions, techniques, business-building ideas, like we talked about today, and much, much more. Thanks for listening to the show, everyone.