Portfolio Intelligence podcast: what does inflation mean for the economy?
Frances Donald, global chief economist and global head of macroeconomic strategy at Manulife Investment Management, discusses the outlook for inflation and how rising prices affect both consumers and investors.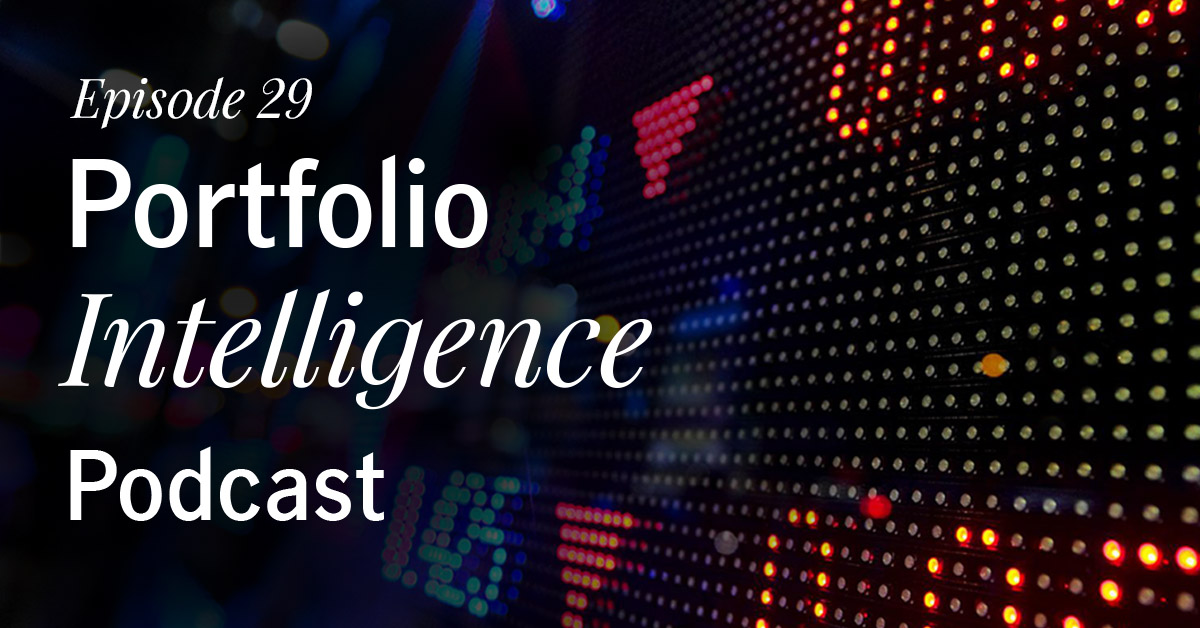 Inflation can be difficult to measure because different indicators such as the Consumer Price Index may use different price inputs. Donald explains how government spending and the economic reopening may affect inflation, and also why technology, digitization, and remote working are deflationary forces. 
Finally, if rates rise further, it's important for investors to watch the pace of the move and why exactly rates are rising.
"One of the lessons of COVID is that when you're dependent on external supply chains, things can get really messy and problematic for you."—Frances Donald, global chief economist and global head of macroeconomic strategy at Manulife Investment Management
About the Portfolio Intelligence podcast
The Portfolio Intelligence podcast features interviews with asset allocation experts, portfolio construction specialists, and investment veterans from across John Hancock's multimanager network. Hosted by John Bryson, head of investment consulting at John Hancock Investment Management, the dynamic discussion explores ideas advisors can use today to build their business while helping their clients pursue better investment outcomes.
Hello and welcome to the Portfolio Intelligence podcast. I'm your host, John Bryson, head of investment consulting at John Hancock Investment Management. Today, April 28, 2021, we're going to talk about inflation. We're hearing the word inflation come up a lot lately. We're hearing it in our conversations with financial advisors. We're hearing it in our conversations with portfolio managers. We're hearing it on corporate earnings calls this quarter three times as much as it was heard in the past. That's why I've invited Frances Donald, global chief economist and head of macroeconomic strategy at Manulife Investment Management, to today's call. Frances has held numerous roles in the economic space, including roles at Scotiabank, Roubini Global Economics, and the Bank of Canada. She is a very popular and frequent public speaker on news outlets, such as Bloomberg and CNBC. She's got great insight on what's going on in the economy. She's active on Twitter. Frances, thanks for being on the podcast.

John Bryson:
Frances, welcome to the podcast.

Frances Donald:
Thank you for having me. Who would've thought inflation could be so exciting?—but it is.

John Bryson:
It certainly is. So when we think about the word inflation, I want to start at the beginning with the basics. Economists, like yourselves, you have different definitions for inflation. So what is your definition?

Frances Donald:
So that should be the basics, but it's actually a pretty loaded question and it shouldn't be, but there are technical definitions of inflation, and then there are more personalized ones. So the technical definitions that we hear about all the time are particularly in the United States. There's two measures. There's the personal consumption expenditure, usually known as PCE, or the Consumer Price Index known as CPI, and CPI gets a lot more attention in markets. That's generally what we hear talked about on CNBC or on Bloomberg, but the PCE is what the Federal Reserve tends to use. So in a lot of ways, it's actually the more relevant one. And what's fascinating is that these two measures are supposed to capture a basket of goods in the price of our everyday life, but they actually differ quite substantially in a lot of ways, and they have different weights assigned to different elements.

Frances Donald:
So the CPI has shelter housing closer to 30%. Whereas we see the PCE with something like shelter closer to 20, the CPI measures your out-of-pocket expenditures for things you actually purchased. But the PCE is going to measure things that were paid for, for your household, like medical care that employers paid for. And interestingly, they actually manage changes in our consumption differently. So PCE has weights for different categories that fluctuate as prices change. For example, if the price of sneakers went up, my husband would, in theory, buy fewer sneakers, or at least he should, and the PCE would change how much we spend and what we do is as those prices change and the CPI doesn't. So you end up with these pretty big divergences in just these two measures alone. But one of the biggest problems is that people often feel as though these mechanical approaches to inflation, these measurements, aren't capturing their cost-of-living expenses.

Frances Donald:
We're not seeing the huge rise in house prices show up in CPI. People feel food prices rocket higher, and they don't show up in this data. So maybe one of the better ways to think about inflation is not just what these headline measures, tell us about what's going on in the world, but how are people's lives changing because of the change in prices? And if we adopt this more holistic approach to inflation and thinking about how will behaviors or economic choices or companies make different decisions based on prices, I think we'd have a better approach in general, to what inflation really does to our economy, to us as individuals, but also as investors.

John Bryson:
Got it. So you mentioned which measure, I would say the Fed pays the closest attention to. Is that consistent with what you pay attention to or how would you guide advisors and investors? Where should they pay the closest attention?

Frances Donald:
That's a great question and one we grapple with all the time, and maybe the best answer is all of the measures. So if you're just trying to get a sense of where breakevens are going to go, and what's going to drive the move in, for example, interest rates, then you probably want to watch CPI a little bit more. If you want to get a sense of how the Federal Reserve is thinking about inflation, well they take a look at the PCE. And then if you want to get a sense of what's happening to consumption, well, you have to look at the areas of the world that drive household behavior. And those include things like shelter costs.

Frances Donald:
And then just to make things more complicated, if you wanted to get a sense of what was happening in the manufacturing space, how much households are paying for medical care, isn't going to help you there, but what's to commodity prices would be really helpful. So we often say, take a holistic approach to thinking about price changes. What are you trying to look at? Companies? What are you looking at? Housing? Then lumber prices will matter to you. But if you're trying to get a sense of what the Federal Reserve is going to do, you have to go back to those basics and end those PCEs. So like everything, it's not as simple as one measure to rule them all. It's really about taking this broad-based approach.

John Bryson:
Excellent. That's really insightful. And it really resonates with our audience because when we're talking to financial advisors, they're often looking for insight on how to position their portfolios and how do they get ahead of potential problems. So whether it's the Fed raising rates or the market driving rates higher. So with that in mind, are there any early warning signs that you look for as you think about and talk with the asset allocation team, as they should maybe prepare for inflation in the future?

Frances Donald:
There are a lot of ways to forecast inflation. So I can take two approaches to your question, John, I could say, well, we have indicators that tell us, for example, we look at surveys and some surveys from small businesses, we'll ask them how many of you think that prices are going to rise in the next three to six months? And that gives us sort of the leading indicators. We look at prices paid indices when we look at manufacturing indexes. So are people feeling like their costs are rising? And we can mechanically show that if businesses see higher prices, some of that gets passed onto the end consumer, but bigger picture. And particularly as we go into a period where we're going to see huge amounts of volatility, we're going to see CPI numbers that hit three and a half percent and possibly higher.

Frances Donald:
That'll be some of the highest technical inflation we've seen in over a decade; it's unlikely to fall off. So the bigger way to think about inflation is to take a big step back, and this is what I tell the portfolio managers that I work within asset allocation to do. And remember that ultimately, in order to have sustained inflation, broad-based inflation that persists, you have to see aggregate demand, outstrip aggregate supply for extended periods, or put more simply people want to, or people are going to have to want more than there is available on a variety of items, goods, and services for a long period of time. And that just isn't happening in this environment. It's not happening because we have demographics that favor less demand. It's not happening because we have the digitalization of services and of goods that is reducing those costs over the long run.

Frances Donald:
But most importantly, most of the world economy is still operating in a recession-like environment, even though we've had massive job gains come back online. We're not seeing price pressures. And, John, you're probably thinking to me, "How is that possible? Have you seen lumber prices? Have you seen energy prices?" Where I am up here in Montreal, we had really big food price increases. Well, what I would really pay attention to here is that what we've seen over COVID was a peculiar instance where we saw pockets of demand, substantially outstrip supply, areas, where there were massive imbalances. And as we go into the reopening, what we're going to find is a lot of those unbalances online.

Frances Donald:
So I'll give you an example. My heart wants a Peloton so bad, John. I just want a Peloton because apparently if you get a Peloton, you look amazing. You feel great. All you have to do is buy one. It's extremely hard to find a Peloton. And they're very, very expensive. Why? Because everybody feels like me. Demand is outstripping supply. I can pretty much guarantee you we're a little bit behind up here in Canada that as soon as they open everything up, I do not care at all about a Peloton. I will be spending all my money in restaurants. I'm going for oysters, John. That's what I'm doing. I cannot wait. That's where I'm going. I'm getting on a plane. I'm going anywhere it takes me. I don't care where. We're on our way. So what's going to happen is that demand supply imbalance for Peloton and goods is going to unwind. And so too, will the inflation behind it.

Frances Donald:
And then our focus will have to shift to let's say, in my example, oyster restaurants, I suspect oysters will probably go up in price for a period of time, but there's only so many oysters you could eat. So by 2022, I've probably had my fill and you'll see that demand supply unwind. And this is why this period is so challenging with inflation. And this is what I advise to portfolio managers is be aware that ultimately we're looking for aggregate total in the economy, demand outstrips supply. And we need to be careful not to fall for the trap of seeing pockets of imbalances and extrapolating beyond that, particularly as we're going into a period where those pockets will reverse.

John Bryson:
That's really helpful. The two things that I always enjoy when we talk is you make it more of a global conversation, and you make it more of a longer term focus, which I think really helps set expectations for folks. So to not put words in your mouth, but it sounds like you're not as worried about inflation as maybe the average investor might be right now.

Frances Donald:
Well, again, this comes down to kind of a sector-by-sector basis, but when we think big picture about, are we going to be at four or 5% total inflation in three years? I feel very confident saying, "No, we're likely to be slightly above two." Now slightly above two might not sound exciting to you, John, but it is an exciting forecast because I've actually upgraded it since COVID. We used to believe that inflation would stay slightly below two. Now it's slightly above. And there are a couple of things that are game changing for the insulation landscape. One of them is just how much government support we've had and I'm not talking about stimulus checks. Stimulus checks are going to create that short-term pocket. So people are using their stimulus checks to go out, engage in services. Those are one-time shocks.

Frances Donald:
What I'm talking about is that it not just in the United States, but globally that the thirst for more government spending might turn out to be sticky. Everything from infrastructure spending to the desire to limit the impacts of recessions over time and fiscal spending can be inflationary if it's persistent for multi-year periods. And in my view, it probably will be. The second area that's relevant here is that we are probably going into a pretty sizeable chapter of de-globalization. Now that doesn't mean that I'm not going to order a dress from London or my husband isn't going to find a cool comic book from Australia to bring in, but it does mean that the United States, Europe, Asia do a cure to be focusing more on local supply chains. And this was one of the lessons of COVID that when you're dependent on external supply chains, things can get really messy and problematic for you.

Frances Donald:
I remember I wanted to order a productivity planner because we're always trying to get more productive. So I thought if I just buy this planner then automatically I'll be very productive. And the planner was actually being produced in the United States. And the maker of the planner sent out a nice little Instagram video saying our supplier's in China and because of COVID, we cannot access the bindings on this notebook. Now that's one example, but effectively what's happening here is that companies have now been through two major shocks that impacted their supply chains. The first were tariffs imposed on China specifically during the Trump administration. And the second is the COVID shock. So we're already seeing companies that are telling us we're willing to pay more, to have local suppliers, even if it costs more because it's less disruptive and almost acts like an insurance policy. And some of those costs will be passed down on to consumers.

Frances Donald:
But ultimately, the biggest deflationary force that we have is absolutely technology and digitalization. And that isn't just that it's cheaper to get a TV in relative terms now than it was 20 years ago. But think about the access to information that you have. Like a couple of months ago, John, my husband and I were driving on the highway and our tire blew out. It was pretty late at night. It was 11:00 P.M. We're in COVID and I'm panicked because I'm thinking, "Where am I going to get a tow truck? We're in the middle of nowhere. What am I going to do?" I'm thinking about having to pay the tow truck and how much it's going to cost me to change this. I'm out hundreds of dollars in my mind.

Frances Donald:
And then my husband says to me, "Don't worry. I think I know how to do this. I'll just rewatch a YouTube video." So there we are on the side of the highway and he's looking up a YouTube video to remind him how to change a tire, which by the way, John, I did not know he could do. And I was very, very attracted to him in that moment. I was pretty impressed. He changes the tire on the side of the road. This might seem like a tangent, but think about how much money I didn't spend because we had free information available to us on YouTube; free information. I was just telling you before that my husband is working with his trainer in the other room; I was worried about a noise disruption. His trainer is in Dublin in Ireland, and we are actually getting a really reduced fee because we're paying someone remotely to do it.

Frances Donald:
The ability to do things remote is powerfully disinflationary. And in every single model we run, it will trump most of these deglobalization forces. Most of this fiscal will continue to be dominated by this way that our society is consuming services in particular. And the fact that our goods, because they're being more cheaply produced in part because of technology are becoming cheaper over time. And so we'll be able to look at things like lumber prices or commodity prices or corn prices, but the big picture is still one of disinflation over this period. And one that is probably more difficult to get out of than if we were in a persistently high inflation environment.

John Bryson:
Got it. And your examples are great. I mean, I would even say if we were doing this podcast a year and a half ago, I would have had to wait until you flew to Boston from Montreal to line up the meeting because that's what we would do. We would do it in the office together, but now we're doing one in Montreal, one in Boston. So it's amazing. When I think about the Fed and their long-term outlook, I imagine that part of this deflationary conversation is what they're focused on because they've been talking a lot about this inflation is transitory and not. It sounds like your thinking is in line with the Fed. Do you think there's anything that they're missing? Are there any problems that if they don't act soon enough, it could become a bigger inflationary problem?

Frances Donald:
It's a great question. Because when everybody's aligned, it's usually not a good way to make money. I'll say that. When everyone agrees that inflation is transitory and that we're going back to 2%, either that doesn't happen or it's already in the price. And that's actually what we're witnessing now, the markets have already priced in two to two and a half percent inflation, and that's probably, as far as it goes, I'm not going to try to nitpick 10 basis points here or there. Could the market price in 2.6 and then fall back to 2.3? Sure. But they're roughly in the range, that is general consensus. So my concern is almost always to the downside on inflation, but the challenge for the Fed here is that they actually have tried to communicate to everybody that they want higher inflation.

Frances Donald:
Maybe you've heard about this: They've tried to introduce the concept of average inflation targeting. And their view is that, for the last decade, inflation has essentially undershot 2%. So persistently that the general population no longer really expects 2% inflation. They think it's going to print slightly below. So the Fed over the past year has said, we're going to let inflation run hot. We want to see 2 ½% inflation, and we're not going to react to that. And in part that's why markets have to slowly start to bake in the idea that the Federal Reserve's tolerance for inflation will now be much higher. And at the same time, the Fed has been really focused on reminding us it has a dual mandate. And I often think markets forget this. The Federal Reserve is unique in this sense. You mentioned, John, that the global perspective is important and it's incredibly important on the fact that the Federal Reserve has a different mandate than a lot of other major central banks, including the European central bank and the Bank of Canada who only have inflation mandates, but the Fed targets, price stability, and full employment.

Frances Donald:
And what Chair Powell has consistently been telling us is they want to focus on full employment, but not just full employment. They have also spent a lot of time stressing that they're changing their full employment target to be and this is important, broad based and inclusive goal. I don't know if you saw a couple of weeks ago, there was a fantastic article on Bloomberg. I put it on my LinkedIn as well. And it said, "Chair Powell has all of Wall Street trying to forecast black unemployment." And that article was absolutely correct because the Federal Reserve is focused on addressing the employment gap among a variety of minorities. And recognizing that for years, black and Latino unemployment has remained much higher than what we see in white unemployment. This is very different from a central bank's perspective to be addressing these types of racial inequalities.

Frances Donald:
But the Fed has told us it wants the economy to run hot. It is happy to have higher inflation because it wants to slightly rectify these problems. What worries me about the Fed is not that they can't control inflation. If inflation moves up, you tighten interest rates and inflation comes down pretty darn quickly. It's an easy problem to solve. What worries me more about the Fed is that they're trying to use a blunt instrument to tackle some of these very deep structural problems within the U.S. economy. So when I think about the Fed, I don't think, "Oh, no, we're going to have 2 ½%  inflation, and it's going to be out of control. And the Fed won't be able to contain it."

Frances Donald:
What I think is that the Fed is it focuses on some of these broader issues, including climate change, for example, is probably going to have to deal with other issues that includes the run-up in the housing market. It includes probably more cash flowing into equities, creating more challenges in that environment. So this desire to run inflation hot, this desire to focus on broad-based and inclusive employment is the right thing in the long term. But it's also going to create some complications for us as market watchers and investors in the short term.

John Bryson:
Excellent. Really insightful. The last topic I kind of want to hit with you is pivoting a little bit away from inflation and talking about rising rates in general. You've written some interesting pieces recently about rates rising, and they can rise in a good way, or they can rise in a bad way and each have different impacts on the markets. Can you dig into that for our audience a little bit?

Frances Donald:
Yeah, absolutely. I often get asked, what is the level on the tenure that hurts equities? Well, it's actually, unfortunately not so simple. So we actually believe that the tenure is going to 2% this year, but let me give you a little secret: When economists or strategists give you a forecast, it's usually probability weighted. So do I have conviction that we're going exactly to 2%? No, it's probably like a fifty-fifty between 1.7 and 2.3 weighted out to 2%, but that's the general direction that we're going into. But when we talk about what those rising rates are doing, from our perspective, what becomes problematic for equities is two things. How fast those rates move higher and therefore how fast you have to discount, but perhaps more importantly with the driver of underlying rates are.

Frances Donald:
So typically you can do a crude disaggregation where you look at whether the drivers underlying rate is coming from higher inflation expectations or higher growth expectations. Now the ideal situation for equities is when the growth expectations is what's driving higher rates and your inflation expectations remain fairly muted. That's what we would call a Goldilocks environment. Let's say you're a company that basically says you're going to get more revenue, but your costs won't rise. If your rates are rising because growth expectations are staying the same, but inflation expectations are rising it's the difference. Higher input costs, lower revenues. And that's when we start to see the pain. So we got to take a step back and recognize that if we see a slow and steady move higher toward 2% or even 2.5% on the tenure, that may not be as painful as if all of a sudden we see a sharp drum, jumped, driven by inflation expectations.

Frances Donald:
And then there's another component to this as well, which is we spend so much time thinking about the 10-year yields because it's one of the most liquid, easy to trade. It's a good benchmark. There's a lot of market information within it, but often what drives markets is not the tenure yield, but the shape of the entire curve. So we spent a lot of time thinking about the 30-year yield, which we believe in the last challenging period for markets earlier this year was actually driven by the sharp rise in the 30-year yield. And it's the shape of that yield curve that can be problematic or supportive for different forms or different sectors. So for example, financials can do really well if the yield curve is steeping, whereas other sectors can find that more problematic or more challenging. The REIT sector for example, is tied to different areas of the curve.

Frances Donald:
So I don't think it's a mechanical, the 10-year hits 2% and rates sell off. The slow and steady move higher. A gentle steepening of the curve is entirely possible to be absorbed within this market. Particularly if it reflects the rebound, I'll leave you on this however, we have to remember, John, I have this double role, which is that I'm chief economist and head of strategy. And in the past before COVID, they were really the same role. I found out what goes on in the economy and you translate that to a trade. What's been really hard in COVID is that a lot of the economic information has become priced into the market very, very quickly and early. So for example, we all know that everybody is going to be going to restaurants.

Frances Donald:
Everyone's going to my metaphorical, hopefully one day, literal oysters, and that we're going to see a huge boom in the economic data, but importantly, the market already knows this. It's already been priced in. Rates already know that there's going to be a massive reopening, but we have to see for the next leg higher in interest rates is that there's some additional pieces of really good news. I think that additional a piece of really good news is going to come from outside the U.S. It's going to come from the idea that the rest of the developed world like Europe can catch up to the U.S. Fantastic experience and really fast vaccine rollout. But a lot of this information, a lot of the inflation that we've talked about today during this podcast is already in the price.

Frances Donald:
So this is something that we can acknowledge has already been part of the story. Now we have to think about the next big driver. And I think the next big driver is going to be a positive one based on global growth. I don't think we have to worry about too much inflation in the system, but we do have to be cognizant that we're going to go through three or four months now where reading the data as it becomes really hard. My advice to portfolio managers, let's focus on the long term. Let's focus on the themes that have driven us this far remaining invested and remembering that volatility is par for the course. It's not the type of time to try to gain the market on a month-to-month basis.

John Bryson:
Frances, that is excellent advice. It's always great to get insight from you. The only thing I'll add is I hope you get your Peloton. I hope you get your oysters. I hope you get your planner. If you are looking for patio furniture, don't throw out the old cushions before you ordered the new ones because they're often on back order. That's my advice for the whole audience. That's what I'm dealing with in supply chain challenges. So thanks so much for being here. Folks, if you want to hear more, please subscribe to the Portfolio Intelligence podcast on iTunes or visit our website jhinvestments.com to read viewpoints from Frances and from other managers on macro trends, portfolio construction, and everything else that can help you be a better investor. Thanks for listening to the show.