Portfolio Intelligence podcast: is inflation here to stay?
The inflation rate has been running hot lately, and Co-Chief Investment Strategists Emily R. Roland, CIMA, and Matthew D. Miskin, CFA, discuss how supply chain delays and supply shortages are affecting the Consumer Price Index (CPI).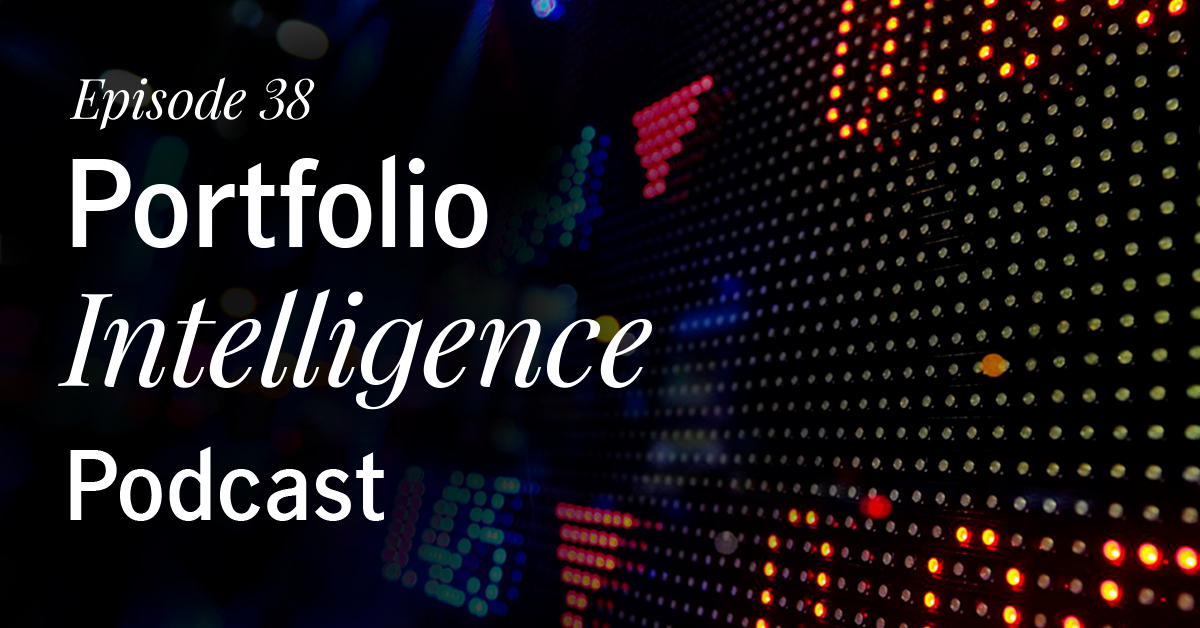 The strategists think inflation will remain elevated for the next couple quarters, but that supply and demand will ultimately come back into balance. They also share their top portfolio ideas now for the equity and fixed-income markets.
"When you think about why inflation is up right now, we have this almost perfect storm coming from the supply side. We're seeing major supply chain disruptions due to COVID-19."—Emily Roland, CIMA, Co-Chief Investment Strategist at John Hancock Investment Management
About the Portfolio Intelligence podcast
The Portfolio Intelligence podcast features interviews with asset allocation experts, portfolio construction specialists, and investment veterans from across John Hancock's multimanager network. Hosted by John P. Bryson, head of investment consulting at John Hancock Investment Management, the dynamic discussion explores ideas advisors can use today to build their business while helping their clients pursue better investment outcomes.
John Bryson:
Hello, and welcome to the Portfolio Intelligence podcast. I'm your host, John Bryson, head of investment consulting at John Hancock Investment Management. Today is October 14, 2021, and I've invited back Emily Roland and Matt Miskin, our co-chief investment strategists at John Hancock Investment Management. Emily and Matt are the architects behind our quarterly capital market outlook piece titled Market Intelligence. Emily, welcome to the call.

Emily Roland:
Thanks for having me, John.

John Bryson:
So, Emily, there's been a lot of talk recently about inflation. It's top of mind from nearly every investor that we speak to, and I know you're having a lot of conversations around it. We just got September CPI data, headlines at 5.4% higher, highest since 2008. We also see core inflation up 4%, highest since the early '90s. So tell me, why is inflation so elevated, and what's your and Matt's outlook?

Emily Roland:
Yeah. So, John, inflation is everywhere you look right now, whether it's images of backed-up ports on the cover of Barron's, whether it's in the things that we're buying every day—I'll tell you, last night, I was trying to buy my daughter a Halloween costume. I'll tell you, it costs over $100 to be a Gryffindor from Harry Potter right now, and even if you have the $100, it's impossible to get it shipped to you. So I think everything we're doing right now, we're being frustrated by this.

Emily Roland:
When you think about why inflation is up right now, we have this almost perfect storm, whether it's coming from the supply side, which we're seeing major supply chain disruptions due to COVID, so think about shutting down factories, telling millions of workers to go home during the height of the pandemic. Then we're also seeing this surge in demand, so whether that was during COVID, if you remember all of the furniture and electronics that we all bought, or now as we emerge from the pandemic and businesses reopen. So you're getting supply shortages along with an increase in demand, and that gives you inflation. John, I'm sure you remember that from your economics classes at Boston College.

John Bryson:
I do.

Emily Roland:
When you think about these huge distortions in supply and demand, the events that got us here are really quite extraordinary, maybe even a once-in-a-century event. We shut down the entire global economy at the onset of the pandemic, and then we reopened and started to hire everybody back. Then on top of it, we pumped $10 trillion of stimulus via fiscal stimulus and also a doubling in the size of the Fed's balance sheet. That fiscal stimulus was done through direct transfer payments or stimulus checks, and those extended unemployment benefits, which potentially has kept workers on the sidelines even longer, in addition to other issues that have impacted the labor force, like COVID fears, lack of childcare options with kids being out of school.

Emily Roland:
So we think it's important to underscore how—I hate to use the word—but how unprecedented this has been in terms of these distortions, both on the supply side and on the demand side. So what's next? It's lasting a little longer than we had anticipated. One key element to that is that Chinese policymakers' response to the Delta wave, they had one worker at a manufacturing plant to report getting COVID, and they sort of reshot the entire, or, supply side down; that extended some of the issues. Labor supply is clearly an issue: There are still 10 million job openings in the U.S., so the reason for some of those backups we've seen at some of the major ports in the U.S. is that there's no one there to unload the cargo.

Emily Roland:
So it's going to take time for these issues to get resolved. So we do think inflation will remain elevated here for the next couple of quarters but, ultimately, supply and demand will come back into balance. We do believe inflation will return to around 2%, maybe 3%, in 2022. On the supply side, we're starting to see investment in production. We're seeing workers returning. Even in areas like semiconductors, we're starting to see some of those issues get resolved, and on the demand side, we see that initial once-in-a-lifetime surge in spending starting to fade as the fiscal stimulus starts to fade and consumers draw down on those accumulated savings. So bottom line, inflation should remain elevated for now. There are some important investment implications of that, which I know Matt will talk about, but we do expect it to fade as these extraordinary factors start to fade as well.

John Bryson:
Excellent. So let's do that. Matt, let's bring it down to the portfolio level. Given the backdrop that Emily outlined, how should investors be managing inflation risk in their portfolios?

Matt Miskin:
Thanks, John. When you think about the broader asset class building blocks that you have for portfolios, stocks tend to like inflationary periods. We actually did analysis looking back since the 1970s on a rolling 12-month basis and looked at, okay, when inflation was, let's say, under 1% to over 4%, what is a different average return investors get on equities in general? What we found was that when inflation is between 2% to 4%, you've seen annualized returns anywhere between 17% to 18%. You've seen some pretty nice double-digit returns from your stocks. Bonds, it's more mixed. Bonds don't like as much inflation, but they're not terrible. You usually get your yield, which helps manage some of the inflation, but stocks really should be where the emphasis should be to manage inflation risk. You don't have to be that clever in terms of equities; actually, where we found to be the best place to position for higher inflation is U.S. mid-cap stocks.

Matt Miskin:
I often get the question, why U.S. mid caps in terms of their ability to do the best inflationary periods? What we found is that industrial companies, those companies at a big fixed asset investments have what's called operating leverage. So if you're making widgets and you come in, you make some widgets every day, and all of a sudden, your widgets are going for higher prices, but you've already paid for the equipment. You've already taken out a mortgage. Your fixed investment's already there, but all of a sudden, because of inflation, you're able to raise prices on it. If you do the same volume, but only at a better price, then you end up getting a better total earnings picture or total corporate profits are better. Where we're seeing that is companies like industrials, companies like the energy sector.

Matt Miskin:
That's really where industrials are going to, or sorry, mid caps have overweights more longer term. So mid caps are the best inflation hedge across a portfolio. Value, typically, is better than growth. Growth isn't terrible; it's just the high-growth, low-quality names typically do worse. Higher-quality growth typically does better, and there is pockets of growth that actually can do well in inflation. One of them that we're looking at is in technology semiconductors. Semiconductors—Emily was just talking about these supply chain disruptions—there's this massive tailwind to semiconductor companies, because they're seeing massive demand. They can't even meet it with supply, but that's beneficial for them. There's cyclical names within tech that can be inflationary beneficiaries, but more often than not, at a big, higher level, it's equities, it's mid caps, and it's value in general. We would not make your fixed income act like a part of the portfolio that benefits from inflation.

Matt Miskin:
If you do that, then, really, you're just making the whole thing an equity portfolio. Instead, you want the fixed income to still act like fixed income. Now on the margin, we're looking at bank loans as a way to manage some of the duration risks, have some more yield to it. We've got that as a bolt on. We're looking at corporate bonds, high-yield bonds. You need income to manage some of this inflation on the fixed-income side, but you don't want to make it all together an equity part of the portfolio. We still like investment-grade corporates, neutral mortgage-backed securities—those are also important, though, to keep your bonds acting like bonds. But if your equities are there, that's really the best inflation hedge, and it's really worked out this year as inflation has accelerated.

John Bryson:
Really helpful, Matt. It makes a lot of sense, especially the parts you mentioned around keeping the fixed-income part as the ballast in the portfolio. Don't reach too much for yield and make it too sensitive to equities. So the other thing that's been really rallying along with inflation has been oil; so, we're seeing it accelerate. Emily, what's the move behind oil, and what's your outlook going forward?


Emily Roland:
All right, perfect. So, yes. So oil prices, definitely a lot of conversation here. Oil prices are up about a 100% over the past one-year period. The energy sector is the best-performing sector in the S&P 500. I will say it is a small one, at about 2% of the S&P 500, but nevertheless, it's been a huge driver of returns over the past year. Really, what we're seeing here is that there's actually a fear building of an energy crisis. So there's concerns that prices on commodities like heating oil, natural gas, will skyrocket, and that fear of higher prices, in our view, is fueling speculation and bidding up prices even further. In our view, that probably isn't sustainable. Typically, when some prices are rising based on these dynamics, it doesn't always end well.

Emily Roland:
Frankly, when we think about the fundamental case for energy, we look at it as being in a secular, declining trend. We're seeing alternative energy sources become more important. We look at trends in technology that are going to allow us to be less dependent on fossil fuels in the future. The other thing that we're watching closely is that economic growth in China is slowing, and that's potentially an issue in terms of demand for oil. It's hard to see a sustained energy supercycle without China participating in that. But frankly, this year, clearly we missed this one.

Emily Roland:
When we think about asset allocation, when we think about risk management, in our view, in Market Intelligence, for us, it's really about making a case for overweighting an asset class or a sector based on fundamentals, based on macro factors, and really being mindful of areas where there might be some speculation or sentiment really being the key driver behind price returns. So right now, we're not chasing it, but we're certainly respecting the trend, and the good news is that the value strategies on our platform have been largely overweight energy. They saw the trend. They're benefiting from higher oil prices here. That's been really a creative to performance on the value side of the platform at John Hancock Investment Management. So a little bit being careful here, but certainly been a great area in terms of being additive to performance in 2021.

John Bryson:
Excellent. So, Matt, with this backdrop, we haven't talked about the Fed yet. What does all this mean for a Fed policy?

Matt Miskin:
Well, they are between a rock and a hard place. So they are going to be tapering here in the November meeting; the minutes yesterday showed that that is very much likely the case. They're going to do $15 billion less of quantitative easing per month starting in November, and they're trying to back off in terms of their supportive stance on monetary policy. The inflationary pressures are getting to them. It's interesting, they developed this new framework or they were going to let inflation run a bit hot. They have said that they thought it was transitory and yet, they are going with an aggressive monetary policy stance. So they're suggesting they're going to raise rates potentially by the end of next year, and really think about further rate hikes in the subsequent years.

Matt Miskin:
The one thing I would caution, though, when you say things like, "They're going to raise rates, and they're going to do the end of QE," it doesn't necessarily mean that Treasury yields are going to move higher in the longer end of the curve. In fact, we think the opposite could happen, because the Fed tightening into this may actually make the disruptions worse. So monetary policy doesn't really help with supply chain disruptions. This isn't something that the Fed is going to help with. They're not going to unpack the ships from the ports. If they raise rates too aggressively, if they tighten policy, it decreases the demand. The supply is already in trouble, and it just makes it a worse equilibrium, all things considered. So our view is that you might actually see a flattening of the curve into next year and the following years, the Fed does likely move forward with tightening into next year because of these inflationary pressures.

Matt Miskin:
But if inflation decelerates into next year and growth decelerates, we're seeing so much fiscal palsy. Emily highlighted these stimulus checks this year. We're not going to get them next year, right? It's unlikely, at least, and there's a lot of other headwinds. We might see higher taxes next year. If you get higher taxes and the Fed tightening, that would result in a lower growth profile, and if the Fed does that, that means the curve flattens. So we're positioned with about over half a year to a year less than the aggregate benchmark. The Agg right now is 6.7 years of duration. We're suggesting more like 5.5 to 6.0. Again, we're thinking of corporate bonds. We've got some bank loans in there to give more yields and get that duration right where we want it.

Matt Miskin:
But what's happening right now, there's a thing called roll down. You're getting paid actually a pretty good additional yield to move out to the 10-year part of the curve. The short end just isn't cutting it. There's not enough yield there. So even though the Fed is likely to raise rates a little bit into next year, potentially, you're getting much more yield per unit of duration risk going into the 10 year of the intermediate part of the curve. We want that roll down as a part of our strategy and keeping our bonds acting like bonds in that prior question for your fixed-income portfolio. So that's how we're piecing this all together as it relates to Fed policy into next year.

John Bryson:
So you touched on a couple of these things about inflation over the short term and the long term, rates over the short term and the long term. I know in my conversations with advisors, and I know you've run into this also, is this angst in general about fixed income. You know what, there's so many moving parts, I'm not sure what to do. So, Emily, I want to ask you, how do you respond to somebody that says, "I don't even want to own bonds in this environment because I can't figure out all the moving parts"? What's your take on that?

Emily Roland:
Yeah, we would disagree with that sentiment. We definitely want to own bonds, and Matt talked about the importance of keeping them in a portfolio as the ballast and that dampener from risk. We just had to be more thoughtful about where we're invested. When you look at the year-to-date performance, the Agg is down 1.5% or so. It's a little unusual to see bonds not playing that role as much in terms of protection here, but what we want to look at is, as rates have backed up, those higher-starting yields are very attractive. We actually think that you should think of them as really helping your forward-looking, long-term returns. So the yield on the Agg is around 1.6% today, and when we looked back historically, there is about a 9% correlation between the starting yield on the Agg and your subsequent 5-year annualized returns.

Emily Roland:
So as yields go up, you're starting to get that better starting yield, which should translate to more attractive returns on a 5-year basis. Matt alluded to this, but we think we're starting to see a pretty good entry point here. You asked about the direction of yields, and we think that they've probably peaked for this cycle. One thing that we look at for this analysis is the U.S. leading economic indicators. That's something that we often highlight in Market Intelligence, and historically, when the leading economic indicators, the growth rate peaks, the 10-year Treasury yield also reaches a high point. Then, as the LEI decelerates, the 10-year yield is typically in a choppy, downward-trending trajectory.

Emily Roland:
So then, when the LEI troughs, the 10-year Treasury tends to trough in a similar period. So when we look at the leading indicators, it gives us, by the way, a sense of where we are in the cycle, it peaked back in April of 2021, and now it's starting to fall. Now, let me just say that it's still very much elevated. So this new economic cycle we're in continues to unfold. We don't think we're anywhere near a recession. The LEI is still very much in positive territory, but the best growth rate is probably behind us. So that's one of the reasons that we think we've seen, likely, the peak for the 10-year Treasury already in this cycle. Now is not the time to be overly short on duration, but as Matt mentioned, we want to target more of the intermediate part of the curve, and we also want to think about, with a leading indicator still being very much positive, we want to own corporate bonds.

Emily Roland:
So we're looking at areas like investment-grade corporate bonds, triple Bs being our favorite area, and then adding in high yield for some additional income and return potential with a focus on the double B part of a market. So this analysis is something that you'll find—I know we haven't mentioned the Q4 version of Market Intelligence just came out. So you'll see a lot of the work that we've done around looking at, historically, what's happened in terms of yields, where the best potential is for income in the fixed-income markets, as well as some of the other analysis that we've done heading into the last quarter of the year.

John Bryson:
Yeah. I was looking through that, and I think I would say despite all the angst right now with inflation and where the markets are going, you and Matt always do a great job with the Market Intelligence piece with having people focus on the longer-term approach. It's a great piece, folks. If you haven't looked at it, take a look. It's on our website, jhinvestments.com\marketintelligence. I'll also say that when Emily's not out looking for a Harry Potter costume, she's tweeting; her and Matt both tweet. So if you want to keep up to speed on what's going on in the markets, follow them on Twitter @EmilyRRoland, or @Matthew_Miskin. Always, if you want to hear more, please subscribe to the Portfolio Intelligence podcast on iTunes or visit our website, jhinvestments.com, to read Matt and Emily's viewpoints, all the different other viewpoints we're getting from our network around the world, and different ideas on business-building techniques for your practice. Thanks so much for listening to the show today. Matt and Emily, great to catch up with you. Thanks so much for sharing your insight.

Emily Roland:
Thank you.

Matt Miskin:
Thank you.