Portfolio Intelligence podcast: investing in the environmental megatrend
Global environmental change is one of the strongest factors driving interest in sustainable investing. In this podcast, Dr. Sarah Cornell of Stockholm Resilience Centre and Gabriel Micheli, CFA, senior investment manager at Pictet Asset Management, discuss thematic and sustainable investing during a time of accelerating climate change.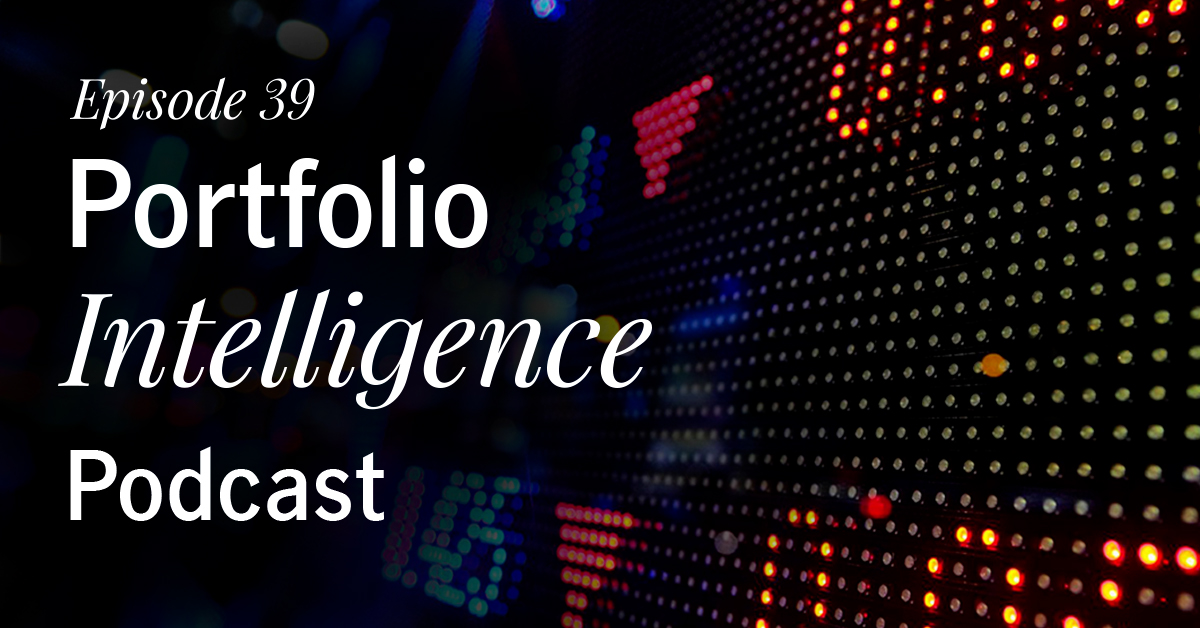 Listen to this episode to hear expert insight on how sustainable investing works in practice and how to incorporate it into portfolios.
"The scale of the change that will have to happen in global emissions is enormous, and we think that understanding which companies will face those headwinds the most and which ones will actually benefit from those trends is key."—Gabriel Micheli, CFA, Senior Investment Manager at Pictet Asset Management
About the Portfolio Intelligence podcast
The Portfolio Intelligence podcast features interviews with asset allocation experts, portfolio construction specialists, and investment veterans from across John Hancock's multimanager network. Hosted by John Bryson, head of investment consulting at John Hancock Investment Management, the dynamic discussion explores ideas advisors can use today to build their business while helping their clients pursue better investment outcomes.
John Bryson:
Hello, and welcome to the Portfolio Intelligence podcast. I'm your host, John Bryson, head of investment consulting and education savings at John Hancock Investment Management. As always, the goal of this podcast is to help investment professionals deliver better outcomes for their clients and their practice. Today, I have an idea, well, it's more like a question about an idea, and really, the question is, can you invest in an idea? And not just a small idea, but a big world-changing—even world-saving—idea? We're going to try to answer that today. There are many ways to invest for the long term, and an interesting approach, booming in popularity, is thematic investing. Different from more traditional approaches, such as investing by style, or region, or market capitalization, or sector, thematic investing refers to strategies investing in long-term ideas or trends, or even mega trends, impacting our world over multiple decades, potentially allowing investors to capture the long-term opportunities created by these mega trends.

John Bryson:
To answer this question, I'm joined today by Dr. Sarah Cornell of the Stockholm Resilience Centre and Mr. Gabriel Micheli of Pictet Asset Management. Dr. Cornell is a research scientist and coordinator, working on issues relating to human environment interactions in the context of global change. She leads a team of international researchers, working on the planetary boundaries framework at the Stockholm Resilience Centre. She also teaches an introductory course to global change science and policy in the Stockholm Resilience Centre's master's program. Dr. Cornell has a research background in marine and atmospheric chemistry, having obtained her Ph.D. in 1996 for her research on the global nitrogen cycle. She was a contributing author and expert reviewer for the UN IPCC, that's Intergovernmental Panel on Climate Change Working Group Part II. She's an associate editor for the journal Environmental Science and Policy and an editorial advisory board member of the Journal of Critical Realism.

John Bryson:
Also joining us, as I mentioned, we have Gabriel Micheli, senior investment manager at Pictet Asset Management and portfolio manager of John Hancock Global Environmental Opportunities Fund. Gabriel joined Pictet Asset Management in 2006 and is a senior investment manager in the thematic equities team. He's been co-managing the Pictet Global Environmental Opportunity Strategy since its inception in 2014. Prior to that, Gabriel co-managed the Pictet Timber Strategy from 2008 to 2018, where he's kept an advisory role, and was co-manager of the Pictet Clean Energy Strategy from 2007 to 2010. Dr. Cornell, Mr. Micheli, welcome to the Portfolio Intelligence podcast.

Dr. Sarah Cornell:
Hello, and thanks for having me.

Gabriel Micheli:
Hello, everyone.

John Bryson:
Dr. Cornell, I'm going to start with you, please tell us more about the Stockholm Resilience Centre and your role there.

Dr. Sarah Cornell:
Okay. The Stockholm Resilience Centre is about 15 years old now, and it was set up as a transdisciplinary center for sustainability science. It was actually established as a joint venture between Stockholm University, the Stockholm Environment Institute—that's a very influential international sustainability think tank—and the Royal Academy of Sciences in Sweden—that's the academy that awards the Nobel Prizes each year. The center is now formally part of Stockholm University, and we combine a mission of research, real world engagement, and education about sustainability and resilience, that we offer to graduates, to executives, and the wider public. I'm one of the principal researchers at the Stockholm Resilience Center and, as you said, I'm associate professor at Stockholm University as well. And my role, quite simply, is to guide and coordinate the research at the center, particularly on the global dimensions of environmental change, and in particular, I've been involved in developing the underpinning science of the planetary boundaries framework. And as part of that, I work with a growing international expert network that supports the applications of the framework.

John Bryson:
Excellent. Gabriel, I'd like to introduce you to the conversation. Tell us about your role at Pictet?

Gabriel Micheli:
Yes. So, I have been at Pictet for 15 years now, and it has been an absolutely great journey, as you explained. I was involved in the creation of many different environmental funds, and for me, it's perfect because I was always passionate about nature. I grew up in a family of naturalist and then I studied economics and finance to know how the world works and how we can have an impact. I'm a fund manager there, I am starting to know this sector extremely well, since I have been looking at those companies and how they have evolved over time.

Gabriel Micheli:
And I have to say that it's getting more and more interesting, because 15 years ago, it was mostly about climate change, for example, and today there are many more environmental issues that have become very relevant in the public discussion. So the awareness is much stronger on those issues and regulation coming from governments is also starting to have a pretty big impact. So we are really seeing the world of business companies, for which this is just an opportunity of bringing new technologies, new product to the market. So I would say that my job has become more interesting with time.

John Bryson:
Excellent. Well, welcome. Dr. Cornell, I'm going to come back to you. You mentioned, and I mentioned it too, the concept of planetary boundaries, the framework. What is the Planetary Boundaries Framework?

Dr. Sarah Cornell:
That's a great question, and it's a scientific agenda, and it's actually a framework that people are putting into practice at the moment. The Planetary Boundaries Framework flags a linked set of environmental issues that mark out critical conditions for global sustainability. It consists of nine dimensions, and each one of the framework's dimensions is a way to alert us to human-caused change in a global, well, an earth system, biophysical process that is shifting the planet's fundamental system behavior. When I talk about the earth system, I mean the interactions of land and oceans, atmosphere, and life itself. Now we use the past 10,000 years, a relatively stable period in earth history, as the baseline for the system where climate and the ecological conditions have been comparatively stable, especially when we compare it to the big swings, to ice ages and very hot periods in the deep past of earth history.

Dr. Sarah Cornell:
And for each one of the dimensions, we, as the scientific community, have characterized the magnitude of the shift away from earth's long-term stable baseline, and where possible, we've quantified that, and that's what the boundaries represent. So in other words, the framework gives us a way to take a very long-term and a very large-scale perspective on the human enterprise and how it's changed its environment. And quantified boundaries help us to mark out what we call a safe operating space. It might not necessarily be safe for everybody, but on this large-scale, abstracted view of how the earth works, we can say for sure that the past 10,000 years of stability have been an important part in letting everything that we regard as human civilization develop. So when we are talking about things like large-scale settlement, long-distance trade, agriculture—all of these things rely on a relatively stable and predictable earth system, and it's precisely these conditions that we're concerned about disturbing now.

John Bryson:
Understood. So we're going to talk about this a little bit deeper, but tell me how you got connected with Pictet in the first place?

Dr. Sarah Cornell:
Pictet contacted me because they'd encountered the framework in the scientific literature. The Planetary Boundaries Framework was actually developed about a decade ago, originally as a decade-old strategy for research and collaboration, but policymakers and some businesses in various European countries were getting interested in putting the framework into practice about that time. One example is the European Environment Agency, which used the framework for an assessment of whether Europe is living within the limits of the planet. So there was an emerging discussion about the way that this scientific framework could also be used as a way for describing global responsibility for various kinds of environmental change. Members of the Pictet Asset Management team had been working on a way to translate the scientific metrics, which I have to admit are rather arcane and impenetrable, into workable metrics for economic and financial decision-making. Now, on issues, not just around climate and biodiversity, where we can probably say that the academic and policy debate is quite mature and businesses kind of know what they ought to be doing, but also a whole range of issues around natural resource use and pollution.

Dr. Sarah Cornell:
Now, obviously this translation process from global long-term metrics to the metrics that make sense for economic and financial decision-making involves assumptions and some simplifications. And my Pictet colleagues ask me if the translation still kept the intended meaning, and that was the start, really, of an ongoing dialogue about global environmental change and the global power of finance.

John Bryson:
Now, Gabriel, how did you first hear about the Planetary Boundaries Framework?

Gabriel Micheli:
So on our side, we were having many discussions internally on what was environmental, because we had many environmental funds we had water, clean energy, agriculture, timber—and we were wondering, asking the different fund managers, which are the companies that have a positive and virtual impact? And every time, we had a list of companies where we really felt that some of the companies actually solved environmental issues, but at the same time, created something detrimental to another aspect of the environment. So I was discussing within the timber team, with a colleague named Christoph Butz, who had been on the ESG space for a really long time, and he had read about the Planetary Boundary concept, and he introduced it to me, and we thought that was absolutely great, because it was a holistic way to look at the issue and look at all of what scientists consider the biggest issue.

Gabriel Micheli:
And not only do they have the list of the issues, but they actually have the limit that we shouldn't cross, and then we thought, oh, that would be great! Because then with this, we should be able to adapt it to our investment world and understand which companies could operate for a very long time without headwinds and which companies will actually face issues. So that's how I heard about it, and then we try to implement it.

John Bryson:
Makes a lot of sense, especially when you think of the headwinds versus the tailwinds that can be facing companies. Dr. Cornell, I do want to dig a little bit deeper on the genesis of the framework. Can you bring us back in time and tell us how it came about?

Dr. Sarah Cornell:
Okay. As I mentioned in passing earlier, the framework really was originally a strategic science agenda, by scientists, for science, where scientists from the Global Change Networks for Research need to work better together on issues like climate and biodiversity and other ways that human beings are changing the functioning of the planet. So back in 2009, a group of experts from these global change research programs convened a series of meetings to set out this decade-old strategy, but actually in one very real sense, the genesis of the framework goes back to 50 years or more of this international collaborative science. The quantifications come from the piecing together of an understanding of how the earth system works through earth observations. Satellite data are a very important part of that, through global models, and as I've indicated, the piecing together of historic change in deep earth history, going back thousands, and even longer, millions of years.

Dr. Sarah Cornell:
And it's that piecing together that gives us today's system understanding of how the environment works and helps us to have predictive power for the future. Now, climate change is really the best known and, in some ways, the best-evidenced example of environmental change and human-caused environmental disturbances, but really, similar efforts have been going on for changes in biodiversity; in other words, all of life on earth, and the water cycle, landscapes, and actually the fundamental chemistry of life itself. So the framework was a way for bringing together these different knowledge communities, and it was published as a series of academic articles, and we continued to research it, but as I mentioned as well, that national policymakers, businesses, and increasingly local communities use the framework as a way to hold these multiple planetary pressures in mind at the same time when we're thinking about what to do for sustainability action.

John Bryson:
Yeah. The framework, no doubt in my research, is spreading around the world. Now, Gabriel, I want to ask you, how do you take this scientific framework and apply it to an investment portfolio? How does Pictet do that?

Gabriel Micheli:
Yeah. So this is the key question, and that was a challenge for us, but I think we came up with a framework that has worked very well. So it's very complex, but I would try to simplify it here. We work with an external partner and, basically, our goal is to calculate the environmental footprint of all the companies, so we translated the boundaries into limits for resource use and emissions, basically per unit of value creation. We looked at the nine planetary boundaries, and we found a way to approximate a score to understand whether, on the nine boundaries, a company had an impact that was beyond the safe operating space, or whether it was within the safe operating space. And when it's within the safe operating space, there are even companies that actually have a positive impact, which we calculate with a negative rating.

Gabriel Micheli:
And for this, we thought that we needed to have the full lifecycle analysis of the company's product or services, so it's not just the energy that will go into the product, for example, but it has to be all the raw material used, it has to be the manufacturing and assembly of the product, the product use itself; for example, for a car, the fuel that will be used with the car is a big part of the footprint. Then you have to distribute, transport the product, then of course you have the disposal and recycling of it. So it's really the full lifecycle of the product from cradle to grave that we take into account. So we did this with an approximation by sector, but it works very well, and we were very satisfied with the end product.

John Bryson:
So as both of you bring more clarity, I'll recap a little bit in my own words, and feel free to correct me. Dr. Cornell, we're talking about the limits that the planet can survive, there's these boundaries that if we push past, the world as we know it will no longer be the same and would lead to dire consequences. So we have to be aware of these boundaries, these limits, and not push past them. Give us some examples of the nine dimensions that you mentioned that we need to be aware of?

Dr. Sarah Cornell:
Nine of anything can be quite tricky to remember, so I'll give them to you in three chunks, okay? Biodiversity loss, climate change, and climate's twin problem of ocean acidification; it's the twin problem because both climate change and ocean acidification are caused directly by carbon dioxide emissions. Now, life and climate—really the defining features of the system that we call planet earth—and earth history shows us that changing one changes the other, and so we regard climate and life as the sort of the core boundaries, the interacting dimensions that really define what we call the state of the planet. And you talk about going beyond the boundaries, actually, already, the world has had multilateral environmental agreements in place since the 1990s to avoid dangerous climate change and to halt biodiversity loss. We're well beyond the situation where severe consequences might happen, they're happening here and now.

Dr. Sarah Cornell:
And so, these are both urgent and important dimensions. Then we have land system change, freshwater use, and what we might call atmosphere use; in other words, the changes of atmospheric chemistry, particularly when we put fine particles into the atmosphere, because that changes the conditions for life, and it changes the climate as well. And so, land and water change are really the main human-caused drivers of disturbance to this balance of life and climate. And then the third category are the chemical changes that alter how life can regenerate itself and how it co-evolves with climate.

Dr. Sarah Cornell:
And three remaining dimensions are biogeochemical flows, novel entities, and ozone depletion, and maybe I ought to just say what biochemical flows are. We're really interested in the natural element cycles of nitrogen and phosphorus and the other essential nutrients for life and the way that they flow through land, rivers, oceans, and the atmosphere. And then, of course, we're interested in entirely new synthetic substances because the effects of these novel entities are intrinsically, by definition, poorly predictable, and one of the scariest, near-miss examples, and actually the ninth dimension of the framework is ozone depletion caused by the CFC's that many people regarded as safe, where I look at them from the narrow perspective of near-term human health, but certainly not from a planetary health perspective, because they cause large-scale ozone depletion and global warming when they're released into the atmosphere.

John Bryson:
And, Gabriel, I'll go to you. The way I think about it, what Pictet's trying to do is first, not only find the companies that are not making the situation worse but also working to make the situation better, and over the long term, those are going to be the investments that truly pay off, that's the way I think about it. Would you, if you want to clarify, please do, but can you give us some examples, maybe some segments or some company examples that could bring this to life for us?

Gabriel Micheli:
Yeah, you explained our concept very well. So, yeah, once we have created the universe with the planetary boundaries of companies within the boundaries that also have a positive impact on at least one of the environmental dimensions, we really find a universe of companies growing faster than the broad market because consumer preferences are changing, regulation is changing, it's really bringing quite a lot of growth for these companies. So I can give examples: We have, obviously, renewable energy, but also energy storage, smart grids will be something big in the future. Energy efficiency is a really big segment for us with all the industrial efficiency, how to do more with less, and less energy, less material, building efficiency is, of course, quite important, and obviously, the electrification of transportation, which will be a major theme over the next 10 to 50 years, I would say.

Gabriel Micheli:
Then we have something we could dematerialize economies, all the software used; for example, simulate different flows to make a reactor, for example, more efficient, for a plane to check for flow dynamics, to have a car that will have the exact form and shape that it can glide through the air with the least resistance possible, and that's very, very important. How software to make a new building using less energy and, over time, buildings would be probably producing energy, actually.

Gabriel Micheli:
Then we have the theme of sustainable agriculture and forestry, and if we look at the boundaries, agriculture is always a pretty big issue, biochemical flow nitrogen, for example, in the environment, a lot of pollution with pesticides. And there are lots of new ways to do organic food, regenerative, agriculture, precision agriculture. And then forestry is also something where you can have good, sustainable forestry. Trees are basically sucking carbon from the air to grow, so if you use wood to do something, you actually store carbon for some time. Then you have water, which is very important to have clean water, it's at the basis of life, treat the water.

Gabriel Micheli:
Then you have everything related to a circle economy, with waste management and recycling of everything, and finally, we have pollution control, which are all the different monitoring and testing devices out there, different filters to if we have some pollution at the end of the process, we need to clean it up. So those are the segments we have.
Gabriel Micheli:
There was a wave last year, with all the different stimulus program, going to green technologies. And so, some sectors, like renewable energy or antique cars are quite well known, and we have some high valuations, but that's a very small part for our fund. Our goal is more to target companies that people might not think actually have a positive environmental impact, but since we have this planetary boundaries methodology, we are able to find companies actually in this field that have not been recognized yet by the market.

John Bryson:
Those are some exciting, fascinating, timely, and forward-looking examples, so thanks for sharing that, I think that'll help our listeners quite a bit. I want to stay with you, Gabriel—what do you see as the benefit of this framework versus other potential frameworks?

Gabriel Micheli:
Yeah. So when we started, we can think of our own opinion of whether a company is environmental or not, and I think that's one possible way to select companies or to listen to what companies are saying about their product. We wanted to have something, as much as possible, based on what scientists are saying about the environment, and with a clear methodology that helps us to know what is the environmental impact of companies and which don't have one impact, we have nine different dimensions for all companies. So it's based on science, that will be one very positive thing for us. Then what we have is that we don't depend on data from companies. Companies tend to disclose more and more data, a lot of improvements have been made over the past seven years, but still, it's very incomplete today.

Gabriel Micheli:
So if we look at two companies, one might report more than the other, one might be more precise than the other, and in the end, it's difficult to differentiate. With this, we have something coming from the science, for approximation at the industry level, from an input-output methodology, and that really allows us to have our independent view on the subject. So it's not an external provider or some data that are public or that are coming from companies, and that could be changed. It's really our own view that is independent, and we think that's a pretty big edge.

John Bryson:
Excellent. And, Dr. Cornell, thinking through the framework, how robust is it and does it evolve, or how does it evolve?

Dr. Sarah Cornell:
Framework itself is very robust. The nine dimensions, there's a strong, scientific consensus behind each one of them, and they capture the most pressing areas of change when we look at the environment from this global perspective. For each one of the nine dimensions, we have worldwide monitoring and we have multilateral agreements. Now, obviously, speaking as a scientist, I'd say we don't have enough monitoring, and I've already pointed to the serious implementation gaps of our policy context, and so one area of ongoing research and dialogue, really, between science and business and policy, is in how we use the available information resources better, for better transparency, and in particular, how we try to understand the interactions between our red alert dimensions of the framework. In 2015, most of the original authors and a few other experts from around the world published a follow-up article to the original framework publication.

Dr. Sarah Cornell:
Lots of people call it the update, and to some extent, it does provide some more recent data on the individual boundaries, but really, in my view, the real value of the 2015 paper, led by Professor Will Steffen, is that it really started to put the framework into practice by looking at the sub-global patterns of what happens when a boundary is breached, and it began to deal with some of the dynamic interactions between the planetary boundaries processes. And, really, those are the science agenda challenges that the international science community involved in this is continuing to work on. But more straightforwardly, and in terms of the way the framework is put into practice, when the baseline for the whole framework is 10,000 years of stable earth system conditions, this policy and epoch, it's a very long-term, very large-scale, perspective. That means that 5 or 10 years of change don't really alter the framework as such, although they really do ramp up the urgency to reduce the pressures and mitigate these known risks.

John Bryson:
Makes sense, certainly when you look back over the, like you said, 10,000 years of data to build the framework. And, Gabriel, I started with the question, can you invest in an idea, not just a small one, but a big world-changing—even world saving—idea. How do you take what we talked about today and translate that into thematic investing?

Gabriel Micheli:
Yeah. So it's true that it comes from an idea and, as you say, a pretty big idea, and in which we really believe for the next decades, it's not a trend that is going to last just a few years. Obviously, there will be cycles along the way, but we very much believe that this is something for the next 50 years or more. Today, it seems really difficult to see how we are going to solve all the issues. If you just take climate change, for example, to get to net zero, for example, which most countries or companies are setting targets today to reach that goal, then we really need something like we had last year, around 7% per year of reduction in CO2 emissions that we had during the COVID-19 crisis.

Gabriel Micheli:
And that's with really a big stop in the economy. And soon as the crisis was over—it's not completely over yet—but this year, emissions came back. So the amount on the scale of the change that will have to happen is really something enormous, and we think that understanding which companies will face those headwinds the most and which ones will actually benefit from those trends is structurally something that will favor a universe or company like ours versus other companies broadly in the economy. So we very much believe in this approach, and it has worked very well so far, and what we see over the last few years, even with the COVID-19 crisis when we had the big economic crisis, there was no stopping in that awareness from individuals or from regulation from government. It's either an acceleration that we have seen, so we think with this is a very good theme for us.


John Bryson:
Well, I would like to thank Dr. Cornell and Mr. Micheli for joining me today to share their insight to my audience. If you want to hear more about the Planetary Boundaries Framework, you can visit the Stockholm Resilience Centre website at stockholmresilience.org, or visit the John Hancock website, jhinvestments.com. And if you want to learn more about John Hancock Global Environmental Opportunities Fund, that's also available at our website, and finally, we'd love to have you follow the Portfolio Intelligence podcast, so please subscribe wherever you find your favorite podcast. Thanks so much for listening to the show.