Portfolio Intelligence podcast: growth or value in the global equities market?
Co-Chief Investment Strategists Emily R. Roland, CIMA, and Matthew D. Miskin, CFA, share where they are seeing the most attractive opportunities now in the global equities market.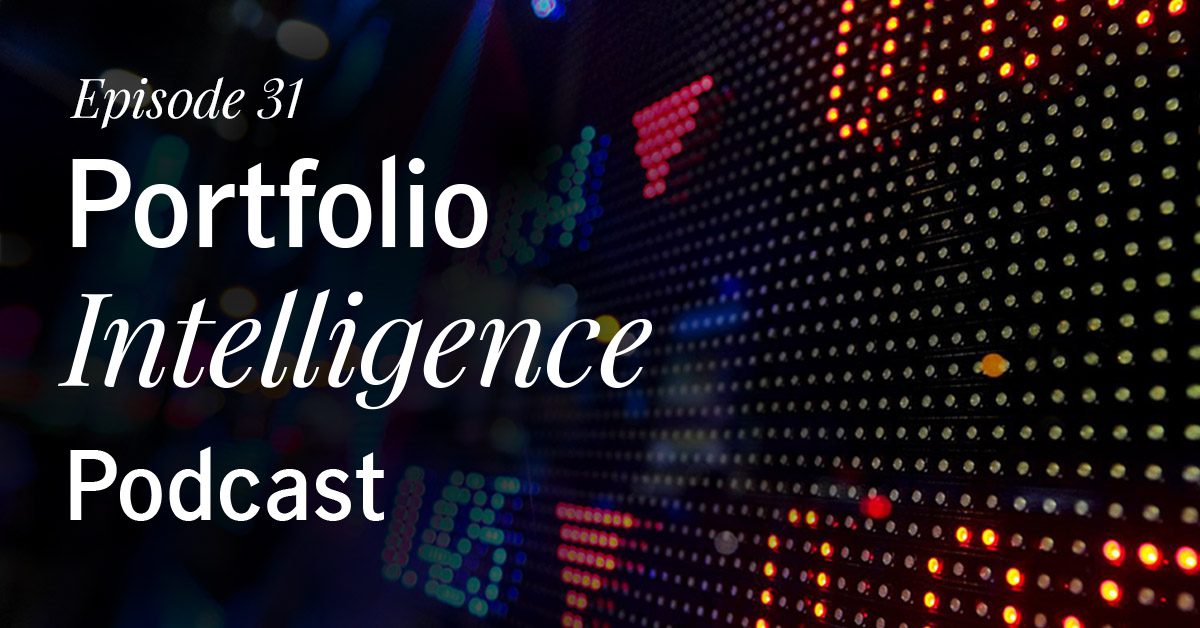 The strategists discuss whether the recent outperformance of value indexes over tech stocks could be a lasting trend. 
Miskin and Roland also explain why they think international stocks and economic growth could catch up to the United States during the recession recovery, as well as the outlook for the dollar and currency markets.
"Growth is moving to Europe and other parts of the world, and that's really why we're getting more optimistic and finding good opportunities on the international side of the markets."—Matthew Miskin, co-chief investment strategist at John Hancock Investment Management
About the Portfolio Intelligence podcast
The Portfolio Intelligence podcast features interviews with asset allocation experts, portfolio construction specialists, and investment veterans from across John Hancock's multimanager network. Hosted by John Bryson, head of investment consulting at John Hancock Investment Management, the dynamic discussion explores ideas advisors can use today to build their business while helping their clients pursue better investment outcomes.
John Bryson:
Hello, and welcome to the Portfolio Intelligence podcast. I'm your host, John Bryson, head of investment consulting at John Hancock Investment Management. Today is May 27, 2021, and it is a well-known saying in the investment world to, "Sell in May and go away." Now, if you were to do that, where would you go? Would you go abroad? Maybe you would. So I've invited Emily Roland and Matt Miskin, our co-chief investment strategists at John Hancock Investment Management, to talk about the opportunities in international markets. Matt and Emily, welcome to the podcast.

Emily Roland:
Thanks for having us.

Matt Miskin:
Thanks for having us, John.

John Bryson:
Emily, I'm going to start with you. European equity so far this year are the best performers. Can you speak to us as to why that's happening?

Emily Roland:
Sure, John, and it's definitely been notable from the advisors and clients that we're speaking with every day, and we look across indices and the MSCI Europe index is now the best-performing market year to date up about 13%, the S&P 500, up about 11% year to date. And a lot of this actually has to do with relative sector composition. In other words, Europe has a relative overweight to the best-performing sectors globally year to date, namely financials, industrials, materials, energy.

Emily Roland:
Whereas the U.S. is much more of a technology index, we often joke that it's like a giant tech ETF. In fact, the tech sector comprises about 27% of the S&P 500, plus you have what we think of as sort of tech-light sectors, like communication services and consumer discretionary, which are big overweights. And those are sectors that are dominated by stocks like Amazon and Tesla, which have come under pressure so far this year.

Emily Roland:
And meanwhile, technology's only about 7% of the MSCI EAFE. So globally, tech is taking a breather here after a multi-year streak, really of outperformance and value is working globally. Really, as we would expect, given this resounding bounce and global economic growth that we've seen here coming out of the COVID-driven recession, I think it's important to note that the U.S. is still doing well, particularly on the value side. In fact, U.S. value indices are outperforming the broad European market year to date.

Emily Roland:
And when we look at financials in particular, which as you know, are a big weight in value indices, U.S. financials are actually outperforming European financials, the issue is that we just don't have enough of it here in the U.S. to lead to relative outperformance from a broad index perspective. And now we're seeing that tech underperformance as a fairly big drag here in the U.S. So really it does come down to relative sector composition having a big impact.

John Bryson:
So, I mean, you're not recommending sell all the way out of U.S. equities, but we do know historically that people are underweight international equities here, certainly in the U.S. with that home country bias. That makes a lot of sense. So, Matt, if people are considering allocating more to international markets, I expect for the recovery to continue, we're going to need economic growth to also continue and broaden out. Are we seeing that?

Matt Miskin:
Yeah, that's a good point, John. The first quarter didn't see that actually. So the U.S. GDP in the first quarter was up 6.4% quarter over quarter, annualized. Japan, on the other hand, contracted about 1.3% and Europe contracted about 0.6%. So they were still in a recession, or they felt a double-dip recession actually in the first quarter.

Matt Miskin:
That being said, they're coming out and that's often the best time to look for different parts of global equity markets is when you're seeing a part of the global economy that's struggled and it's getting out of that recession. That's when the stocks usually respond the best and Europe is looking to get out of that recession. The vaccine distribution in Europe is going more smoothly. They're getting more people vaccinated in general. They're going to reopen, they're lifting some of the restrictions, and that is going to create more economic activity.

Matt Miskin:
One of the things we look at to get a sense of real-time economic trends is it's called the Purchasing Managers' Indices or PMIs. And the eurozone PMI in May, so we're not even done with May yet, but we get what's called a preliminary PMIs that are the first three weeks or so of the month, that rose to 56.9.

Matt Miskin:
So just to say, what kind of spectrum here, above 50 is good, below 50 is bad, 60 is considered an essence, great; 60 plus I would say is really strong growth. High fifties is great too, but the eurozone 56.9, really is an improvement of the eurozone economy, showing that the business surveys are improving, but they're also likely to continue to improve as the economy continues to reopen. Now, when we look at these PMIs, the U.S. is still on top. So it's reading a 68.1, and this is a composite PMI, so services and manufacturing, but it's going to be hard to get a lot better than that.

Matt Miskin:
And so we're not calling for a slowdown in the U.S., we're just saying that, it's made a huge move and where the markets are looking right now is for parts that can get out of a recession that are seeing an improving economic picture, and the eurozone is a part of that. So those PMIs are getting better and globally, what we're seeing is growth is starting to broaden. So the U.S. really in the first quarter was leading global growth. Now it's moving to Europe and other parts of the world, and that's really why we're getting more optimistic and finding good opportunities on the international side of the markets.

John Bryson:
Let's expand that opportunities question. Emily, you were talking a little bit about the differences between the sectors here in the U.S. and international markets. International is a big term. Where are you specifically seeing opportunities?

Emily Roland:
Yeah, so, Matt talked about relative economic growth globally. And when we think about sort of the three key things we look at when we make asset allocation decisions across the globe within equities, it's really about evaluating relative economic strength. It's about evaluating relative fundamental strength or earning strength, and then it's also about currencies, which I know you mentioned you wanted to talk about, and I think we'll get to you in just a minute here.

Emily Roland:
But sort of focusing a little bit here on number two, which is relative earnings growth. While the U.S. here, it continues to look strong from an earnings growth perspective, and we typically focus on next 12 month earnings estimates. So essentially what the Street is telling you about where earnings growth is projected to go. We're seeing the strength in the U.S. continue, but, earnings growth in Europe and in emerging markets are actually improving quite notably here on the back of this improvement in economic growth globally.

Emily Roland:
So this does tell us that international equities, both in developed and in emerging markets should be represented here in portfolios. We do think that it's really important though, internationally, to be thoughtful about where to invest within these markets. So what we're doing is we're advocating for a tilt toward quality and toward quality growth, internationally. So when we think about quality is a factor, it's about good return on equity. It's about the ability to maintain margins throughout a market cycle. It's about earning stability. It's about great balance sheets, just good fundamentals.

Emily Roland:
And we think that those are going to be important attributes as economic growth continues here to do well, but that we will return to a sort of "normal economic environment" going forward. So we want these just really well-run companies in a portfolio. And those attributes can be found in sectors like consumer discretionary, sectors like industrials, which in Europe are actually really well represented in growth indices.

Emily Roland:
When we look at these sectors, we also see the most upside potential from an earnings growth standpoint. So we think that they can really benefit from this post-recessionary bounce that's unfolding. So we want that sort of cyclical upside, but at the same time, that tilt toward quality growth, we would place less emphasis on the international value side that tends to be dominated by areas like European financials, and we think that area is going to struggle.

Emily Roland:
As we go forward, we continue to see this negative interest-rate environment. We do think that the ECB will come through with a tone that suggests that we'll see some yield curve compression in Europe. And we do think that net interest margins for European banks are going to continue to be challenged as we move forward with this sort of low growth, low inflation environment, that's been plaguing Europe, frankly, for a long time here. So focusing here on the relative opportunities within international markets and embracing quality growth over value.

John Bryson:
Now, Matt, one of the things you, Emily and I have talked about on the podcast before is the impact of currencies on international market returns. How do you and Emily think about the U.S. dollar in the context for international equity investors?

Matt Miskin:
Yeah, it's an important part. I mean, we do look at earnings and the relative economic strength as Emily said is our first two things, but currency is also very relevant. As a U.S. investor, when you're allocating capital into these international markets, you can do so unhedged. There's a hedged version and there's an unhedged version. We have traditionally advocated an unhedged version. The reason why is in our studies of international versus U.S. markets, when international outperforms the U.S., you typically see a currency tailwind, meaning the dollar is usually down, international currencies are usually up, in periods of international equity outperformance. And actually, if you remove that benefit, it's not nearly as good of a diversifier for your equity portfolios. And what we see today is you really want that currency diversifier in your portfolio.

Matt Miskin:
We think the dollar weakening is a big risk in terms of what could happen across macro environment right now. The U.S. dollar index, it's called the DXY Index, is at about 90. It got to as low as about 88 in 2018, beginning of '18, and that was support, and we are very close to that. If you break this support level, though, there's not much underneath that, really it would take you back to 2015 in terms of levels we'd be looking at. So we'd be looking into the abyss on the dollar index, if it breaks this key support level. And if it does, we really think that's going to be a tailwind to international.

Matt Miskin:
And so that's another kicker. Again, to Emily's point, we don't love the index construction of the MSCI EAFE because it is so financials heavy. And again, we would like U.S. financials more than international financials because of the yield curve, et cetera. But, you'd need to have that international component because of this currency dynamic; we would just differentiate the underlying implementation as Emily was reviewing, but make sure you're unhedged because in your portfolio, if the dollar weakens, that international equity component could really benefit from it, and that is a key risk that you can manage with these international equities.

John Bryson:
I'm really glad you mentioned using that as a diversifier because I think a lot of people think they'll make a position or take a bet on the trend of the dollar, but using it as a diversifier as a great way to think about it in a portfolio. Emily, we've talked a lot about international equities today. I do want to expand the conversation because we're seeing global central banks starting to hit that tapering. How is that going to affect global bonds and global stocks in general?

Emily Roland:
Yeah. So there is a lot of focus here in terms of what the next move is for central bankers globally. We've talked a lot today about the improvement that we've seen in economic growth. The fact that we're emerging from this recession and now central bankers need to find a way to unwind these extremely aggressively accommodative monetary approaches that have been pursued over the last year or so. And in fact, we saw the Bank of Canada last month as one of the first central bankers globally to talk about and outline their plans for tapering QE purchases.

Emily Roland:
And we're hearing from the Fed of course, that they're not even thinking about tapering. Before it was, they weren't thinking about tapering. So we are sort of moving along that path. We do expect the Fed to start talking about that probably at the Jackson Hole symposium this summer.

Emily Roland:
And we're waiting to hear kind of more definitively from the ECB about sort of where that stands. When you think about tapering or reducing QE purchases, intuitively, that's really a form of tightening, and that would sort of mean higher government bond yields, if you kind of thought about that progression. What we've noticed lately though, is markets have sent us sort of a counter-intuitive signal here.

Emily Roland:
And as we talk more about reducing the supportive QE, that's actually created the opposite effect, which has been flatter yield curves and lower yields on the longer end. So I think, in one sense, bond markets were sort of expecting this and maybe some of it had already been priced in. And when we think about that, we actually believe that it's better here to be focused on the intermediate part of the curve.

Emily Roland:
As we look at allocations across bond portfolios, a lot of inflation, a lot of growth, a lot of Fed action here, as far as tightening, appear to have been reflected in bond prices and yields already. So we think it makes sense here to be in the intermediate part of the curve. And that does have implications as far as the financials sector globally. And I talked about a little bit, our kind of preference to move away from areas like European banks and European financials and value. And we think that this flattening of yield curves globally could mean that that part of the market's going to continue to be a challenge. It also means more of a bias toward the U.S. in the future, as these growth rates normalize here around the world.

Emily Roland:
And again, we think it's going to be hard for the ECB to really kind of build and encourage growth and inflation. So certainly something we're watching closely this year, as we think about cross-asset performance, as we think about positioning here, things are moving quickly. Right now, we're sort of right in the middle of this environment where we're emerging from the end of this early cycle environment in which global growths accelerating, in which a global central bank policy is still accommodative, and we're trying to position for this midcycle environment in which a market starts to sort of normalize here based on a more normal economic backdrop. So lots of things going on here, and certainly Market Intelligence will be reflecting those elements here in the next quarter here when we release the Q2 version of the book.

John Bryson:
Excellent. Matt and Emily, you've covered a lot of stuff here. Matt, I'm going to ask you to put a bow on it. To summarize your views, Emily mentioned the Market Intelligence piece is coming out. Maybe summarize, give us a sneak peek at your views for international equities and what you think happens for the rest of the year.

Matt Miskin:
Yeah, so as we look across the global equity landscape, we see increasing opportunities. So we still believe that the U.S. is of the best opportunities. Again, U.S. mid, U.S. value, probably our number—it's still our number one highest convection call. But it's almost as if, to use an analogy of once-great quarterback here in new England of Tom Brady. Right now, if you're an asset allocator and you're looking at global equities, it's almost like you've got a number of great wide receivers, your stack. So you've got Gronk, you've got Antonio Brown, you've got other great wide receivers. And you in essence are trying to throw the ball to all of them because they're all open. They're all saying, "Hey, we want the ball."

Matt Miskin:
And so, even though he's really doing that at Tampa Bay now and still crushing it, but as a global multi-asset investor right now, you want to make sure you have equities in the portfolio that can benefit from broadening global growth. We like stocks more than bonds. We're suggesting a modest, overweight to stocks first bonds, and we're in essence taking some of that and moving it into Europe, is what we're looking to do into the third quarter.

Matt Miskin:
Again, not over our skis in terms of that overweight to stocks, but a couple percentage points. We want to have that U.S. in the portfolio. We want to have Europe in the portfolio. We want some emerging markets in the portfolio. And so we want all of that because they're all looking like great opportunities. And again, it goes back to that diversification. I mean, last year there was no diversification. You wanted the top five stocks in the S&P 500, that's all that really worked last year. That was the best performer. This year, a lot of things are working. The market's broadening and it's those diversification options, whether it's smaller size, like mid cap or international, that's really where you want to beef up in your portfolio to make sure you can take advantage of these opportunities.

John Bryson:
Folks, if you haven't caught up on the Market Intelligence piece that Emily and Matt are the architects of, please check it out. You can find it on our website, jhinvestments.com. You can also subscribe to the Portfolio Intelligence podcast. You can find it there or on iTunes, and you can find a lot of great stuff. Last, I'll tell you that you should be following Matt and Emily on Twitter. You can find them @emilyrroland or matthew_miskin. They do great stuff. They keep us up to date with what's going on in the markets. Matt and Emily, always great to talk to you. Thanks so much for joining us and everybody, thanks for listening to the show.

Emily Roland:
Thanks, John.

Matt Miskin:
Thank you.