The trade war remains one of many mounting macro risks
Plus, see what works and what doesn't, as a retiring asset allocator reflects on lessons from four decades in investing.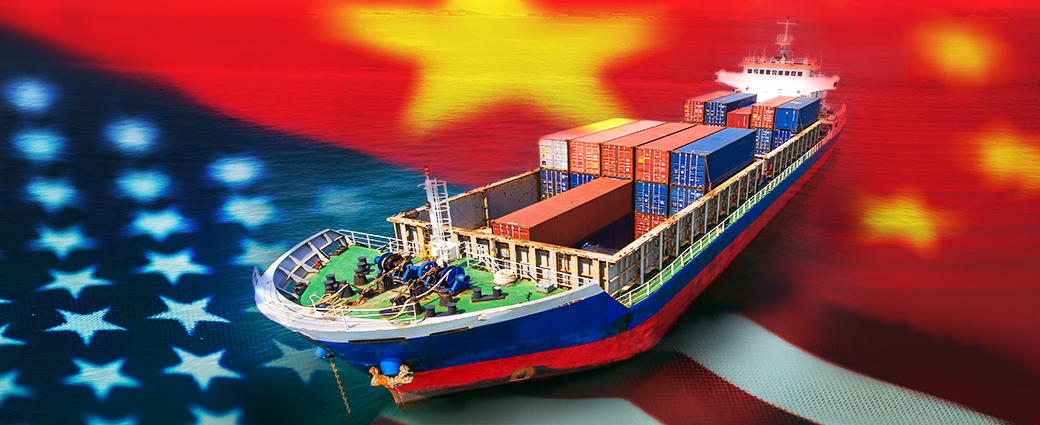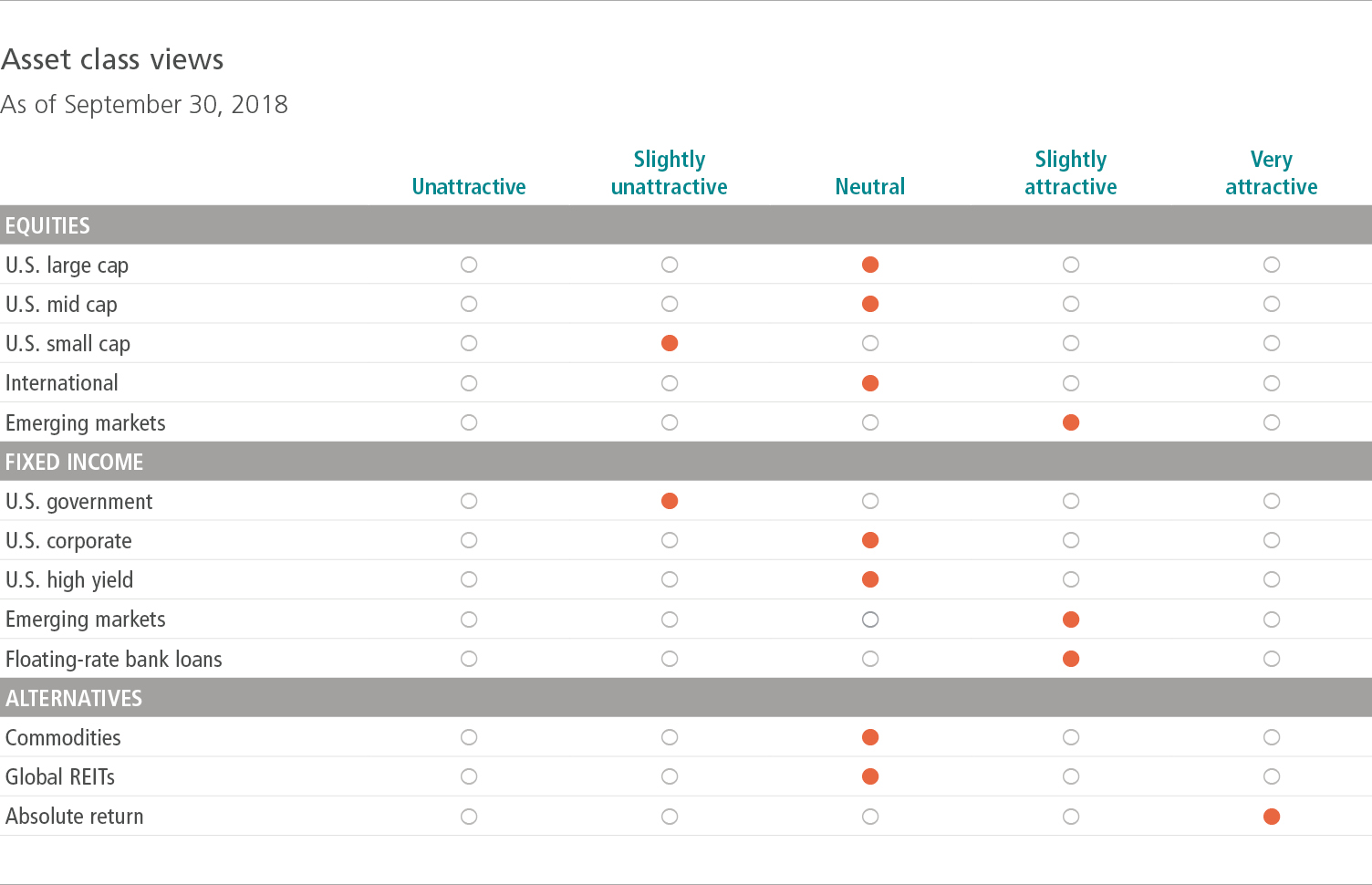 Tensions between China and the United States are likely to get worse. On our list of risks to the global economy, tariffs and trade remain near the top, where they're likely to stay for some time. There's no going back to the pre-Donald Trump world trade order. Furthermore, within the current geopolitical context, the World Trade Organization needs to be revamped or its future could be in serious doubt; it's proven itself toothless in the face of escalating trade skirmishes.
NAFTA's successor is better than NAFTA's complete collapse
The U.S.-Mexico-Canada Agreement (USMCA), which materialized on September 30, 2018, is a success if you consider the alternative—a complete collapse of NAFTA, the North American Free Trade Agreement. But the update reads more like a blend of the old NAFTA and the Trans-Pacific Partnership than a distinct new trade agreement in its own right. Still, I think the USMCA will be positive for the signatories' economies and markets because it represents the removal of a risk.
USMCA is also likely to be hailed as a political win for the governments in the United States, Mexico, and Canada. The White House will be able to claim it followed through on renegotiating NAFTA, as promised in President Trump's 2016 election campaign. Outgoing Mexican President Enrique Peña Nieto can now claim USMCA as one of his crowning legacies, while incoming President Andrés Manuel López Obrador will be able to begin his term on December 1, 2018, focused on domestic policy. Similarly, Canada's Prime Minister Justin Trudeau will be able to argue that he stood strong and defended his country's interests. The highlights of the agreement include:
A sunset clause of 16 years if it isn't renewed or renegotiated, offering less uncertainty than the five-year sunset clause the U.S. administration originally demanded
Three-quarters of car content must originate from within the region (up from 63%)
40% to 45% of vehicle content made in North America must come from factories that pay their workers an average of at least $16 per hour
Countries are deterred from artificially weakening their currencies to gain price competitiveness
Canada's victory in maintaining Chapter 19 of NAFTA, which allows for arbitration panels
A U.S. victory in gaining more access to Canadian dairy markets for U.S. dairy farmers
Mexico and Canada will be exempt from U.S. tariffs on vehicles and auto parts
The United States has the right to impose higher tariffs on vehicles imported from Canada and Mexico once shipments exceed 2.6 million cars
The United States, Canada, and Mexico agreed not to negotiate trade deals with nonmarket economy countries, an implicit allusion to China 
Most investors will be relieved by the existence of the deal, but the new agreement still faces some challenges. The head of the largest U.S. labor group, the AFL-CIO, has expressed some doubts about the details and hasn't endorsed them yet. Moreover, the agreement's ultimate passage into U.S. law isn't a foregone conclusion—it could face resistance in the U.S. Congress.    

Investment risks aren't limited to trade tensions
With the U.S. president holding significant power in trade policy, and protectionist measures helping buoy Republican support going into the midterm elections, tariffs will continue to dominate news headlines. But trade isn't the only risk to the global economic recovery, nor is it even the most acute: Other, more immediate, threats include a flattening U.S. Treasury yield curve, excessive corporate debt, and mounting stressors to emerging markets.

1 Flat U.S. Treasury yield curve flirts with inversion as the recovery matures
The yield curve has remained stubbornly flat through this recovery: Shorter-term yields sit almost as high as longer-term yields.1 If the U.S. Federal Reserve (Fed) continues to hike short rates and the long end of the yield curve remains low, the curve could become inverted, with shorter-term interest rates exceeding longer-term rates. While an inverted yield curve has demonstrated a strong track record as an effective recession warning, there are a number of technical reasons to suggest that this time might be different.2 The United States has continued issuing a lot of Treasury bills (T-bills), buoying supply on the short end, while years of quantitative easing have created significant demand for U.S. Treasury notes and bonds on the longer end. These drivers of a flatter yield curve don't necessarily reflect investor concerns about U.S. economic growth. Even if the drivers are different this time around, the past associations between yield curve inversions and recessions could whip up investor worry to the point of becoming a self-fulfilling prophecy. 

2 Corporate debt levels continue to climb
Nonfinancial corporate debt is also a risk to the U.S. and global economies.1 Overall nonfinancial corporate debt to GDP stands at post-global financial crisis highs, but the debt level looks reasonable relative to corporate profits. We don't expect the debt to be a problem for the time being, but if interest rates were to continue to rise as corporate profits eventually fall, some of the more highly leveraged small- and mid-cap companies in the United States might come under stress trying to service their debts.

3 When the U.S. dollar rises, emerging markets tend to struggle
A final risk we're watching as 2018 winds down lies within emerging markets. With the U.S. dollar (USD) appreciating relative to the Chinese renminbi (RMB)—and most other currencies, for that matter—a number of emerging-market countries found it more difficult to meet interest payments on their USD-denominated debt issues. If the People's Bank of China allows a further depreciation of the RMB relative to the USD off the back of trade tensions, global financial conditions will tighten, squeezing many emerging-market economies. We'd be less worried about emerging markets if central banks were to stop draining liquidity from the global financial system, but that seems unlikely until an economic downturn seems imminent.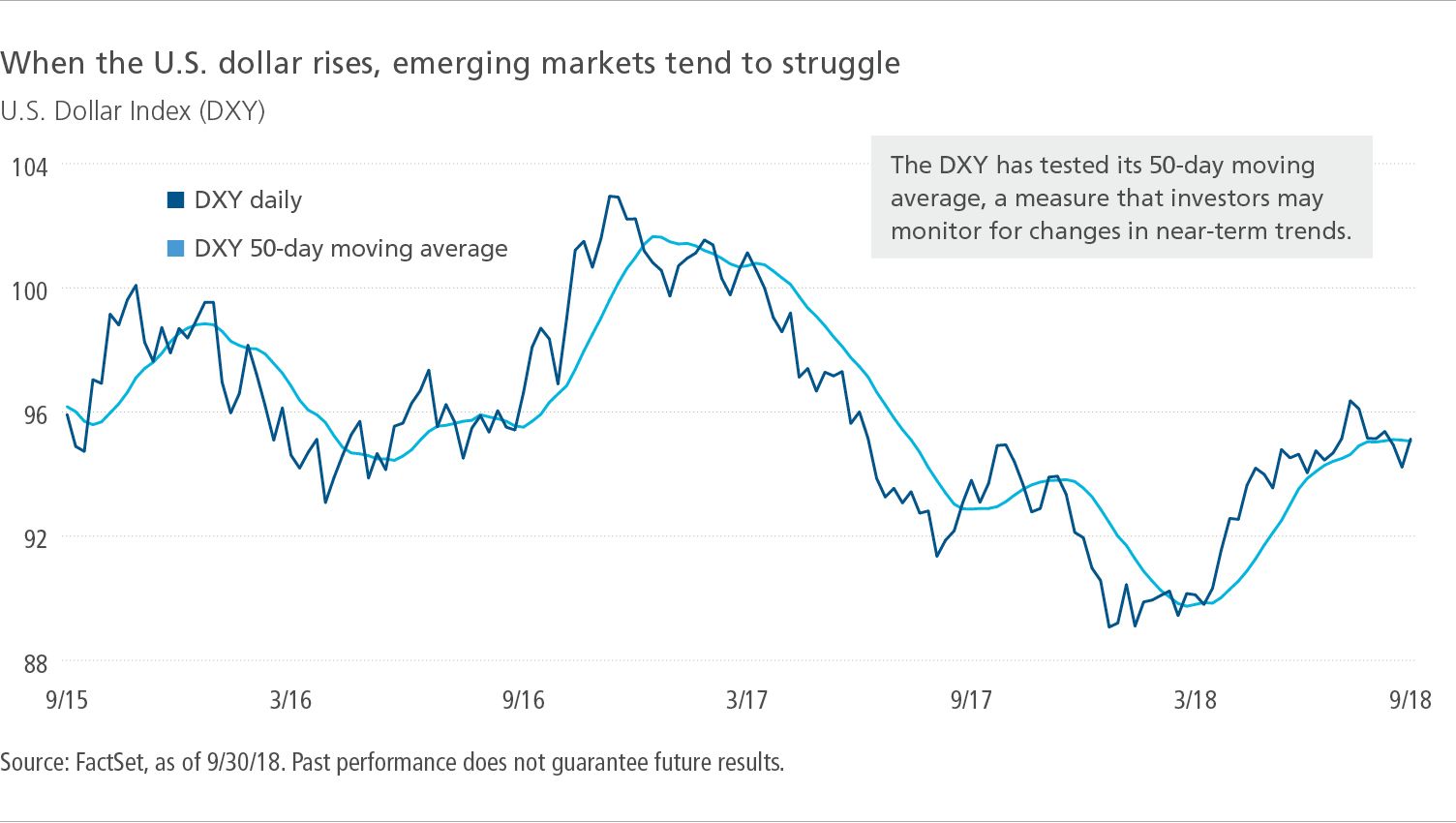 "Move forward, but with caution"*
This year, we expect U.S. growth to outpace longer-run potential GDP of around 1.75%, and that's cause for celebration.3 But there are an increasing number of risks to our U.S. and global forecasts, which is to be expected, given how late we now reside within this mature, ongoing business cycle. We recommend that investors follow these risks closely to start positioning for the inevitable downturn, even if we don't expect a U.S. recession until late 2020 or early 2021.

"… start positioning for the inevitable downturn, even if we don't expect a U.S. recession until late 2020 or early 2021."
What works and what doesn't—lessons from four decades in investing
Predicting the fickle future of capital markets is a necessary evil in the investment strategist's domain. Niels Bohr, Nobel Laureate in Physics, and one of the most prolific scientific minds of the last century, said it best: "Prediction is very difficult, especially if it's about the future." We might have hoped that science, particularly atomic theory, which relies so profoundly on the study of past patterns to form conclusions about future events, would have, of necessity, a much higher view of predictions—for here are predictions that could, in every sense of the phrase, blow up.

As a strategist and asset allocator, my predictions—and the consequences of them—are written directly into portfolio performance; the track record is there for everyone to see. It's a humbling experience. I've been cleaning out recently, preparing for imminent retirement from my asset allocation and strategist duties. The past quarter century spent designing, building, and managing John Hancock Investment Management' asset allocation fund suite—including John Hancock Multimanager Lifetime Portfolios, our flagship target-date funds—has been an unrivaled privilege. Thank you. My colleagues and chief investment officer asked for something of a retrospective on 40-plus years in this business. This quarter's missive will have to do double duty for capturing my thoughts on today's markets in the context of some of the many lessons I've learned over the course of my career in investment management.    

"The past quarter century spent designing, building, and managing John Hancock Investment Management' asset allocation fund suite—including John Hancock Multimanager Lifetime Portfolios, our flagship target-date funds—has been an unrivaled privilege."
Valuation is a poor short-term timing tool
One of my favorite value investors keeps a peculiar and unique version of lessons learned mounted to the walls of his Manhattan office. The "Wall of Shame" has framed stock certificates and some diagnosis of every investment mistake; every client can see it, and every analyst walks by it every day. History lesson number one—reflect on your mistakes. Or, more commonly stated: "Those who fail to learn the lessons of history are bound to repeat them." The corollary is that reflecting on the trajectory of capital markets relative to your forecasts is bound to keep you humble.
Earlier this year, I laid out the case for a secular bull market in copper. A deepening slowdown in the global economy, particularly China, and the threat of escalating trade wars appear to have pushed the start date for the copper bull market down the road. The bull case for most commodities may be on hold; oil and palladium look like exceptions that remain in strong uptrends. 

Lesson learned with deep cyclicals, such as copper, that have a 20-year cycle: You to buy when the industry undergoes periods of maximum pain. All too frequently, though, over the course of the 10 good years in the cycle, there will be major setbacks, short-term losses, and all manner of anxieties in the face of slowdowns, recessions, and unexpected developments. Value investors tend to need a high pain threshold because valuation's a poor timing tool.

"Value investors tend to need a high pain threshold ... valuation's a poor timing tool."
Valuation works best for the long run—emerging-market investors take note
My neighbor of 20 years is a prolific fixed-income manager and summed up the value investor's dilemma this way: "With my best ideas I was always early, and the market would always go against me in the beginning. Usually at the point of unbearable pain, when self-doubt hit its maximum, the idea would turn. The deeper the pain, the better things eventually worked out."
Investors should view the current stress in emerging-market debt and equity assets with the same value investor's perspective. Most emerging-market debt issues offer remarkably high yields in nominal and inflation-adjusted terms. As for emerging-market equity, it boasts higher long-run expected returns than virtually all other asset classes we model and forecast. Valuations are fair and in line with history but well below those in developed markets today. Yes, there may be more pain coming from a strengthening USD and from higher interest rates and tighter financial conditions. But there's value waiting to be realized for those willing to endure the wait. 


Calling all bond bears: watch the credit markets for early signs of stress
Bond investors have enjoyed a 38-year bull market, a horizon nearly matching that of my entire professional career. In all likelihood, the great bond bull market is nearing its end; yields across the spectrum are heading higher.4 The Fed is leading the charge, pushing the federal funds rate in September 2018 and likely to hike again in December 2018. What makes this version of history different is that the great global central bank experiment known as quantitative easing is ending, at least for now.
Market participants should normally heed the mantra that the four most dangerous words in the investment lexicon are, "It's different this time." Except, it has been different this time. In an unprecedented buying spree, central banks added $14 trillion in bonds to their balance sheets since the global financial crisis of 2008.4 In my view, the massive scale of this exercise in repressing interest rates will be recorded as the most significant piece of financial engineering in modern history. The unwinding of these bond purchases is also likely to be a historic event. Investors can only hope that there's not, as physics would predict, an equal and opposite reaction, but hope is not a strategy.
With interest rates held well below the level of inflation, bond investors lose purchasing power, and the value of the asset erodes over time—a bad investment. Starting in January 2019, global central banks will collectively become net bond sellers, reversing the course of the last decade. At a minimum, we expect 10-year U.S. Treasury yields to rise to a fair value we'd define as 100 basis points (bps), or 1.0%, over inflation, to about 3.5% all in. The larger shock is coming to European bond markets, where a 10-year German bund pays a lowly 70bps, or 0.7%.4 We think fair value of this bond corresponds to a 2.5% yield, suggesting steep capital losses from here, as bond yields and bond prices move inversely.
American corporations responded by borrowing at low interest rates, well below their growth rates—economywide, rates have been below nominal GDP, encouraging this behavior. In many cases, the companies have used the borrowing proceeds to buy back their own stock. The short-term effect of this type of leverage is wonderful in that it elevates earnings and boosts stock prices. As long as the economy keeps humming along, leverage helps; however, when the music stops, the effect reverses dramatically. With the central banks backing away from quantitative easing purchase programs, or worse, starting to sell those bonds on their balance sheets, let's say the music's softening. Vigilant investors should look to the credit markets for early signs of stress.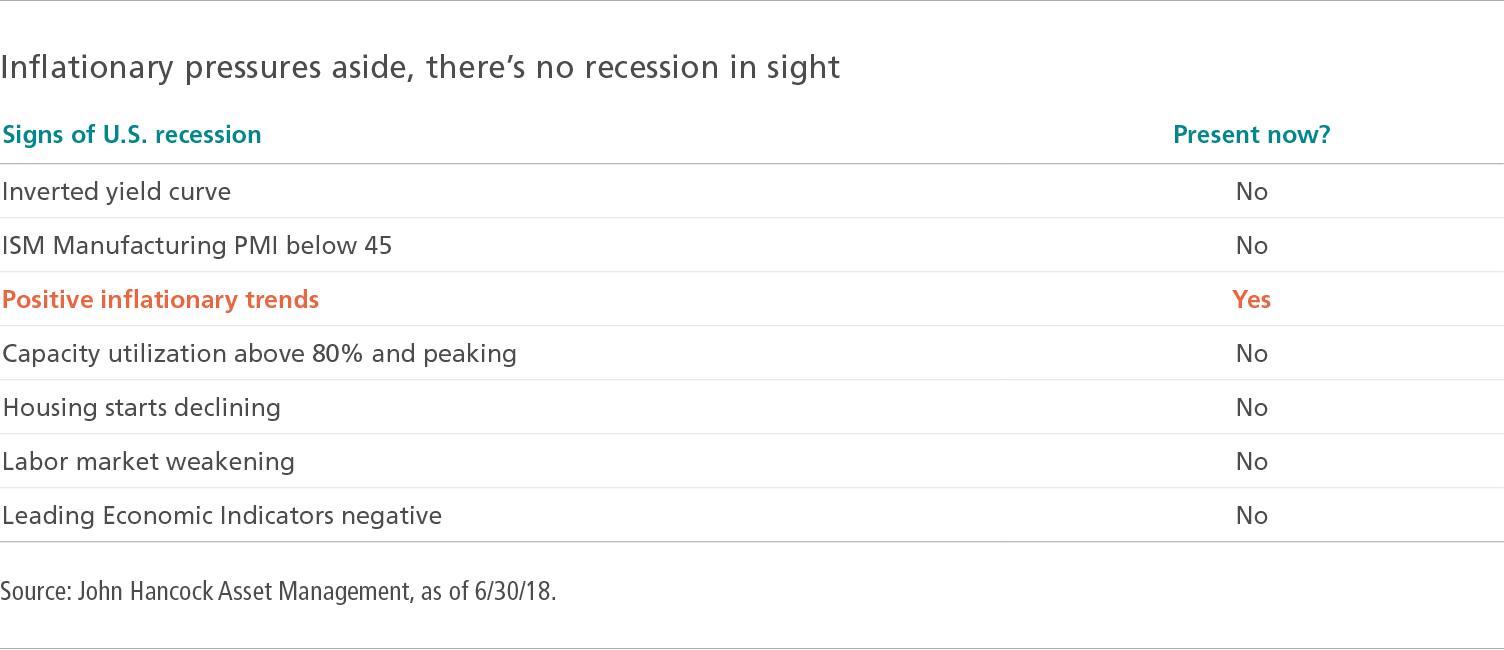 Diversification is a strategy, and it works
Investing is all about learning and adapting. Over time, I've suffered with all investors from behavioral challenges affecting judgment. The behavioral biases have been well catalogued by Professors Kahneman and Tversky—a list of the many ways to make mistakes: anchoring, framing, and loss aversion, to mention a few. Regrettably, history doesn't automatically provide the template to the future. Canadian historian Margaret MacMillan wrote in her book, Dangerous Games: The Uses and Abuses of History, "We can learn from history, but we can also deceive ourselves when we selectively take evidence from the past to justify what we have already made up our minds to do." Even our perception of history isn't a reliable guide to the future.
Forecasting is an evil science, patience is required, and there are so many ways to make mistakes. Own up to your mistakes, learn from them, and stay humble. There are strategies that have been shown to work. Momentum has worked over intermediate horizons, and value has worked over more extended periods. But the finest piece of advice ever, and one repeated time and time again, is simple: Don't defer all your retirement savings dollars to one investment bucket. Global asset class diversification is a strategy—and it has worked for long-term investors who remain steadfast from one market cycle to the next.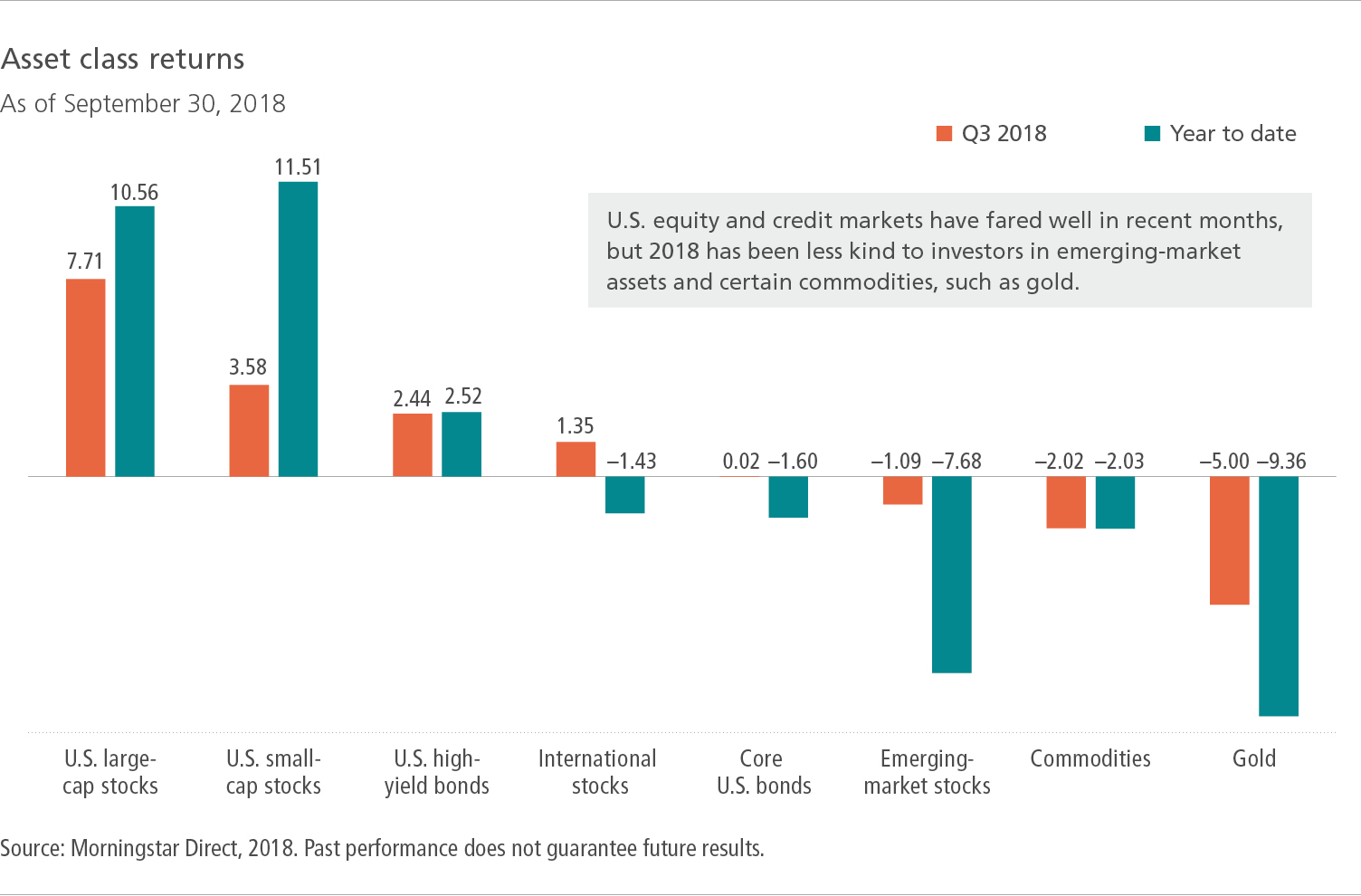 1 Bloomberg, as of 9/21/18. 2 "Information in the yield curve about future recessions," frbsf.org, 8/27/18. 3 John Hancock Asset Management, as of 9/17/18. 4 Bloomberg, as of 9/28/18. | *"The Seven Worst Words in the World," Howard Marks, 9/26/18. 
 

 

This material is not intended to be, nor shall it be interpreted or construed as, a recommendation or providing advice, impartial or otherwise. John Hancock Investment Management and its representatives and affiliates may receive compensation derived from the sale of and/or from any investment made in its products and services.

Views are those of Megan E. Greene, global chief economist, and Robert M. Boyda, senior advisor, and are subject to change. No forecasts are guaranteed. This commentary is provided for informational purposes only and is not an endorsement of any security, mutual fund, sector, or index.

A debt-to-profit ratio is the ratio of borrowed funds to operating profits and denotes the extent of leverage in relation to profits. One hundred basis points (bps) equals one percent. The price-to-earnings (P/E) multiple is the ratio for valuing a company that measures its current share price relative to its per-share earnings. The MSCI World Index tracks the performance of publicly traded large- and mid-cap stocks of developed-market companies. The MSCI Asia Pacific ex Japan Index tracks large- and mid-cap performance across developed-market countries in the Pacific, excluding Japan. The U.S. Dollar Index (DXY) is a measure of the value of the U.S. dollar relative to the value of a basket of currencies of the majority of the United States' most significant trading partners. Commodities are represented by the Bloomberg Commodity Index, which provides broadly diversified representation of commodity markets as an asset class. Core U.S. bonds are represented by the Bloomberg Barclays U.S. Aggregate Bond Index, which tracks the performance of U.S. investment-grade bonds in government, asset-backed, and corporate debt markets. Emerging-market stocks are represented by the MSCI Emerging Markets (EM) Index, which tracks the performance of publicly traded large- and mid-cap emerging-market stocks; total returns are calculated gross of foreign withholding tax on dividends. Gold is represented by the Bloomberg Gold Subindex, which provides a representation of gold as an asset class. International stocks are represented by the MSCI Europe, Australasia, and Far East (EAFE) Index, which tracks the performance of publicly traded large- and mid-cap stocks of companies in those regions; total returns are calculated gross of foreign withholding tax on dividends. U.S. high-yield bonds are represented by the Intercontinental Exchange Bank of America Merrill Lynch (ICE BofA ML) U.S. High Yield Index, which tracks the performance of globally issued U.S. dollar-denominated, high-yield bonds. U.S. large-cap stocks are represented by the S&P 500 Index, which tracks the performance of 500 of the largest publicly traded companies in the United States. U.S. small-cap stocks are represented by the Russell 2000 Index, which tracks the performance of 2,000 publicly traded small-cap companies in the United States. It is not possible to invest directly in an index.

Diversification does not guarantee a profit or eliminate the risk of a loss. Past performance does not guarantee future results.

Investing involves risks, including the potential loss of principal. The stock prices of midsize and small companies can change more frequently and dramatically than those of large companies. Growth stocks may be more susceptible to earnings disappointments, and value stocks may decline in price. Large company stocks could fall out of favor, and foreign investing, especially in emerging markets, has additional risks, such as currency and market volatility and political and social instability. Fixed-income investments are subject to interest-rate and credit risk; their value will normally decline as interest rates rise or if an issuer is unable or unwilling to make principal or interest payments. Investments in higher-yielding, lower-rated securities include a higher risk of default. Precious metal and commodity investments can be volatile and are affected by speculation, supply-and-demand dynamics, geopolitical stability, and other factors. 


MF627891