Negative yields signal a gathering storm for sovereign bonds
Fixed-income markets have been blithely ignoring the storm building outside the door.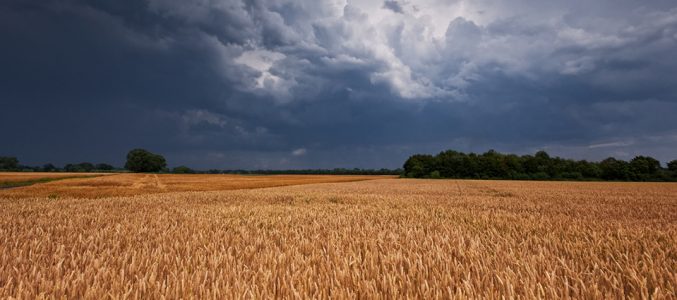 Investors would be wise to take heed and shorten duration. This storm has three fronts, and they are likely to cause bond prices to reset.
Taper tantrums: U.S. markets responded poorly when the U.S. Federal Reserve (Fed) announced a tapering of its first quantitative easing program. What will happen when the Bank of Japan and the European Central Bank (ECB), whose gluttonous debt consumption has driven yields into negative territory, lose enthusiasm?
Inflation: We're expecting a cyclical pickup in core and headline figures, leaving nominal bonds priced for near-zero long-term inflation particularly vulnerable.
Technicals: The parabolic upsurge in bond prices has left them exposed to a potential correction. While it has lifted investor spirits for some time now, the problem with the steep slope of the parabolic curve is that the first step down is a big one.
Equity markets will not escape the bond market repricing, and volatility will likely reassert itself there as well. Our case extends, in particular, to equity sectors that have traded like bond surrogates-the weak third-quarter performance of utilities, telecommunication services, and real estate investment trusts offers an example. With bonds at risk, there are few natural shelters in a storm like this. Diversification, a little defense, and the opportunity to buy great ideas and great companies at lesser prices should be the mantra.
U.S. equity valuations are relatively expensive—with good reason
In an investing world of relativity, equities look fine compared with the very low or negative returns we expect from sovereign bonds over the coming years. Valuations make U.S. stocks more controversial to call at the aggregate level. Our long-term forecast suggests that international markets are less expensive, but the quality of the U.S. economic growth story remains superior, making it the ongoing default option for many equity investors. U.S. valuations are full, but they may remain full for the foreseeable future. The defensive characteristics of the U.S. market make it an appealing place to stay for the time being.
European equity valuations appear attractive, but growth prospects seem shaky
Our longer-term view on European stock valuations is favorable, especially relative to those in the United States; however, the investment opportunities in Europe hinge on rising GDP rates.
More accommodative monetary policies are intended to stimulate commercial activity and weaken the euro, which-on top of already depressed profit margins-presents real potential for prospective gains in Europe's equity markets. Any positive incremental growth coming out of the region could have an outsize effect on the earning power of corporations based there. However, the risks remain enormous: The uncertainties associated with the refugee crisis, the potential Brexit proceedings, and the upcoming elections across Europe may thwart efforts to reboot the economy. So far, the ECB has acted aggressively, but its effectiveness appears to be diminishing. Should the ECB step back its efforts or lose even a small amount of credibility, there will likely be a collective hit to the net worth of shareholders in Europe's companies.
Emerging-market equity momentum is building
We're positive on emerging-market equities and have been leaning this way since the beginning of this year; our five-year return expectations are higher here than for most other asset classes. There are still plenty of cyclical and geopolitical risks across this segment, but those uncertainties appear to be reflected in current prices. Valuations are still attractive but, in addition, momentum is building as fundamentals improve and growth prospects broaden. There had been an extended period of underperformance in the asset class, so this recovery still has a long runway in our view, assuming we continue to see restraint from the Fed, as the strength of the U.S. dollar remains one of the chief risks. Regardless, we expect to see greater dispersion among the world's emerging equity markets, particularly between the more consumer-oriented economies and their commodity-centric counterparts.
Japanese equities now warrant caution
All of Japan's major economic indicators have softened again, and suddenly corporate earnings seem weak. The main argument for an entry point is this market's relatively low valuations, but there may be a frustratingly long holding period before sentiment recovers. Return on equity is improving but from painfully low levels. Japanese companies could fix this by tapping into their cash piles and raising dividend payouts or embarking on share buyback programs. That, combined with ongoing central bank asset purchases, would be a positive liquidity event for shareholders, but it would still take a deep value contrarian to make an outsize allocation at this point. The strengthening yen, harmful to Japanese exporters, is yet another cause for concern.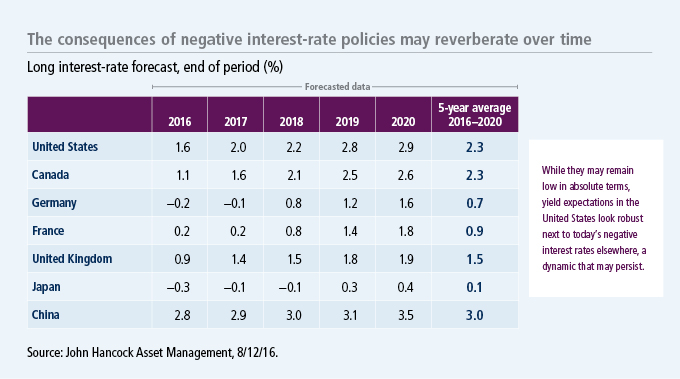 The bull market in global fixed income is unlikely to continue indefinitely
The fixed-income market is at an extreme, particularly in longer-dated maturities. We're negative on global bonds as a group-especially the developed-market sovereign issues outside the United States. Prices have been forced up (and yields forced down) by massive central bank purchasing programs, particularly in Europe and Japan. With roughly $16 trillion in negative yielding sovereign debt outstanding, and at least one corporation coming to market with a subzero-yielding issue, it's hard to make a case that this market isn't overvalued and due for a material correction, and longer-dated bonds are the most vulnerable. There's only so long a price bubble such as this one can last.
Editor's note: This material was drawn from our 9/30/16 Global Market Outlook, which can be read in its entirety here.
Diversification does not guarantee a profit or eliminate the risk of a loss. Investing involves risks, including the potential loss of principal. The stock prices of midsize and small companies can change more frequently and dramatically than those of large companies. Growth stocks may be more susceptible to earnings disappointments, and value stocks may decline in price. Large company stocks could fall out of favor, and foreign investing, especially in emerging markets, has additional risks, such as currency and market volatility and political and social instability. Fixed-income investments are subject to interest-rate and credit risk; their value will normally decline as interest rates rise or if an issuer is unable or unwilling to make principal or interest payments. Investments in higher-yielding, lower-rated securities include a higher risk of default.

MF323907