Low oil and profits: the worst may be behind us
After a dizzying 18-month decline to below $30 a barrel, oil prices are still searching for a bottom. The World Bank slashed its forecast for oil prices for 2016, saying prices will likely remain at current levels for the balance of the year, pressured by warm winter weather in Europe and weaker demand from China.1 The implications for markets are significant, with potential winners and losers and a great deal of uncertainty along the way.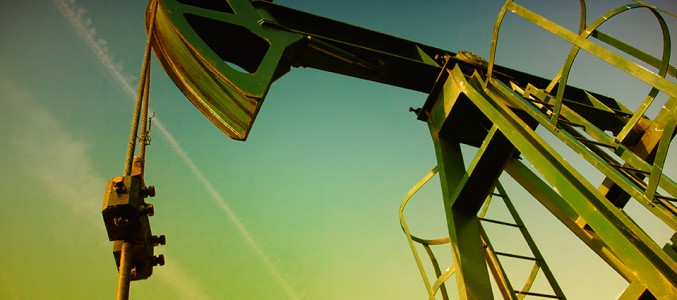 First, the good news: Lower-priced oil clearly benefits consumers, net import countries, and industries such as autos and airlines, where energy represents a major input cost. U.S. households' nominal spending on gasoline has fallen at an annualized rate of $115 billion since mid-20142—a significant positive in an economy where consumer spending represents two-thirds of annual GDP. Meanwhile, the U.S. auto industry set an all-time sales record of nearly 17.5 million vehicles sold in 2015, beating a record set in 2000,3 as the cost of driving got much cheaper and consumers put their extra cash to work.
The bad news is that outside of select sectors, the sharp drop in energy sector profits has cast a shadow over aggregate S&P 500 Index profits and, by extension, U.S. equities. Net income across the index peaked at the end of 2014 and has since fallen in lockstep with the collapse in oil prices.4 Whereas the energy sector accounted for roughly 12% of overall corporate profits prior to 2014, today it is a net detractor. Lower oil prices have clearly helped drive profits in certain sectors, such as consumer discretionary and transportation, but the losses from energy profits have simply been too great to offset.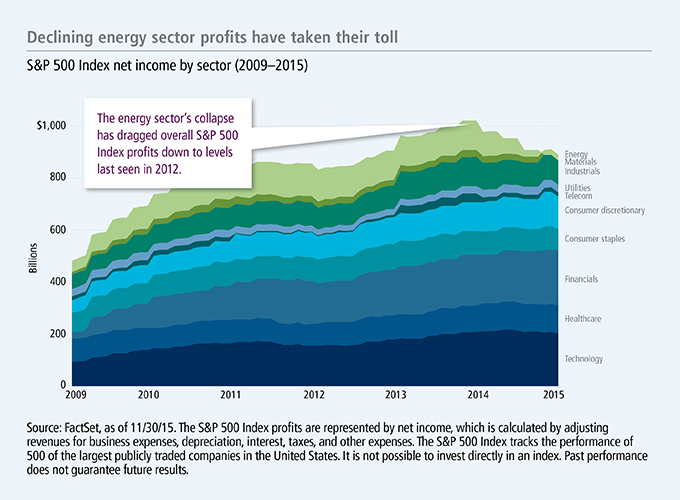 The question is how long will these conditions persist? Few members of our network believe $30 a barrel for oil is sustainable over the long term, because at that price producers are unable to cover the cost of replacing developed reserves. Oil companies have reacted by slashing exploration budgets and canceling the development of new oil wells that are no longer economically feasible. Investment in drilling structures dropped by 40% in the final quarter of 2015 and is expected to fall by a like amount in the first quarter of 2016.2 Nevertheless, the current oversupply of oil in the market—and the potential for additional supply to come online this year—will add to pressures keeping oil prices at current levels for the balance of 2016.
Any sustained up leg in stocks at this point will require aggregate corporate profits to move higher off today's levels. While our network believes that the ailing energy sector will continue to keep a lid on aggregate corporate profits this year, it also suggests that at $30 a barrel, the worst of the impact from oil price declines is likely behind us.
Find out more about how low-priced oil is affecting economies and asset classes worldwide in our latest issue of Market Intelligence.
2 "Will lower oil prices ever become a net positive?" Capital Economics, 1/11/16.
4 FactSet, data as of 11/30/15.