Economic growth downside risks may outweigh the upside potential in 2018
As far as global economic growth is concerned, 2017 offered some upside surprises. This year, we believe the growth downside risks outweigh the upside risks—and this view might not be embedded in market prices as they stand today.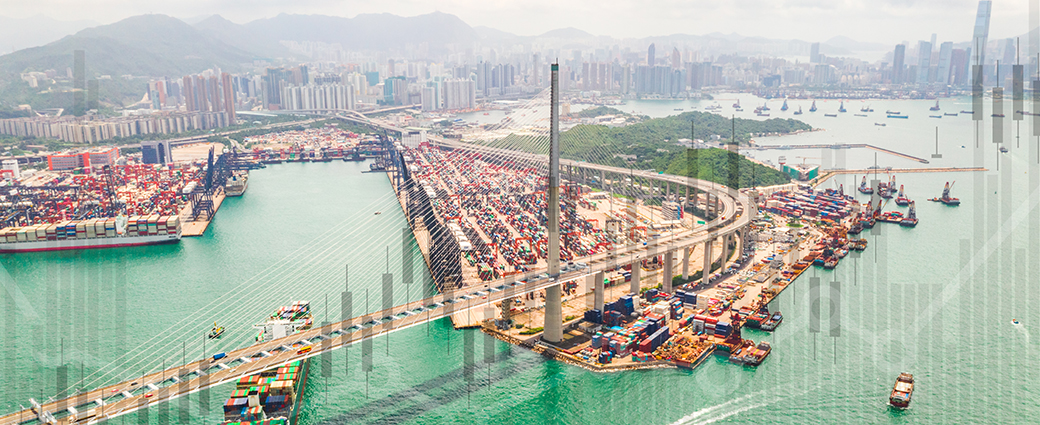 Key takeaways
The U.S. tax reform bill President Trump signed into law may support markets for now, but it's unlikely to increase the country's potential GDP growth rate of roughly 2%.
Although we expect inflation across the world's developed economies to remain muted, outstanding questions on U.S. trade policy present a risk to this view. 
Central banks have pumped more than $11 trillion1 into the global monetary system since 2008, and we believe a stemming liquidity tide represents an underappreciated threat today.
Over the long run, we're bullish on absolute return approaches and emerging-market equities in Asia but bearish on developed-market sovereign bonds abroad.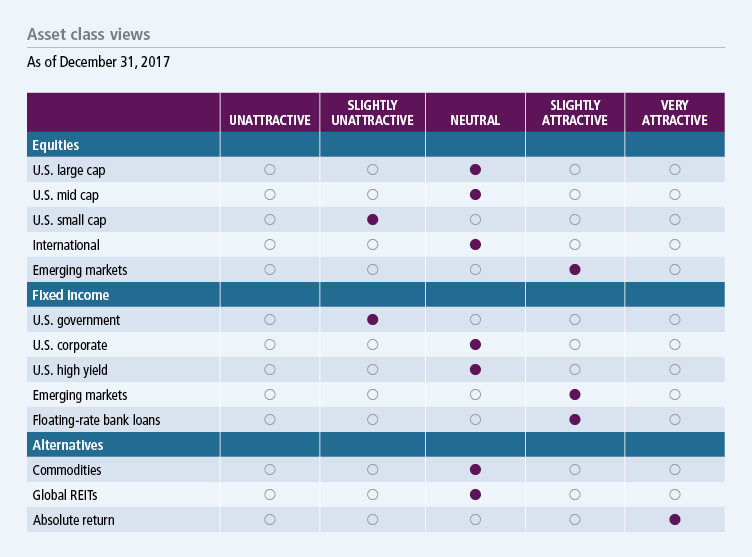 Introduction
As far as global economic growth is concerned, 2017 offered some upside surprises. After downgrading its forecasts for 27 quarters in a row, the International Monetary Fund upgraded its global economic prognosis for the first time in nearly seven years.2 Financial markets, too, have confounded expectations of a correction and turned in another impressive year. 
The global synchronized recovery is indeed real: The United States has revised its third-quarter GDP upward while growth in Europe keeps exceeding consensus expectations. These upward GDP revisions are relatively encouraging, but they don't represent a paradigm shift from the period of low economic growth, low inflation, and low interest rates that we've been stuck in since the 2008 global financial crisis. In our view, the economic growth downside risks outweigh the upside risks—and this view might not be embedded in current market prices as they stand today.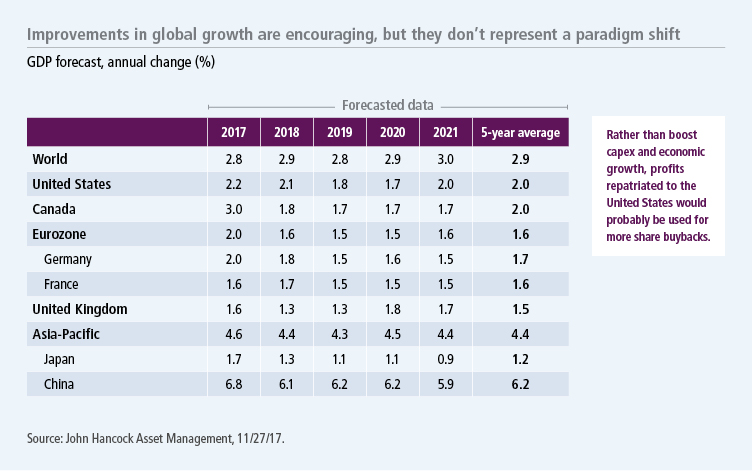 Trump tax cuts may support markets but not sustainable economic growth
Both houses of the U.S. Congress reached an agreement on a tax reform bill, and now that the president has signed it into law, tax cuts for many American corporations and households will soon be a reality. There may be a short-term bump to U.S. GDP growth off the back of this tax reform package, but we believe it's unlikely to sustainably boost potential GDP growth through improved productivity or an increase in the labor supply. Instead, this tax reform package could introduce uncertainty in three ways: 
Certain measures embedded in this legislation will sunset, so there will be uncertainty about which measures will last—and for how long.
This tax bill was assembled with unprecedented haste and without bipartisan support; there were no hearings on this bill and the Senate version was passed with amendments scribbled in the margins.3 It's possible the Democrats could choose to repeal sections of this legislation if and when they regain control of some parts of the government.
Most important, this tax reform package will increase the national debt burden. Not only will the new law be a drag on growth in the medium to long term—the Joint Committee on Taxation expects the package will increase deficits by around $1 trillion over 10 years4—but measures, including a possible tax hike, will likely have to be taken to remedy the shortfall.     
The Trump administration has been right to argue that the United States badly needs tax reform. It's also right to argue that, whereas the focus for the past two tax cuts has been on income taxes, this time the focus belongs on corporate tax changes. However, given how this new tax reform law is structured—and funded—we don't think the tax cuts will fundamentally improve the U.S. economy beyond its current potential GDP growth rate of around 2%. 
The plan cuts the corporate tax rate from 35% to 21% in order to benefit old capital—capital that has already been deployed. But we believe a more effective way to boost GDP growth is to support new capital, with expensing or with accelerating depreciation. This would encourage capital expenditure and help boost productivity growth, one way to increase U.S. potential GDP growth. While there's an expensing clause among the tax reforms, it's tied to a sunset provision after five years.5 Given that corporations make their big ticket capital deployment decisions on a much longer timeline than five years, we don't expect this measure to significantly boost investment. 
... given how this new tax reform law is structured—and funded—we don't think the tax cuts will fundamentally improve the U.S. economy beyond its current potential GDP growth rate of around 2%.
Some analysts have argued that capital expenditure will rise and U.S. jobs will be created as federal taxation moves to a territorial system and profits are repatriated back to the United States. According to Bank of America Merrill Lynch's July 2017 corporate risk management survey, most companies indicated they would use repatriated profits to deleverage, or pay down, debt; the next most common answer was to engage in share buybacks, followed by merger-and-acquisition activity, and the fourth most common answer was to engage in capital expenditure, or capex. 

Rather than a boost to capex, most repatriated profits would probably be used for deleveraging and for more share buybacks, which would be positive for both bond and stock markets. However, in our view, repatriation would foster job creation if, and only if, companies had been unable to hire because they didn't have access to funding in the capital markets; the sheer volume of corporate debt issuance in the United States over the past year alone would suggest this hasn't been the case.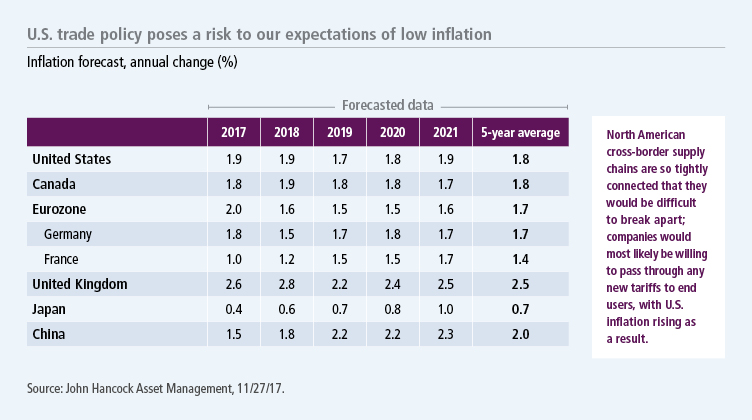 Trade policy may represent an inflation risk
While we believe the United States and other developed-market economies are stuck with low growth and low inflation for some time to come, we do acknowledge that prospective changes to U.S. trade policy present the risk of much higher-than-expected inflation. The United States, Canada, and Mexico have completed five of seven rounds of negotiations to update NAFTA, the North American Free Trade Agreement, without significant progress, and there is a possibility of a unilateral U.S. withdrawal from the free-trade area. The legal process for the United States to abandon its prior commitment to the agreement is ambiguous, but if the U.S. administration were to pursue this route, the economic effects would extend to all NAFTA members. 
In the short term, it seems likely that the United States, Canada, and Mexico would revert to World Trade Organization rules and that the United States and Canada would restore the bilateral trade deal that predated NAFTA. There would be immediate disruptions to trade, but cross-border supply chains are so tightly connected that they would be difficult and expensive to break apart. Instead, companies would most likely be willing to pass through new tariffs to the end user, with inflation—in the United States in particular—likely rising as a result.
An even more likely scenario, in our view, is that the United States will avoid withdrawing from NAFTA cleanly and instead alter the agreement into a messy situation rife with uncertainties. This U.S. administration has demonstrated such tactics before—leaving issues unresolved for Congress to address, such as the Paris Agreement, the Iran nuclear deal, and a policy for the so-called Dreamers. An unclear commitment to NAFTA from the executive branch would probably result in a series of legal challenges against the U.S. government over how the United States is withdrawing from NAFTA logistically as well as the potential for businesses suing the government over the ambiguous arrangement. 

An unclear commitment to NAFTA from the executive branch would probably result in a series of legal challenges against the U.S. government ...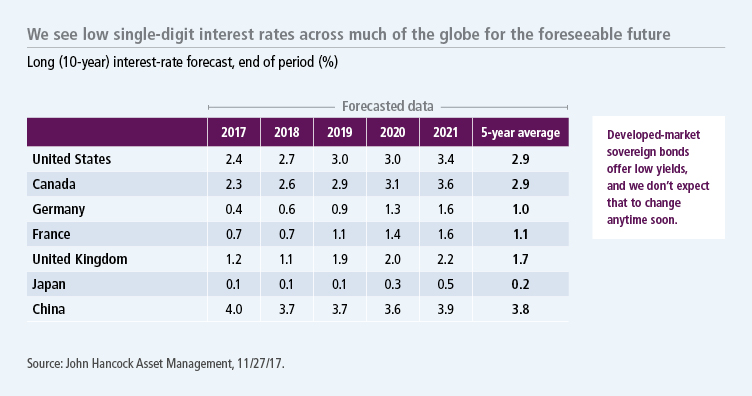 Risks to global growth recede in China but rise in Europe
We are slightly less concerned about a hard landing in China now than we were before the Party Congress in October. Since then, the announcement that the Chinese government is scrapping foreign ownership limits for banks and asset management companies has allayed some of our concerns. Instead of relying solely on the removal of monetary and fiscal accommodation to deleverage and take the air out of the country's financial services sector, it seems China's leaders now welcome more foreign capital and expertise to improve leverage and capitalization, thereby lessening the need to tighten policy measures, which hampers growth. 
However, political instability remains a risk in Europe, a point underscored by the collapse of German coalition negotiations in late November. Many argue that the biggest loser of the collapse is French President Emmanuel Macron. Germany will be unable to help President Macron pursue his ambitious European agenda while the country is busy trying to sort out its own government's affairs. But it's actually the Italian elections that represent the biggest threat to the European Union (EU) this year. Two of the country's top three groupings of political parties are at least moderately anti-European, and the Five Star Movement (M5S) has said that it would favor holding a referendum on Italy's participation in the eurozone currency union. Italeave—the exit of Italy from the EU, or even the eurozone—remains a low-probability scenario, but the market reaction to such developments would likely be extremely severe.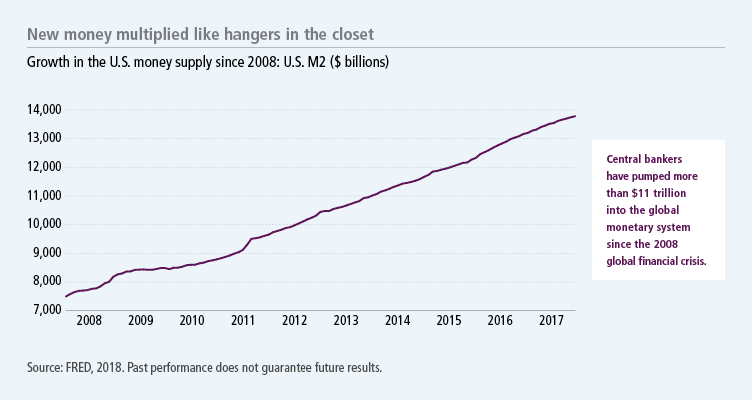 Beware of shrinking balance sheets
Investors in financial assets remain remarkably calm, and why not? There's a long list of reasons appealing to the rational mind to stay happily invested—equity market volatility readings linger near historic lows while stock prices routinely climb to new all-time highs, bonds continue to offer positive returns, global economies are growing in sync, inflation remains below central banks' targets, and long-term interest rates have remained low. As we close in on nine years of a powerful bull market that has lifted the values of virtually all major asset classes, investors have been well rewarded for staying the course during periodic interruptions in the market's upward trajectory. 
However, we see rising risks in the unwinding of quantitative easing (QE) programs, risks that many market participants still seem eager to dismiss. Since the advent of QE in 2008, central bankers of the world have pumped more than $11 trillion1 into the global monetary system, an experiment that has worked well. Once inside the banking system, this new money multiplied like hangers in the closet. The broader M2—cash and checking deposits, savings deposits, and money market securities—and M3—which also includes large time deposits, institutional money market funds, short-term repurchase agreements, and other larger liquid assets—measures of money in the system doubled from $26 trillion to $52 trillion. Let's put this 100% rise in context: The $26 trillion increase in the global money supply is roughly equal to the entire market capitalization of all listed U.S. equities at the end of 2016.1 Meanwhile, asset prices inflated, broken banking systems healed, and the world's economies forged ahead. 

... central bankers of the world have pumped more than $11 trillion into the global monetary system ... Once inside the banking system, this new money multiplied like hangers in the closet.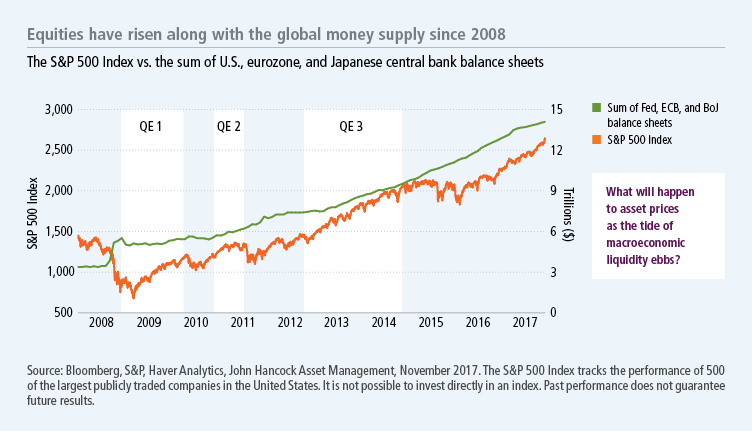 Fearful symmetry: risks lurk in the unwinding of quantitative easing
When asked about the unwinding of the QE experiment, central bankers responded that there's an asymmetric payoff to what they've accomplished. The money went into the system and had a positive effect, but draining much of that money won't materially raise interest rates, crowd out borrowers, or deflate assets prices. 
But what if unwinding the central banks' balance sheet experiment is fearfully symmetric after all? What if withdrawing liquidity from the financial system lowers asset values and pushes interest rates up with an equal and opposite effect of the QE experiments? After so many warning signs since the 2008 global financial crisis—budget showdowns, political instability, threats of nuclear war—investors have learned to stay put and fight the urge to flee equity markets. After nearly nine years of ignoring the flight response, our collective instincts are anchored in false alarms, telling us that everything is fine. Prudence would have us all pay closer attention now, as the tide of liquidity starts to ebb. 
Shrinking central banks' balance sheets will take time; the U.S. Federal Reserve (Fed) has just started. With a target of reducing its assets by half or less over the next five years, the Fed envisions no material adverse effects on longer-term interest rates, credit spreads, or the real economy. Any jolts to the system, say the policymakers, could be addressed by slowing down the liquidity withdrawal or the pace of interest-rate hikes. 
Basically, we agree. We think the Fed will likely pull off this reduction while the European Central Bank (ECB) and Bank of Japan (BoJ) continue to increase the size of their balance sheets. The ECB expects to taper its asset purchases this year, while the BoJ indicates that there's no end in sight to its asset purchase program. So perhaps for the coming year or so, we can think about the Fed leaving the table and slimming its balance sheet while the ECB and BoJ keep feeding themselves. There's still a lot of money working its way through the financial system, supporting asset prices and economic growth. On an aggregate global basis, we're not yet unwinding so much as tapering.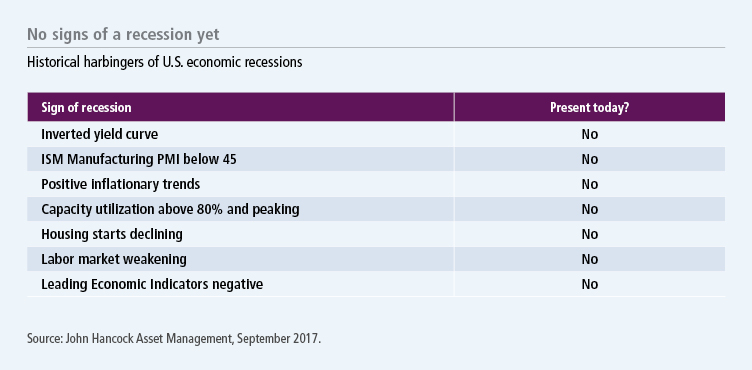 Overbought U.S. equities may hold an unwelcome surprise for some investors
In the very near term, we think U.S. equity markets are overbought and have given way to a little too much investor complacency. The equity gains in each calendar month of 2017 are unlikely to repeat this year. A garden-variety correction, on the order of 8% to 10%, is a distinct possibility, in our view. The challenge remains assessing from what level the correction occurs. As the market prices in the new Trump tax reform package, rife with corporate giveaways, the current upswing, fueled by enthusiasm for the corporate earnings boost, could continue for some time. 
Still, U.S. equities are priced for perfection and have become the most vulnerable to setbacks and disappointment; we have some reservations at these valuation levels even for long-term investors. Of the asset classes we forecast, our five-year return expectations for U.S. stocks are among the lowest. Looking only at price-to-earnings ratios, this U.S. equity market is one of the most expensive relative to its own history and relative to its counterparts elsewhere today. Valued on price to free cash flow, U.S. equities are above fair value but not egregiously priced. To sustain the upswing, corporate earnings must be very strong, a scenario we view as possible but fraught with risks. The outlook for equities remains positive overall, and we believe the upswing could continue a bit longer before a sustained decline materializes. After all, we have yet to see any hint of a recession in the United States. 

U.S. equities are priced for perfection and have become the most vulnerable to setbacks ... we have some reservations at these valuation levels.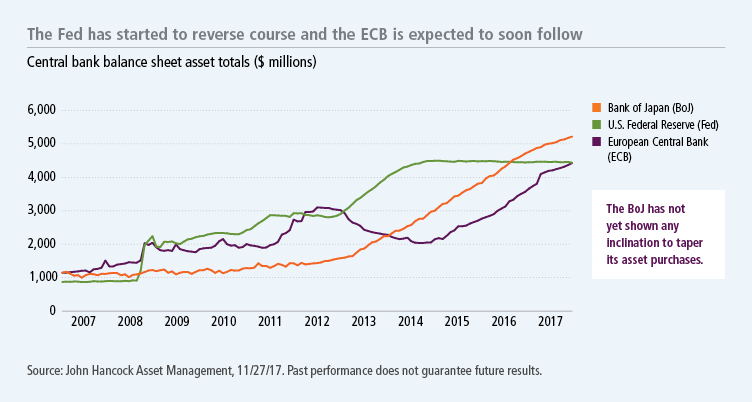 Emerging-market equities—especially in Asia—may offer the most favorable expected returns
We continue to have a very favorable view of emerging-market equities and believe most emerging economies are well positioned to fend off any global growth scares. Emerging-market stocks offer the highest potential expected five-year returns of all the asset classes covered in our forecasts. Valuations are modest, earnings and economic growth look strong, and the trend of underperformance relative to global developed markets has begun to reverse. While productivity growth remains low and falling in mature economies, it's relatively robust in the developing world. Historically, the performance of emerging economies has been highly dependent on the growth of their developed counterparts, but we're transitioning to an era of greater emerging-market independence. We favor exporter countries in Asia, including China, Taiwan, and South Korea. We're unabashedly optimistic about India, in particular, and the story behind its equity market seems underappreciated.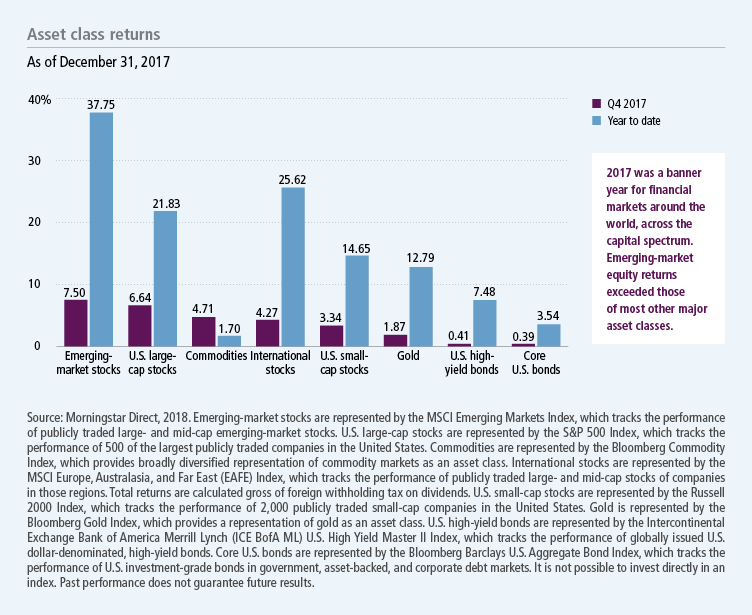 Steer clear of developed-market international sovereign bonds
In our view, risks abound for fixed-income investors, and only emerging-market debt (EMD) offers sufficient compensation in the form of favorable long-run return prospects. The days of reckoning with ultra-low yields, which have not yet burned bondholders, appear to be at hand. EMD aside, we forecast that global government bond returns will be barely positive in nominal terms—and likely negative after inflation. Investors may be fortunate to earn coupon rates on longer-dated bonds, as rising rates might dent principle values. In our view, a fair proxy for expected returns is the current yield—still below zero in some cases. Sovereign bonds in non-U.S. developed markets, especially in the eurozone and Japan, represent some of the least attractive investments of any major asset class today. 
Editor's note: Download a copy of our Global Market Outlook today.
1 FactSet, 11/30/17. 
2 "World Economic Outlook," IMF, 10/16/17. 
3 "Senate passes tax bill in massive step forward—here's how it all went down," businessinsider.com, 12/2/17. 
4 Macroeconomic Analysis of the "Tax Cut and Jobs Act," jct.gov, 11/16/17. 
5 "Fifteen Provisions to Watch in the Tax Reform Proposals," National Law Review, 11/17/17. 
This material is not intended to be, nor shall it be interpreted or construed as, a recommendation or providing advice, impartial or otherwise. John Hancock Investment Management and its representatives and affiliates may receive compensation derived from the sale of and/or from any investment made in its products and services. 

Views are those of Megan E. Greene, chief economist, and Robert M. Boyda, co-head of global asset allocation, and are subject to change. No forecasts are guaranteed. This commentary is provided for informational purposes only and is not an endorsement of any security, mutual fund, sector, or index. 

Past performance does not guarantee future results. 

Diversification does not guarantee a profit or eliminate the risk of a loss. 

Investing involves risks, including the potential loss of principal. The stock prices of midsize and small companies can change more frequently and dramatically than those of large companies. Growth stocks may be more susceptible to earnings disappointments, and value stocks may decline in price. Large company stocks could fall out of favor, and foreign investing, especially in emerging markets, has additional risks, such as currency and market volatility and political and social instability. Fixed-income investments are subject to interest-rate and credit risk; their value will normally decline as interest rates rise or if an issuer is unable or unwilling to make principal or interest payments. Investments in higher-yielding, lower-rated securities include a higher risk of default. Precious metal and commodity investments can be volatile and are affected by speculation, supply-and-demand dynamics, geopolitical stability, and other factors.

MF424549