Navigating the new normal
Working from home? It comes with new challenges when everyone in your household is also home. We've outlined some best practices for working from home and making the most of what virtual meeting technologies have to offer.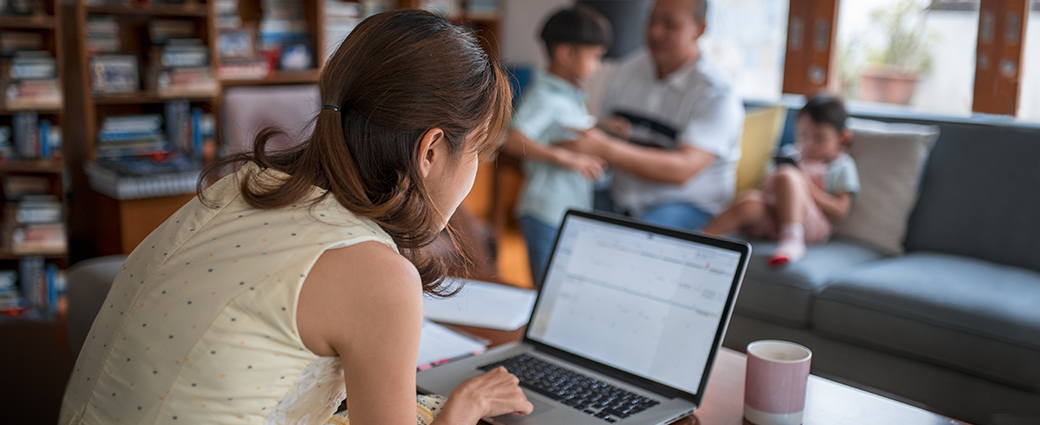 A little organization goes a long way
When you start working from home full time after years of working in the office or on the road, the first thing you'll miss are your old routines. To make things go more smoothly for yourself, it's important to create and follow new routines.
Work-life balance may be something that you must redefine with your team and team leadership, particularly if you're home with children or family members for whom you're also providing care.
Schedule exercise and outdoor time into your day.
Set regular hours for starting and ending your day.
If routines are about setting rules for how you spend your time, it's equally important to set rules for how you inhabit your workspace. Maybe you have a home office already, but if you don't, you need to create a workspace that enables you to follow your work-from-home routines.
Choose a place where you'll have minimal distractions.
Designate a quiet spot to be used for calls and online meetings.
Outfit your workspace with a comfortable chair and plenty of room for your computer and supplies.
It's all too easy to get into the habit of rolling out of bed, still in your pajamas, and hopping on your keyboard. If you do that too much, the line between home life and work life blurs, and work/life balance tends to disappear. We find it's helpful to actually get dressed for work to remind yourself that now is work time.
Dress for work: You don't have to put on a suit, but acting like you're going to work will help get you in the mindset.
Looking good can help you feel good: This can make working from home full time that much easier. 
One of the things you may find you miss most about the office is the social aspect of your professional relationships. Remember that those relationships are still there, and it's important to make time for them to strengthen your social connections. Physical distance doesn't have to mean social distance.
Make time for watercooler talk: Text, call, Skype, Google Hangouts, Slack—there are many ways to reach out to your work friends and colleagues.
Maintain your friendships: Make sure you stay in touch with your co-workers, not just for work but to hear what they're binge-watching and how they're feeling.
Last but not least, if you're sick, don't work. Focus your energy on getting better. That means setting an out-of-office message, turning off your computer, and remembering that your health is more important than anything else.
Tips for virtual meetings
Now that you're working from home full time, you're having lots of meetings online. As with face-to-face meetings, there are some rules of etiquette and best practices for communication that are worth considering. As these are particular to virtual meetings, they don't always come naturally to people and take practice.
Be aware of your surroundings—what will your webcam capture?
Face a window for natural light; make sure you're not backlit by a window or bright light or it'll be difficult to see you.
Turn on lights if there's no natural light where you are.
The acoustics of virtual meetings can vary by participants' connection speeds, software and hardware configurations, and other factors. As a virtual meeting participant, it's important that you stay aware of the sounds in your space, because these will become part of the meeting whether you know it or not.
Typing and eating are loud: Because your computer's microphone is next to your keyboard, it picks up every keystroke when you type and every crunch when you chew.
Write notes: Use pen and paper if you can't be on mute.
Mute your microphone if you're not talking.
Remember to unmute when it's your turn to speak!
One of the hardest things to navigate in online meetings is regulating the pace of communication. In virtual meetings, especially ones that don't involve video, it's commonplace for people to speak over each other or fail to give others adequate time to respond. You may find, too, that video is important in order to maintain the expressive elements of body language. A shrug, a smile, or a look of surprise paints a thousand muffled words on a Skype call.
Identify yourself before you speak, then speak loudly and clearly.
Consider using video to help clarify communication and to help you stay better connected with colleagues.
For small meetings, welcome people as they join. If you join a call late, wait for a natural break in the conversation to say that you've arrived. Neither of these, though, is appropriate for larger group calls.
Finally, if you're leading the meeting, there are several important points to keep in mind. First and foremost, you must test your technology before the meeting begins. If you encounter problems, ask a tech expert in advance whether they can help you troubleshoot. Other key points to remember as a meeting leader:
Create an agenda to ensure you meet your intended goals.
Open the meeting casually—introductions and icebreakers help set a collegial, relaxed tone.
Know your content well before you begin; this will help you be ready for questions and keep your audience engaged.
Pause frequently for questions and comments. A good rule of thumb is to give a five-second pause (yes, count it in your head).
Ask pointed questions so you don't lose your listeners.
After the meeting, it's always helpful to send follow-up details, additional resources and tools, as well as deliverables and next steps. And don't forget to set the date and time for your next virtual meeting.
Working from home and holding virtual meetings aren't always easy, but they get easier if you think about how you can adapt to their possibilities and limitations. It takes work to work from home—but that doesn't mean it needs to be a chore.