Multifactor ETF investing at John Hancock Investment Management
We believe investors can benefit from a blend of factors working together to drive performance. That's why we brought our multimanager approach to the ETF market, teaming up with Dimensional Fund Advisors, a company regarded as one of the pioneers of factor-based investing.
---
Multifactor ETFs offer potential outperformance at a lower cost
Investors are increasingly looking for lower-cost ways to access financial markets. Factor-based ETF strategies seek to provide that exposure along with the potential for outperformance.
See our ETFs
Multifactor ETFs offer potential outperformance at a lower cost
Investors are increasingly looking for lower-cost ways to access financial markets. Factor-based ETF strategies seek to provide that exposure along with the potential for outperformance.
See our ETFs
Seeking to build a better index
Factor-based investing, a form of strategic beta, seeks to identify and harness certain investment characteristics—such as size and momentum—that research has shown to drive performance over time.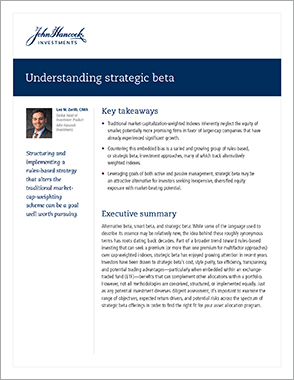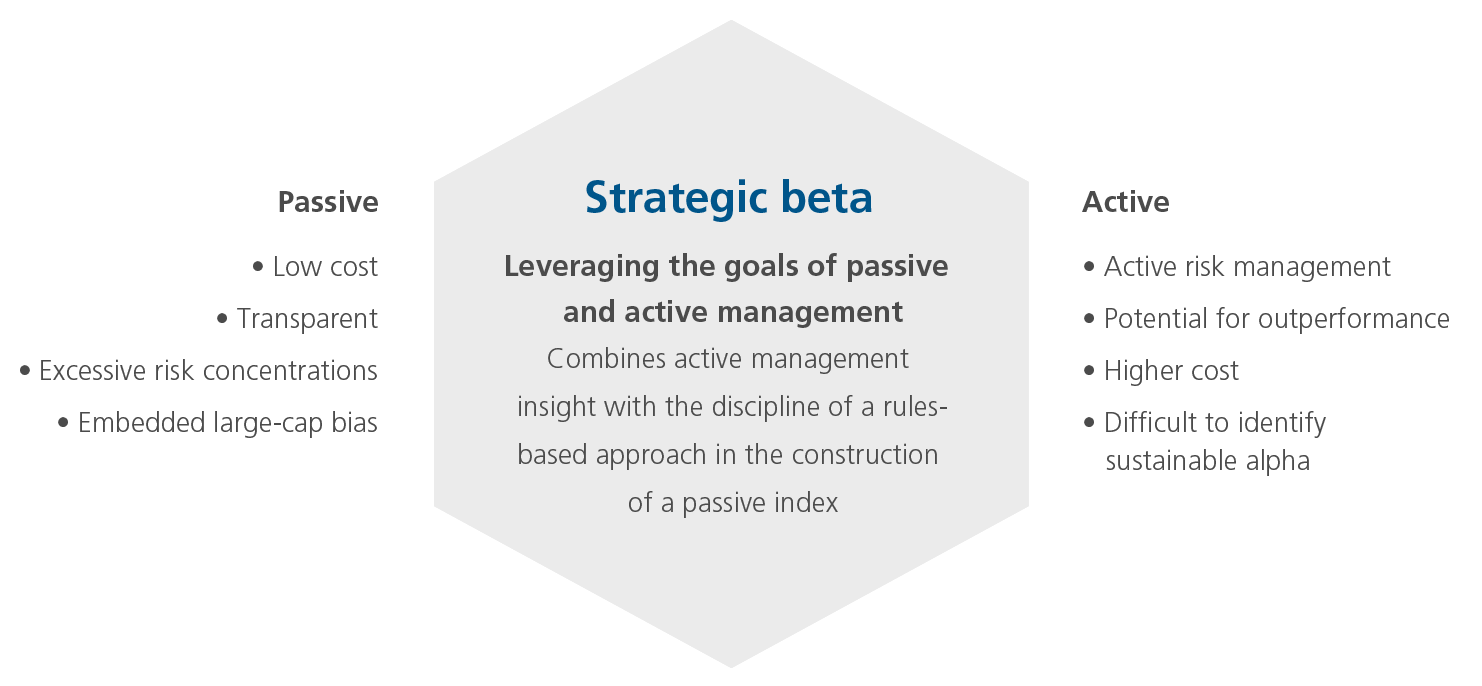 Multifactor investing: why a blend of factors is better than one
Single-factor approaches can be a great way of amplifying a specific trait in a portfolio. But like any concentrated strategy, single-factor approaches also introduce a new source of risk that can come in and out of favor, and that needs to be managed. Multifactor strategies combine several factors into a single portfolio, helping to ensure that not all factors fall out of favor at the same time.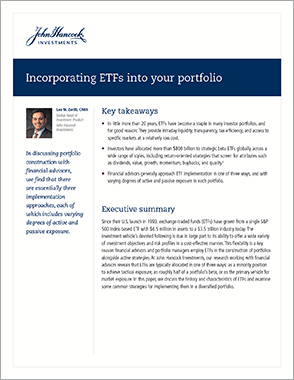 Individual factors can be volatile: there's no telling when one will outperform the other
Annualized performance of single factors and a mix of factors

Dimensional's approach: a time-tested strategy
built on decades of academic research
An idea rooted in academia
Dimensional Fund Advisors is a pioneer of multifactor investing. The company has applied ideas rooted in academia for decades and, today, it's one of the most well-respected managers in the field.
Thoroughly vetted by our team
John Hancock Investment Management's relationship with Dimensional and due diligence of the company's management teams began in 2006, resulting in Dimensional-managed strategies being offered as both individual funds and through our asset allocation portfolios.
---
A proven approach
Dimensional's systematic approach is backed by insight gained from decades of academic research and experience implementing rules-based strategies in competitive markets. Founded in 1981, Dimensional Fund Advisors has built a $637 billion global asset management business based on the implementation of this research across asset classes.
Isolating the factors that drive higher expected returns
A landmark 1992 study by University of Chicago Professor Eugene Fama and Dartmouth College Professor Kenneth French argued that, based on history, focusing on smaller stocks and those with lower relative prices¹ may improve a portfolio's expected return.² Subsequent research conducted by University of Rochester Professor Robert Novy-Marx identified profitability³ as another factor that enhances expected returns.⁴ Today, Dimensional offers investment solutions built on the idea that combining specific factors, borne out by years of rigorous research, can produce better outcomes for investors over the long term.

A winning combination in factor-based investing: stocks characterized by smaller capitalizations, lower relative valuations, and higher profitability have outperformed over time

Index construction
Market exposure: capturing broad market exposure to avoid trying to outguess the market

The first step in constructing each index is to identify the securities eligible for inclusion. For all indexes, the universe of the 1,000 largest U.S. stocks is ranked, from biggest to smallest. Certain illiquid securities or securities with multiple share classes may be excluded from consideration; after this initial screen, the indexes each define their target segment of the universe, resulting in a broad range of stocks per index—750 for the large‑cap index, 600 for the mid-cap index, and between 40 and 175 for each of the sector indexes.
Portfolio structure: emphasizing factors associated with higher expected returns
Once the target portfolio is identified, weightings are assigned to each security to be included. While the large-cap index, for example, will hold roughly 750 stocks, the weights of those securities may vary from market-cap-weighted indexes. That's because academic research suggests that certain factors—smaller capitalization, lower relative price, and higher profitability³—are linked to higher expected returns, so the securities in the index are weighted to place greater emphasis on stocks that exhibit those characteristics.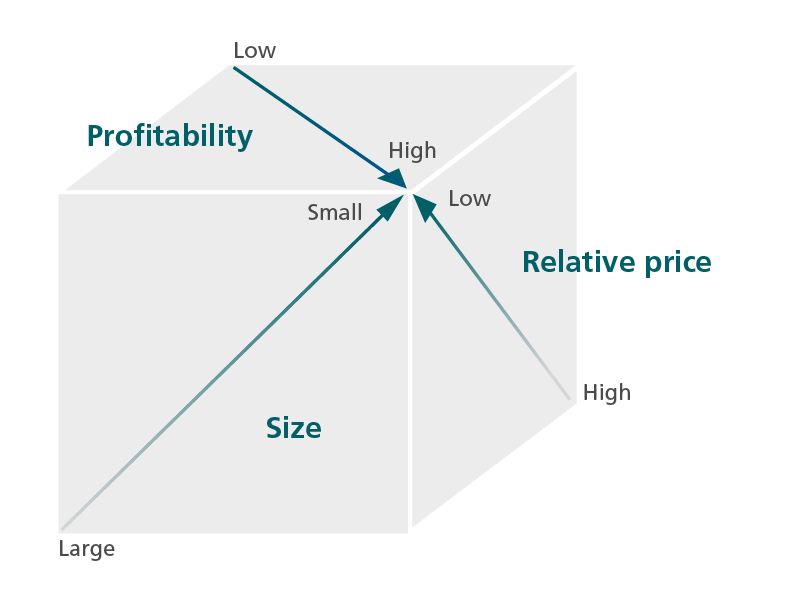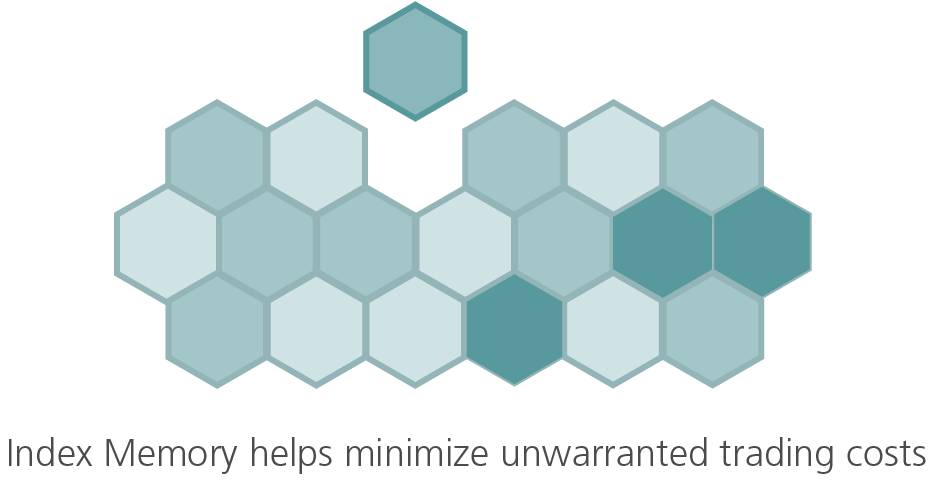 Implementation: maintaining focus on an asset class while minimizing unnecessary trading costs
Each of the indexes is reconstituted—or rebalanced—twice a year. The indexes use a feature called Index Memory® to help mitigate trading costs. If a security was included in an index before reconstitution and if keeping it in the index doesn't meaningfully change the overall characteristics of the index, that security will continue to be held and any change in weighting is minimized. The goal is to avoid making trades that don't meaningfully improve the expected return-and-risk profile of the overall portfolio.