Portfolio Intelligence podcast: Unpacking the muni market: our late 2023 outlook for municipal bonds
Adam A. Weigold, CFA, senior portfolio manager and head of municipal bonds at Manulife Investment Management, joins podcast host John P. Bryson to discuss the state of the municipal bond market and emerging trends in the segment.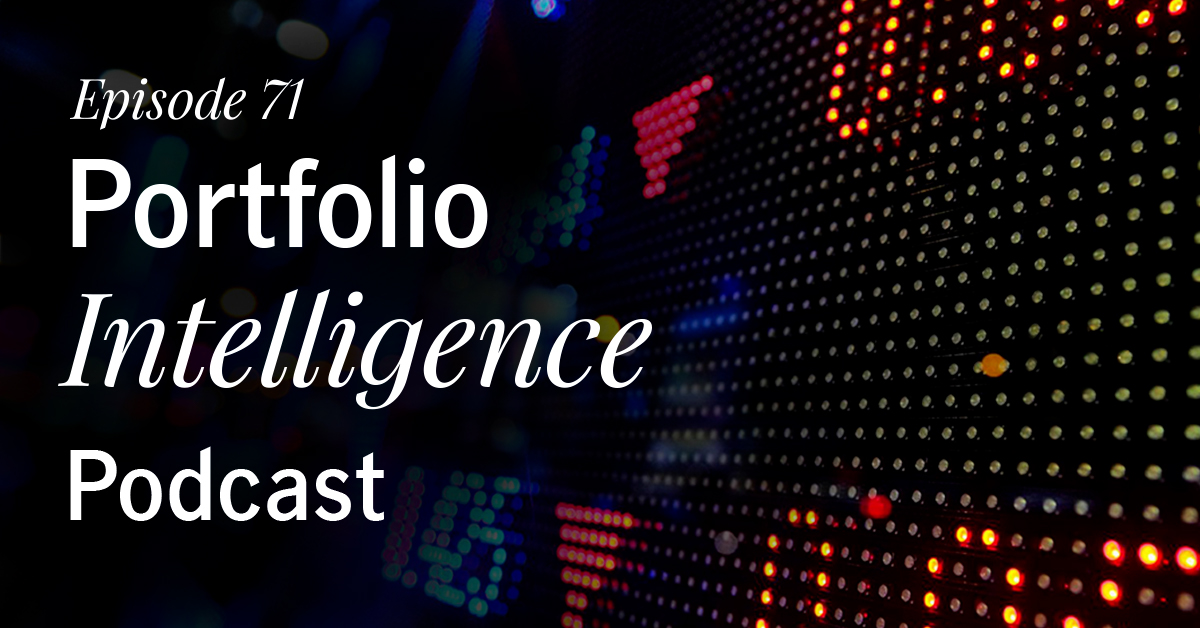 Adam explains how munis' primarily retail investor base shapes dynamics in the muni market, and he explores the impact that changes in the economic outlook can have on the market's high-yield side. The muni specialist discusses how his approach as an active manager seeks to identify the most attractive current opportunities in munis and make adjustments as fixed-income market conditions change. Adam explores the muni market's current fundamentals and the role that munis may play in potentially enhancing portfolio resilience in the event of an economic downturn. Finally, he assesses current default risks in the muni market and identifies where he's seeing attractive opportunities in late 2023. 
"I think that as you get into higher tax brackets, certainly the math makes more sense and the high-net-worth investors benefit more. But over the long haul, it's really an asset class where you get good returns for a low level of risk."—Adam Weigold, CFA. Senior Portfolio Manager and Head of Municipal Bonds, Manulife Investment Management
About the Portfolio Intelligence podcast
The Portfolio Intelligence podcast features interviews with asset allocation experts, portfolio construction specialists, and investment veterans from across John Hancock's multimanager network. Hosted by John Bryson, head of investment consulting at John Hancock Investment Management, the dynamic discussion explores ideas advisors can use today to build their business while helping their clients pursue better investment outcomes.
Fixed income investments are subject to interest rate and credit risk. Their value will normally decline as interest rates rise or if an issuer is unable or unwilling to make principal or interest payments. Investments in higher-yielding, lower-rated securities include a higher risk of default. Municipal bond prices can decline due to fiscal mismanagement or tax shortfalls or if related projects become unprofitable.

This material does not constitute tax, legal, or accounting advice and is for informational purposes only and is not meant as investment advice. Please consult your tax or financial professional before making any investment decisions.

This podcast is being brought to you by John Hancock Investment Management Distributors, LLC, member FINRA, SIPC. The views and opinions expressed in this podcast are those of the speaker, are subject to change as market and other conditions warrant, and do not constitute investment advice or a recommendation regarding any specific product or security. There is no guarantee that any investment strategy discussed will be successful or achieve any particular level of results. Any economic or market performance information is historical and is not indicative of future results, and no forecasts are guaranteed. Investing involves risks, including the potential loss of principal.

MF3214237
John Bryson:

Hello and welcome to the Portfolio Intelligence podcast. I'm your host, John Bryson, head of investment consulting and education savings here at John Hancock Investment Management. Today is October 18th, 2023, and I've invited Adam Weigold of Manulife Investment Management to the podcast. Adam is head of Manulife's municipal bond team, and he's the senior portfolio manager on the John Hancock municipal bond funds and SMA strategy.

Adam, welcome to the podcast.

Adam Weigold:

Thanks for having me, John.

John Bryson:

Hey, listen, I want to jump in and get your perspective on the current state of the muni bond market, what you're seeing, what trends are evolving.

Adam Weigold:

Yeah. It's certainly been exciting, and I'm not sure if exciting is the proper word for the recent rate volatility we've seen in the market. It's been, I would say, two years of challenging fixed income environments, and the muni market is really no exception. So I think there have been some trends, and maybe longstanding trends in our market that have recently reversed, and I'm talking about flows into the market, issuance levels, players in the market, and really how people invest in munis.

If you go back a year, munis saw massive outflows. So our retail investor base is a bit reactionary and pulled a significant amount of money out of the market last year in 2022. And we really haven't seen that money return. In fact, we've seen, I would say, persistent but low levels of outflows out of our market that our retail investors just not comfortable getting back into fixed income and back into munis. So it has been challenging in that respect. There are some offsetting factors where issuance in our market is down. So unlike the treasury market and some other markets that are seeing much higher levels of issuance, muni issuance is down. And so issuance is sometimes governed by levels of business rates. And as rates go up, you see fewer participants entering the market. They're either waiting for lower rates or pushing out their borrowing, or maybe some borrowing just doesn't make sense anymore.

And then, on the credit side, for the past decade, I think state local governments specifically have been challenged somewhat, but over the past couple of years, we've seen a pretty solid improvement in the underlying credit, so balanced budgets, surpluses, higher levels of cash on hand, lower levels of borrowing. And so the underlying fundamentals of the credits in our market look strong, even if they've underperformed from a total return perspective.

And then, maybe the players in the market and how people invest. The players have changed. So we have retail investors, but we've historically had a low level of institutional holders in banks and insurance companies, and they've really pulled out of our market. So for tax law changes and various other reasons, they're less significant in our market. So we've gone to more of a retail centric investor base in our market, and that can cause some problems for us.

And then, how people invest. So how people buy munis. So if you went back 20 years, you had investors who were buying individual bonds, and that was really the way they accessed the market. That turned into, I would say, at least a decade ago, primarily individuals buying mutual funds. And then we've seen an increase in investors using SMAs and ETFs. So the dynamics in the market have changed. I would say the fundamentals of the market that underlie it are still very strong. So it's been challenging from a total return perspective, but I think that the muni market still offers a unique investment here where you have much higher rates and an attractive entry point, and the fundamentals of the market are still pretty strong.

John Bryson:

Excellent. You mentioned a couple of things that I want to dig into, starting with the buyer base. You mentioned that the muni bond market, the participant is largely the retail investor. Let's dig into that. How does that change the dynamic of the muni market?

Adam Weigold:

Yeah. I think a lot of investors think of munis as maybe a core holding, a stable part of their portfolio, one being a bond, and then also the underlying high credit quality that we see. But because of the nature of our buyer class, we tend to see, I would say, more movement of assets. So retail investors can be a little fickle, they can be reactionary, they tend to move in herds, and that's exactly what we saw in 2022. So if you have a large portion of the market pulling out at any given time, with maybe a less than liquid market, you see bigger moves in pricing. And that's what we saw in 2022. And we've seen it historically throughout Meredith Whitney, the taper tantrum, the financial crisis where you have these big drawdowns in media pricing that usually reverses itself pretty quickly once the rate environment stabilizes or whatever the issue was resolves itself.

That really hasn't happened this year, and our retail investors have been sidelined. And I think for good reason, the alternatives out there, which are really money market funds and cash and short-term treasuries are providing a pretty solid return. And I think that the retail investor has a hard time buying fixed income when the Fed is still raising rates. So I think we're waiting for a signal from the Fed, almost like a bat signal for bonds that says, all right, it's time to get back in. And when we've seen that in the past, we generally see retail moving back in mass. And especially, if that were to happen in the next couple months, or even probably in the next six months, there's just not enough bonds out there to buy if you have that money flowing back into the market.

So while we haven't seen the big bounce back that we have historically seen, I think we're poised to see that we're just waiting for the catalyst. And I think the catalyst really is a stabilization in rates and a sign from the Fed that they're done raising rates. And maybe we have seen, and again, our reactionary investor is looking at all this data that's coming out in higher CPI levels, retail sales, that surprise and some of the strength and economy that's driving rates up potentially. I think we need to see a lot of the noise die down before we see the retail investor come back. But that provides opportunities in, I would say, working around how retail investors buy and sell.

We're a market that's been around for a long time. It's a core portion of a lot of investors portfolios. I think that once money market rates start to come down, you'll see people get more excited about the rates in our market. And I think they should be excited now that the rates that we're seeing we haven't seen in a decade.

John Bryson:

Okay, that's great to hear. We're going to dig into some of those points you made there too. I do want to stay with the comment that you made around the current uncertainty in the economy. Now, in a typical volatile market, investors typically shy away from high yield markets in general. Do you find that also happens in the high yield muni market?

Adam Weigold:

It does, and I think maybe it's a mistake. And what we've seen... And I always compare munis to corporates because it's the most comparable asset class corporate bonds to munis. And what we've seen in the corporate bond market is spreads that have remained pretty tight, especially in the high yield space. In the muni market, we've seen spreads widen out. They've recovered a little bit this year, but they're still historically wide. So we're definitely seeing investors in our market avoid high yield muni funds, avoid moving down the credit curve, so even into Triple Bs and single A's. But I think that that's a mistake in the long run, that there's really a lot of opportunity there. And we're a market now where our lower rated credits have widespread. So we are pricing in a recession, whereas the corporate bond market doesn't seem to be pricing in a recession. So I think you can be negative on credit, but you can still be positive on muni credit because it's priced in now.

And then, if you look at how high yield munis and not necessarily just double B and below, but triple Bs and low single As, how they perform in recessions, munis, in that space, tend to perform pretty well. So we generally see, and if you think about the types of credits we have in our market, it's electric utilities, it's water and sewer systems, it's airports, ports, and then, of course, general obligations, state, local government bonds. They tend to have stickier revenues. If you're comparing a car company versus a water and sewer system, most customers continue to pay their bills in a recession, whereas they might not go out and buy a new car.

So from a cashflow standpoint, municipal credit tends to do better. And from a spread perspective, we generally don't see muni spreads blowing out in recessionary environments where you do see that in the corporate market. So I think we're priced for recession, so we're ready for it, but I think that just shows that there is value as you move down the credit curve reviews.

John Bryson:

Excellent. Another thing that we run into when we're talking to financial advisors and investors is looking at the muni asset class as only for high net worth individuals and only for a buy and hold strategy, do you follow that assertion? And as an active manager, how do you incorporate that into your own approach to managing funds?

Adam Weigold:

It's not just for high net worth investors, it's really for anybody who pays taxes, that there's value to not paying taxes and keeping your entire coupon. And many times, the tax equivalent yields on munis are higher than the yields that you would get for comparably rated corporate credits. It's also one of the asset classes that has the least correlation to your equity portfolio. So that's helpful. I think that as you get into higher tax brackets, certainly the math makes more sense and the high net worth investors benefit more. But it's really, I think, over the long haul, an asset class where you get good returns for a low level of risk.

John Bryson:

Got it. And then the buy and hold component. You'd mentioned before the dynamic changes in certain market environments, really when it gets volatile. How does that impact the way you manage your funds?

Adam Weigold:

I think for the retail investor, you might normally think you buy a 30-year bond and you hold it for 30 years, but what we've seen is the holding periods in mutual funds for individual bonds and SMAs are much shorter than that. So our buyers may think of it as viable, but their actions don't necessarily follow that. For us as investors, we are, I would say, more total return investors. So there's all sorts of inefficiencies in the market. There's all sorts of interesting aspects, 60,000 different issuers, and there's 1.2 million CUSIPs in municipal market, and it's a market where there's not as much information outstanding as there is in other markets. So I think it's a market where you can go in and roll up your sleeves and find some really good credits at really good prices that maybe other folks aren't looking at.

And then, for us as a manager, we think about total return. We're not just buy and hold investors. We want to look at the market, make some assumptions and predictions, and then position our portfolios where we think that the best returns are going to be. So we're not just clipping a coupon, and when that bond matures, buying another bond. We're looking to be dynamic in the market, shift our duration, our credit quality, our sector exposure, the structure of the types of bonds that we buy based on changing market conditions. And our market is always changing. And I like to think that our market always gives you opportunities in different places, and really it's up to a professional manager to roll up their sleeves and find those opportunities.

John Bryson:

Excellent. So let's continue down that path of where we are currently. How do valuations look currently? How are fundamentals in the muni market? Do you think they're positioned to withstand this potential economic downturn that people forecast?

Adam Weigold:

Yeah, I think that the answer to that question is: it depends and all valuation is relative. So we usually look at how our muni's pricing to treasuries or how our muni's pricing to corporates. And our market is a different market, so our yield curve looks different, the credits are different, and there are parts of our market that look very attractive relative to corporates and treasuries and some that don't. So if you're just looking at our yield curve and maybe where the attractive points on the yield curve are, you probably have to go out past eight years or so to get bonds that look attractive relative to corporates. But once you get past eight years, they start to look very attractive. So our yield curve is actually upward sloping, where right now the treasury curve is more or less flat. So the further you go out, the more income you pick up.

And it's fairly steep. The curve is fairly steep from eight to 16 years. So for us, I think that space offers a nice opportunity, the intermediate or intermediate long space for long-term total return. A lot of our investors like short duration bonds in our market, so there's less demand out there, but I think that's an interesting space.

And then if you look at credit quality, I mentioned credit spreads are still wide. So if you can do the research and look at the underlying fundamentals and find good credits and not A range, the triple B range, that also provides you with some value. So our feeling is that, at some point, and it's been very hard to make any good predictions recently about what yields are going to do, at some point our yield curve is going to flatten, that long-term rates are going to come down as inflation comes down as the Fed stops raising rates, and you'll see better return out long. And then we think that the spreads that are historically wide will start to tighten up. And again, I mentioned we've seen some spread tightening this year and high yield has outperformed high grade, but I think that will continue.

So I think the total return opportunities here are pretty strong because, one, you're getting it at a much higher yield, so your base coupon, what you're earning out of your bond is much better. And we are in a period of elevated rates. So if your belief is like ours that eventually rates are going to start coming down, there'll be some total return embedded in your purchase. And then, again, the underlying fundamentals of the market are good, the issuance is low, and credit quality is solid.

John Bryson:

Excellent. So it sounds like a lot of positives going on. Certainly, if you do your homework and if you do your homework, you are going to find these opportunities and hopefully avoid defaults, but default risk is on folks' minds. What kind of default expectations should people have in a muni market if we head into an economic downturn?

Adam Weigold:

And I will say there are a lot of positives, but we are a rates-driven market. So having come off a pretty tough year in 2022 and another year in '23 where our returns are more or less flatter or maybe down. All is not wonderful in the rates market, but I think if you look at default rates going into a recession in munis, we don't have great numbers on historical default rates, but we can look at upgrades versus downgrades versus corporates and then how muni credit has performed in the past. And it generally performs pretty well. For the reasons I mentioned, the underlying credits and the types of credits, they are more resistant to, I would say, economic downturns than corporate credits.

So you generally don't see a lot of defaults, and defaults in the muni space are rare, definitely in the investment grade space as you go way down the credit spectrum and the muni universe goes from the AAA to non-rated. So there are struggling credits out there that are economically sensitive. You could see, I would say, a low level of defaults in those types of credits. But overall, muni default rates and recessions are relatively low compared to corporates and most other credit asset classes out there. So I think we can be pretty confident that in a recession, and I know that the odds of a recession has gone down a little bit, muni credit should outperform.

John Bryson:

Very good. Thank you for giving us the balanced answer, the opportunities and the risks involved. I do want to close on a positive and have you tell me, where are you finding the best opportunities and what are your expectations for the rest of 2023?

Adam Weigold:

I mentioned I think there's always opportunities in the muni market. And sector specific, we like airports, we like toll roads, we like transportation credits. We even are looking at the hospital sector, and that's a big issuer in our market. And it seems profitability may have troughed, and we're seeing better performance out of the hospital sector there. And that's a sector that really got beaten up during COVID and hasn't really performed particularly well. So sometimes we're zigging when other people are zagging and we're putting our money in spaces that we think will outperform over the next couple of years, even if they're struggling now, and the hospital space is one of those. But I think you would do well to move down the credit spectrum. And again, you need to do your research to be able to do that and then potentially moving out the curve.

So I think we do expect volatility here in rates market. We've certainly seen that, but if, I would say, last year was any guide, September, October are usually pretty bad months in the muni market. And if you look at the chart of returns this year, relative to last year, September and October looked very similar. And last year, November and December were really strong months. So some of the dynamics in our market change in December. We get a lot less issuance in the last two months of the year. We generally see some retail interest at that point, so the technicals should be getting better. Again, all this depends on the broader rate market here.

And I think that, hopefully, our investors are thinking about what they're doing with their cash over the long term. Cash is just the place to hide. And ultimately, I think a lot of that money is long-term fixed income investments that hasn't been put to work. So I think that we're positive, but we're putting our seatbelt on here for the ride, and it has been a bit of a wild ride, but we're investing in bonds that are eight to 20 years in maturity, so we have to take a longer term outlook, and we haven't seen a better entry point than this in probably a decade. So I think they're a great place to be right now. You may have to sit tight before you really get the total return kicking in though.

John Bryson:

Well, maybe we need to change the saying of these only two things that are guaranteed in life, and that would be volatility and taxes. And with a muni bond fund, you can take advantage of both, right? So that's how we'll approach it from here.

Hey, Adam, it's wonderful to talk to you. It's great to go deep on an asset class and hear from a professional, how they're approaching the market, how they're managing the dynamic. So we appreciate you being on.

Folks, if you want to hear more, please subscribe to the Portfolio Intelligence podcast on iTunes or visit our website, jhinvestments.com to read our viewpoints on macro trends, portfolio construction techniques, business building ideas, and much, much more. As always, thanks for listening to the show.