Portfolio Intelligence podcast: unpacking new trends in college admissions and scholarships
In this episode, college admissions coach Nancy Steenson joins podcast host John P. Bryson, head of investment consulting at John Hancock Investment Management, to discuss the changing landscape of college admissions and scholarships.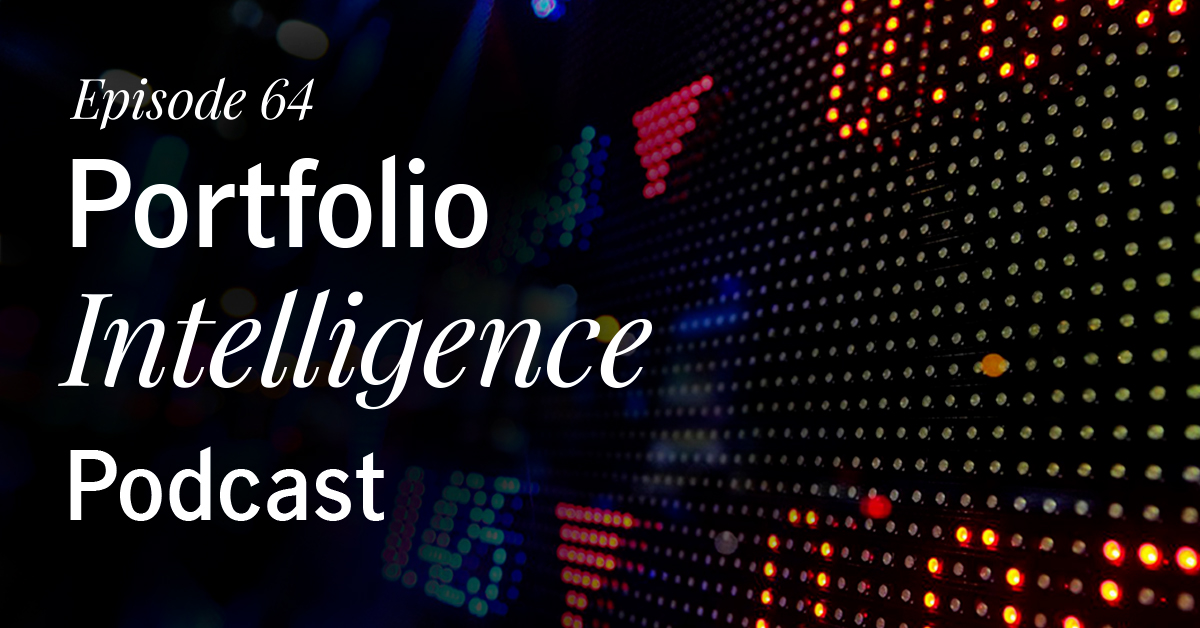 Nancy explains the best source of scholarships for college students today, unpacks the difference between a needs-based financial aid scholarship and a merit scholarship, and discusses why knowing the difference is helpful while shopping for colleges. She also explores current college pricing trends and the impact on pricing from enrollment management software, early decision, early action, and merit awards. Finally, she highlights the U.S. Department of Justice's college admissions oversight role and discusses key changes to important financial aid documents that affect what students pay for college. 
"So we are seeing colleges that over the past decade or two have changed from giving merit money to high-achieving students to move up the rankings, a definite marketing strategy, to being at the top of the food chain, no longer needing to offer that merit that they've been known for and saying, 'We're converting now to a needs-based model. So, if you need financial aid, we're going to be more generous with it. But we're not offering those merit scholarships as we have in the past.' That's been an eye-opener with some schools." —Nancy Steenson, college admissions coach
About the Portfolio Intelligence podcast
The Portfolio Intelligence podcast features interviews with asset allocation experts, portfolio construction specialists, and investment veterans from across John Hancock's multimanager network. Hosted by John Bryson, head of investment consulting at John Hancock Investment Management, the dynamic discussion explores ideas advisors can use today to build their business while helping their clients pursue better investment outcomes.
This podcast is being brought to you by John Hancock Investment Management Distributors LLC, member FINRA, SIPC. The views and opinions expressed in this podcast are those of the speakers, are subject to change as market and other conditions warrant, and do not constitute investment advice or a recommendation regarding any specific product or security. There is no guarantee that any investment strategy discussed will be successful or achieve any particular level of results. Any economic or market performance information is historical and is not indicative of future results, and no forecasts are guaranteed. Investing involves risks, including the potential loss of principal.

John Hancock Investment Management and Nancy Steenson are not affiliated. 
John Bryson:

Hello and welcome to the Portfolio Intelligence podcast. I'm your host, John Bryson, head of investment consulting and education savings here at John Hancock Investment Management.

May is 529 month. A 529 plan is a great way for you to stand out with your clients from the crowd. It can help you attract net new assets. It's an underutilized estate planning tool. It can help you connect with the next generation of clients and help you with referrals. If you have any questions on a 529 plan, you can give us a call here at John Hancock Investment Management.

For today's podcast and for the topic, I've invited College Admissions Coach Nancy Steenson to the podcast. Nancy is a graduate of Tufts University, served on the Timberland Regional School Board for six years and was chairperson for two years. She's also served on a number of committees, including the Curriculum Committee. Nancy is passionate about education and has always advocated for strong academics in the public school system in order to prepare students for college. She believes that many students and parents underestimate the college admissions process, and she works with students to market themselves by sharing underutilized strategies that help them stand out from the thousands of other applicants. With her guidance, students have been accepted to very selective colleges and top programs in their field.

Nancy, welcome to the podcast.

Nancy Steenson:

John, thank you so much for having me back.

John:

So, Nancy, what is the best source of scholarships for students?

Nancy:

John, that is such a great question, because over 80% of all scholarship or free money that people don't have to pay back, comes directly from colleges and universities, not outside scholarships. When students are applying to various outside scholarships, local scholarships in their community tend to be very small and non-renewable. So, they might get $500 for one year, good for their first year of college, which is great, but it doesn't make much of a dent.

National scholarships, and there are many, many websites offering all kinds of scholarships, the applications tend to be very labor-intensive, requiring essays, and the odds are not great of getting it. And a student has no way of knowing if 50,000 or 500,000 students have applied for that scholarship. If you win, you've won the lottery, you might have gotten a tremendous scholarship, but it's very, very rare statistically. But with the proper strategy, you can get a great package directly from colleges and universities, because most people don't actually pay the published list price for college.

John:

Got it. And now, talking about getting that scholarship from the university, what's the difference between a needs-based financial aid scholarship and a merit scholarship, and why does that matter?

Nancy Steenson:

They're very, very different. A needs-based scholarship is based on parents' financial information, which is submitted through various forms. And if they are found to not be able to afford the full cost of college, and the university and the federal government make those decisions, then they may be offered a need-based scholarship, which is a grant and doesn't have to be paid back.

However, there are also merit scholarships, and those are scholarships that have nothing to do with need. So a wealthy person who has a student applying to college can get a merit scholarship just as easy as someone who has need. Colleges use merit scholarships to entice high-achieving students to their college. I'm going to generalize. If you're an A+ student going to a school that tends to admit B+ students, they may give you a lot of money in merit scholarship to entice you to attend.

Now, why does it matter? Well, it matters because you need to know where you're shopping when you're building a college list. There are colleges that are very, very generous with financial aid. These tend to be the most well-endowed colleges out there and universities. There are colleges that give very generous merit scholarships, like we just discussed to high-achieving students. Those aren't the same colleges. Those are two different lists. And of course, there are families for whom price doesn't matter. And so for those people, of course, they can apply anywhere. You need to know where you're going shopping.

John Bryson:

Got it. Very helpful.

Let's dig into this a little bit more. Let's say you've got a student with very strong grades, 4.8 average, great test scores, perfect test scores, and they don't qualify for need-based financial aid. Can they get a merit scholarship at some of these upper tier Ivy League colleges?

Nancy Steenson:

Great question, John. No. The answer is no. You cannot chase both prestige and merit.

John Bryson:

Okay.

Nancy Steenson:

The most elite selective colleges in the US do not give merit scholarships. They don't have to. Some of the most high-achieving students are applying to these schools in droves, and they simply don't have to offer tuition discounts to lure these students.

There was an interesting book that came out immediately before the pandemic. It was called Who Gets In and Why? It's still a very good read. It's written by Jeff Selingo, who is a journalist who has written about higher ed his whole career. It's a great read. One thing I pulled out of it that I love, and that is his reference to colleges as buyers and sellers.

Buyers are the colleges that have higher admission rates. They're looking for applicants. They're looking for reasons to admit these students. They're a little less selective, and many of them give these generous merit scholarships to entice the higher achieving students as we discussed. In fact, some of these buyers discount tuition for all students. Nobody pays list price. It's a pricing strategy. It's just a matter of how much they discount. The higher achieving students, they discount more. The less achieving students, they may discount less. But nobody pays full price at this particular category of colleges. Their published price is almost irrelevant.

Let's talk about the sellers. The sellers are the very, very selective colleges and universities. They have too many applicants, which is a good problem to have from their perspective. They need to deny many, many students, the vast majority of students. They need to make tough cuts. These are your super well endowed colleges and universities that are, by the way, very, very generous with need-based aid because of their endowment. These colleges never ever ever give merit money simply because they don't have to. So if you have that high-achieving student whose parents can't afford an $80,000 price tag, but, "Oh, my son is so smart and I know he is going to get great merit," the important take home messages here is, of course he can and he will, but not at those tippy-top super selectives because they're not going to reward a student financially for being impressive in any way, shape, or form.

John Bryson:

Gotcha. And that could be a big reality check for a lot of parents out there that feel like they're doing all the things right. Maybe they're like, "We didn't save enough. We got to plan ahead." So having that expectation being clear upfront is really helpful.

Nancy, let's pivot and talk more about some of the current trends that you're seeing in college pricing.

Nancy Steenson:

Absolutely. In terms of trends that we're seeing, it's important to remember that colleges are businesses first and foremost, and they care the most about three things, just like any business; revenue, ratings, and because they're colleges, rankings. So revenue is tuition, and of course, alumni donations and all of that. Ratings, well, that's their bond rating. It's very important to them as it would be to any business. And rankings. That's the US News Report and all the other rankings that we're seeing, Forbes, Wall Street Journal, various other publications that are doing rankings. Colleges care a lot about that because parents read it and they associate rankings with prestige. And when the prestige goes up, they get more applications. When they get more applications, they get more selective, which makes them even more prestigious. So it's an endless, endless cycle.

So how is this affecting college pricing? Well, here are some trends that we're seeing.

One that I think is really notable is colleges that didn't use to be that selective 10 or 20 years ago, so they gave a lot of merit money to high-achieving students to entice them and move up the rankings. When you're taking A+ students into a, let's call it a B+ school, you're becoming an A school. You're averaging out those high test scores, the high GPA of the students that you're luring with generous scholarships. So all of a sudden you are averaging a very high caliber of academic student, and that in turn encourages more high-achieving academic students because your school is now perceived as being elite.

So we are seeing colleges that over the past decade or two have changed from giving merit money to high-achieving students to move up the rankings, a definite marketing strategy, to being at the top of the food chain, no longer needing to offer that merit that they've been known for and saying, "We're converting now to a need-based model. So if you need financial aid, we're going to be more generous with it. But we're not offering those merit scholarships as we have in the past." That's been an eye-opener with some schools.

John Bryson:

Wow.

Nancy Steenson:

Yeah. Another thing that we're seeing, well, this isn't new, but it's important for families to know. State universities are wonderful opportunities for education, and they're less expensive than many private colleges. But some students say, "Well, I don't want to go to my home state. I want to go somewhere else. I want to experience another part of the country. I don't want to go to college with everyone I went to high school with." And all of that's understandable. But some state universities do not give much need or merit money to out-of-state students. And that can be surprising to families. So just because you want to go out of state to flagship University in another state, doesn't mean they're going to give you a cent in financial aid even if you qualify.

John Bryson:

Okay. Interesting.

Nancy Steenson:

Yeah. They're all different. They're all different.

Something else we're seeing increasingly, and you hear about proposed legislation from time to time in order to prevent this, and that is that financial award letters can be very confusing and very misleading. I probably don't have to tell you or your listeners that there's a fair amount of financial illiteracy out there, even amongst well-educated people. When students get into college, they get an award letter. It either gives their need-based award or their merit. They're all different. They are so confusing, almost to the point that they seem to be intentionally misleading. You and I both know that if you take the list cost of college and subtract out the financial aid or need-based award, you end up with the net cost to the family. Easy-peasy.

Now, if the family can't afford that net cost to them, then they are free to take loans out to make up the difference. We know this to be true. Where it gets confusing is when colleges throw loans into the equation before they get to that bottom net cost to you. So cost is 80,000, grant is 30,000, whether it's need-based or merit, federal loan 5,500, parent plus loan 22,000, and whatever the difference is, okay, now this is your cost. These numbers are randomly thrown in and families don't understand that they're already looking at loans before that net cost to them. So that's very misleading and nobody likes that. And it's very, very hard to compare award letters.

Another trend that we see is that merit awards, not financial aid, but merit awards, are usually renewable for four or even five years because it takes some people five years to graduate college for various reasons. They're renewable, given a minimum GPA. Now, every college might give a different GPA. But let's say we'll take $20,000 off the cost of our university, you can attend, however you need to maintain a 3.2. I'm just making this up. I've seen all different numbers, and that seems reasonable.

But remember that the transition to college is a big one. Some kids get homesick. They're making new friends. It's the first time they've been on their own. They have to juggle many things. The work is hard. It's often harder than high school. Unlike what we've seen in the past five years in high schools, you don't get to take retakes if you don't do well in an exam. You don't get extensions just because you ask for one. College is harder, and you have to be more of a grownup.

And what if you get mono freshman year? I did. It happens. And so you can't assume you're going to have that 3.2. You can hope you will. You can try for it, but if you don't, you may lose your scholarship for the next three years. Something to keep in mind.

John Bryson:

Yeah, that's a big disruption right there. You plan, you line up the financing, and a destruction like that can be huge. It can change the trajectory.

Nancy Steenson:

Yes. Yeah, absolutely. And guess what? It can lead to attrition. I can't afford college anymore.

Something else that people are not aware of, enrollment management software is often making financial aid and merit decisions at some colleges. This is a real eye-opener. So it's not always human beings who are saying, "I'm going to give John this much money and I'm going to give Meredith that much money." It is software. I have seen the presentations myself at conferences by the people selling the software, and I've talked to admissions officers using it.

You might have two neighbors, John, both of whom applied to X, Y, Z University; students. One of them gets a $20,000 merit scholarship. The other one is valedictorian, captain of three teams and has made a huge impact in his community through volunteerism, perfect SAT scores, and he only gets $5,000. And you ask yourself why? This doesn't seem right. Sometimes we see this happening. And the answer is, the software is figuring out what will it take to lure this student versus that student?

John Bryson:

Got it. Got it. Because they don't want nos. They don't want people to say, "No, I got in, but I'm not going." They want to use an algorithm to figure out who's more likely to say yes and what will it take them to say yes. Got it.

Nancy Steenson:

Correct. Correct. Yep. Furthermore, maybe we want someone from this state versus that state. Maybe we need more males versus females. Maybe we need an oboe player or a high jumper or whatever. So that's another factor that is factoring into who's getting more money and why.

Some other things, this is not as common, but we do see it; a college awarding a large merit scholarship the first year and less in subsequent years. So if a student likes the offer, it would behoove them to contact admissions and get in writing that that offer is good for four years because sometimes it does go down. We see those trends. You can look it up on common data set for various universities. What's the average first year scholarship? What's the average second, third, and fourth year scholarship? And it's lower. So we do see that.

Another one that I love is a four-year guaranteed tuition freeze. We see this more with public universities, state universities. Whatever you pay the first year, you're guaranteed for four years. If we have tuition increases, it will not affect you. You get that guarantee, which is fantastic.

Another positive one that I love, public honors colleges. Every state in our country has a flagship state university, and many of them have very strong honors colleges. Some are more of a residential community where you live with these honor students and you have seminar style classes, et cetera, and some a little bit less so. A couple that come to mind that are highly, highly regarded; Barrett at Arizona State University, Schreyer at Penn State. They literally have academic reputations like the Ivy League. Very, very, very selective to get into. Huge, huge merit money for high-achieving students. Huge merit money. So they're a great bargain. Some of the best bargains out there for students who want the whole yah-rah college, university life, but yet at the same time, the small seminar style classes and having to do a thesis and real intellectual engagement for a song, price wise. So that's a great thing for families to be aware of.

John Bryson:

Okay. So there's a lot of emerging trends. You've highlighted a number. I'm so glad we're having this conversation because I think people need to know about it and stay on top of it, so this is great.

Another one you and I have talked about a little bit is early decision. Can you talk about what early decision is and how it's been impacting college pricing?

Nancy Steenson:

Yeah, I'm so glad you brought that up, John, because it's an increasing issue. Early decision is an application deadline, whereby a student applies early in the fall between mid-October and mid-November. They usually get an answer by the end of the year and it's binding. So if you get in, you are bound to attend. You have signed an ethical agreement, your guidance counselor at school has signed an ethical agreement, and you're expected to honor that.

I'm not a fan of early decision. Many people are not fans of ED because these students are 17 years old and it's tough to make a decision and not have options. It's also hard for families to not have options. If they need financial aid, they're not going to be able to compare packages. If they want merit scholarships or need merit scholarships, they're not able to compare merit scholarships. You're one and done. So it's not good for students, most would argue.

Now the problem is that the more selective or elite colleges are accepting a larger and larger percent of their incoming class through early decision. I'm talking 50, 60, 65% of the incoming class came through early decision. It doesn't leave a lot of room for everybody else. We see that reflected in the numbers.

I have some data from the high school graduating class of 2021. The data for '22 tends to come a little later over the summer. For instance, I can tell you Bates College in Maine, they have an acceptance rate of 59.5% amongst their early decision students. That's almost 60%, a 13.8% acceptance rate for a regular decision. Very, very different. They enroll over 62% of their class in that early decision wave. So for a lot of students, if they don't apply early decision, they're a little bit shut out, John, statistically.

So students are being encouraged or pushed to go ED if they want an elite school. Whereas personally with the students I work with one-on-one applying to college, in the past I've never really encouraged early decision. I, and many of my colleagues after this past application cycle or two, we're starting to tell our high-achieving students who are looking at very, very selective schools to give some serious thought to picking a school and going early decision, because if you don't statistically it's so very difficult to get into these schools.

So how does this have to do with pricing? Well, it takes out all the shopping, all the comparing. Whatever price you get, you're going to have to pay, which doesn't seem right to me, but that's the reality of it. This tactic is used almost exclusively by the most selective colleges and universities. For the moderately selective colleges, very few of them offer early decision, and if they do, they don't enroll much of their class, so it's really a non-issue.

It is different from early action. Just to be clear to folks listening; early action is different in that you can apply early, but you don't have to commit. It's non-binding. So if you apply early action, you get an answer by Christmas and you can put it in your back pocket and apply everywhere else and see what happens. But if you apply ED, early decision, you are bound to attend.

It's great for colleges. Their yield is 100% through ED. If we accept a thousand students early decision, a thousand are going to come, that's 100% yield. And yield, believe it or not, does affect bond ratings at universities. So it's great for colleges.

It's generally only an option for the very wealthy or very high need students who know they're getting a great financial aid package through the net price calculator. It's everyone in between that is sort of falling through the cracks. They can't afford to go early decision, and therefore it's really hard for them to get accepted when the regular decision pool they're accepting 5, 7, 8% of students.

John Bryson:

Yeah. It really sounds like the elite colleges are in the driver's seat in terms of acceptance and how much they can give out, meaning it's going to be expensive for most people.

Nancy Steenson:

Exactly.

John Bryson:

Yep. All right. Super helpful.

Nancy, you and I talk a lot and sometimes we get into the weeds. One of the ones that you shared with me is what's going on between the Department of Justice and College Admissions in general. Maybe you can share some of that behind-the-scenes info with our listeners.

Nancy Steenson:

Sure. It's something that I think not many people are aware of. About three years ago, the Department of Justice sued the National Association of College Admissions Counselors. NACAC, we'll call it. Everyone in the business belongs to NACAC. College admissions officers belong to NACAC. High School admissions guidance counselors belong to NACAC. Independent counselors belong to NACAC. And they had a code of ethics that everyone sort of agreed upon. The Department of Justice felt that it violated antitrust laws. So three years ago, they sued NACAC and claimed that the language was restricting competition, causing harm to college applicants. So NACAC settled because there was no way they were going to win, and they agreed to amend their code of ethics.

So in short, what used to be in the code of ethics was colleges cannot recruit or offer enrollment incentives to students who have committed elsewhere. Well, now they can. It used to be in the code of ethics that colleges cannot solicit transfer applications from the previous year's applicants or prospect pool unless the student initiates the inquiry. Well, now they can. So the rules that were meant to prevent recruiting strategies that were a little bit questionable these strategies are now increasingly common. I call it the new wild west of college admissions.

It doesn't affect everybody all the time, but in working with a pool of students and talking to many of my colleagues, we're seeing it rear its head more often. The kinds of things I'm talking about would be students applying early action. Now let's take college X, Y, Z, and this is a certain batch of colleges that offer both early action as well as early decision, not all colleges do, but some do; student decides to apply early action because they don't want to be binding, but they'd like that early answer and they're getting deferred from early action. And in that deferral letter, meaning we're deferring you to the regular decision pool, in that letter, they're being asked to switch to early decision. That's intimidating.

"Well, what if I don't? Are you saying if I..." You can imagine being 17 years old. "So if I don't switch to ed, is it going to be a no?" These are the questions kids ask themselves. It's tough. It's putting them in a tough situation. We have even seen letters where they're being asked to switch. "What would you like to do? Would you like to go into the regular decision pool? Would you like to switch to early decision? Or would you like to cancel your consideration?" What? Right?

John Bryson:

Right. Exactly.

Nancy Steenson:

We've seen that language. So that's tough.

There is a universal May 1st deadline that everyone has agreed upon for years. If you've had kids apply to college, or maybe you remember from back in the day, you apply to a bunch of colleges, some EA, early action, some regular, you don't have to let anyone know until May 1st. That's the agreed upon universal deadline. Well, we're seeing some institutions now offering large merit scholarships after the May 1st deadline. So you've committed to go to X, Y, Z University, you've declined the other five, and then you get a letter from one of the other five on May 5th saying, "Well, now if change your mind, we'll give you another $10,000 a year."

John Bryson:

Oh, wow.

Nancy Steenson:

It's just not playing fair.

John Bryson:

Yep.

Nancy Steenson:

It's not playing fair. This is after the original scholarship offer, whatever it may have been, after the student declined that offer and deposited elsewhere.

We're also seeing athletic recruiting has been affected a little bit. If a student's going to be an athlete at a school, doesn't matter, division 1, 2, 3, once they decide they're going somewhere, it's an honor code that you're going to go play lacrosse for that school over there. Often you're asked to apply early decision because that's a commitment to the coach that, yes, you want to be on his roster. And that's common, and that's fine. That's always been respected. But now we're seeing coaches at elite colleges poaching kids who have already committed early decision elsewhere. And we never saw that before.

We're seeing some colleges offer scholarships and tie them to committing before the universal May 1st deadline. If you come here and you deposit and agree by February 25th, we'll give you this much money in scholarship money. And you haven't heard from the other four colleges. So that's new.

John Bryson:

Yeah, it's new. And unfortunately, your head can swim with all the possibilities. To me, it feels like you really have to do your homework upfront, be prepared financially, and be organized.

Nancy, the last one that I want to ask you is more along the tactical execution end, and it's the financial aid documents because we know that they're changing. How are they changing and how is that impacting what people pay for college?

Nancy Steenson:

The pieces are still moving. It's very, very interesting. There are two documents that people need to understand to apply to college and get some financial aid. One is the FAFSA, and it's a federal form, and the other is a CSS Profile, and it's used by about 300 mostly private colleges.

The FAFSA is changing. That's the primary form for every college for financial aid. The changes were meant to go into effect last year, but it was delayed for a year. Huge changes, federal government; you can do the math. So now it's going to roll out for the students applying to college this coming fall. Usually a FAFSA opens up in October. It's now not going to open up until December 1st. It's been delayed further. Fingers crossed, it'll all work out. So timing has changed. We'll see what happens when it opens. It's going to affect those early action and early decision applications. Nobody knows how, but it will because it won't even open until December 1st.

In addition to that, the legislation that was passed in order to change and simplify the FAFSA will mean some changes for families. The good news is it's an easier form. Instead of 108 questions, there'll be 36 questions. So that's good. The bad news is after you fill out the whole form, it used to give you a number, and that number was expected family contribution, or EFC. John, you and I have thrown that term back and forth in the past.

John Bryson:

Yes.

Nancy Steenson:

Well, they're getting rid of that term. And the same calculation; income, assets, et cetera, will give you the same number, not really any different in terms of the calculation, but we're calling it something different. We're calling it Student Aid Index, SAI.

How this affects families is, I'm just making this up; if you have three students in college at once and you have an expected family contribution, then you're going to pay less per student because you have three students in college and it's a family. How much can a family afford? That's what the FAFSA is telling us. Now, that same calculation is telling us what a student can afford; Student Aid Index. So if you have more than one student in college at the same time, you're going to take a hit. That Student Aid Index is for your first child and the Student Aid Index for your second child and the Student Aid Index for your third child, all in college at the same time.

The changes were made because they felt it wasn't fair that people who had twins or triplets or two or three in college at one time were getting a break that parents who had spaced their children out were not getting. So that is the biggest change as it affects pricing.

The second other big change that will affect pricing for families is that it used to be the filing parent for the FAFSA was the custodial parent in the case of divorced parents. However, that is changing. It's going to require that the filing parent is the parent who gives the most financial support to that student. So a wealthy non-custodial parent used to be able to get off scot-free while the not so wealthy custodial parent would get a lot of financial aid. But now if a wealthy non-custodial parent is wealthy enough that the kid would get no financial aid, guess what? That wealthy non-custodial parent is the one who's going to have to fill out the FAFSA. So there goes your free ride.

John Bryson:

Gotcha. Yeah, it's definitely getting more and more challenging, especially with trying to send multiple kids through college at the same time. Like you said at the beginning of the podcast, it's a business, right? It's a business for colleges. We need to know and prepare and have strategies on how to maximize the opportunities for our kids, our clients, so be it.

Nancy, this was super helpful. As always, I always learn something new when I talk to you. To the audience, this is our third podcast with Nancy. I recommend you go back and listen to each one. You're going to get great nuggets from all of them on college admissions and different strategies. For us here at John Hancock Investment Management, we're here to help. We're here to help you understand the landscape and the options for getting into college and paying for college. So if you have questions, please reach out.

And lastly, if you want to hear more, please subscribe to the Portfolio Intelligence podcast on iTunes or visit our website, jhinvestments.com to get up to speed on all the different ways we can help you as an investment professional build better outcomes for your clients and your practice.

As always, thanks for listening to the show.