Portfolio Intelligence podcast: preparing for today's competitive college admissions environment
College admissions coach Nancy Steenson returns to the podcast to chat with our host John P. Bryson about the challenges that families face in today's increasingly competitive college admissions environment.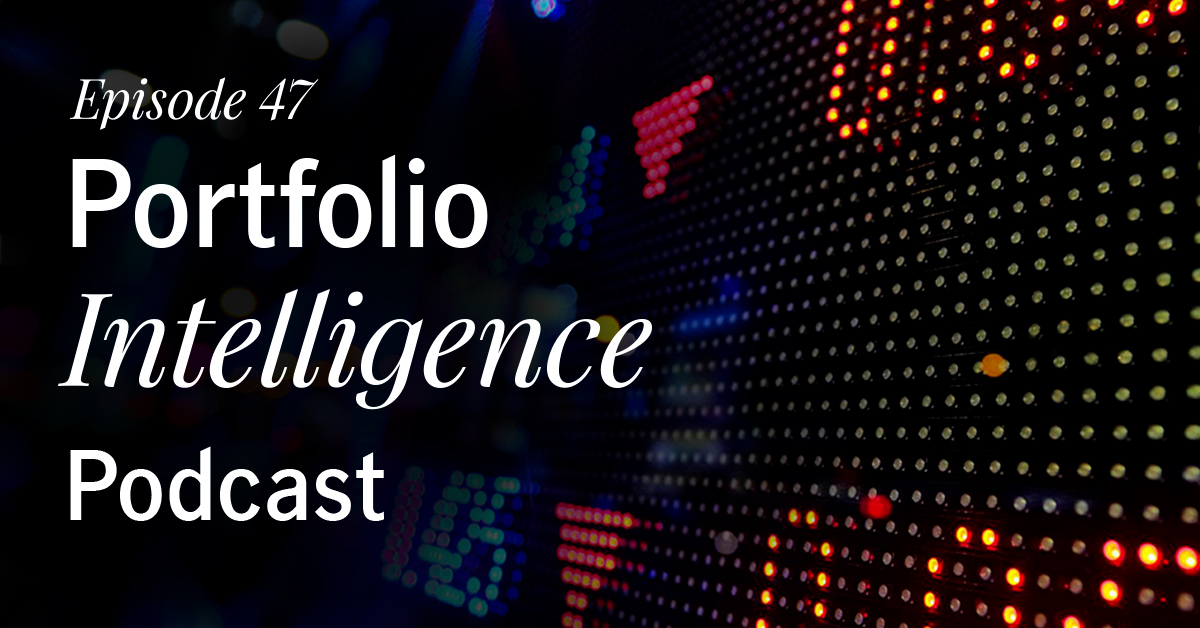 She explains the reality of grade inflation in high schools around the country and the exceptional portfolio of students who get into the top-tier universities. Furthermore, Nancy explains the nitty-gritties of demonstrated interest and how students can make the most of it. She also delves into her changing attitude about early decision-making and explains why she is now encouraging her students to consider it. Finally, Nancy offers a variety of tips to help students and parents in the ever-evolving process of college admissions. 
"We're hearing more and more that colleges are filling 50% to 60% of their incoming class with the early decision wave. It's a smaller pool of applicants and they accept more of them. Statistically, their odds of getting in are far better in the early decision wave than in the regular decision wave."—Nancy Steenson, College Admissions Coach


About the Portfolio Intelligence podcast
The Portfolio Intelligence podcast features interviews with asset allocation experts, portfolio construction specialists, and investment veterans from across John Hancock's multimanager network. Hosted by John P. Bryson, head of investment consulting at John Hancock Investment Management, the dynamic discussion explores ideas advisors can use today to build their business while helping their clients pursue better investment outcomes.
John Bryson:
Hello, and welcome to the Portfolio Intelligence podcast. I'm your host, John Bryson, head of investment consulting at John Hancock Investment Management. Today is May 10, 2022, and as you may know, May is 529 month. Here at John Hancock, we think a 529 plan is a great way for you to stand out from the crowd and help your clients achieve what quite possibly could be their number one or number two goal for investing. And that's sending their kids off to college.

John Bryson:
With that in mind, we've invited college admissions coach Nancy Steenson to our podcast. Nancy is a graduate of Tufts University, served on the Timberlane Regional School Board for six years, and was chairperson for two years. She also served on a number of committees, including the Curriculum Committee. Nancy is passionate about education and has always advocated for strong academics in the public school system. In order to prepare students for college, she believes that many students and parents underestimate the college admissions process and works with students to market themselves by sharing underutilized strategies that help them stand out from the thousands of other applicants. With her guidance, the students have been accepted to very selective colleges and top programs in their field. Nancy, I'm very excited. Welcome to the podcast.

Nancy Steenson:
John, thank you so much for having me. It's great to be back.

John Bryson:
Excellent. We've talked a bunch and quite often on this podcast, we talk about investment markets and inflation. It's a hot topic. I want to talk to you about inflation, but not the normal inflation. I want to talk about grade inflation. What do students and parents need to know now about grade inflation?

Nancy Steenson:
They need to know grade inflation is off the charts. It really, really is. There's a statistic I have from the U.S. Department of Education and it is that 59% of high school graduates in this country have an A average. Put that in context of your education, your history. I remember that if you worked really hard, you got As. A lot of people got Bs. Some people got Cs, and Ds were still passing grades. Today, nobody gets Ds and very few people get Cs. Kids are getting As all the time. And so as proud as we parents are of our kids, when they come home with As, it doesn't necessarily mean they're at the top of the class. Remember as well, many high schools are no longer ranking. So you have students graduating with a 4.0, 4.3, 4.7, but they're not necessarily at the top of the class. So it's just something to be aware of.

Nancy Steenson:
In many high schools, kids can do all their homework, they can get an A for class participation, they can do relatively poorly on quizzes and tests, and they can end up with an A- or a B+. I'm not making this up. I work with teenagers for a living. They tell me these things all day long, or they do poorly on a test, and they get to retake it, or they do poorly on a paper, and they get to do a rewrite. So it's a very different world and it's important to know that there is indeed grade inflation in many high schools across the country. So don't assume that your student getting an A means they're at the top of the class. The most important thing is that they're taking challenging classes and when and if they're in high school and have a chance to take a standardized test score, know that a good score relative to the colleges they're applying to will be a great way to back up those grades and say, "See, I really am smart and I really am ready for college-level work."

John Bryson:
Excellent. So the A is of the starting point. We've talked in the past about the transcript, the rigor of the transcript. And if you have a good test score, that's only going to continue to reinforce what you're doing. That's great. It is a little scary knowing that grade inflation exists. I remember I averaged an A in attendance and attitude. Everything else was a little bit fuzzy, so we won't get into those details. Hey, as parents, we're always hoping for the best for our children and many students aspire to attend elite colleges. How is the perception versus reality situation nowadays? How has reality changed? Does it match people's expectations?

Nancy Steenson:
Reality has changed. And these are always very challenging conversations with parents and students. There are many, many colleges and universities across the country, wonderful, wonderful institutions, many brand name schools. But when we're talking about the most elite schools in this country, colleges in the Ivy League, Stanford, Duke, you know the types of institutions I'm speaking of. It's important to know that they are untouchable for most students. And I hate to have to say that, but for your average, nice, smart, talented kids, they're not getting into those schools. And in fact, maybe should not put a lot of effort into trying, and I'll tell you why. It's not your mother's Harvard, where if you took a few APs and get all As and you have well-rounded extracurriculars, you have a shot. The students who are getting into those top tier schools are truly brilliant, in addition to extraordinarily talented. I cannot underscore this enough.

Nancy Steenson:
These students have taken the most rigorous classes the high school offers for four years and they've gotten As in all of them. They don't break a sweat doing it. If a high school offers 15 APs, they've usually taken all 15. These are not the kids who say, "I'll take AP bio, but maybe not AP language because English isn't my thing." These are kids who take the hardest classes in all subject areas. These are also the same kids who have some level of academic inquiry outside the classroom because they are so intellectual and so passionate about learning. They can't suppress it. So they're usually learning something else outside of the class. They may be, for instance, three years ahead in math and taking linear algebra at a community college; they may be doing independent research. In addition, they have to have passions outside of their academics that are genuine, abundant, exceptional, and unique.

Nancy Steenson:
These students often have national or international recognition at whatever they're doing outside the classroom. Many of them have had a major impact on their community in some way, shape, or form, such as starting a nonprofit. So, in short, nice, smart kids have many, many opportunities, but the kids getting into these schools are truly humbling for all of us. I quote an admissions officer I heard a couple of years ago at one of the top liberal arts colleges in the country. And he said that: "We have the privilege of choosing the interesting from among the smart."

John Bryson:
Wow, it's a really good quote. I mean, it's a little humbling. I think parents should be happy if they raised good children that are working hard and contributing, but it's probably good to have expectations that the elite is truly, truly elite. So don't set expectations that you can't achieve, and you can't be happy with–so really helpful.

John Bryson:
Another thing that we've talked about in the past that has changed is kind of the world we live in. In the past, you've talked about demonstrated interest. Can you dig into us again for what demonstrated interest is and how students can make the most of it?

Nancy Steenson:
Absolutely. It all comes down to something in higher ed, which is fairly new and that's called yield management. So there are people paid a lot of money to work for admissions departments, doing yield management, trying to figure out who is likely to attend the university after offers of admission have gone out. And this is big business in higher ed. In short, if they think that a student is not going to attend, they may not offer admission to that student, even though they're well qualified. One way a student can overcome this whole yield management thing is to make sure that they let the university know that they're very interested in attending.

Nancy Steenson:
Remember, we have something now called the common application where it's very easy to apply to a number of colleges. You check a whole lot of boxes, you submit your credit card, you do a few extra supplemental essays, and suddenly it's very easy to apply to too many colleges. It may be easy to apply to that many, but it's hard to show them all interest. So a student should really cut that list to the number of schools that are more realistic and where they can really show interest. And one way of showing interest is to visit the college. Another way of showing interest is to visit the college virtually because many colleges have wonderful virtual programming. It's nice to send a follow-up thank you email after a visit.

Nancy Steenson:
A student should not be applying to a whole bunch of colleges and have no idea if they have a core curriculum or an open curriculum; no idea if Greek life rules the social life on campus or not, no idea what kind of classes are offered in their major. It's in the student's best interest to know those things so that wherever they end up will be a good fit. And while they're learning those things, they are showing interest because they're doing their research, they're digging into the website. And colleges, unfortunately, know when students are on websites and when they're not. I don't want to know how, but I know it's true. So what a student wants to do is make sure they're showing the colleges they're applying to some level of interest, but the one caveat is the most selective colleges in this country, they are not interested. They don't care. So if a college is, let's say ... I'm just going to ballpark it: 10% acceptance rate or lower, it doesn't matter how much interest you show. They don't look at it. They don't consider it. They don't care.

John Bryson:
Got it. Really helpful. Certainly, as the world evolves, I can imagine for most of the colleges following them on Facebook and Twitter and all the social media aspects is something kids do naturally. And it's only going to help if they're focused on the universities and learning more about where they can go, because the fit you mentioned is critically important.

John Bryson:
Another thing that's evolving is the decision-making process. And I specifically love your thoughts on early decision and how people should approach it.

Nancy Steenson:
Early decision is a funny thing. Let's begin by defining it. So early decision is the early wave of applications that is when a student applies early in the fall, sometime between mid-October and mid-November; they get an answer usually sometime before Christmas or at the very latest, usually the early January and it's binding. The student agrees, the parent agrees, the guidance counselor has to sign off that they all agree that if a student is accepted, he or she will attend that university and will rescind all other applications. It's hard for a 17-year-old to make that kind of a decision. It's a very big decision for a young person. It's also hard for families to commit to sending their student to that college before knowing what the financial aid package may be, before knowing if the student will get any merit money. So it's a big commitment to the family as well.

Nancy Steenson:
For those reasons, I have rarely recommended early decision to my students; however, I and I will say a number of my colleagues are really changing our opinion on this. While I feel that early decision has never been great for kids, it's just good for colleges. I would say that things have changed enough that students have got to start playing the game if they want a piece of the action. So we're hearing more and more that colleges are filling 50% to 60% of their incoming class with the early decision wave. It's a smaller pool of applicants and they accept more of them. Statistically, their odds of getting in are far better in the early decision wave than in the regular decision wave.

Nancy Steenson:
Furthermore, what we're hearing from colleges ... And when I'm not working with students or speaking with you, John, I am out there visiting colleges and talking to admissions officers all the time. What we're hearing is "Well, this year we filled 58% of our class with the early decision wave, but not to worry, we have another 42% in the regular decision wave. Plenty of room for your underrepresented minorities and your first-generation students. And while I applaud their effort to increase the number of underrepresented minorities on their campuses, the fact is we see the middle class falling through the cracks a little bit. This is something that's been discussed certainly amongst my colleagues. It's been acknowledged by many colleges. I can't say anything's been done about it yet. This is sort of something we're all just starting to see and talk about, but I do have a concern about the middle class falling through the cracks. If you don't hit it with that early decision wave, your chances become very, very small.

Nancy Steenson:
So I don't like to have to say it, but the truth is I'm going to be encouraging my students who have their heart set on a highly selective college to deeply consider early decision so that they have a shot.

John Bryson:
That's great insight, Nancy, and it's great how you share how the landscape has evolved and what you're learning along the way. The last question I have for you. Every time we talk, I get some great insider tips. So what other tips would you offer that I haven't asked about to folks so they can really be on the cutting edge, learning from an expert like yourself?

Nancy Steenson:
This is a chance to share all my favorite pearls. I love it. Thank you, John. One thing I want to touch upon, I talk to more and more students who don't read, don't like to read, and it's disheartening. Not everyone loves to read, but it used to be some people did. And so, what I would tell parents when they ask me when they have young children, "My student's 12, my child is 7. My child is 2. What can I do to make sure that she'll be successful in school to make sure she'll go to a good college?" Read to them and encourage a love of reading in them. It's about family habits. Read to your children before bed instead of turning on the television for a half hour of sitcoms. Read to them and then encourage them to read to you. And then perhaps that will evolve to where you're both reading silently together.

Nancy Steenson:
I know families who read aloud to each other all through the years until the kid goes off to college, which I think is wonderful. So reading has become a lost art. We have all our screens, we've got our televisions and our iPads, and we've got our phones, but let's not forget about reading because reading makes smart kids, reading makes curious kids, reading makes great test takers to be quite honest with you, and reading makes successful high school and college students. So I'm very big on that.

Nancy Steenson:
Pivoting a little bit, I would also say that we need to keep in mind that this is a generation that's going to be going to graduate school at much higher rates than the prior generation. So think twice before writing a tremendously large check for college. If you have not been able to save ... I hope that people listening here are saving for college. But if you've not been able to save for college, please don't saddle your student with huge student loans for their undergraduate education. Look into the possibility of merit scholarship or starting at community college and then transferring after two years to a campus-based university. But don't take out huge loans for undergraduate education because our students will probably be doing just that for their graduate school. And we do not want yet another generation of students with loans that they just can't pay off.

Nancy Steenson:
I'll pivot one more time and talk about family vacations of all things. Don't wait until senior year of high school to start visiting colleges with your children. I think it's wonderful if all through their childhood, if you're away somewhere on vacation and any type of a family getaway, drive through a college campus, walk through a college campus. Let them see what it is, let them see what it looks like because huge state universities are very different from small private colleges and they'll take it all in. You know how kids do that. They'll take it all in. And then when the whole college search begins, when they're a junior, let's say in high school, they'll be that much further ahead in terms of having a sense of what colleges and the kinds of campuses that there are.

Nancy Steenson:
Another of my favorite talking points, John, is that parents should think ahead with their students. Again, this is not panic, panic, panic, but think ahead; don't just wake up the first day that your student starts high school and think about those classes. Start thinking in middle school about your student's academic journey, because in many middle schools you'll have opportunities that will set them up down a road for their high school classes. For instance, at many high schools, students have an option to take Algebra 1 or not as an eighth grader. If you look ahead and do the math, you'll realize that if you don't take Algebra 1 as an eighth grader, you will not take calculus in high school; however, if you do take Algebra 1, then you will be able to move through all the courses and get to calculus. Now I'm not a mathematician, would never have wanted to take calculus, but for students who do want to take calculus, they could be shut out.

Nancy Steenson:
So look ahead and say, "Should my student be taking algebra because we want to open up those doors?" And furthermore, there are more doors than that because at many high schools, if you're not enrolled in calculus, you may not take AP physics. So, what you do as an eighth grader can open doors or close doors. And I don't think any student should be pushed beyond the level that they're comfortable, but I do think that school is meant to be challenging. And if students are capable of being in accelerated classes, when they're in eighth grade, then they should take that opportunity to set themselves up and open up more doors later on. I think those are most of my pearls.

Nancy Steenson:
I guess the only other one, John, would be to say that as we reflect back on this pandemic, it made many of us realize that some of the advice we were giving our kids was actually right on par, but even more relevant. And what I mean by that is you don't have to join a whole lot of clubs in order to impress colleges on your applications. In fact, they're not impressed by a lot of clubs. What they love to see is students who find what they love and take it to a deeper level. And the best way to do that is not necessarily to become president of the student council, which is wonderful if you could be president of the student council, but sometimes it's a matter of who's more popular.

Nancy Steenson:
Students are very capable of creating their own opportunities. You don't just have to join something or be president of a club at school, figure out what you can do outside of school by creating opportunities for yourself. If you've always wanted to do something or learn something, do it. If your high school doesn't offer a club in something you want to do, approach your principal and ask if you can start that club. If you play the piano but wish you had always played the violin, take some lessons. So, do what you want to do even if the structure isn't already there. Those are the kinds of things that in the end are much more impressive than joining clubs.

Nancy Steenson:
And during COVID when we had the quarantine, this is what kids had to do if they wanted to do anything because all of the clubs and all the extracurriculars shut down. So it was a lesson learned that these are the kids that really shone during the application process because they had created opportunities for themselves. And now that the world is trying to get back up and going again, don't forget those lessons. Still kids should be finding opportunities for themselves and not just joining clubs.

John Bryson:
I love it. I love it. Be a leader and not a follower. These tips we've talked about. I'll share one last one that surprised me. We have visited a couple of college campuses with my ninth grader and even my 10-year-old. The motivation factor. They see, "Oh, this is what college is all about." And then they're more interested in working how to get there. So great pearl of wisdom that I've already benefited from. Great insight, Nancy, as always. It's always a pleasure to talk with you. Folks, this podcast is all about helping advisors build better practices and better outcomes for their clients. We've got a great amount of information on the college admissions process on our website and on saving for college on our website. That's jhinvestments.com. You can read about that and a bunch of other stuff. If you're interested, please subscribe to the Portfolio Intelligence podcast on iTunes or wherever you listen to your podcast. And as always, thank so much for listening to our show. Bye everyone.
John Hancock Investment Management and Nancy Steenson are not affiliated. 

This podcast is being brought to you by John Hancock Investment Management Distributors, LLC, member FINRA, SIPC. The views and opinions expressed in this podcast are those of the speaker, are subject to change as market and other conditions warrant, and do not constitute investment advice or a recommendation regarding any specific product or security. There is no guarantee that any investment strategy discussed will be successful or achieve any particular level of results. Any economic or market performance information is historical and is not indicative of future results, and no forecasts are guaranteed. Investing involves risks, including the potential loss of principal.