Portfolio Intelligence podcast: where are we now in the economic cycle?
Co-Chief Investment Strategists Matthew D. Miskin, CFA, and Emily R. Roland, CIMA, visit the podcast for an update on economic growth and where we could be in the current economic cycle.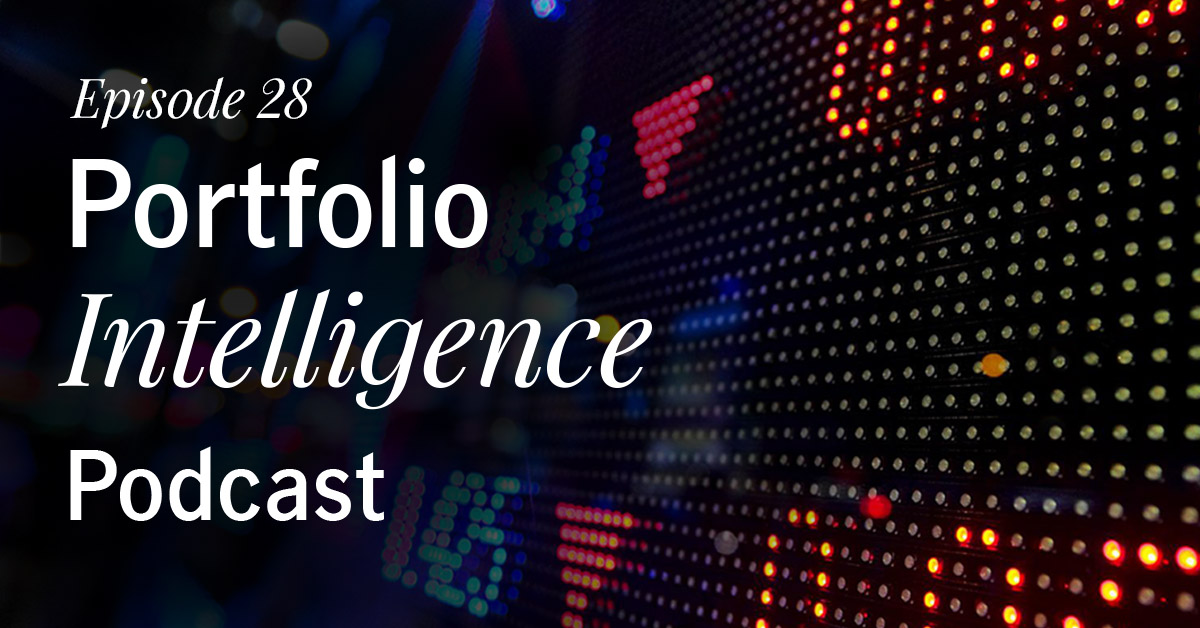 The strategists explain why consumer spending and the U.S. Federal Reserve's inflation policies are encouraging signs for investors. 
They also weigh in on why they like mid-cap and industrial stocks, and how investors are positioning portfolios in this phase of the bull market.
"While we do believe here that a new bull market is unfolding, we do expect to see potentially some digestion playing out in the markets over the next year."—Emily Roland, co-chief investment strategist at John Hancock Investment Management
About the Portfolio Intelligence podcast
The Portfolio Intelligence podcast features interviews with asset allocation experts, portfolio construction specialists, and investment veterans from across John Hancock's multimanager network. Hosted by John Bryson, head of investment consulting at John Hancock Investment Management, the dynamic discussion explores ideas advisors can use today to build their business while helping their clients pursue better investment outcomes.
John Bryson:
Hello, and welcome to the Portfolio Intelligence podcast. I'm your host, John Bryson, head of investment consulting at John Hancock Investment Management, and as always, the goal of this podcast is to help investment professionals deliver better outcomes for their clients and their practice. Today is April 15, 2021, traditionally Tax Day, but again, this year it's been postponed, which I'm personally in favor of. It's springtime. Things are getting warmer. We have warmer weather for one. We have a warmer economy for another. Some would even say it's getting hot, and we also have a warmer stock market.

John Bryson:
With that said, I've invited back two regular guests to the podcast, Emily Roland and Matt Miskin, our co-chief investment strategists here at John Hancock Investment Management. Emily and Matt, welcome to the podcast.

Emily Roland:
Hey, John. Thanks for having us.

Matt Miskin:
Yeah, thanks for having us, John.

John Bryson:
Excellent. So on Sunday, I was watching the Masters and rolled right into Jay Powell talking about the economy. So, Emily, I know you're a golf fan. I know you're a fan of the economy. Tell us what's going on right now. What are we looking at in terms of economic growth?

Emily Roland:
Sure, John. So it was a great Masters, but just turning to the economy, it is just remarkable. I mean, the U.S. economic data for March has been, I would say, breathtaking. You look at things like manufacturing ISM. It's 64.7 in the U.S., which is the highest since 1983. A million jobs restored in the month of March, if you include revisions for the prior two months. And just this morning, we saw a 9.8% month-over-month, yes, month-over-month increase in U.S. retail sales as those stimulus checks started to get spent. So it's clear here that the consumer's charging out of the gates here as excess savings start to get spent.

Emily Roland:
And meanwhile, inflation's remaining fairly well behaved. If you look at core CPI over the last three months, it's averaging about 1.9%, which is well beneath the Fed's 2% target. You heard Powell talk again on Sunday night about the Fed's new framework for average inflation targeting. They'd like to see inflation stay above 2% for some time before they make any changes to monetary policy, and we are still well below that. So if you look at this combination of more tempered inflation and really accelerating economic growth, it's hard to get much better than this in terms of a backdrop for risk assets or assets broadly speaking, as bonds can do well as inflation remains contained.

Emily Roland:
So I think the challenge for investors here is that a lot of the great economic news is priced in already to markets, and you saw that this morning with yields, in our opinion, staying put as markets are starting to potentially look now towards a more normal growth environment after we get past these next couple of quarters of blockbuster growth here in the U.S. So that's really the challenge going forward. Being tactical in order to identify the best opportunities, we think, is going to be increasingly important here as we head forward.

John Bryson:
Now, we're going to get into that. I'm going to dig a little bit deeper into the economy and how to be tactical to take advantage of where we are right now. But before I do, I want to talk about the other thing that's hot: It's the stock market. Matt, I want to talk about how valuations are looking. I feel like every time I have you two on the call, we're talking about markets hitting new highs. How do you feel about valuations right now?

Matt Miskin:
So the S&P 500 is trading at 22 times forward earnings, and the forward earnings estimate is about 25% growth for 2021. You could say that's a high bar to overcome, but just thus far in Q1 earnings results, which really just kicked off yesterday with the big banks coming out and providing earnings, they are blowing out expectations. The financials sector showing some really nice earnings results, and really what this means to us is the multiple on the market, the valuation of the market, may not change that much. You might not get that much more multiple expansion, but it's going to be all about earnings.

Matt Miskin:
We're watching these earnings seasons as they unfold for Q1, and subsequent ones we'll be watching very closely. We believe earnings will come in very strong this year for corporations, and that's what's going to drive stock prices. So we want to focus on the best opportunities for earnings recovery potential that's bringing us a bit to value. It's bringing us down in cap into mid-cap stocks. And our favorite sector for earnings recovery? Industrials, for the reopening and the economic activity that Emily was just referencing.

John Bryson:
Excellent. So going back a little bit, Emily, I'm going to ask you. We saw the sharp decline in 2020 that we all experienced, and we're seeing this emerging bull market. How does that look versus past bull markets, and can we learn anything from it?

Emily Roland:
So, John, the second year of bull markets has historically been more challenging than the first as the returns normally are front-loaded or front-end-loaded. So if you look at the S&P 500, it bottomed on March 23 of last year, and one year out, it was up 75%. It's up, of course, even more than that if you look as of today. That is better than any other bear market that we've had in the U.S. since World War II. In fact, on average, you've earned about 47% one year out. This really only rivals the post-global financial crisis bull market recovery, and we're tracking pretty closely to that.

Emily Roland:
One thing I will point out is that after the initial surge in stock prices, following 2008, 2009, we did see a period of consolidation or volatility playing out over the next one to two years before markets ultimately found their footing and climbed higher. So while we do believe here that a new bull market is unfolding, we do expect to see potentially some digestion playing out in the markets over the next year as we look forward past this, again, surge and economic data towards a more normal environment, and that's one of the reasons that we think it's important to be very thoughtful about risk-taking in portfolios and very thoughtful about asset allocation in the year to come.

John Bryson:
Got it. Yeah. It wouldn't be surprising to have that volatility with what we've seen over the last couple of months as the market digests all this news. So, Emily, we started talking about the economy. I want to check in on where we are in the economic cycle and get back to the point you made about how people should be positioning their portfolios tactically for where we are in that cycle.

Emily Roland:
Sure. So we're still in the early part of the economic cycle, given the outside strength of the economic data, but this cycle is aging quickly. Not only is the market cycle happening at warp speed, but the economic cycle is recovering faster than almost any economist predicted. That makes things a little bit more challenging for markets. When we think about early cycle dynamics, we want to be focused on areas like value in the U.S. which still has a lot of catch-up potential after a lot of outperformance from growth over the last number of years here, and we also want to look to areas like mid-cap equities to have exposure to more economically sensitive parts of the market.

Emily Roland:
Matt also talked about the industrials sector, which is a big overweight in mid caps, and we think that that intersection of those areas should do well as we experience this post-recessionary bounce, as we start to rebuild and quite literally rebuild as we potentially see infrastructure spending playing out over the next couple of years. We expect to see good solid earnings growth on a relative basis coming out of industrials as well, but we also want to be mindful of getting ready for this middle part of the economic cycle, which we're starting to transition into after this hugely big run for areas like small caps and high beta.

Emily Roland:
So we want to look to the quality factor, and it's typified by sectors or parts of the market with great return on equities, strong balance sheets, good earnings stability, really businesses that could do well as fundamentals started to come back into the spotlight. So I would wrap it up by saying that really 2020 was all about multiple expansion, and Matt talked about that. As earnings growth becomes the name of the game in 2021, it's really about identifying companies that can do well that have strong business models, that can do well regardless of which direction the economic cycle goes in going forward. If it is more modest, we think that those strong companies with great fundamentals can really rise to the top. So I would say a combination of value and quality for this next stage.

John Bryson:
Value and quality; that makes sense, and it's consistent with the messaging that I've heard from both you and Matt. Now, Matt, I listened in earlier on yours and Emily's WebEx earlier this week, the Market Intelligence quarterly update, and you had a lot of interesting comments around the U.S. dollar that I want to dig in on. Can you share with us your thoughts on the dollar going forward, maybe kind of recap some of the action we've seen recently, and what impact that's having on international equities?

Matt Miskin:
Yeah. So what we've seen is the dollar has been in a weakening trend for much of the back half of 2020, and then in the first quarter of 2021, we actually saw it strengthen a bit. What we believe was driving that was better economic activity in the United States vis-a-vis the rest of the world. What we believe is the number-one end driver of currencies in general is relative economic strength because that's going to drive capital flows. It's going to drive higher interest rates, and that's going to cause interest rate differentials to be favorable for a currency, which has typically provided currency strength.

Matt Miskin:
And so you add all this up. We believe that the dollar weakness period, the big move is behind us. We're in a basing period, we believe. And in our view, over the next 12 to 18 months, the dollar ends up being stronger off these low levels. Now, in the super short term, we watch technicals, which means, the trends that are playing out. The Euro is getting a bit stronger as of late. We don't really fully understand the logic behind that. Europe right now is really struggling, economically speaking, and we don't see the strength there to support that, which is leading us to a bit of an underweight in European equities and really taking a lot of tracking error in our positioning abroad to find more active opportunities or idiosyncratic opportunities.

Matt Miskin:
So our view, a dollar actually ends up a bit stronger over the next 12 to 18 months. That is putting us tilting into the United States. So we look at earnings PMIs and currency. Right now, earnings PMIs are, again, tilting us in the U.S. and we'll have to see about the dollar, but our view is that it ends up a bit stronger than where we are today.

John Bryson:
Got it. So we've hit U.S. equities briefly on international. I do want to touch upon fixed income. Matt, where are you seeing opportunities, you and Emily, across the network in fixed income?

Matt Miskin:
The first thing I'd say is that the move in Treasury yields has been substantial. We've gone from about 51 basis points in August on the 10-year Treasury yield to as high as 177, just about a month ago on the 10-year. We're now down. We just actually dropped a bit below 1.6% on the 10-year, so there's a bit of digestion that we're seeing in Treasury yields. One of the things we were citing in communication with advisors and clients is that the bond market had gone through a bit of a bear market in the first quarter.

Matt Miskin:
Now, bond market bears are different than stock market bears. Bond market bears are more like koala bears, whereas stock market bears are more like grizzlies. But we were down about 4% on the Aggregate Bond index, and that has actually been typically a point where the bond market typically runs its course of a corrective price action and then rebounds. That's what we've seen a bit of. So we looked at different opportunities across the fixed-income landscape to start Q2. We remain overweight in investment-grade corporate bonds.

Matt Miskin:
BBB corporates are of our favorite. These are economically sensitive businesses. They're a bit more cyclical in nature. Financials is where our bottom-up strategies are finding some really good opportunities, and these businesses improve as the economy improves. So the spread or the additional income that you get on a corporate bond versus Treasuries likely stays in place. You likely get that extra income. For BBBs, the yield is about 2.5% today. And then we're looking at higher quality high yield. So we believe that the lower rungs of high yield right now are priced pretty richly. They're not incorporating a lot of risk.

Matt Miskin:
But the higher quality parts of high yield we believe will have upgrade potential to investment grade, which they call in the industry "a rising angel," and those really have some nice opportunities. They have about a 4% yield. So investment-grade corporates, a bit of high yield, and where this all comes together, when thinking about this in the Morningstar category framework is a core-plus strategy.

Matt Miskin:
So core plus, you have enough of that core bond exposure, but then you're giving the strategy the ability to go into high yield, go into credit, in bottom of bond picking. Just like there are stock pickers, there are bond pickers. That in the corporate space will likely be the most important alpha engine for fixed-income investors in 2021, and where we're seeing the best pond to fish in or lake to fish in is in that corporate credit space right around BBB to BB.

John Bryson:
Excellent. Thanks, Matt. I think you've coined the new term. We're going to call it a grizzly bear market or a koala bear market—I like that quite a bit. I envision your kids teaching you the differences between the two, because that's what they're focused on.

Matt Miskin:
There you go.

John Bryson:
Excellent. Hey, Emily, any closing thoughts for our audience around positioning or where they stand or how soon they need to get their taxes filed?

Emily Roland:
I'm very pleased by the extension of the tax deadline as well. One of the things, John, that we spent a lot of time looking at is his fund flows, and we would like to get a gauge of where investor sentiment is. One of the biggest trends that we saw in 2020, which was unsurprising, was that investors went to cash, and they went to money market funds. It's unsurprising because typically that does happen in these risk-off environments and recessionary periods.

Emily Roland:
When we looked at money market assets last year, the total got to nearly $5 trillion. That is a huge amount of money sitting in cash, and in our view, that's simply not a great place to be right now. In fact, it's pretty subpar, when you think about all the great things the Fed has done. We didn't talk much about the Fed today, but I'm sure they would like that as they like to slink into the background if they could, but they can't. But they've done a lot in order to get us to the other side of COVID-19. The side effect of that is that rates are going to stay near the zero bound for some time, and that really does punish investors who are sitting in the shortest duration assets and in cash.

Emily Roland:
So we're starting to see that cash coming off the sidelines. That typically happens after recessions. It also typically happens after elections, is investors tend to sort of hide away until some the political backdrop is more clear. So we have the double whammy of emerging from the recession and the election, and so cash is starting to get deployed here. We think that it's an important time to remind investors about the power of a balanced portfolio. We look over the last 20 years. We talk about this in Market Intelligence and highlight that a 60/40 portfolio has provided similar return with less risk, and that's still very important, especially as we're starting to see correlations between stocks and bonds return to negative levels.

Emily Roland:
You just think about the importance of diversification. We lost that a little bit in the midst of all the chaos around COVID-19 and the market reaction being so volatile in both directions over the past year. Now we're seeing this kind of "normal" relationship between stocks and bonds reassert itself here. So we think that that power of diversification remains incredibly important here as cash starts to get deployed, investors start to reach for risk. Then within that 60/40 portfolio, again, looking to high conviction ideas, like U.S. value, mid caps, corporate credit, and really trying to be nimble and tactical in terms of identifying those opportunities as potentially we see more volatility in the year to come.

Emily Roland:
So I just also like to mention, we did just release the Q2 version of Market Intelligence, as I know you discussed in the beginning of the call. So whoever would like to hear more about these themes that we've talked about today, we've got some great illustrations in there, and you can find it on our website. Thanks, John.

John Bryson:
You got it. I would echo that folks. If you want to hear more, definitely visit our website jhinvestments.com. You can also follow Emily and Matt on Twitter. Emily's @emilyrroland, and Matt is @matthew_miskin. If you're on our website listening to their insights, you could also subscribe to our Portfolio Intelligence podcast. Please check us out or on iTunes or wherever you listen to your podcasts. I want to thank Matt and Emily for joining us today and thank our audience for listening to our show. We'll talk to you next time.