Portfolio Intelligence podcast: what P/E ratios are saying about stocks
Co-Chief Investment Strategists Emily R. Roland, CIMA, and Matthew D. Miskin, CFA, join the podcast to address valuation worries and why overall market price-to-earnings (P/E) ratios have been steady due to strong earnings growth.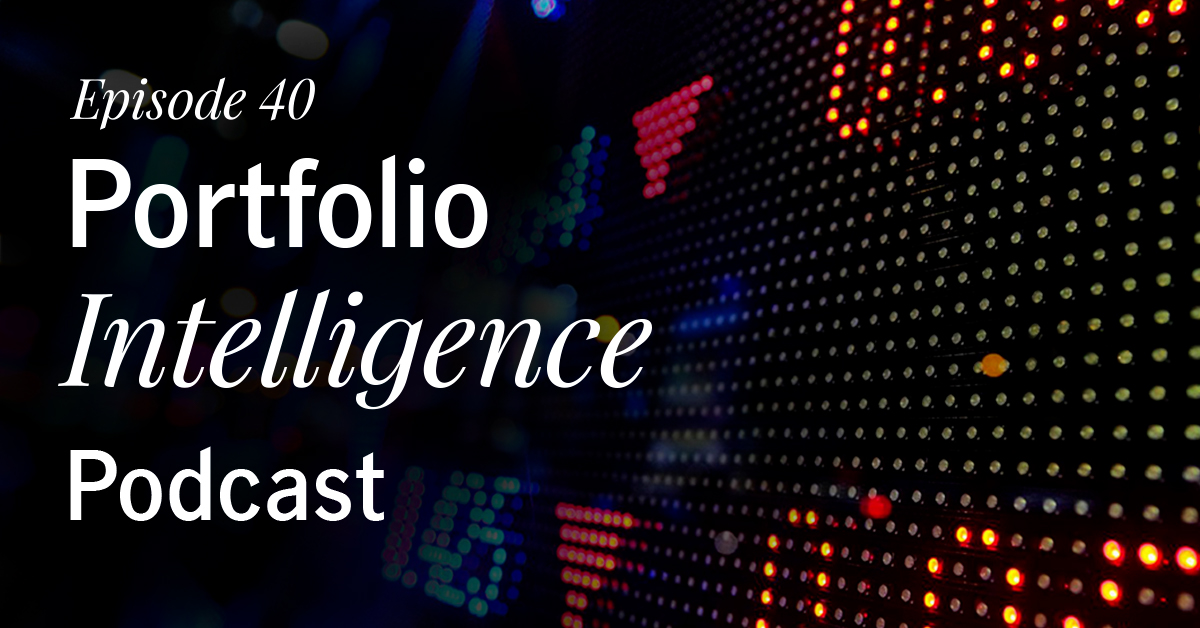 The strategists also discuss what retail sales, jobs reports, and other indicators are saying about the health of the U.S. economy. Finally, they weigh in on what higher inflation means for investors and their outlook for lingering supply chain disruptions.
"We are seeing a shift from goods consumption, which has been the primary driver of growth since the pandemic, over to services as the reopening has continued to accelerate."—Emily R. Roland, CIMA, Co-Chief Investment Strategist at John Hancock Investment Management
About the Portfolio Intelligence podcast
The Portfolio Intelligence podcast features interviews with asset allocation experts, portfolio construction specialists, and investment veterans from across John Hancock's multimanager network. Hosted by John Bryson, head of investment consulting at John Hancock Investment Management, the dynamic discussion explores ideas advisors can use today to build their business while helping their clients pursue better investment outcomes.
John Bryson:
Hello, and welcome to the Thanksgiving edition of the Portfolio Intelligence podcast. As always I'm your host, John Bryson, head of investment consulting at John Hancock Investment Management. Today is November 17, 2021. And we're going to talk about some of the things that we're grateful for. First and foremost, I am grateful for my two most popular guests, Emily Roland and Matt Miskin, the co-chief investment strategist here at John Hancock Investment Management. They always bring great content to our conversations and I'm looking forward to hearing from them and what they're thankful for. So Matt and Emily welcome.
Emily Roland:
Thanks John. Happy Thanksgiving.
Matt Miskin:
Thanks.
John Bryson:
Thank you. You too. So let's jump right in. I'm going to start with you, Matt. Can you tell us what your most grateful for as it relates to the markets?
Matt Miskin:
So the earnings backdrop has been phenomenal this year and I think as investors, this year feels almost unnerving with how much the market has gone up. But if you put it in perspective of the earnings and the fundamental backdrop, earnings are up or are on track to be up about 45% this year for the S&P 500. To put that in perspective over the last year, the S&P 500 price is only up 31%. So earnings are actually growing faster than prices over the last year. And if there's one thing to be grateful for to us in this market is that the fundamental backdrop is actually sound. It actually supports where the market is. The multiple on the market has come down actually a little bit, not a lot, but it's come down from about 22, just over 22 times to 21 times.
Matt Miskin:
It hasn't gone up that much. It's not been a multiple expansion year. It's been an earnings growth year. And as we, Emily and I often say, stocks follow profits, and this year has been that. So as investors think about their portfolios and think about the equity component, that profit engine has been something to really be thankful for because it's a fundamental catalyst that's really played out. And we're lucky that we got back out of this pandemic the way we did. We got corporate profitability to come back the way it did and that has really driven this market in 2021.
John Bryson:
It feels different this holiday season. Things are opening back up. There's hope that the face to face gather around the table opportunities will be there for everybody. So I share your optimism and excitement. Emily, what are you grateful for? Maybe you can focus the conversation around the economy.
Emily Roland:
So John, Matt covered the fundamental backdrop and I thought it was funny how he mentioned that stock prices were only up 31%. I guess we're conditioned to that now, but the economy's actually been another positive as of late that we're very thankful for. So Q3 wasn't all that great. We actually saw economic growth disappoint to the downside. So one thing we watch is the Citigroup Economic Surprise Index. It measures the degree to which economic data is essentially beating or missing estimates. And starting in September, we actually saw that fall into negative territory as the data came in worse than expected, but it started to turn up about two months ago and the data really just keeps crushing it. Looking just here in the first part of November, we just saw retail sales jump 1.7% month over month for the month of October. That's the largest gain that we've seen since March.
Emily Roland:
And it exceeded economists' expectations by quite a bit. Retail sales are actually now up 16.3% on a year over year basis for October. So the consumer is really remaining the workhorse of this economy. Another standout data point, U.S. services PMI hitting a new all-time high. So we are seeing this shift from goods consumption, which has been the primary driver of growth since the pandemic over to services, as this reopening has continued to accelerate.
Emily Roland:
And then also the jobs report for October, we saw really solid gains in employment. We added over 500,000 jobs for the month of October. We saw significant upward revisions, the tune of 235,000 for the prior two months. So the data is really coming in solid, which essentially helps contribute to that better earnings backdrop that Matt talked about. And from an economic standpoint, it means that demand is still very robust. That's what we're seeing in the PMI data. That's what we're seeing in the retail sales data. So even in the face of higher inflation, it took us like three minutes to get to the I word, inflation and those higher input costs, we're still not seeing that demand destruction that sometimes comes along with higher prices. So all good signs here as we head into the last month of the year and into 2022.
John Bryson:
Excellent. Now, when we bring this together, the combination of the economy and the markets, a big player that we haven't mentioned yet is the Fed. Matt, how does this play into your view of the Fed and what they're thinking going forward? And is there anything that we should be thankful for?
Matt Miskin:
One thing that I think, it's going to turn it on its head is I think we should be thankful for supply chain disruptions. And I know that sounds crazy because as we go out shopping right now for holidays, it's nuts and we're trying to find things and it's difficult, but if you didn't have these supply chain disruptions as basically an excuse for this higher inflation, the Fed would be probably raising rates already. And Powell and the Fed are using these supply chain disruptions as a scapegoat. They're saying, look, it's transitory, higher inflation. Yes. But we're going to be really slow to move forward because they believe that as these supply chain disruptions come off, these bottlenecks come off, that actually inflation could dissipate. And that is a key linchpin to the overall view that we have on the equity markets, on the cycle.
Matt Miskin:
If the Fed, if Powell, if you rewind to old Fed chairs Volcker or Greenspan, they probably would've been raising rates by this point. Inflation is above the 2% target. They were raising rates aggressively before. Powell and The fed are giving this economy more runway. And that is something that is, I think it's a mix of Powell and the Fed and where they've become, because inflation was so low for so long, but also because they have an excuse in terms of inflation being elevated and that's giving them the ability to move slowly. So we believe that the Fed is going to raise rates next year. We have changed that. Before we thought it was 2023. Now we're thinking one in 2022. They still got to reduce their tapering. Another thing is, is that we've got some grace period here in terms of tapering.
Matt Miskin:  
So it's already started in November, but it's forecasted to go until mid-June. So we've got six, eight months or so of tapering before they can even really raise rates in our view because they're not going to raise rates and do QE. That just, it would be mixed messages. So that pushes this out. And then if the supply chain disruptions come off by then, and we got more time, that gives the cycle more time. And we really think about the cycle. If the Fed is slow, methodical, that makes this cycle longer, and that is something we can be grateful for as we move into 2022.
John Bryson:  
Well, it's funny. Your point of view is interesting that you and Emily have both shared with me many times markets don't die natural deaths, bull markets don't. They get killed by the Fed. So the fact that the Fed would probably play slower going forward is a positive. And the other interesting thing I find about your comments is if you're thankful for supply chain disruptions, that means you are not in charge of Thanksgiving dinner. I can say that with certainty. Exactly. All right. Emily, one of the things we think about when we head into Thanksgiving is having a great meal with friends and family, and sometimes we overindulge let's be honest, right? So we've got a situation with a dovish Fed, strong economy, and a resilient market. Should we be worried about any investors overindulgent on risk right now?
Emily Roland:
So I think that's a great point. And this is the part of the market cycle, Matt talked about the cycle. It's moving quickly. And this is when we would start to get worried about excessive optimism or irrational exuberance when monetary policies accommodative, when the market's ripping higher. And in some ways we're sort of seeing that behavior in pockets of the market. Mean stocks made a bit of a comeback this quarter. We saw some not yet very profitable growth stocks continuing to get bit up, but broadly speaking, the flow data are suggesting that investor sentiment is actually still very conservative. We've seen money market funds actually see over 200 billion in inflows this year, which is the second highest among Morningstar categories. The highest has actually been taxable bonds, another more risk managed asset class. We've seen about $500 billion in inflows into taxable bond funds this year.
Emily Roland:
So just relentless pace of flows into less risky parts of the market. We're also seeing just looking at bank accounts. There's a record $18 trillion in cash that's sitting in bank accounts. So consumers balance sheets are very elevated. There's a ton of cash on the sidelines, whether it's waiting to be invested, sitting in money market funds, which aren't going to do you much good as an investor with rates as low as they are and inflationary pressures here remaining, or whether it's just cash simply sitting in bank accounts. As that cash starts to get put to work, that is also something that could extend this cycle. So again, not really seeing that behavior in a broad way yet, which means that we still are feeling very constructive as far as the year ahead, in terms of equities broadly speaking. We do think that it's important to think about where the opportunities are.
Emily Roland:
We want to be cautious about taking too much risk in portfolios, really loading up on those really cyclical, highly economically sensitive areas of the portfolio that tend to do well in that very first phase of a recovery. Instead, we want to start to think about this mid cycle environment where quality is going to become more important. So looking for stocks or sectors that have great balance sheets, ability to pass on higher input costs with pricing power, a great competitive position, and strong earnings growth prospects is really where we want to be focused. So quality will be the name of the game into next year, but we still certainly think that this market has some legs. We just think it's important to be careful about where you're invested.
John Bryson:  
Excellent. And Matt maybe tie it all together for us. Our key audience here is financial advisors and investment professionals. What should they be thankful for in terms of a diversified portfolio and portfolio construction?
Matt Miskin:  
So when you think about this year, it's been a great year for U.S. equities and broadly speaking equities. And it's been a risk on year, but the part of a portfolio that has struggled is bonds and is fixed income. And you've seen high quality bond yields rise, prices down, treasuries most notably. And the higher quality bonds you had, the worse they did. And right now, I know diversification, clients never like the part of the portfolio that doesn't do as well, or might be down a bit when other part is doing better. And you almost have this feeling that you want to take the part that's down and make it more like the part that's up. But what we're seeing this year is a rerating in bond yields and higher quality bond yields are, they're in essence reloading, so they're going up.
Matt Miskin:  
And when we look out from here, you actually, that's a good thing. We're not in a recession yet. We don't believe that it's near by any means, but if yields rise on high quality bonds, when you really need them, they're going to have more return potential because that starting yield is going to be higher. So if yields come back down because we have a growth scare or we do have a recession at some point, that's going to lead to more return potential, and that's going to provide a better buffer for portfolios. So the diversifying component of fixed income is it's working this year. Stocks are up, bonds are down a little bit. That's totally normal. But what we're looking at for bonds is it's almost like your relief pitcher. So right now your pitcher in the game is equities and they're going at it.
Matt Miskin:  
It's inning after inning and they're pitching great. You're letting your bonds rest right now. Let your bonds come in at that eighth to ninth inning of the cycle, and they're getting better. They like resting because that gives them better ability to pitch for those final innings for you. And the higher the yields on a high quality bond, the better return potential, the better diversification potential. So I know on the face of it we don't like anything down, but that is something that can be beneficial as we think years from now and we move on from inflation risk to growth risk, or credit risk. And that's something that in terms of a portfolio context, we'll be better off.
John Bryson:  
That's great insight. I'll be honest I would've thought you would've gone with a football analogy since we're coming up on Thanksgiving, but I'm going to take the baseball analogy because it works. Well, what I'm thankful for, like I said at the beginning is the insights I always get from both you Matt and you Emily. So thank you for being on our podcast. Folks, if you want to hear more, they've just released their intro quarter market intelligence update. It's on our website, jhinvestments.com. They also have an interesting blog piece on inflation and as always, you can follow them on Twitter @EmilyRRoland and Matthew_Miskin. And the last thing that I want to say that I'm thankful for is our audience. Thanks for listening in. Thanks for subscribing. We very much appreciate your support. I wanted to ask everybody to have a safe and wonderful Thanksgiving and we will be talking to you again before the end of the year. Bye everyone.