Portfolio Intelligence podcast: how to pay for college
College admissions coach Nancy Steenson is an expert at helping students and parents navigate this often daunting process.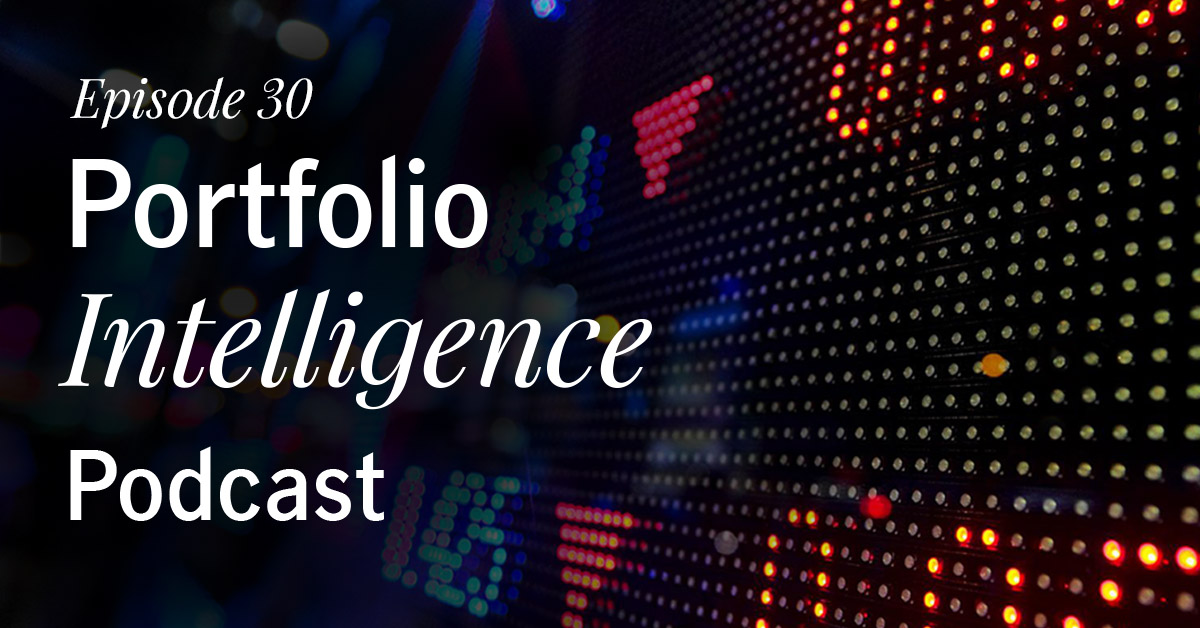 In this episode of the Portfolio Intelligence podcast, she discusses underutilized strategies that students can use and how to find universities that try to lure good students with tuition discounts and scholarships. 
Steenson also lists helpful tips for the college application process, including how to write effective essays, what to look for in a college, how to prep for standardized tests, and how the pandemic has affected the admissions process.
"Essays are my favorite part of the college application process, because it's where the student has a chance to really show who they are."—Nancy Steenson, college admissions coach
About the Portfolio Intelligence podcast
The Portfolio Intelligence podcast features interviews with asset allocation experts, portfolio construction specialists, and investment veterans from across John Hancock's multimanager network. Hosted by John Bryson, head of investment consulting at John Hancock Investment Management, the dynamic discussion explores ideas advisors can use today to build their business while helping their clients pursue better investment outcomes.
John Bryson:
Hello, and welcome to the Portfolio Intelligence podcast. I'm your host, John Bryson, head of investment consulting and education savings at John Hancock Investment Management. As always, the goal of this podcast is to help investment professionals deliver better outcomes for their clients and their practice. Today is May 7 and I've invited back a very popular guest. We had college admissions coach Nancy Steenson on about a year ago in what was one of our most popular podcasts. So, we've asked her to come back and give us an update on what's going on in college admissions.

John Bryson:
For background, I will remind you that Nancy is a graduate from Tufts University. She served on the Timberland regional school board for six years and was chairperson for two. She also served on a number of committees, including the curriculum committee, which she chaired for two years. Nancy is passionate about education and has always advocated for strong academics in the public school system in order to prepare students for college. She believes that many students and parents underestimate the college admissions process. She works with them and those students to better market themselves, in their best light, by sharing underutilized strategies, which we'll hear about today, to help them distinguish themselves from the thousands of other applicants that colleges see. With her guidance, students have been accepted to very selective colleges and top programs in their field. Nancy, welcome back.

Nancy Steenson:
Thank you, John. I'm so happy to be here.

John Bryson:
Excellent. Let's jump right in. As I mentioned, I want to talk about some of the latest trends that you're seeing and discussing with clients. What's front of mind for you?

Nancy Steenson:
There's a great book that came out about a year ago by Jeff Selingo and it's called Who Gets In and Why. And even though it was written prior to the pandemic, it was very interesting how it predicted a trend over the following year. In the book, Jeff Selingo writes that colleges can be seen as buyers and sellers. And this terminology has sort of caught on. So, the sellers are the most elite schools in this country— maybe the top 50 to 100 schools in this country—the schools that have an admissions rate of under 20%. They're sellers; they're selling, and people are buying.

Nancy Steenson:
And they can tell people to jump, and people will ask, "How high?" But the buyers are the vast majority of colleges in this country. There are many, many, many wonderful colleges that are looking for great students who have a lot to bring to their campus. And they're ... Many of them are giving significant tuition discounts and scholarships to lure these students. So, it's important to know, in the landscape, there really are buyers and sellers, and that the sellers have a lot of clout, but the buyers have a lot to offer. And students need to open up their minds to all of these opportunities.

John Bryson:
Excellent. Who Gets In and Why by Jeff Selingo. I'm going to check that one out now. Now Nancy, one of the other topics we've talked about in the past, in terms of having students stand out, is the essays that they submit to colleges. What are you seeing in terms of trends with the essays that you'd want to coach people toward?

Nancy Steenson:
So, essays are my favorite part of the college application process, because it's where the student has a chance to really show who they are. As we've talked about in the past, John, the essay is really not like an English paper. It's not a formal piece of writing. It's meant to be in the student's authentic voice. They want to get to know who the student is as a human being, because they already have data points. They have GPAs, and they have test scores perhaps, and all those things. But they want to know who the student really is. And that 650-word essay that's required for almost every college in the country is a chance for a student to let them know who they are and what they want to talk about.

Nancy Steenson:
The trend that I'm seeing, which I don't care for, is well-meaning parents who are trying to help their students through a difficult process, in a stressful time, by giving too much help with the essay, in some cases, rewriting the essay. There is no question that these parents only want the best for their kids, and they're very well-meaning. But usually, parents really don't understand what makes a great essay. And I will tell you that colleges don't want a mature, sophisticated voice in that essay. And usually, they can smell it coming. And usually, if it's inconsistent with other parts of the application, such as the supplemental essays, or if it's inconsistent with the things that the recommenders have to say, or if it's inconsistent with the grades the student got an English class, then they know it wasn't written by the student.

Nancy Steenson:
And really, authenticity is the most important part of that essay, knowing that it really came from that student, and that student is just speaking in plain language. So, having parents jump in and try to help is usually a recipe, not only unethical, but it's a recipe for disaster for everybody.

John Bryson:
I think that's really good advice because it's a little bit of the truth that hurts, right? We all mean well for our kids, but sometimes we need to take a step back and let their voice shine through. So, that's really helpful. I'm glad you shared that. The other thing that we've talked about in the past, and I want to hear how conversations are going, comes back to paying for college. We know it's challenging out there. Any advice you're giving students or parents about paying for college?

Nancy Steenson:
Absolutely. It is so important early in the process to have that conversation. It's not just a matter of, "Well, these are my grades and these are the schools I want to apply to because they offer my major, or because it's a good social fit for me." It's really important to make sure the colleges on your list are a good financial fit. Part of that first conversation that I have with my students and their parents is asking them, number one, "Do you qualify for need-based aid?" And there's a path of forecast, or we can figure that all out. If you don't qualify for need-based aid, or if you don't qualify for much need-based aid, do you have savings to pay for college or is there a way you've thought about for paying these huge bills? If not then it's really important to say, "Okay, then what is my budget? How much do I have to spend on college each year for the next four years?"

Nancy Steenson:
And then, let's look at colleges in that range. When you go buy a car, most people know if they're going to head off to the Mercedes dealership, or the Toyota dealership, or the used car dealership. Most people have some idea of where they're going. Similarly, with college, you really should be looking at colleges that are in your budget. As I mentioned earlier, there are many wonderful colleges that do some significant tuition discounting for strong students. So, what we don't want is to put colleges on the list that your son or daughter have fallen in love with that you know you can't afford, but "Oh, if he gets in, we'll figure something out." Because I guarantee you, a year from now, when the award letters come in, there is no magic wand.

Nancy Steenson:
We can pretty much predict what the tuition is going to be and whether that's a school that discounts or gives merit scholarships. There won't be any surprises, so it's very, very sad when I see a student get into her dream school. Mom and Dad said, "Well, we'll work it out. We'll find a way." And then, when they look at the actual numbers, March or April of senior year, and they say, "Well, dream school is $75,000 a year. And this one here is only going to cost us $35. How can we justify sending you to that dream school?" And their daughter is crying. We don't ever want that scenario. So, know your budget; work within it. There are wonderful schools. There is never a magic wand.

John Bryson:
Again, really sound advice. You don't want that exciting moment to become a disappointment because you've set unrealistic expectations, so that's really good to hear. Now, we've talked before. We had you on a year ago. Applying for college is stressful enough without COVID, right? And we've had COVID going on for a year now, so the stress level is twice as much. How are you seeing that play out with students? And what advice are you trying to give them to help them navigate through it?

Nancy Steenson:
John, I think that depression, anxiety, eating disorders is becoming a pandemic of its own among our young people in this country, for reasons we won't even get into. Social media certainly plays a part, but I see teenagers increasingly coming to me very stressed and very anxious. Either they share that with me or their parents share it with me, and that's really unfortunate. The pandemic has certainly escalated that. And then, you throw in the college admissions process and these kids—there's pressure on them. They want to get into their dream school. They want to please their parents. They want a brand name that they can brag about.

Nancy Steenson:
There are so many, so many issues here. And it just increases that stress and that anxiety for students. I want to be very clear that there, again, are so many wonderful colleges out there. There is a right fit for every student. But I think that there is a misconception. A generation or two ago, A-students went to Ivy League colleges; A-students went to elite, New England, liberal arts colleges. And I have to be honest with you, with the grade inflation that we see everywhere, a lot of kids are getting A's. A lot of kids are getting A's and B's. And being an A-student is no longer enough to get into one of these top tier, very highly selective colleges. So, I think that ...

Nancy Steenson:
I see very often parents have an assumption that if their student has all A's, or has a 4.0, that they can put these very, very selective schools with an admissions rate of six or 7% on their list with a reasonable expectation that they'll get into one of them. And in fact, the landscape has changed. These schools are so very highly selective. They are drawing internationally. They are now drawing from a much wider pool of disadvantaged students who really didn't have access before.

Nancy Steenson:
But now that schools are SAT optional, now that information sessions are over Zoom instead of in person, there are many, many students who couldn't participate in this whole admissions process of elite colleges prior to this year. So, this is a trend we've been seeing coming for years, but again has escalated during the pandemic. Your average A-student is not necessarily a candidate for these top tier schools. The selectivity is unbelievable. They're looking for students who have taken the most selective ... excuse me, the most rigorous classes at every grade level in their high school, gotten A's in those classes, gotten fours and fives on AP exams, have some intellectual or academic experience outside the classroom that they're deeply involved in.

Nancy Steenson:
They may be nationally or state ranked in some kind of extracurricular. These students are not your average A-students. So, I want parents and students to know how many great colleges there are out there, take the stress notch down a few pegs, and know that you don't have to say, "These top tier schools are what I have to get into. Let's move forward or bust." Because it's just a different landscape. And let's find the right schools for you where you can succeed. It's not about getting in. It's about succeeding once you get there.

John Bryson:
I think that's excellent advice. And one of the things that we've talked about, and we didn't get into too deeply here is, you can call a school a top tier school, and it's not like the second tier isn't an excellent education. There are thousands of colleges out there that are providing excellent education at a much more reasonable cost, and a much more diverse base across the country. It's no longer the Ivy Leagues, and like you said, the Northeast liberal school. It's much broader than that. Wouldn't you agree?

Nancy Steenson:
Absolutely. And to be clear, we're not saying it's either Ivy League or it's local community college, right? I mean, there are a number of very wonderful academic institutions that are just more approachable for most students.

John Bryson:
Yeah. That makes total sense. And I couldn't agree more with that. The other one that was interesting that we talked about at the beginning of the pandemic was the trend toward SAT optional. And I wanted to check in with you on that trend. Is that continuing? Do you see it continuing going forward?

Nancy Steenson:
So far, yes. Many, many colleges look like they are now continuing the SAT optional trend. Some of them last year made a two- to three-year decision to go test optional, and then reevaluate. Some made a permanent decision to go test optional. Some made a permanent decision to go test blind, or what we're now calling test free, meaning we will not look at a standardized test score even if you send it. California has been leading ... The California state university system has been leaning in that direction for quite some time. And now we have private schools. Slowly, one at a time, we're seeing them start saying, "No. We're not even going to look at a test."

Nancy Steenson:
However, there are still some colleges that require testing, even though they're in the minority. The vast majority are saying, "We're test optional. Send a test if you've got one, don't if you don't want to," which is a nice place for students to be. It gives you some breathing room. So, what I tell my students is "Take the SAT. Do the best you can on it. If we like the score, relative to your grades, relative to the expectation of the colleges you're applying to, on a case by case basis, we'll evaluate the score and decide if it's going to help you or hurt you." So, if you have a great score, it will absolutely help you. It's a strong data point that nobody can argue within a world of grade inflation in public high schools.

Nancy Steenson:
So, don't throw the SAT out the window, or the ACT, of course, which is the other standardized test that colleges look at. Don't be too quick to throw it out the window. If you feel that you will do well, it can be a real asset in your college application. If you don't feel you'll do well, then this is your moment, because most schools are not requiring it. And it looks like that's where we're headed.

John Bryson:
Okay. And last question for you today. Anything you think that people are getting wrong nowadays, now that things have evolved? Any advice you'd give people to avoid in general?

Nancy Steenson:
John, what I'm noticing is we're all doing a lot of waiting. I think we're all guilty of it because of the pandemic. We're sort of waiting for our lives to get back to normal. We're waiting to see our families again. We're waiting to be able to take a family vacation again. And high school students are doing a lot of waiting also. They're waiting for their extracurriculars to begin again. They're waiting for college campuses to open, so they can get in the car and go visit the actual campus. They're waiting for their classes to get back to school instead of online learning.

Nancy Steenson:
And these things are going to happen slowly, and we have to stop waiting. The students have to stop waiting. If their extracurriculars are not back the way they were, then find something else interesting to do with your time outside of school. Do something to enrich yourself or your community. Don't wait for drama club to stage another production sometime next year. Do something in the meantime. Don't wait for college campuses to open, to start looking at colleges. Most colleges have wonderful online resources for virtual programming. They have information sessions. They have round table discussions. They have major or program-specific conversations. You can meet with the dean over lunch for an hour. There are so many wonderful opportunities. Don't wait for campuses to open, so you can visit in person. Let that happen later, when and if it does.

Nancy Steenson:
Most people don't like online learning at all, but you still have to do well in algebra, even though you have to do it remotely. You can't wait to get back to school to bring your grades up. You got to work hard now. So, I would say we all have to stop waiting. We have to live our lives. Students have to do that, and do the best that they can right now. And hopefully, as the world opens up, we can all get back to normal. But in the end, when they apply to colleges, they can't say, "Well, I was waiting for the pandemic to end. I was waiting to get back to school. I was waiting to hope I could come visit," because that won't be a great answer. The great answer will be, "Well, this is what I did do. Not excusing what I couldn't do, but here's what I did do in a pandemic." That is the most impressive.

John Bryson:
Don't wait, make the most of the opportunity is the message I'm getting, and I love it. Nancy, it's always a pleasure to talk with you. Thanks so much for sharing your insight. Folks, if you want to hear more, I'm going to suggest two things. Go back and listen to our first podcast. She's got additional information there that she shared, or you can reach out to Nancy herself. Please visit her website at steensoncollegecoach.com or email her at nancysteenson@comcast.net.

John Bryson:
Her last name is spelled S-T-E-E-N-S-O-N. And, as always, if you want to hear more about what we're talking about at John Hancock Investment Management, please visit our website, jhinvestments.com, to read our viewpoints on macro trends, portfolio construction, different business-building ideas. And naturally, you can subscribe to the Portfolio Intelligence podcast on iTunes or any way that you listen to your podcasts. Everybody, thanks so much for listening to our show.