Portfolio Intelligence podcast: how advisors are using technology to help clients
Smart use of technology and social media is critical for investment professionals to help clients and grow their business.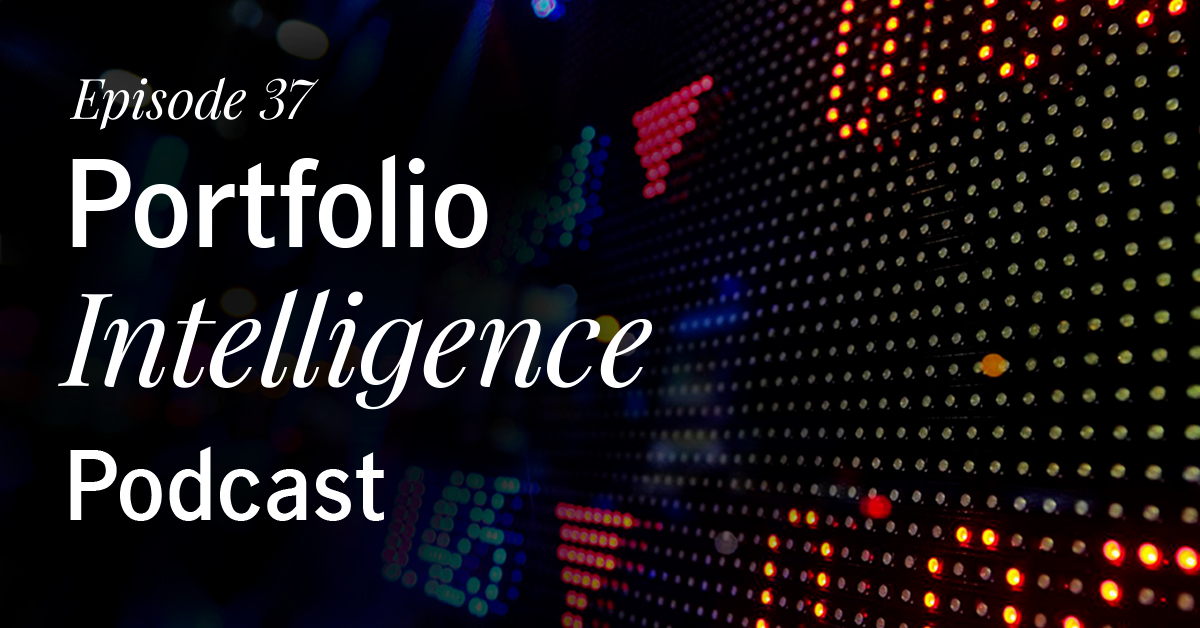 Brendan Barca, a coach, speaker, and consultant at Brendan Barca Solutions, teaches advisors how to seamlessly enter the digital age through live workshops, webinars, and online courses. In this episode, investment professionals can learn how to work with clients remotely and effectively with tools such as Zoom, WebEx, Google, and LinkedIn.
"Clients and prospects are getting way too many emails, but social media like LinkedIn is an effective way to get higher response rates." —Brendan Barca, a coach, speaker, and consultant at Brendan Barca Solutions
About the Portfolio Intelligence podcast
The Portfolio Intelligence podcast features interviews with asset allocation experts, portfolio construction specialists, and investment veterans from across John Hancock's multimanager network. Hosted by John P. Bryson, head of investment consulting at John Hancock Investment Management, the dynamic discussion explores ideas advisors can use today to build their business while helping their clients pursue better investment outcomes.
John Bryson:
Hello, and welcome to the Portfolio Intelligence podcast. I'm your host, John Bryson, head of investment consulting and education savings at John Hancock Investment Management. As always, the goal of this podcast is to help investment professionals deliver better outcomes for their clients and their practice. Topics we typically address include advisor business-building ideas, capital market updates, the latest trend in portfolio construction, and investment insight from our veteran portfolio managers across our global network. Today, I'm joined by a Brendan Barca who is a coach, speaker, and consultant that specializes in helping financial advisors leverage technology to build their business. Brendan built his own business remotely by using tools such as Zoom, WebEx, Google, and LinkedIn effectively. He now teaches advisors how to seamlessly enter the digital age through live workshops, webinars, and online courses. He has worked with numerous advisors at financial institutions, such as an Ameriprise, LPL, UBS, and Edward Jones. Brendan, welcome to the podcast.

Brendan Barca:
Thank you so much, John, for having me. It's great to be here.

John Bryson:
Great. Okay. So today I want to talk about LinkedIn and how investment professionals can use it to grow their business. I know it's an area that you're well versed in. So let's jump in. The first question I'd like to kind of hit is many advisors are used to traditional prospecting models, such as cold calling or in-person networking. Can you talk about how LinkedIn can either complement or supplement these approaches?

Brendan Barca:
Yeah, absolutely. And I appreciate the question, John. So, as someone who grew up in a sales culture, I'm very familiar with the more traditional methods of building relationships with prospects. We did cold calling, cold emailing, and then meeting people in person whenever they were in town or whenever we visited their city. And those are still relevant today as ever for financial advisors who are trying to grow their business, but really the biggest way that people can start using techniques outside of those is going to be through LinkedIn, and LinkedIn can really be the third arm in this approach. So if you think of your first arm as being your cold outreach tools such as emailing and cold calling, and then also your in-person networking, the third one that many advisors still aren't taking great advantage of is using LinkedIn. And the reason why it's so impactful is that we all know email is oversaturated.

Brendan Barca:
So clients and prospects are getting way too many emails. I'm sure you, John, are also getting too many emails today, but LinkedIn and LinkedIn messaging or InMail are going to be effective ways to get higher response rates. In fact, one recent research study from LinkedIn Business Solutions showed that you're likely to get a five-times response rate from sending a LinkedIn InMail versus sending a standard cold email. So for example, if you're used to sending out a hundred cold emails in a day, you get maybe 3 replies; well, if you do this over LinkedIn, instead, you could potentially get up to 15 responses.

Brendan Barca:
So if you're not already using LinkedIn as an alternative or something to use in tandem with either cold calling or with cold emailing, then you're missing out and it really can be something that can complement those more traditional approaches and you can use all those things together. And the key to that is going to be getting into a routine of using LinkedIn on a daily or weekly basis, which I think is going to take time, but for those that are dedicated, want to see results, this is something that's totally attainable for you as a financial advisor.

John Bryson:
So when I talk to our salesforce, we're hearing that some advisors are having a ton of success with LinkedIn while others are struggling and have little success. You mentioned kind of making it a habit, making it part of the process. What else separates successful advisors that are using LinkedIn from the rest?

Brendan Barca:
Yeah. Great question. And so first I think the biggest thing I see from unsuccessful advisors on LinkedIn—the ones that have told me in workshops that they're having zero success, they haven't gotten a meeting from LinkedIn—it's two main things. Number one is that they're selling too fast. I think the biggest mistake we can make on social media or when we're trying to build up relationships is coming right out of the gates and trying to ask someone for a meeting. Just using the standard cold email approach, but putting it into a LinkedIn connection message. So this is a big turnoff, I'm sure you, John, or anyone who's listening has gotten cold outreach approaches from LinkedIn, from people you've never met before. And what do you do? You probably decline the message, never talk to that individual. So instead, what we have to do on LinkedIn is we have to gradually build relationships.

Brendan Barca:
And how do we do that? We have to connect with the person first on more of a networking basis. And then once they're in our network, that's when we can slowly start to build rapport by creating great content that's geared toward them, but also by sending them things that are valuable through private messaging, such as articles or seminar invitations. So it has to be a slower approach versus that approach of being too fast. So that's one of the biggest mistakes advisors make in terms of what unsuccessful advisors are doing. The second thing is that they don't have a consistent approach. So if you're not using LinkedIn on a weekly basis, you're not going to be able to get the results that many other advisors are seeing. I mean, think of it in terms of your other business-building activities. If you're doing a hundred cold calls a day, or you're going to five different in-person networking events, each of those activities can net certain results.

Brendan Barca:
It's the same thing with LinkedIn, but you only get the benefit if you put the work in. So you have to connect with a certain number of prospects each week, you have to send a certain number of messages each week, you have to create content. So it's all about putting it into the routine. So for the successful advisors, they're essentially doing the opposite of what those unsuccessful advisors are doing. They are, number one, focusing on building long-term strategic relationships, not rushing to a sale, but rather naturally progressing to a conversation. And number two, they have a weekly process in place of having certain activity metrics they're trying to hit within LinkedIn, much like you would with any other prospecting method, whether it's emails, cold calls, or even door knocking. So I would focus on those two things to be successful, focus on strategic long-term relationships and also having a weekly process.

John Bryson:
Now you started to mention some of the mistakes that you see out there. Let's dig into that, specifically around prospecting. What's the biggest mistake you've seen advisors make in that regard?

Brendan Barca:
Yeah. So outside of the fact that many advisors are selling too quickly, which is definitely one of the top things I see, the other item that I've seen for a lot of advisors that are making mistakes on LinkedIn is when you think about their content. So LinkedIn has the opportunity to create your own essential marketing by putting content up on a newsfeed and essentially doing that all for free. Now many advisors, whether they are at a wirehouse or at an independent shop, are simply repurposing their marketing content that's coming back from the home office and putting it onto LinkedIn. The problem with this as many advisors probably experience is they're probably only getting one like or very little engagement, whereas the advisors who are really capitalizing on LinkedIn are creating more original content that's coming from the individual. So we want to make sure we're not just putting up different articles coming from your home office.

Brendan Barca:
I mean, those are good sometimes, but they're not going to show who you are as an advisor. And the biggest reason why people hire you is because they want to get to know who you are, John, or who the advisor is. So the biggest mistake I've seen from advisors is creating no original content, and they're wondering why they're not getting any likes or engagement. It's because you're putting up content that all the other advisors in your broker-dealer are sharing as well on the same exact day. So think about one thing a month or one thing a week you can do to share that's different. Maybe it's a picture of you in your office, or maybe it's a story about how you got into the industry. Think about those things, make sure they're coming from your mouth and not just the mouth of your company, and that's going to help you to stand out on LinkedIn, get more engagement, and those engagements can lead to offline opportunities with prospects and clients alike.

John Bryson:
Now I've had the benefit of seeing you in action before and one of the things you talk about is the importance of owning a niche or niching down on LinkedIn or niching down, depending on how you want to pronounce it. Can you talk more about that and explain why niching on LinkedIn is critical and maybe how advisors should go about doing it, being effective at it?

Brendan Barca:
Yeah. Great question. And so for LinkedIn, and really just for building a business in general, creating a niche is going to be imperative to your success. And on LinkedIn, if you don't have a niche, you're going to go on there and wonder, who am I supposed to connect with? What am I supposed to say in my messages? You're not going to have any direction. But if you clearly define a niche as to who your ideal prospect looks like, it's going to make your LinkedIn activity easier in four main ways. One, when it comes to finding prospects, two, connecting with them, three, branding on your profile, and then four, when it comes to the content you create.

Brendan Barca:
In terms of number one, when it comes to finding prospects, if you have a clearly defined niche in mind, let's say you're an advisor in Omaha, Nebraska who wants to go after a C-suite member in the pharmaceutical space. If that is your defined niche, you'll very easily be able to develop the filters on LinkedIn to find those pharmaceutical executives in Omaha. But if you don't have a defined niche, you might just pull up a whole list of a million people that are CFOs across the entire country, and you'll wonder who to start with. So defining a niche is going to make searching on LinkedIn that much easier.

Brendan Barca:
Then number two, in terms of connecting, keep in mind the number one reason why people accept invitations on LinkedIn is if you have a mutual connection in common. So by connecting with more people in your defined niche, it's going to become easier and easier to knock down new doors as your connections are going to grow in that industry or in that company. So connecting is going to become easier and easier the more you define your niche.

Brendan Barca:
Then third, when it comes to branding on your LinkedIn profile, you want to take advantage of your background photo—also of your about section—to clearly identify and articulate who your niche is. By having a profile that speaks directly to your ideal prospect, whether it's a physician or whether it's a CFO at a different company, that's going to help the person understand that you could be a good advisor for them, but if you don't have a defined niche, your profiles may look just like every other advisor out there. And guess what? Every advisor has similar expertise, similar years of experience, but you have to make sure that you stand out in terms of who you serve specifically.

Brendan Barca:
And then finally, number four, when it comes to content, which we just talked about a moment ago in the last question, if you define a niche such as those pharmaceutical industry executives, or maybe those physicians, you can start creating content made specifically for those folks in that way. Because if a physician is reading an article about how physicians can prepare for retirement, all of a sudden you've grabbed that person's attention, and they'll think of you as their potential financial advisor. So really, before you even go onto LinkedIn and start doing any prospecting, you want to define your niche and it's really going to help you when it comes to finding, connecting, branding, and creating content.

John Bryson:
Now, you mentioned content a couple of times. I want to expand on that. With your work with advisors, coaching them, how do you advise they navigate the compliance restrictions that they might run into as they're creating content for clients and prospects?

Brendan Barca:
Yeah. Compliance has definitely been something that, as I've worked within the industry for over a decade now, it's been a challenge for advisors who are trying to be great on their LinkedIn and are trying to actually make some different prospect opportunities through the platform. So one of the biggest things, of course, it's going to be varied depending on your broker-dealer, so whether you're at a wirehouse or you're independent, you're going to have different rules. So you have to know what the rules are at your firm: What can your branding of your profile be? What does the content you can create? Can you send private messaging? And then really once you understand what the rules are, you can then start to play within them. So when it comes to content specifically, the overarching rule that I've heard from under FINRA is essentially you can't talk about products or services.

Brendan Barca:
Now, outside of that, there's a lot of ways to be original with content and to talk about things that aren't necessarily business related. And I've seen those types of posts actually do really well on LinkedIn and sort of become a new generator of getting business opportunities even though they're not specifically talking about a service such as estate planning or 529s. For example, there's a Wells Fargo advisor I monitor on LinkedIn, I've done some work with, he's out in Ohio, and I've seen him put up original posts that are pretty creative. I saw one recently where he had a picture of himself in front of a bunch of pillows on his couch. And he talked about the story about how many pillows he has in his house and how he has to diversify his pillows, depending on what room he's in of the house. And essentially, he tied it into how this is also should be diversifying our retirement plan needs—so a diversified portfolio.

Brendan Barca:
So using creative stories from your personal life and then tying them into what your clients or prospects needs are can be creative ways to create content and be able to attract people's attention, get a good message across while having fun too. So I would challenge everyone, first of all, to know what the rules are in your broker-dealer. Once you know the rules work on creating more personalized stories that can allude to how you help people, but not necessarily talk about specific products and services. And that's one great approach I saw from a wealth advisor and that must be compliant. He's been posting things like that for a number of months now. So one great example of how to be effective with content.

John Bryson:
That's great. I mean, tying in your personality, with a little bit of humor with the pillow. That's an excellent idea. Let's say this isn't going away, social media and how people promote and get their name out there—certainly not going away. Let's say one of our listeners gets really excited and wants to jump on LinkedIn today. What advice do you want to give them to immediately impact their business?

Brendan Barca:
Three things that advisors should do when it comes to jumping on LinkedIn, especially if you're an advisor who's newer to LinkedIn trying to really get repped up so you can start seeing success. Number one is you have to make sure that your profile is set up correctly and that you are speaking to your ideal prospects. And the easiest way you can do that on your profile is updating your headline. So as long as your firm allows you to change your own headline, again, check with compliance, you can use your headline to be able to speak directly to those prospects; for example, rather than saying something like financial advisor at Edward Jones, you could say something like specialist in helping guiding pharmacists to retirement. So what we're doing there is we're calling out who we're helping and what our specialty is in helping those individuals. So if you haven't already considered changing your headline to something more, value driven I would consider going in and making that change.

Brendan Barca:
Now, if it's not compliant, you're going to have to do that in the about section, but the headline is the optimal place to change your branding, as that's going to be what prospects see when they come to your page, and it's a really easy place for you to articulate your value. So on your profile, consider using your headline to be able to articulate your value and who it is that you're serving to help a with serve a problem. Second thing you want to do is simply start connecting with all your current clients. The easiest way to grow your network on LinkedIn is through your current network. But the only way you can know who to connect with outside of your clients is if you're already adding them to your network. So after every client meeting or have your admin or marketing person go through and add every client to your network, that'll be an easy way to start getting more connections to people they know who you don't yet have introductions to.

Brendan Barca:
And then third, the biggest one is if you want to start seeing immediate success on LinkedIn, you have to have a weekly process in mind, and you have to be thinking about what those weekly goals are. The two most important things to do on LinkedIn on a weekly basis is, number one, connect with prospects. So set a weekly goal for yourself. I know one advisor was trying to do 25 connection requests per week to add certain prospects into her network. So that's a great goal to start with, and from that you're going to see a certain number of people start to accept your invitation.

Brendan Barca:
And then number two, start sending messages to people that are already in your network. So if you have prospects coming into your network, start sending them valuable articles, different ideas, maybe asking for a meeting when it's appropriate. But if you do those two things on LinkedIn alone, you're going to start to see success. Number one, connect every week, and then number two, send messages and set a weekly metric for each of those things. I think 25 connections and 25 messages could be a good place for many advisors to start.

John Bryson:
That's great insight. As I think about it, I have to apply some of these to my own LinkedIn approach because I'm trying to drive attendance to this webcast and I've written down a couple of things that I'm going to do to be more systematic about it. So that's really helpful. I guess the last question I'll ask, and it applies to advisors, but I'm going to listen to it for myself, is if we implement these techniques on LinkedIn, how long should advisors expect to see some positive results?

Brendan Barca:
So what we have to do is we have to first keep in mind that the way that LinkedIn and social selling works, it's a much more strategic approach to business building than it is a quick way to get a fast meeting. So the LinkedIn process should, first of all, consist of you connecting with your prospect and within the first month learning about who they are, what they care about, what their about section says. And then really after the first month is when you want to start sending valuable things through private messaging. So sending them valuable articles or maybe podcasts you've recorded, those are great things to provide as value before you even ask for a meeting. And then about a month or two out, that's when you can start asking for meetings if the person has gotten back to you, if they're resonating with your material, if they're giving you a like on LinkedIn, that's when you can start to bridge toward those offline conversations.

Brendan Barca:
So if you are doing those things consistently—of connecting, sending messages to build rapport, creating content, and then also asking for meetings when appropriate—you can expect to start seeing some results of growing your network and landing meetings, I'd say, within the first three or four months. Again, as long as you're consistent and you're doing these things on a weekly basis at scale. You can't connect with one person a week and expect results. It's got to be at a high enough volume, just like when you're doing emails or doing cold calling, we have to get volume in order to see success. So I would say about three to four months, if you're applying the different tips we've set here today, that'll be a great way for you to test out if LinkedIn is going to work for you.

John Bryson:
Well, that's some excellent insight you shared with us today, Brendan. That slow-and-steady approach, add value first, be consistent, make it a habit. All those things come into play in a number of different areas, but they certainly do if you want to be successful on LinkedIn. Brendan, I know we've got a lot of content available on our website that hits this topic and other topics—we've got videos and other downloadable resources—so I'm going to encourage our audience to check out jhinvestments.com to find those resources. You can also go there to just grab the Portfolio Intelligence podcast, or you can go to iTunes or other places you find your favorite podcasts. You can also go to our website to read our viewpoints on macro trends, portfolio construction techniques, a lot of different business-building ideas, and much, much more. I want to thank everybody for listening to the show today.
Disclosure:
This podcast is being brought to you by John Hancock Investment Management Distributors LLC, member FINRA, SIPC. The views and opinions expressed in this podcast are those of the speaker, are subject to change as market and other conditions warrant and do not constitute investment advice or a recommendation regarding any specific product or security. There is no guarantee that any investment strategy discussed will be successful or achieve any particular level of results. Any economic or market performance information is historical and is not indicative of future results, and no forecasts are guaranteed. Investing involves risks, including the potential loss of principal.