Portfolio Intelligence podcast: a short history of ETFs
Steve Deroian, U.S. head of asset allocation models and ETF product at John Hancock Investment Management, discusses the history and benefits of exchange-traded funds (ETFs).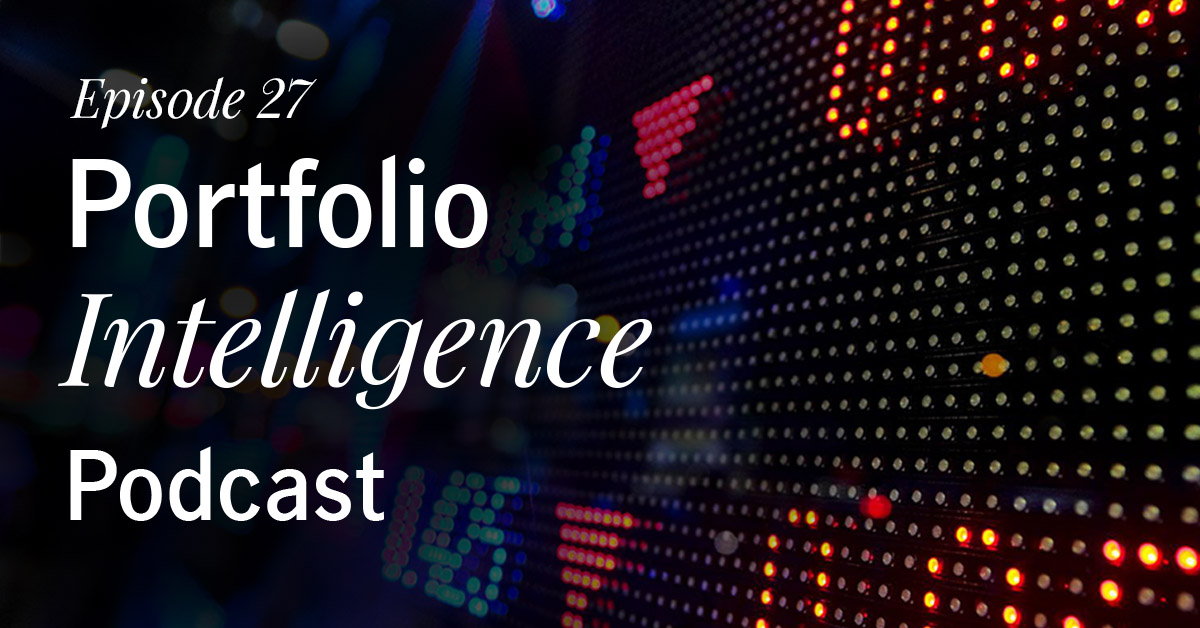 Since the first U.S. ETFs launched in 1993, these popular investment products have grown to more than $5 trillion in assets under management. 
Deroian provides an insider's perspective on which areas could see the fastest growth and why John Hancock opted for an active management approach in its first fixed-income ETF.
"What we've seen lately is a real acceptance of the fixed-income side of the market when it comes to ETFs." —Steve Deroian, U.S. head of asset allocation models and ETF product at John Hancock Investment Management
About the Portfolio Intelligence podcast
The Portfolio Intelligence podcast features interviews with asset allocation experts, portfolio construction specialists, and investment veterans from across John Hancock's multimanager network. Hosted by John Bryson, head of investment consulting at John Hancock Investment Management, the dynamic discussion explores ideas advisors can use today to build their business while helping their clients pursue better investment outcomes.
John Bryson:
Hello, and welcome to the Portfolio Intelligence podcast. I'm your host John Bryson, head of investment consulting at John Hancock Investment Management. As always, the goal of this podcast is to help investment professionals deliver better outcomes for their clients and their practice. Today is April 1, 2021, and we've always seen innovation in the marketplace. We have for over hundreds of years seen stocks and bonds; the mutual fund is coming up on its 100-year anniversary here in the United States. We've seen ETFs in the marketplace for a few decades now, and the innovations continue to evolve. That's why today I've invited Steve Deroian, U.S. head of asset allocation models and ETF product at John Hancock, to come onto the podcast to talk about some things that we're seeing develop in the marketplace. Steve, welcome to the podcast.

Steve Deroian:
Thanks for having me, John.

John Bryson:
So, Steve, you've been leading the ETF business here at John Hancock for a little bit over four years now, and how many years have you been in the ETF business itself?

Steve Deroian:
Well, I only remember this because it was the birth of my second child, but I started in 2007. Geez, what is that now? Almost 15 years.

John Bryson:
Yeah. Excellent. So you must've seen a lot of progress over that time in the industry, can you talk about how the ETF industry has changed?

Steve Deroian:
Yeah. When I started it was a tumultuous time to start, 2007; I walked into this new. ETFs had been around since 1993, but they really started to pick up steam right around that time. 2001 there was some new players in, but the financial crisis really brought to bear some of the benefits of ETFs. So what happened was you had investors who wanted to know a little bit more about what they were owning. So the transparency that existed in the ETF wrapper was really coming into highlight.

Steve Deroian:
Also, with all the fluctuation in the markets, the ability to get in and out of an ETF throughout the course of the day has become a more and more important factor. So 2008 really had shown a bright light on some of the great benefits of an ETF. At this point, ETFs represent about $5.5 trillion in assets, and they're really just a part of everybody's daily life now when it comes to investing. It's really been a fun ride for me. I've truly enjoyed being part of the, what we call the ETF ecosystem, and I can't really think of a better way to have spent the last 14 years of my career.

John Bryson:
Great. Now, John Hancock Investment Management, we're evolving along the same lines as the industry; we've been in the ETF for over five years now. And when we launched it, we launched strategic beta products, so we could have gone with cap weighted, but we decided not to. We couldn't add a lot of value there, we went with strategic beta, but now we're launching a new ETF product in the fixed-income space. Can you tell us about that?

Steve Deroian:
Yeah. John, there's been an evolution. We didn't get to $5.5 trillion by accident, number one, and we didn't get there by just focusing on cap weighted indices. I think it's that old Oldsmobile commercial that says, this isn't your grandfather's Buick, Oldsmobile, whatever it is, but this is the same idea; ETFs have evolved. It's no longer just a passive index that these track and really focusing on these broad indices. ETFs now are represented across multiple asset classes, obviously equity, fixed income, commodities, there's outcome-based ETFs.

Steve Deroian:
So the evolution is real and we're part of it. What we've seen lately is a real acceptance of the fixed-income side of the market when it comes to ETFs. For a long while, I believe that folks were hesitant to think about the intraday activity of an ETF in using a fixed-income product. I think that this past year, in particular, past two years really, especially, we've seen a really strong growth. In fact, last year in 2020, over $200 billion in fixed-income flows into ETFs, which was basically just as much as equities. That's a pretty big accomplishment for the asset class. What's also unique about fixed income as it relates to equities is, it really takes up a larger portion of the AUM in the active space, again, this evolution with ETFs, it started off, everybody just said, "Hey, it's a passive vehicle." Well, again, not true.

Steve Deroian:
The active space within our fixed income represents about 10% today of the total AUM in fixed-income ETFs. So a much broader acceptance in equities—it's much smaller­—somewhere in between 1% to 2%.... Some of that's because they had a giant head start, the passive vehicles did. But some of it is that active managers have still really generally succeeded in the fixed-income space, whether you're inside of a mutual fund, an SMA, or in this case, in ETF. So folks that really still gravitated toward the active management benefits within a fixed-income product.

John Bryson:
Now that's a really important distinction because I think a lot of the marketplace considers ETFs either that cap weighted approach, the evolution we've seen to strategic beta has changed that a little bit, but here we're really talking about active, fixed income within that ETF wrapper. So tell us why John Hancock decided to go. Dig into that a little bit more for us. Why go active in this ETF fixed-income Wrapper?

Steve Deroian:
Yeah. I think the biggest reason, John, is that it really there was no reason not to. I guess it's the simple and easy way to describe it. As a firm, we believe in active management, we believe that there is a benefit to it, and we believe that we've got great managers that can deliver fantastic results. With that said, I think historically people had shied away from the ETF wrapper, but there is just no approved saying that's true any longer. And so we decided that we want to deliver our best managers and our most consistent managers inside of an ETF wrapper, because some investors just like ETFs better.

Steve Deroian:
It's not for me to decide what's important to you as an investor. It's for me to give you the best products that are available in the wrapper vehicle that you choose. That's really what we decided to deliver, and hope to deliver. The other thing to consider is that many different investors want to use multiple tools, so some folks today are using mutual funds and ETFs, and an active ETF that hopes and seeks to outperform a market benchmark is becoming more and more popular today.

John Bryson:
Yeah. We're certainly seeing that on our side of the business as we work with financial advisors and what it really is. It sounds like that John Hancock continues to deliver strategies that work in different vehicle wrappers, whether you want an ETF, whether you want an SMA [separately managed account], whether you want a mutual fund, we want to meet you where you want to do business if you will.

Steve Deroian:
That's right.

John Bryson:
Excellent. Question around timing, so today's April 4, as I mentioned, we're seeing interest rates rise, probably over the last six months or so we're in the 170 basis point range with the 10-year right now. So with rates going up right now, are you worried a little bit around the timing of this launch, that maybe the appetite might not be there?

Steve Deroian:
Well, it's a tough question, John. I've been doing product development for a long time, and I often say, it's like when you decided I have children and I know you do as well. You have those conversations with your wife, or a partner, and you say, "Well, this isn't the right time. This isn't the right time. This isn't the right time." Well, there's never a right time; it's a tough decision. And I feel the same way about product launches, at least at our firm, we try to deliver, number one, products that will have a long-term effect on a client's portfolio. Look, we love to have great performance out of the gates, but if I knew what the market was going to do, I probably wouldn't be talking to you. I'd be on the beach somewhere relaxing because I would've made my millions of millions of dollars and been retired by now.

Steve Deroian:
I think one of the things that we can all agree upon is, over the last 10 years, I don't know how many times I heard interest rates are going up and they didn't, and in fact, they went the other direction. And so obviously the last six months we've seen this increase, but we're still at reasonable rates. We don't know what the future's going to hold, and like I said, I try not to focus too much on, is this the right time, but rather is this the right product? And we know that we're delivering a product out to the marketplace that has long-term staying power and has a long-term appeal, and that's what we focus on. And like I said, if I knew exactly where rates were going to go I'd be a much smarter man than I am.

John Bryson:
Got it. Well, to all those potentially new parents out there, so you might be right about this, there is no perfect time to have a kid, but there is a perfect time to have a puppy, so go out and get a puppy first—a side note there. So John Hancock also announced a couple of other ETFs that we've filed for. What can you share about those?

Steve Deroian:
Yeah. I mean, obviously there were a little earlier in the game here. I don't know that we even talked about the first ETFs specifically. So maybe start there, John. We did launch a new ETF just this past week and it's John Hancock Corporate Bond ETF, and it focuses on investment-grade corporate bonds. It will be managed by Howard Greene and Jeff Given, two managers that have been in the business for a while; collectively, they have over 50 years of experience and a long legacy of stewardship over assets. The next two that we will be looking to launch sometime in the coming months will be John Hancock Mortgage [Backed Securities] and John Hancock Ultra Short Income ETF.

Steve Deroian:
Both those ETFs will also be managed by Howard and Jeff, but they'll be joined by two other gentlemen from our staff here, David Bees and Peter Farley, both of who work alongside Howard and Jeff in some of their other products that they run. Howard and Jeff have had a long track record running our bond mutual fund as well as our investment-grade mutual fund. And so to bring Howard and Jeff, and then also move along in the new products bringing David and Peter out to bear to the marketplace inside the ETF wrapper, we're pretty excited about all three of these products.

Steve Deroian:
The two new products that we will launch, hopefully, will be out in the summertime, and we can probably give you a little bit more detail on those at that point, but it's exciting for us to take a step into these new asset classes. And again, you'll notice if you like reading filings, these two will be actively managed, and they will bring to bear our historical capabilities, which is inherent in what these guys are doing day in and day out on the bond fund and on our Investment Grade Bond Fund.

John Bryson:
Great. So as we started this conversation, I talked about the evolution of the marketplace. I'm sure you're biased toward ETFs, but can you tell us what do you think the outlook looks like for ETFs going forward? Whether it will be product innovation or growth of the space?

Steve Deroian:
Yeah. John, like I said, my 14 years here in this space have taught me one thing is you have to somewhat expect the unexpected, and you have to give credit where credit is due. And I think when you look at what the ETF industry has been able to accomplish in this timeframe and it's an interesting part of the landscape because there's a little bit of the ETF industry has always thought of themselves as the underdog, as it relates to the mutual fund wrapper. I think what we're seeing now is that it's no longer that mentality, if you will. In fact, there are more and more historically mutual fund focused firms getting into the ETF game.

Steve Deroian:
You're seeing with the advent of the ability to go to a nontransparent wrapper; this recently we've seen more and more ETFs that have adopted that structure. So you're seeing more and more active managers on the equity side getting more and more comfortable launching ETFs because they have the protection of shielding their research, which they feel is quite important and they don't want anyone to front run them. I see growth, I just don't see how the structure can. It'll probably slow down just because the growth has been tremendous over the last 10 to 15 years. But at the end of the day, I think that you'll see an acknowledgement that the tax efficiency in particular within the ETF structure has made it an important part of advisors' portfolio and investors' portfolio.

Steve Deroian:
I think you'll see that ETFs will continue to be building blocks for obviously advisors who were playing the rep as PM role or advisor as PM role. But I think with the advent of models, you'll see more and more models really take advantage of the ETF structure. I think what's a great example is the approach that we're taking here: ETFs have a tendency to allow an investor to be a little bit more precise and tactical, and so traditionally, maybe someone will just buy the mutual fund, and we would have that as their one fund.

Steve Deroian:
What we see now in ETF land is that if you're curious or interested in focusing on a narrow segment of the bond market, you're now maybe owning that bond fund, but you're adding to your fixed-income portfolio by getting specific and saying, "Hey, you know what? I really like credit right now. I like corporates. I want to go ahead and overweight corporates. I don't need a manager to do that. I can bolt on a satellite type position, like our new ETF, JHCB and add to my portfolio and put my own spin on the broader fixed-income space."

Steve Deroian:
So you see that more and more, you see that ability to get tactical when needed within the ETF, and I think you'll see that more and more, but I also think you'll see just plain-vanilla ETFs winning because people like to keep it simple sometimes too. I think you'll see growth; I think you'll see some people are saying $20 to $30 billion in the next five years. I don't think that's outlandish to think that we would go from $5 billion to $25 billion in AUM in ETFs. I think it's quite possible.

John Bryson:
Excellent. Well, it's always exciting to hear about the innovations going on in the marketplace. This podcast is all about helping advisors and investment professionals deliver better outcomes and having more tools, potentially better tools in their toolkit to help them achieve those outcomes are always great to hear about. So Steve, thanks for joining us. For our audience, if you'd like to hear more, please subscribe to the Portfolio Intelligence podcast on iTunes, or visit our website jhinvestments.com, to hear more about our viewpoints on market trends, portfolio construction techniques, business-building ideas, and much, much more. Thanks so much for listening to the show.

Steve Deroian:
Thanks, John.