Portfolio Intelligence podcast: midcycle investing for the second half of 2021
Co-Chief Investment Strategists Matthew D. Miskin, CFA, and Emily R. Roland, CIMA, provide their take on the economy and markets so far in 2021, and their outlook on what the rest of the year may hold for investors.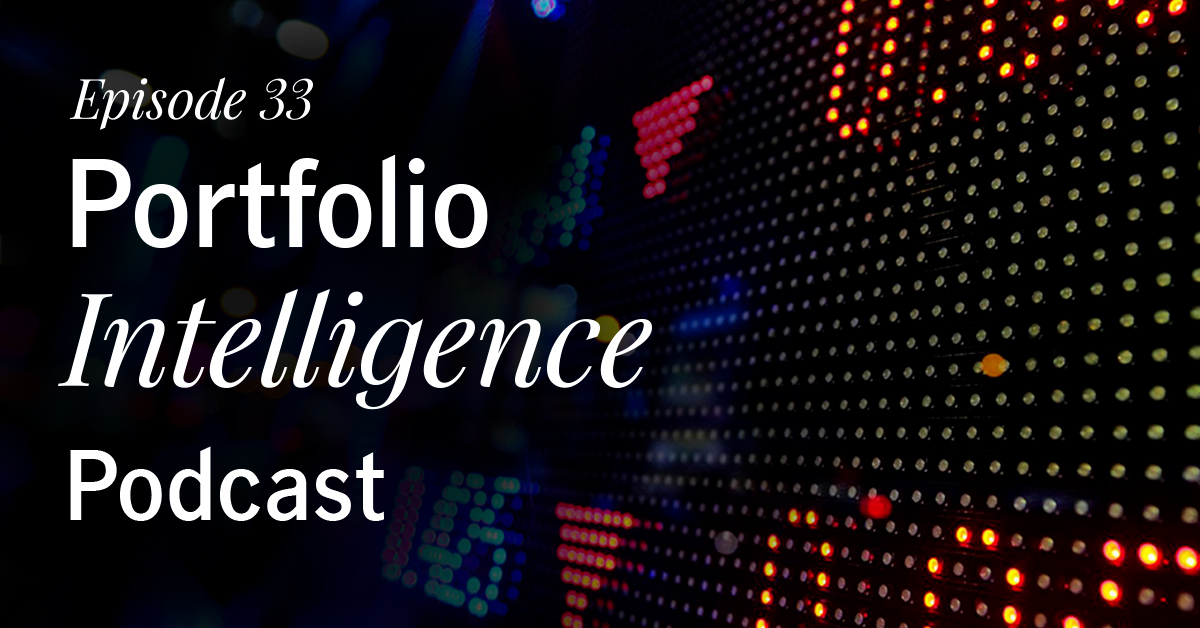 The strategists discuss the prospects of tapering from the U.S. Federal Reserve and what it might mean for fixed-income investors. They also offer their best ideas for bond and equity investors as the economy shifts into a midcycle environment.
"We're watching this shift from the early part of the cycle into the middle part of the cycle. And we're thinking about positioning for that in terms of potentially peak growth, peak inflation, and peak stimulus." —Emily Roland, co-chief investment strategist at John Hancock Investment Management
About the Portfolio Intelligence podcast
The Portfolio Intelligence podcast features interviews with asset allocation experts, portfolio construction specialists, and investment veterans from across John Hancock's multimanager network. Hosted by John Bryson, head of investment consulting at John Hancock Investment Management, the dynamic discussion explores ideas advisors can use today to build their business while helping their clients pursue better investment outcomes.
John Bryson:
Hello, and welcome to the Portfolio Intelligence podcast. I'm your host, John Bryson, head of investment consulting at John Hancock Investment Management. Today is July 1, 2021. And we're at the midyear mark. So we thought we would invite back Emily Roland and Matt Miskin, our co-chief investment strategists at John Hancock Investment Management, to give us a recap of the first half of the year and ideas for the second half. Emily, Matt, welcome to the show.

Emily Roland:
Thanks, John.

Matt Miskin:
Thanks for having us.

John Bryson:
All right, Emily, I'm going to start with you. The second quarter just concluded. What really jumps out to you?

Emily Roland:
Yeah. So, actually, this quarter marked the start of year two of the bull market that began in late March of 2020. And when we look historically about, at what happens in year two, usually equities take a breather or experience some volatility after that first sort of large, upward price move, off the bottom. And that certainly did not happen this quarter. In fact, global equities were up in the mid- to high-single digit range for the quarter with U.S. equities leading the way. Interestingly, not only did equity investors do well this quarter, but bonds caught a bit, as well. So the Bloomberg Barclays U.S. Aggregate Bond Index (Agg) returned about 1.8% on the quarter. And that happened against the backdrop of the yield, on the 10-year Treasury falling from 1.74% to start the quarter, down to 1.45%. When we look across the major fixed-income asset classes, including high-quality bonds, high-yield bonds. Investment-grade corporate bonds are really the standout this quarter, up over 3%.

Emily Roland:
So a good quarter for equity investors, a good quarter for fixed-income investors, but definitely some interesting trends developing, sort of under the surface. So even though equities, again, continued to rally, what we saw was some significant shifts after the first quarter. One of which was growth, actually, outperforming value after two huge quarters for value in Q4 of last year in Q1 of this year. And when we think about that move, perhaps value is simply due for a breather, here. But we're also watching this kind of shift from the early part of the cycle into the middle part of the cycle. And we're thinking about positioning for that, in terms of potentially peak growth, peak inflation, peak stimulus, sort of starting to be in the rear view mirror, here. And that's an environment, in which a combination of value for continued upside potential, but also owning growth actually makes quite a bit of sense for investors.

Emily Roland:
We also saw that by the outperformance of the quality factor, this quarter, which is also something that tends to do well in these midcycle environments that have more sort of normal growth and inflation dynamics. So we're not there yet in terms of getting past or to this tail end of the early cycle, but it looks as if investors are starting to position for that midcycle environment, in which fundamental drivers and not just macro drivers, really play a key role.

Emily Roland:
And then finally, I think the other thing that really stands out to me is the dollar. It was a wild ride, as far as currency markets went this quarter. We saw the dollar weakened significantly in the first part of the quarter, back in April and May. And then strengthen again in June. Really amidst this sort of shift in sentiment, from kind of risk on everything, to a more sort of selective approach to risk. So the dollar, the broad DXY Index, ended the quarter down about 1%. That ended up being a little bit of a tailwind for European stocks, even though U.S. equities ended up on top. And it didn't provide sort of the normal boost to emerging market equities, that you would typically see from a weaker dollar. So, even with the dollar down a touch here, U.S. equities are continuing to lead here.

John Bryson:
Thanks, Emily. Now, Matt, when you think about the process of performance this quarter, how has it impacted your views and Market Intelligence?

Matt Miskin:
Yeah. Thanks, John. When we think about the fixed-income side, as Emily highlighted, there is a pretty big change in tone from the bond market from the first quarter, the second quarter. And in terms of our positioning, it didn't really change our view that much. We still like corporate bonds. We still see that as the best place to find yields. The economic sensitivity is going to be likely a tailwind. We think default risks are going to be continuing to fall over the course of the year. So investment-grade corporate bonds and higher quality high yield remain our favorite parts of the bond market. I would say that the duration component was definitely a bit more of a tailwind in the second quarter.

Matt Miskin:
And one of the things we're looking at is the leading economic indicators in the United States. It's something that's always highlighted Market Intelligence right off the bat. And it did likely peak on a year-over-year growth rate basis in the second quarter. So in April, it was at the highest level ever, in terms of year-over-year growth of the U.S. leading economic indicators. But in May, it did step down. And we do think the leading economic indicators are going to be continuing to decelerate. It's not necessarily a bad thing. We don't see a recession by any means, in the near term. But what it means, is that some of the best growth that the U.S. economy or global economy may have seen is probably in the rear view mirror.

Matt Miskin:
And as we look further out into the end of this year, it does suggest kind of more of an intermediate-term positioning. We're still trying to target about five to six years of duration. So about a half year, less than the Aggregate Bond Index. That's where we believe is still a right place to be letting your bonds act like bonds. And then let your equities do the heavy lifting for the capital appreciation, the inflation hedge.

Matt Miskin:
And in terms of our positioning and equities, really, we still have very high conviction in U.S. equities in general in terms of a global equity view. And then within U.S. equities, we like mid cap as our favorite play to play. Some modest, cyclical, positioning, so industrials are a big part of the market. And then within equities other than that, so U.S. mid cap being our favorite part of that. We did incrementally add to Europe and trim a bit of emerging markets. We have a relationship with Wellington, and that is kind of where we saw their positioning shift. So we're following that suit. But in essence, keeping the international exposure there, making sure that we've got some good opportunities, but have that U.S. overweight, have your fixed income act like bonds; investment-grade corporates, some high-yield intermediate. And that's really where we're looking to settle in, here, as we set up for the back half of '21.

John Bryson:
That's really helpful. It's consistent with what you shared with us before about a balanced approach. Taking advantage of the different asset classes, and what they have to offer. Emily, I'm really excited to see the Q3 version of Market Intelligence. I know it's going to be released soon. Can you give us a sneak peek as to what might be changing?

Emily Roland:
Yeah. So, Matt really just covered a lot of it. We're excited about the new version of the book. We've got some great new analysis that we'll be featuring. What isn't changing much, as Matt mentioned, was really our positioning. And we think it is still appropriate as we enter the back half of the year. We are making some minor tweaks. So just to be a little bit more specific, we are having a more modest preference here for equities, continued over fixed income. Very low return potential, here in bonds. We do believe that equities need to do a little bit more of the heavy lifting. We do maintain a preference at the margin for U.S. equities over non-U.S. equities. We are neutralizing our positioning within overseas markets. So we had been underweight Europe and overweight EM. We're shifting to neutral on both.

Emily Roland:
And the way, John, that I would think about this, is that instead of having sort of a geographic view. When we think about overseas markets, it's really about emphasizing longer term, secular growth companies that have cyclical upside. So internationally, the way to think about this, is really our sector preferences. So consumer discretionary, industrials, technology—all of those have a modest cyclical tilt. A consumer discretionary should benefit from this post-COVID catch-up and consumer spending. Industrials we think, should do well, as businesses really invest in capex as this cycle unfolds. And then, technology should benefit, frankly, from this massive supply and demand imbalance. Specifically, that we're seeing in the semiconductor space. So really, it's about sort of emphasizing those parts of the market rather than taking a regional view, within overseas equities.

Emily Roland:
What isn't changing in our views is, again, this preference for areas that can benefit during this transition from early to midcycle. And when we think about early to midcycle, early cycle is when the U.S. Federal Reserve (Fed) is incredibly accommodative. The leading economic indicators are surging, risk-taking, and really any area of the market is rewarded. And we sort of think about this transition as ... Think about swim team, right? So a lot of our kids just started swim team for the summer. And the last 12 months or so have been the kids' swim team for markets, where everybody gets a ribbon, right? My kids, they've got to make extra ones because they come in 10th place, but nearly everything is up. Huge, regardless of fundamentals or the kind of industry standing of a company, longer-term fundamental trends. And we think the next 12 months are going to be more like the Olympics, where only a few are really going to be able to stand out.

Emily Roland:
So we're going to have tougher comps across company earnings; higher input costs, maybe even higher taxes. And we're going to see potentially, margin pressure that companies are going to need to ward off. And fundamentally, when we think about the types of areas that do well, it really is around quality, so good return on equity, good ability to maintain margins, grow organically. That's really where we're focused, in terms of our Market Intelligence views, heading into the back half of the year.

Emily Roland:
And from a fixed-income standpoint, it's really around those more flexible fixed-income strategies, with corporate bonds carefully selected; high-yield bonds, multi-sector, and a touch of bank loans, as well. So I would encourage everybody to take a look at Market Intelligence when it's released for more on all of these themes and ideas. Our website has a lot of resources around Market Intelligence. The new book will be out around July 7. And our advisor call will be on July 8 at 11:00 A.M., ET. So please register, ask questions. We're really looking forward to engaging with everybody on this new content.

John Bryson:
Thanks, Emily. That's really helpful. And I will tell folks, definitely check out the website. Search for Market Intelligence. There's a ton of great resources. I refer to it all the time. And Emily, I'm sure your kids are placed higher than 10th, but you're being modest. And certainly they did, if they're as competitive as you are. All right, Matt, we talked about the Market Intelligence book coming out next week. If you had to choose a favorite, I'd love to understand which one you thinks kind of popping for you, this quarter.

Matt Miskin:
Yeah, so the fixed-income section got a number of new slides and analysis. And this continues to be the place, I think, where most investors are challenged the most is fixed income. And we really spent a lot of time thinking through the phases of this inflationary backdrop, that is accelerated, as of late. And we still believe we're, in an essence, the perfect storm of inflation here. With supply chain disruptions, higher commodity prices still fuel from the stimulus, but we do see that these forces actually mitigate or decelerate into the back half of this year and into 2022. And so, we went quarter by quarter and kind of dissected, "What do the comps look like? What is the potential deceleration of some of the supply chain issues look like?" And we came through with projections of inflation throughout the rest of 2021 and into 2022.

Matt Miskin:
And I just, in talking to advisors and clients or just investors in general, inflation still is the number one thing top of mind. And even today, oil prices are breaking out. They're going higher. They're up about 3%. You're feeling it at the pump, even though the Fed says there's not any inflation and it's transitory, you certainly feel it, and you see it. So I know that is one of the hardest things to address. But at the end of the day, the bond market is signaling that much of the worst of the inflationary pressures are behind us. The Treasury yield curve is actually flattened over the course of the quarter. The tenure has gone down.

Matt Miskin:
And I think, another slide that's going to be great for discussions too is that the Fed is going to be tapering, likely into 2022. And it's pretty counterintuitive how the bond market has usually reacted to that. So we go through the analysis of looking at past periods where they've ended quantitative easing (QE) or tapered QE. And what the Treasury market has done with that. And so, that's another piece to the puzzle that we think is going to be really informative and insightful for advisors and their clients.

John Bryson:
Well, I'm really looking forward to that. I'm specifically worried about the price of propane because we've got the Fourth of July weekend coming up. And I know that that can be a problem, that I need some for the grill. Matt, Emily, it's always a pleasure to talk with you. Folks, I will tell you, definitely follow them on Twitter. You'll find Emily @emilyrroland and Matt @mathew_miskin. And as always, if you want to hear more, please subscribe to the Portfolio Intelligence podcast on iTunes or visit our website, jhinvestments.com, to read about different viewpoints that Matt and Emily have published, and others have published, to learn more about portfolio construction, techniques, business-building ideas, and much, much more. Thanks for everybody for listening to the show.