How financial professionals can build trust and resilience in their client relationships
Gail Parsons, founder and president of Lifecycle Focus, joins podcast host John P. Bryson to discuss strategies to help financial professionals manage stress, focus on resiliency, and deliver better outcomes in their personal and professional lives.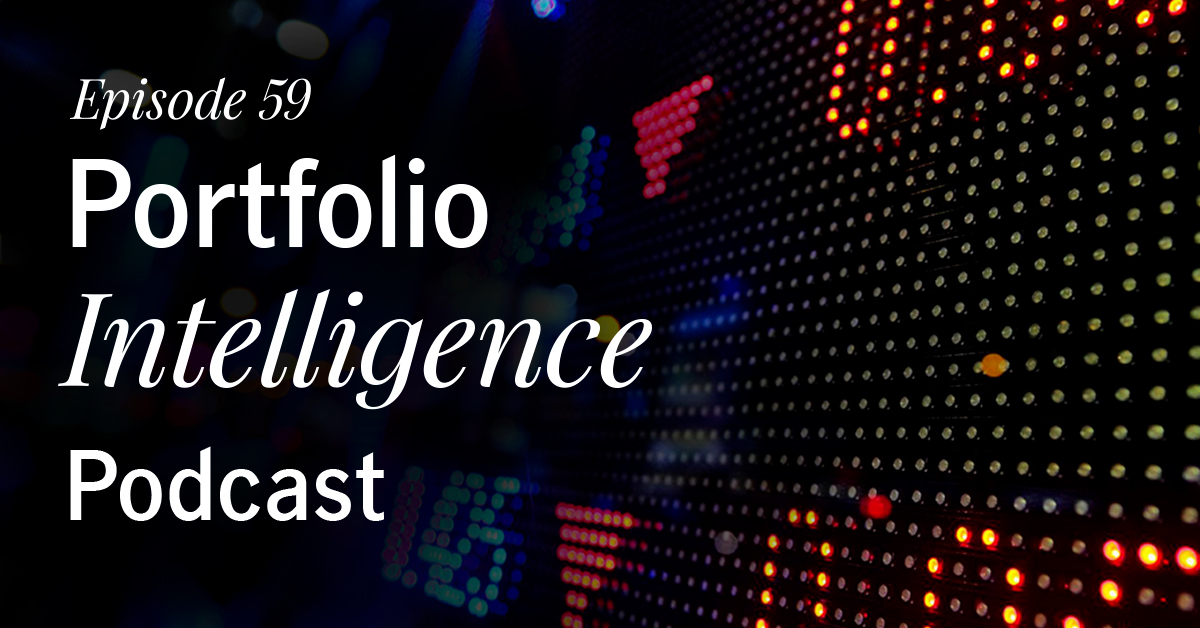 Gail explores common workplace misconceptions about managing workloads and shares insight on practicing self-awareness and managing energy levels throughout the day. She also discusses how financial professionals can use active listening to build trust with clients and strengthen engagement. Finally, she shares tips to block out the noise from daily distractions and focus instead on what we can control.  
"We've got a lot to do, and throughout the day we're always looking to take some shortcuts to save time. And unfortunately, that shortcut is often around communication. That is the worst place to take a shortcut, right? I think it's a Stephen Covey quote: "You can't be efficient with relationships." So slow it all down, be right in the moment."—Gail Parsons, Founder and President, Lifecycle Focus
About the Portfolio Intelligence podcast
The Portfolio Intelligence podcast features interviews with asset allocation experts, portfolio construction specialists, and investment veterans from across John Hancock's multimanager network. Hosted by John P. Bryson, head of investment consulting at John Hancock Investment Management, the dynamic discussion explores ideas advisors can use today to build their business while helping their clients pursue better investment outcomes.
John Bryson:

2022 was a very challenging and stressful year for all of us. In fact, the 2022 results of the Stress in America poll by American Psychological Association says Americans are worrying more than ever. According to the poll, stress and mental health statistics of U.S. residents are worsening, mostly due to a bundle of reasons: COVID-19, a rise in inflation, and global conflict are a few. In fact, 87% of the respondents cited rising costs of day-to-day necessities like groceries, gasoline, and electricity to be a major source of stress.

Hello, and welcome to the Portfolio Intelligence podcast. I'm your host, John Bryson, head of investment consulting and education savings at John Hancock Investment Management.

As always, the goal of this podcast is to help investment professionals deliver better outcomes for their clients and their practice. Today, we're going to focus on their practice, so I thought it would be great to help focus on resiliency and energy management by bringing Gail Parsons, the founder and president of Lifecycle Focus, to the podcast.

The Lifecycle Focus organization is a leadership development organization. Gail's an expert and a motivational speaker and has trained thousands of people over the past two decades to manage their stress better, to focus on resiliency, and deliver better outcomes in their personal and professional lives.

Gail is known for her genuine conversational style, as well as her ability to personally connect with a group and bring out the best in people. Gail's fusion of down-to-earth anecdotes, academic expertise, practical strategies, and humor have earned her quite a reputation as an engaging and effective speaker.

Renowned organizations such as Harvard University, Bristol Myers Squibb, GE, Blue Cross and Blue Shield, Abbott Laboratories, MIT, and Morgan Stanley have all partnered with Gail when they're looking for a dynamic engaging keynote speaker.

As a student, Gail earned her bachelor's degree in psychology from the University of Rhode Island and her master's degree from Wheelock College in Boston. As a leadership expert, she has honed her coaching skills via decades of field experience in delivering thousands of training programs. As a mother and business owner, Gail has earned real-life experience parenting three growing boys and one successful business.

Gail, I'm really excited to have you on the call today. Welcome to the podcast.

Gail Parsons:

Thank you so much, John. It is great to be here.

John Bryson:

In the financial services world, there's a lot of things we need to worry about. We need to worry about our own situation and our client situations. But at a professional level, what are some of the common misconceptions our culture has about balancing all the workloads and getting everything done that we need to get done?

Gail Parsons:

Yeah, so I have countless conversations around this with individuals, and I think the biggest misconception is that we have the belief that in order to get all our work done, we need to work longer, work harder, and work faster. And the truth is, there's no research anywhere that says that actually brings us to a place of higher productivity; in fact, it brings us to a place of burnout, which is an incredibly popular topic these days, where that means burnout is the depletion of mental and physical and emotional energy, right, without expected or real needs being met. So when we try to work really hard and just stay engaged and don't stop, we don't meet those needs, and eventually we get to a place where we're not that effective in any of our roles.

John Bryson:

No, it's fascinating you mentioned burnout. We see it in all these different industries, not just financial services. And, Gail, you and I have talked, and in our conversations, one of the things that you've mentioned is that if we neglect the fuel side, if we don't fuel ourselves, eventually we run out of gas, right? And you're mentioning that right now. Do you have any advice on how we can take care of ourselves first? Because I think that's where it starts. If we don't take care of ourselves, how can we take care of others?

Gail Parsons:

Right, exactly. And so this is all about self-awareness, right? It's sort of thinking about, okay, how can I practice self-management and what does that mean? That means, okay, what does a good day at work look like for me? Really understanding when I'm crushing it: I'm really good at all my tasks, I'm great at communication, I'm having solid relationships with clients, I'm getting things done. When that happens, what is at play? And it's being more self-aware around that. There's this fascinating research around energy management, right? So I'm often asked to come in and talk about time management. Hey, Gail, tell us, how can we cram more into our day? And that's not what this is about. If we're trying to be more productive, we first have to pay attention to our energy level.

So Tony Schwartz and Jim Loehr have a book called The Power of Full Engagement. They talk all about the key to having high resilience is actually managing our emotional state. Because how you feel is going to dictate your physical, mental, and spiritual state. So if I'm feeling negative, if I'm coming from a place of fear or anger or defensiveness, or I'm just completely exhausted, defeated, if I'm feeling those things, that's not going to lead me to a place where I'm invigorated and I'm productive and I'm challenged. But the problem is, so often we kind of hang out in these places of negativity and just feeling completely exhausted, and our belief is, I can't stop because I've got too much to do. Eventually we burn out, we don't get to the place where we're productive. The big shift in this thinking is if I want to be at my personal best, if I actually want to feel good about my day, I have to make sure I spend time in renewal.

And you alluded to this example, I say all the time, if I ever said to you, hey, I'm going to go for a really long road trip, but I absolutely do not have time to stop for gas, you would tell me that I was ridiculous, I wasn't going to get very far. And that's kind of what we do. We have so much to do, and we play so many different roles, that we're not aware of, hold on, I need to stop because I'm actually not that effective. So this is about examining the days that I am effective: What am I making sure is a priority? What is that? How am I managing that energy level?

John Bryson:

Now, is part of that focusing, hey, I'm more awake in the morning and I have higher energy, so I want to handle certain components of my day then, versus balancing out the rest of the day? How do you coach people in that area?

Gail Parsons:

Yeah, it's both of that. So we all have times of the day that we're strong, so if you're a morning person, you're afternoon, you're late in the day. So the best that I can do, I want to schedule activities that require the most concentration during those times; however, we know that's not always realistic. So this is about continually sort of coming back to baseline is what I call it. So we feel stress during the day. We feel stress anytime we encounter a situation that we believe challenges our capacity to cope. So we feel that stress, we move into that stress response and sort of work through it. The problem is when we stay in that stress response, and we never come back to baseline; it's okay to feel stress as long as you recover after a stressful event. So that could be, okay, I'm just going to take a few deep breaths because we know that counters the stress response.

It could be, I am completely overwhelmed with everything I'm trying to do right now, I can't even focus, so I need to step away. Or I am ruminating about something in my head, and I'm really worried and anxious about it. Maybe I need to talk to somebody and get somebody else's perspective so that I can come back out of that. When we're in a stress response, we're emotional. Whenever we let emotion guide our response, that's when we tend to say or do something that we later regret. And so people who are resilient are aware of that, like, hold on, yeah, I'm really angry right now, or I'm really sort of resentful. I actually shouldn't do anything at this exact moment. I got to work through this emotion so that I can get to the place where I'm led by logic and strategy. So it's all day long. It's constantly checking in with ourselves, constantly understanding, hey, I just had a tough meeting.

I just need a second or, I'm feeling anxious going into this conversation. What am I telling myself about it? And that's a big part of this, is all day long, we tell ourselves a story about everything that happens. Well, we're the author of that story. So how was that story serving me? So if I'm checking in with myself throughout the day like, yeah, okay, why do I believe this? How do I know this to be true? And maybe offering or examining a different perspective or getting somebody else's take on it can help a lot. And that's an ongoing process, every day. How am I showing up?

John Bryson:

So it's really interesting—you talked about it—and as I'm listening to you, I'm thinking about before COVID, I won't use myself as the only model for this, but I would work all day, go, go, go, and then kind of blow off steam when I got home. So it was that one period of blowing off steam. I found during COVID, I had breaks throughout the day and whether I was intentional about it or not, I think I was blowing off steam throughout the day. Now I'm back in this rhythm of some days in the office, some days not, and I think I'm kind of struggling with which model am I following, and I need to be more aware of it. Are you telling people when you're talking to folks about scheduling in more time throughout the day, and if you've got competing priorities, recognize it, but space them out? What's your thoughts around that?

Gail Parsons:

Yeah, so it's a great point because I will say during the pandemic, I was having so many conversations with individuals who were saying, oh my gosh, my life was completely chaotic. When everything stopped and I actually had to really, as you said, I had more opportunity to do a little renewal or self-care, people have told me, I never want to forget this. When things get back to normal, I don't want to go back to that way of operating every day. So what this really is, is looking at our routine; all of us have a routine, and we actually create our routine.

So for a routine to be positive, it needs to create a recurring cycle of energy. And so when we step back and think about, all right, how do I start my day? So I've had so many conversations. One person in particular was just talking about how they start their day: the alarm clock goes off, it's their phone, they pick up their phone, they shut off the alarm clock, and then they jump into their calendar, they see what they've got going on, they check email, all of this before they've gotten out of bed, right?

John Bryson:

Yeah, exactly.

Gail Parsons:

Yeah. And so I was talking to this person, I said, okay, how does that make you feel? And he said, awful, angry, frustrated, exhausted, and literally his feet haven't hit the floor yet. I said, okay, and you do that why? And he said, well, I do it because I'm trying to get a head start. I have so much going on. All right, what would you prefer to do? And he goes, well, I would probably prefer to maybe go for a little walk; be with my kids, they're getting ready for school; have something to eat, a cup of coffee. So when I was working with him I'm like, you know what, just do that. Make that one shift in your routine. Now, if he were on the call right now, he'd say that was a complete game changer because what he learned, he wasn't saving any time. He sort of scheduled it so that he gave himself the fuel, right, to deal with that very hectic schedule and competing priorities.

When he sat down to check emails, he was ready for it. He was ready for the calendar. He wasn't getting ahead of the game by doing it before he even left his bedroom in the morning. So when we think about those behaviors through the day, do I have things implemented in that actually bring me, again, back to baseline? Whether it's making sure that I set my alarm on my phone to go off every 90 minutes to just say, hey, you haven't moved in 90 minutes. Get up, move around. Sort of these things that if you've learned anything about or, just as you said, we learned things about ourselves through the pandemic, how can I implement those to some extent in some way because that's when I'm operating better. That's when I just feel better about my day.

John Bryson:

That's amazing. You just gave me two ideas to work on because I am literally what you described in the morning—grabbing my phone, checking it—and then the dread that comes along with it.

Gail Parsons:

Yeah. Yeah.

John Bryson:

You're saying don't start your day that way. Start your day with something energizing and then you can handle everything that comes your way because you're in the right mindset. That's fantastic.

Gail Parsons:

Yep.

John Bryson:

Another thing I want to talk about, our primary audience is financial advisors. And one of the most important aspects in their role is nurturing client relationships, helping them through the highs and the lows. When financial advisors and investment professionals are meeting with clients, how can they improve their ability to be fully present and engaged and not worried about everything else that's on their to-do list?

Gail Parsons:

Yes. So this takes practice. Right. So this is about being in the moment, literally sort of stopping, stopping this idea of multitasking. So we're conditioned, we're taught to multitask, that in that way we're getting more done at the research points; otherwise multitasking, all that is, we're just switching back and forth between tasks. We're not actually doing two things at the same time. So when we're with clients and, as you said, some of these difficult, stressful conversations, it's how can I be here right now? How can I truly listen to what my client is saying to me? So listening is actually an active activity, it's not passive, and we're so tempted to listen in order to respond. But the truth is when we're just quiet and we just let somebody talk about what they're feeling, thinking, fears, all of those emotions that go along with it, that's when trust is cultivated. That's how we trust one another.

So think about this: When you have a problem, when you're stressed about something, who do you choose to talk to? And why do you choose that person? Chances are we choose this person because they truly listen. They ask questions to make sure that they understand, that they allow just some space. And we're busy, right? We've got a lot to do, and throughout the day we're always looking to take some shortcuts to save time. And unfortunately, that shortcut is often around communication. That is the worst place to take a shortcut. I think it's a Stephen Covey quote is, you can't be efficient with relationships. So slow it all down, be right in the moment.

This whole idea of mindfulness, which is, there's so much research out there, which mindfulness just means the direct intuitive knowing of what you're doing while you're doing it. And so most of us in any given moment or either reliving what already happened or rehearsing what's coming, which means we're not actually experiencing the only thing that's guaranteed, which is that present moment. So nothing feels better when you know someone is truly listening to you. So my thought on this is that just slowing it all down, even though, I can't, I got so much to do, when you slow it down, everything else gets easier when we put the time into the right place, which certainly is cultivating and building relationships.

John Bryson:

That's great. Kind of building on that, a lot of what we do as investment professionals is help our clients. How can we kind of pass on what you're sharing with us to our clients? How can a financial professional coach their clients to be focused on reenergizing and being more resilient?

Gail Parsons:

Yeah. I think that has to do with being authentic and being real and sharing maybe some personal examples and what we've all learned, even just the story you said of what you learned about yourself during the pandemic, and having those conversations and reminding—so this is the thing: It's about control. As humans, we have this innate need to feel in control and whenever we believe we don't have control, that's when our stress and anxiety rises. So sometimes this is about bringing it back and asking, okay, we can't control ABC, but what can we control about this situation? What are some of those things that sort of putting us back in the driver's seat because, again, when we feel like I don't know what to do or I don't feel like I can influence this situation, we always have choices, in our behavior. We always, as I said earlier, examining that self-talk, it comes down to, okay, my thoughts are going to create my feelings. My feelings impact my behavior. So we want to go and have conversations and examine, what are my thoughts around this?

So if we're going to help our clients, I think it's getting at some of that and reminding—we can wish and wish about the things that we can't control; those things are never going to respond to all of that effort that we're putting into it. And I think just even having this honest conversation that is a lot of listening, a lot of clarifying, a lot of just being in the moment, that right there is modeling resiliency. That right there is sort of taking some of the stress and giving an opportunity to talk about it. I sometimes say, it's a mantra that I love, is if it's mentionable, it's manageable. So if we talk about things, we take the power out of it. We sort of make it so it's something that we can cope with by just giving people the opportunity to talk about what's the stressor.

John Bryson:

I love that comment, "If it's mentionable, it's manageable." And I find my conversations with my friends, like lifelong friends, we are more open now. We're going through the same challenges in life, the same highs, the same lows, and the conversation I'm finding more and more valuable, but I never put it in those terms. That's really, really insightful.

Gail Parsons:

You know who I think that is a quote from, I think it's Fred Rogers. Remember Mr. Rogers?

John Bryson:

Oh yeah, oh yeah. With the sweater. Yep.

Gail Parsons:

And I love it because it's so true.

John Bryson:

It's so true. That's great. Nice. All right, I have a couple more questions and I want to recap a little bit just to make sure as I take my own personal notes, I'm getting as much out of this as possible because I'm getting a ton. Kind of drilling down into like it's not about working harder and longer, it's about starting with energy and reenergizing along the way. That's going to lead to resiliency. It's about slowing down in the appropriate moments and listening, reflecting on what you're feeling, what you're thinking, because that's going to drive your behavior. So all those things make a lot of sense. And then when we transfer it to the client level, not only should we be listening, but we should be real and share our true authentic selves with our clients because that's going to help them. It's going to build the relationship and help manage the stress on both sides, to be honest with you. Have I missed anything so far, anything critical that you've shared so far?

Gail Parsons:

No, I think you've got it. And I think really what we're talking about is trust, right? We certainly want trust with our clients. Trust and, certainly you alluded to it with your stats at the beginning about how high our stress levels are, we don't trust anybody. And so we're not trusting our neighbors, our politicians, our employers, like all of that. But every relationship we have in life is based on trust. And so that's nourishing that and that's putting the time in that you're worth talking to. You're worth sort of me taking the time to understand what's going on with you. That's key in a client relationship.

John Bryson:

That's really, trust is so key. We talk about it all the time, but you're bringing it down to a level of how do you make trust more actionable? Let me ask you this: I think everything's easy when you're talking on a podcast saying hey, I can do all these things, that makes sense. But the real world comes in fast, right?  We've got all this stuff competing for our time. We've got noise, the news, the economy, world events, everything's in that category is pretty much out of our control. How do we kind of keep that at bay? What are some of your best tips to block out the noise and really focus on what we can control?

Gail Parsons:

Yeah. So this is something that we do control, some of this noise, and this has a lot to do with social media and sort of where we get our news and how we get our news. This is just being more aware of, all right, you know what, I don't need to have a notification going off on my phone every 10 minutes because what does it do to me? That's the question. Does this impact my day in a good way or a bad way? Does it distract me from what I'm doing? I want to be the one deciding when I let information in and how I let information in. It's not just whatever comes my way, it's being more in the driver's seat around that. So whether it's intentionally choosing where I get my information, who I talk to, what is going to interrupt me during the day, I have a whole thing on digital wellness, sort of which is basically, are my tech habits adding or detracting from my day?

So that's what this is, is okay, again, we got to think about control. When I get news, how I get news, and then when I hear it and I know about it, is disturbing, again, can I control the event and, If I can't, then how am I going to show up for it? And what's my attitude going to be about this? When we look at people who are optimist versus pessimist, being an optimist does not mean that you pretend that there aren't any problems in the world. Being an optimist means, okay, when things don't go our way, right, we say things like, I wish this didn't happen, but it did. So what am I going to do about it? What can I learn from this? What can I take from this experience? That's what it means to be an optimist. So we have that opportunity every single day with everything that's going on.

John Bryson:

That's really great. I wrote down, "I decide," because I really like the fact that I decide what grabs my attention, right?

Gail Parsons:

Yeah.

John Bryson:

And I don't know the stats perfectly, but I shared this one with my kids. Essentially, you get dumber the closer the phone is to you. If the phone is on your table and the screen is up, you're at certain level of smart, you get a little bit dumber if you turn the, you get, sorry, you're a little bit smarter if you turn the phone over ,and you get even smarter if you move it to an opposite room, like, you retain more as you're studying. And it's just fascinating. Those little things can make a big difference.

Gail Parsons:

Yes, you're absolutely right. It's so, technology can be amazing, but we control it. That's the part that we have to remember.

John Bryson:

We control it, and then we can also tell our friends and family, I might not respond immediately because I have to control what I'm focused on in that window, right?

Gail Parsons:

Yeah. Absolutely.

John Bryson:

That type of thing.

Gail Parsons:

Absolutely.

John Bryson:

The last thing I want to hear from you, because we could talk all day, and you've given a ton of really good tangible ideas, when it comes down to it, it's stress management and it's resiliency. What are some of the key takeaways, either things you've already said you want to stress or anything you haven't hit that people can do right now to improve their resiliency?

Gail Parsons:

Yeah. So I think a myth around improving our resiliency, the myth is that it takes a lot of time. It doesn't. This does not take a lot of time. So I will tell you often, in classes, I will say to people, okay, if at the end of this class you need to do something that feels good, that's feels like a renewal, that actually fuels you in some way, what would you do? And, John, the answers are always incredibly simple. It is, oh, I'd go outside for five minutes, I'd just sit here and breathe, I would go for a walk, I'd call my sister. It's these very simple, simple things. It's not about, oh, I can only do renewal when I'm on my yearly vacation. It's not true. So it's deciding, how would you answer that question right now for all the listeners of this, what would you do right now that was some level of self-care, and just do it.

Give yourself five minutes to do it. I promise you, you come back at any problem that you're dealing with, with a completely different perspective. It's really simple stuff. Nobody ever says, oh, I want to go on a two-week vacation. Sure, that would be great, but that's not what people say when they are given an opportunity during the day, what would I do for the next 10 minutes? That's the takeaway. So just do it. I think the question to ask every morning is, what do I need today? Not who needs what from me, but what do I need today? That's it. And understanding that when I respond to that, when I actually make that part of my day, everybody in my world benefits from it. I know that I'm much better at my job, my relationships, I'm a mom, I'm a much better mom when those things are at play. So it's not about feeling guilt, it's just like this is what's necessary in order to show up as our best self.

John Bryson:

That's great. I kind of think of it like, I can work for 10 straight hours at a three out of ten, or I can work on my energy and throughout those 10 hours I'm going to be delivering on average a seven, eight, or a nine because I've taken the time to keep my energy up, focus on what I can control, take time out when I need it, call a friend if I need a boost, right, or just go for a short walk. I'll play with the dog. So many little easy things we can do to keep our energy up, and if our energy's up, we can be much more resilient in times of stress.

Gail Parsons:

You got it. Yes.

John Bryson:

I love it. Gail, this was fascinating. Like I said, we could talk all day. I think we're going to have you back if you're open to it, because we love talking about these things. If we can help our clients grow their business, manage their business better, it's always useful, so I'd love it if you can join us sometime in the future.

Gail Parsons:

That would be great. Thank you so much for having me.

John Bryson:

You got it. Thanks, Gail. Folks, if you want to hear more, please subscribe to the Portfolio Intelligence podcast on iTunes or wherever you find your podcasts, or visit our website, jhinvestments.com to catch up on the most recent ideas that we have around improving your portfolio outcomes and your business. Thanks for listening to the show, everyone.
This podcast is being brought to you by John Hancock Investment Management Distributors LLC, member FINRA, SIPC. The views and opinions expressed in this podcast are those of the speaker, are subject to change as market and other conditions warrant, and do not constitute investment advice or a recommendation regarding any specific product or security. There is no guarantee that any investment strategy discussed will be successful or achieve any particular level of results. Any economic or market performance information is historical and is not indicative of future results, and no forecasts are guaranteed. Investing involves risks, including the potential loss of principal.

John Hancock Investment Management is not affiliated with Gail Parsons or Lifecycle Focus.