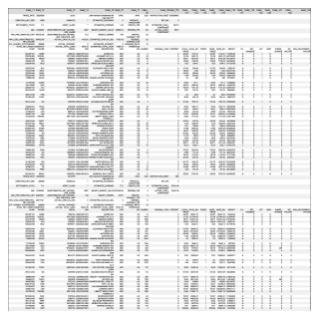 PDF
62 KB
Fundamental All Cap Core ETF tracking basket file
This ETF is different from traditional ETFs. Traditional ETFs tell the public what assets they hold each day. This ETF will not. This may create additional risks for your investment. For example: You may have to pay more money to trade the ETF's shares. This ETF will provide less information to traders, who tend to charge more for trades when they have less information. The price you pay to buy ETF shares on an exchange may not match the value of the ETF's portfolio. The same is true when you sell shares. These price differences may be greater for this ETF compared to other ETFs because it provides less information to traders. These additional risks may be even greater in bad or uncertain market conditions. The ETF will publish on its website each day a "Tracking Basket" designed to help trading in shares of the ETF. While the Tracking Basket includes some of the ETF's holdings, it is not the ETF's actual portfolio. The differences between this ETF and other ETFs may also have advantages. By keeping certain information about the ETF secret, this ETF may face less risk that other traders can predict or copy its investment strategy. This may improve the ETF's performance. If other traders are able to copy or predict the ETF's investment strategy, however, this may hurt the ETF's performance. For additional information please refer to the fund's prospectus and/or statement of additional information. The Tracking Basket is designed to closely track the daily performance of the fund but is not the fund's actual portfolio. The Tracking Basket is composed of: (1) select recently disclosed portfolio holdings and/or select securities from the universe from which the fund's investments are selected (Strategy Components); (2) liquid U.S. exchange-traded ETFs that convey information about the types of instruments (that are not otherwise fully represented by the Strategy Components) in which the fund invests; and (3) cash and cash equivalents.
Approved for use with investors
Accept Terms Of Use
Thank you for requesting the pre-inception information. After you certify that you agree with the statements below, we will provide the relevant documents to you.
You are an institutional investor, a registered investment advisor, or a registered financial advisor as defined by FINRA Rule 2210(a)(4). This information will not be communicated, shared, or distributed to the public, an individual investor, or any person who does not meet FINRA's definition of an institutional investor. No part of this information may be reproduced or transmitted in any form or by any means.
If you have any questions, please call a John Hancock Investment Management representative at 800-225-6020. Thank you for your interest in John Hancock Investment Management.