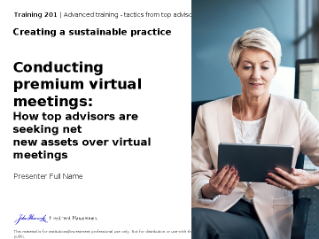 PPTX
4 MB
Virtual meeting 201 & 301 presentation
This session focuses on how to deliver a great experience in a virtual meeting with a client. We will discuss preparing for virtual meetings just as you would a face-to-face meeting in your office including the importance of using a virtual meeting agenda. We will also demonstrate how leveraging screen sharing to engage your clients enables you to provide a rich virtual meeting experience. From there, we will move on to using virtual meeting technology to deliver seminars, events, and family meetings. We will cover the best day and time to do your event and share best practices on where, when, and how to effectively promote your meetings to drive attendance. We will also discuss what to do to ensure success and to capitalize after the event.
For financial professional use only
Accept Terms Of Use
Thank you for requesting the pre-inception information. After you certify that you agree with the statements below, we will provide the relevant documents to you.
You are an institutional investor, a registered investment advisor, or a registered financial advisor as defined by FINRA Rule 2210(a)(4). This information will not be communicated, shared, or distributed to the public, an individual investor, or any person who does not meet FINRA's definition of an institutional investor. No part of this information may be reproduced or transmitted in any form or by any means.
If you have any questions, please call a John Hancock Investment Management representative at 800-225-6020. Thank you for your interest in John Hancock Investment Management.