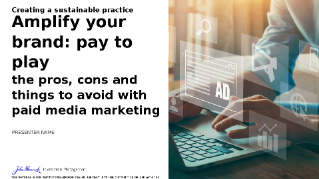 PPTX
2 MB
Amplify your brand: pay to play; the pros, cons and things to avoid with paid media marketing
Globally, businesses are expected to spend over $229.5 billion2 on paid social ads in 2022, and several hundred billion dollars more on pay-per-click (PPC) ads on platforms like Google Ads3. There are clear justifications for this immense spend: the ROI on a successful PPC campaign can be as high as 200%, and close to half of all Google search traffic goes to the top three (paid) sponsored results4. In this presentation we will educate you on why paid media marketing matters and give you a high level overview of the paid media industry. We will also discuss whether or not paid media is worthwhile to advisory firms and explore the pros and cons. Information will be provided on how to build a successful paid media campaign which will include audience targeting, agitating for action with solid calls to action and tightly integrating paid media with your content and your digital media strategy.
For financial professional use only
Accept Terms Of Use
Thank you for requesting the pre-inception information. After you certify that you agree with the statements below, we will provide the relevant documents to you.
You are an institutional investor, a registered investment advisor, or a registered financial advisor as defined by FINRA Rule 2210(a)(4). This information will not be communicated, shared, or distributed to the public, an individual investor, or any person who does not meet FINRA's definition of an institutional investor. No part of this information may be reproduced or transmitted in any form or by any means.
If you have any questions, please call a John Hancock Investment Management representative at 800-225-6020. Thank you for your interest in John Hancock Investment Management.