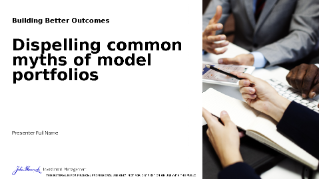 PDF
2 MB
Dispelling common myths of model portfolios
Models represent a huge growth area for our industry as advisors are encouraged to transition to models in order to streamline their investment process, help free up time to spend with clients and grow their practices, and help provide solutions to regulatory issues such as RegBI. However, there are perceptions about model portfolios that have developed over recent years that have kept some advisors from seriously considering them for their clients. In this presentation we examine common myths of model portfolios and seek to overcome resistence, while weaving in the potential benefits for your clients and your practice.
For financial professional use only
Accept Terms Of Use
Thank you for requesting the pre-inception information. After you certify that you agree with the statements below, we will provide the relevant documents to you.
You are an institutional investor, a registered investment advisor, or a registered financial advisor as defined by FINRA Rule 2210(a)(4). This information will not be communicated, shared, or distributed to the public, an individual investor, or any person who does not meet FINRA's definition of an institutional investor. No part of this information may be reproduced or transmitted in any form or by any means.
If you have any questions, please call a John Hancock Investment Management representative at 800-225-6020. Thank you for your interest in John Hancock Investment Management.