Viewpoints by Kenneth J. Baumgartner, CFA, Investment Director at Wellington Management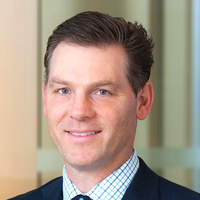 Ken is responsible for Wellington Management's multi-asset inflation-hedging and liquid infrastructure approaches and works closely with these investment teams to help ensure the integrity of the investment approaches by overseeing portfolio positioning, performance, and risk exposures. Prior to joining the firm, he was a business development officer at First Marblehead; before that, he worked in the investment management division at Goldman Sachs. Before attending business school, he played and coached in the National Hockey League. Ken holds the Chartered Financial Analyst designation and is a member of the CFA Institute and the CFA Society Boston.
Education: B.B.A., Banking and Finance, Hofstra University; M.B.A., Harvard University
Joined the company: 2006
Began career: 2002
Explore the latest thinking from our network
Sign up to get market insight and analysis delivered straight to your inbox.