A seismic shift: what regulatory reform means for retirement plan advisors
Regulatory pressures over fiduciary standards are challenging the ability of retirement plan advisors to differentiate their business models from those of advisors who have only recently adopted fiduciary roles. In this paper and corresponding checklist, we explore how advisors and plan sponsors can reposition their value propositions and market their services for the next decade.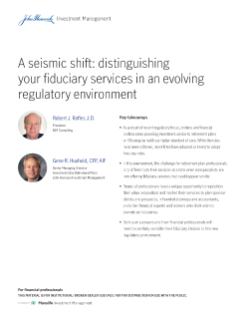 PDF
907 KB
A seismic shift: distinguishing your fiduciary services in an evolving regulatory environment
New fiduciary standards will test retirement plan advisors' business models. In this paper, we explore what advisors can do to shift their value propositions.
For financial professional use only
PDF
94 KB
Retirement Plan Advisor Checklist
This simple checklist can help fiduciaries in selecting and monitoring the right defined contribution plan advisor.
For financial professional use only