Viewpoints by Terry (Zhaohuan) Tian, CFA, Portfolio Manager, Equity Research Analyst at Wellington Management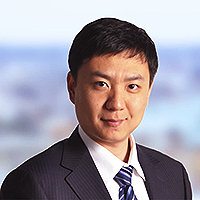 As a member of Wellington Management's quality growth team, Terry conducts fundamental analysis on Asian equity investments. His research supports investment decision-making for a range of portfolios managed for Wellington's clients; he works in the firm's Hong Kong office.
Prior to joining Wellington Management in 2015, Terry completed an M.B.A. internship at the firm, covering the Japanese information technology services industry and, before that, he worked as an analyst at Morningstar. He holds the Chartered Financial Analyst designation and is a member of the CFA Institute.
Education: B.A., International Political Economy, Peking University; M.Sc., International Affairs, London School of Economics and Peking University; M.B.A., Columbia University Business School–Columbia University
Joined the company: 2015
Began career: 2009
Explore the latest thinking from our network
Sign up to get market insight and analysis delivered straight to your inbox.