Understanding Social Security decisions: optimizing your benefits
Understanding Social Security decisions: optimizing your benefits

In this presentation we will cover various Social Security claiming strategies and the impact of life expectancy on benefits so that you can explore your options. We also will explain the impact of earned income on benefits as well as the taxation of Social Security benefits. Additionally, we will review this year's changes to the cost-of-living adjustment, maximum benefits, full retirement age, earnings limit, and benefits for working retirees.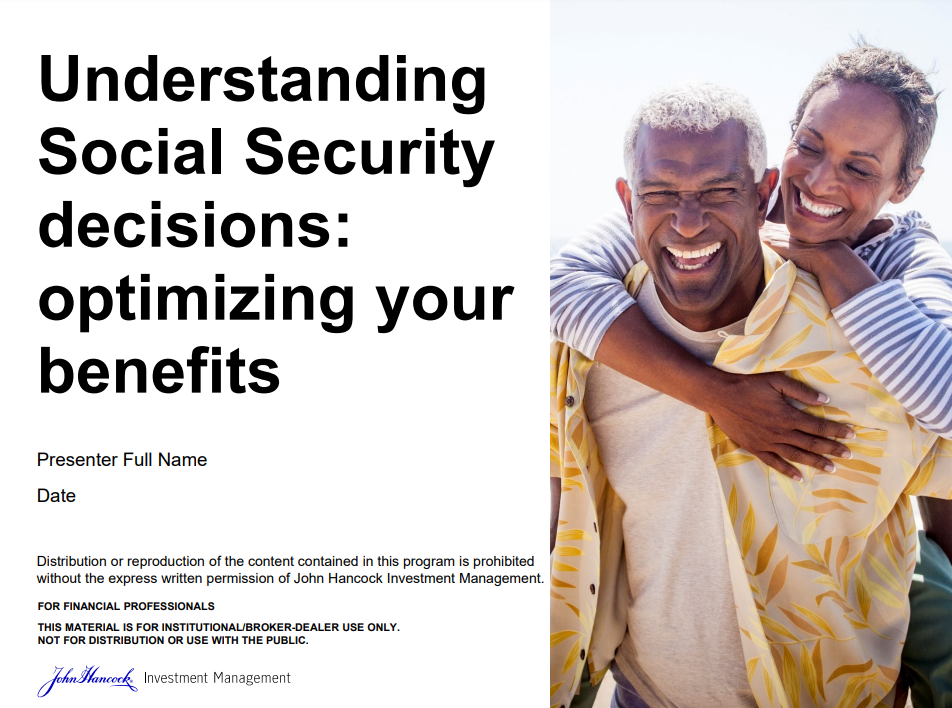 1-minute overview of Understanding Social Security decisions: optimizing your benefits

This short video provides an overview of our Understanding Social Security: optimizing your benefits presentation. This educational presentation will help deepen your understanding of claiming strategies to help you guide clients through the intricacies of Social Security.
Recorded presentation of Understanding Social Security: optimizing your benefits

As you know, Social Security plays a role in many clients retirement plans. Despite having been around since the 1930s, there are still many aspects of Social Security that are commonly misunderstood. Join our seminar that focuses on some of the ways to help your clients optimize their  benefits.
Social Security Q&A guide

Use this Q&A with clients and prospects to help educate them on the finer points of this historic social program.